How Using UGC on Location Helps Tupelo Show Visitors It's More than Just Elvis's Hometown

Tupelo, Mississippi is home to the largest automobile museum east of the Mississippi River, a unique zoo home to over 300 animals, as well as a burgeoning music and foodie scene; but most people just know it as the birthplace of Elvis Presley.
While the King's hometown draws crowds from far and wide many only come for one specific attraction — so for the marketing team at Tupelo CVB, the goal is to increase overnight/weekend stays.
"The biggest challenge for us really is showing people that Tupelo is so much more than just the birthplace of Elvis Presley, and convincing people to spend more time overnight in our destination," said Will Crockett, the Online Content Manager for the Tupelo Convention and Visitors Bureau.
In an effort to encourage visitors to explore beyond Elvis's childhood home, the destination marketing organization launched a rebrand in 2014, which included an overhaul of its website. Then in late 2015, it rolled out A-frame boards throughout downtown Tupelo and each of its major attractions, which featured a photo of the best of what each location had to offer.
Though the rebrand and A-frame projects were a success, the Tupelo Convention and Visitors Bureau realized that it could take these initiatives to another level with the help of a strategy that involved their locals, and a new partner.
Taking a deeper dive into user-generated content marketing with CrowdRiff
"It really came from a conversation with the VP of Marketing at CrowdRiff about how we can make our visitors feel more immersed in the experience of our brand," said Kylie Boring, the Director of Marketing for the Tupelo Convention and Visitors Bureau. "It just made sense to connect what we were doing with CrowdRiff and all the UGC we're collecting to transform that into a full-out marketing campaign."
Boring explained that UGC had become a hot topic at the industry conferences and events she attended, and in late 2017 the destination marketing organization followed suit with an overhaul of its marketing content.
"UGC was the biggest topic at most conferences I attended, so it just made sense for us to incorporate that into this year's marketing campaign," she said. "A lot of our marketing plan this year is focused on turning all of our marketing directives to become user-generated content-based," added Crockett.
Incorporating visuals from locals and visitors shared online into Tupelo's physical spaces
Boring and Crockett explained the professional photos on those A-frame boards were replaced with user-generated images taken by real visitors to that same attraction, and the all-new Tupelo Visitor Center has been outfitted with an interactive digital gallery people can use to explore the town through UGC.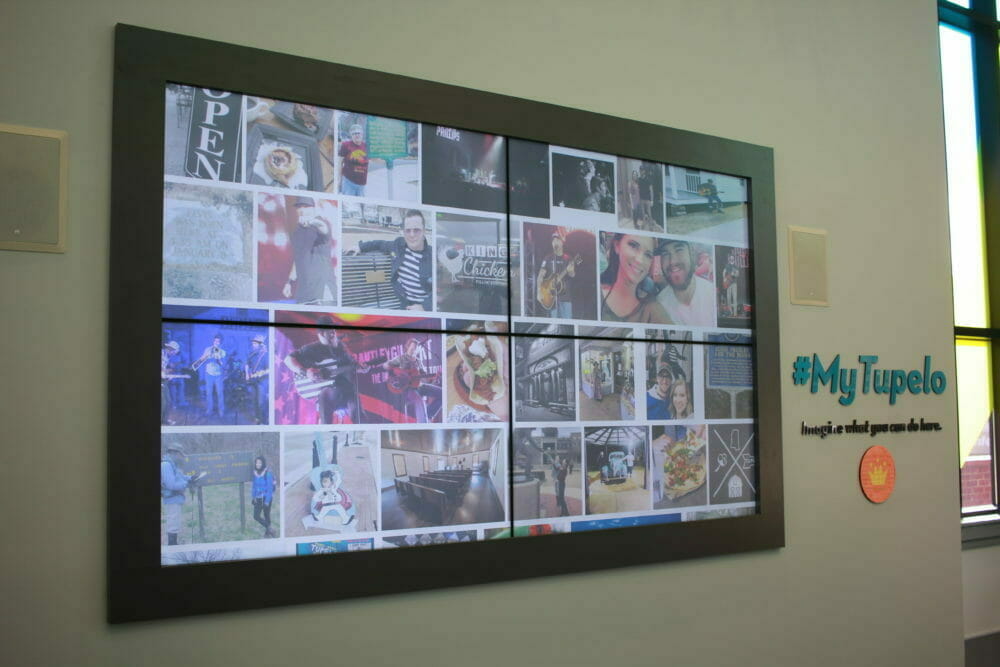 "This year in our marketing efforts — including social media and all of our touch points — we wanted it to be very UGC heavy, because we can always tell our story, but I think other people want to hear it firsthand so they get an idea of what Tupelo is all about," said Boring.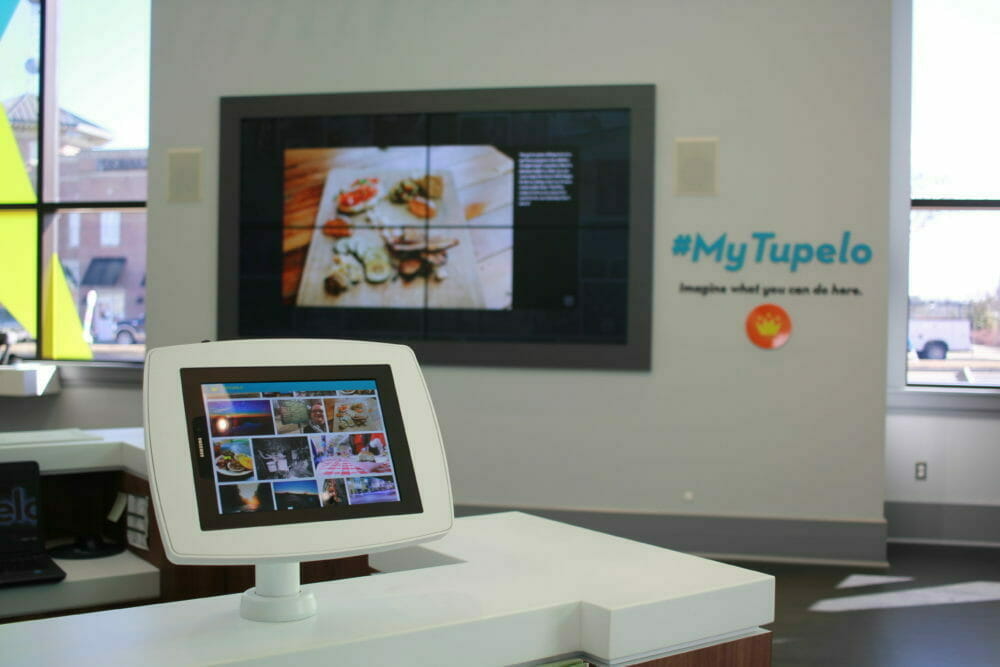 The goal, explained Crockett, is for a consistent, UGC-filled experience from the moment someone arrives at the visitor's center, to the brochures they take with them during their visit, to the content they view online to the A-frame boards that greet them at each attraction.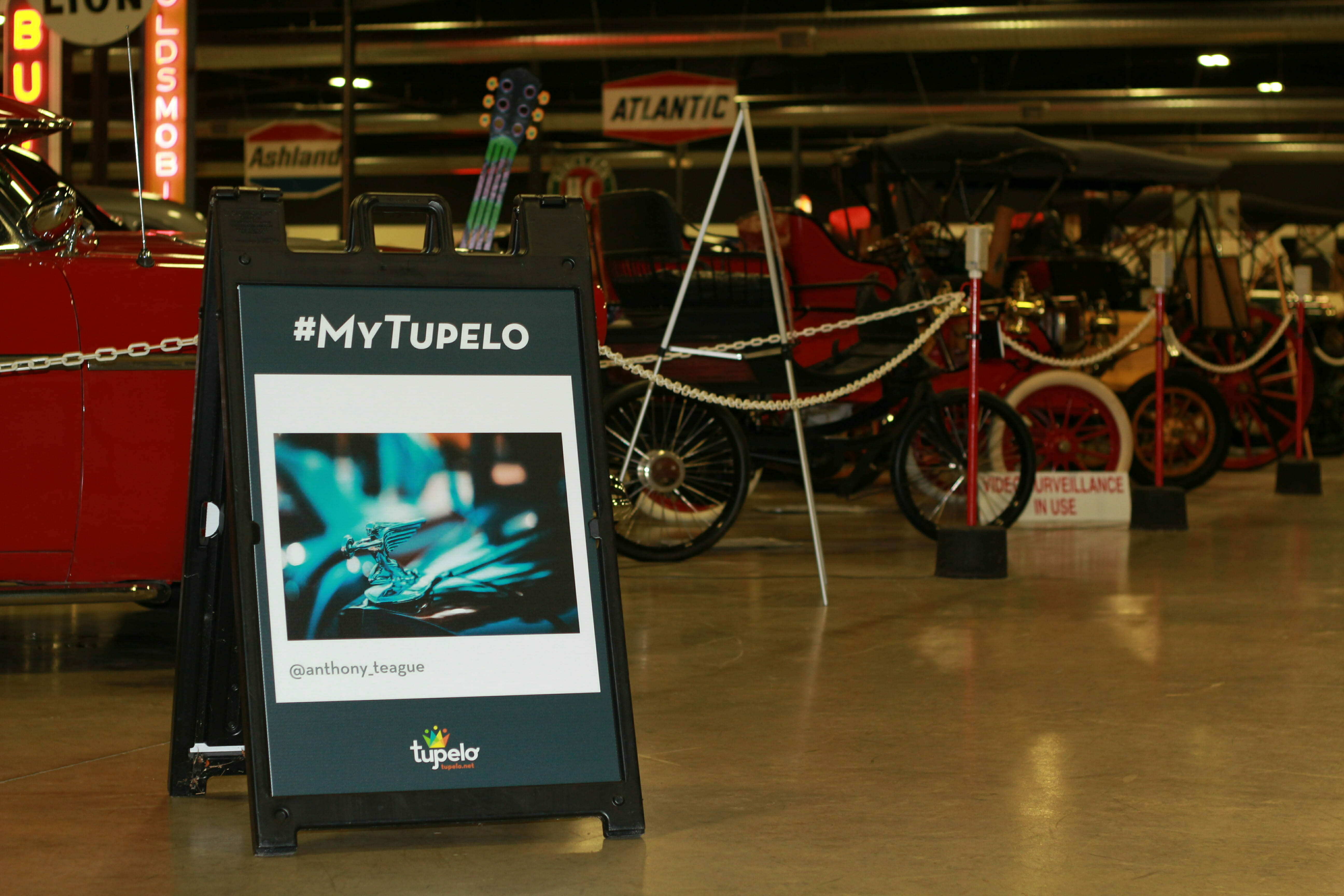 Not only is this flood of authentic visitor experiences intended to inspire travel and greater exploration of the town, but it also encourages visitors to post more photos using the DMO's hashtags.
"With UGC it's not just us telling you to use our hashtag; it's us saying there's another traveler who stood in the exact same spot you're standing in right now, and telling their travel story with a level of authenticity we just can't provide on our own," said Crockett.
Curating the user-generated visuals to feature
When it comes to deciding which user-generated images to showcase, Crockett said high quality and visually appealing are a priority, but that the destination marketing organization also has a preference for images that feature people, not just places.
"The common theme in all the photos we showcase is there are people there enjoying the experience and enjoying their time in Tupelo, that's really what we look for," he said.
"We try to cover a big gambit of partners, like restaurants, hotels, attractions, things that we've come to promote, we want our partners represented through UGC. We try to spread the love," added Boring.
The ability to show travelers that Tupelo is more than Elvis's birthplace
Boring and Crockett said they have witnessed a significant bump in hashtag usage as well as photos from locations that currently feature an A-frame board. There's also been an increase in traffic and sessions on the non-Elvis landing pages of the website.
While people may initially become interested in Tupelo because of its association with Elvis, the user-generated content on-location helps visitors discover there's more to see.
"We're making a point to showcase great photos in places other than just the Elvis Presley birthplace, because we want them to be inspired by a great plate of food or wonder where that awesome concert is going on," said Crockett. "When the Elvis fans come in only looking for that Elvis product, they're learning that there's a whole lot more to the town."
Though they haven't yet decided where to take their UGC campaign next, Crockett and Boring said they're excited by the possibilities enabled by CrowdRiff.
"We are going to continue to tell that Tupelo story through a visitor's perspective," said Boring. "We don't have an exact marketing plan established for 2019 or 2020 on how we'll do that, I just know for certain that we'll continue our partnership with CrowdRiff to help achieve our goals."
Our lovely header image is courtesy of the Tupelo CVB.