The Top 10 Visual Content Marketing Tips from Visit Savannah You Need to Know

We just returned from another fantastic ESTO, the annual tourism conference where destination marketers from around the US gather to learn and discuss industry trends.
CrowdRiff hosted a Learning Lab on visual influence, alongside one of our customers Jeremy Harvey, the VP Marketing and Communications at Visit Savannah.
There, he shared the eleven keys behind Visit Savannah's visual content marketing success, that he, as well as Lauren Cleland, Larissa Allen and Jess Brannen from the marketing team, stand behind.
Since this is such an important topic for destination marketers, we decided to share these actionable insights with our blog readers, too. So, without further ado, here are the top 10 visual content marketing tips DMOs can learn from Visit Savannah.
1 | Always adhere to the Rule of 5
You put a ton of effort into creating and curating content for your brand – but what happens after it's published? Do you share it as many places as possible or let it sit around collecting dust?
If you're not actively extending your content's lifecycle, you're not getting maximum value from the visuals you publish.
The rule is simple: when you create a new piece of content, find five different ways to use it.
When you write a blog post, for example, don't just let it live on your blog. Share it on social media and include it in your newsletter. Try to use different language and imagery each time you share it.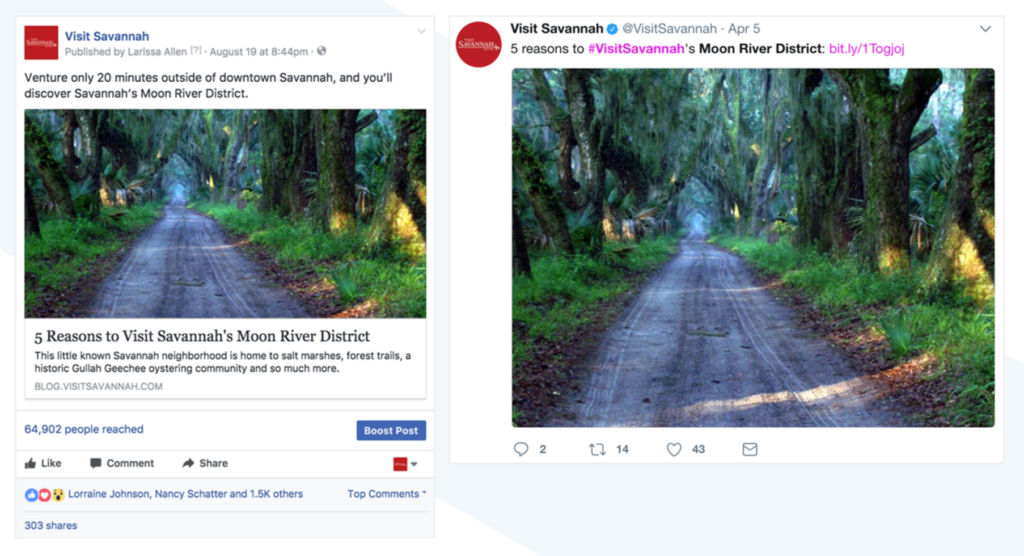 Following the Rule of 5 increases exposure for the content your visuals, engages a wider chunk of your audience, and ensures your content works as hard as you do.
That's why Visit Savannah always follows the Rule of 5 and recommends other DMOs do the same.
2 | Use UGC as a research tool
User-generated content (UGC) is a valuable resource for destination marketers. Not only does tapping into UGC give you access to visual content you can use to promote your brand, it also provides a source of valuable insights into the goings-on in your destination.
Looking at the UGC visuals people are sharing allows you to quickly discover what your locals and travelers are talking about, and what they're interested in at the moment.
It'll help you answer important questions like: What are people excited about? What's trending now? Where in my destination are people taking and sharing their travel photos?
Top Tip: If you want a way to help you instantly surface insights from social photos – like what your most popular locations are, who the most active users of a certain hashtag are, and when people are sharing content – check out CrowdRiff's Search Insights.
3 | Don't let your visual content live in a silo
You should think of visual content as an integral component of your overall marketing strategy, not an afterthought or "nice-to-have" bonus. Your visuals should work in tandem with everything else in your overall marketing plan.
For example, if you know your destination has amazing visual content on Instagram, why limit it to your Instagram audience?
Instead, include those images onto your website, your blog, your Facebook and Twitter pages, and anywhere else they might be relevant.
If you need an easy way to find the most popular images, CrowdRiff can help. Our technology reveals how many impressions and clicks each image curated into a gallery receives, so you can identify the most effective content and decide what to promote on your other channels.
4 | Use GIFs to stand out in a cluttered newsfeed
Not only are GIFS and animated imagery a fun way to liven up your feed with visual storytelling, but they're also a good way to grab your audience's attention. People are used to scrolling and scrolling through their social feeds — but when something is moving or animated, it jumps out at you and makes you stop to look.
Just look at how Visit Tybee uses an eye-catching GIF to encourage travelers to engage and show their love of the island.
Retweet if you love Tybee Island! https://t.co/5LiLu8z8No pic.twitter.com/g9Vii3djnq

— Visit Tybee (@VisitTybee) August 22, 2017
Switching up your visual content with GIFs and animations is an easy way to ensure your message – and your destination – stands out from the crowd.
5 | Remember that timing is everything
No matter how great your content is, it's not going to help your brand if no one sees it.
So, how can you maximize visibility and ensure your visuals are seen by as many of the right people as possible? By using data and insights to ensure you're posting it at the right time!
"Timing is important, too – a one-hour window can make or break an opportunity to maximize engagement,"
– Larissa Allen, Digital Content Coordinator at Visit Savannah.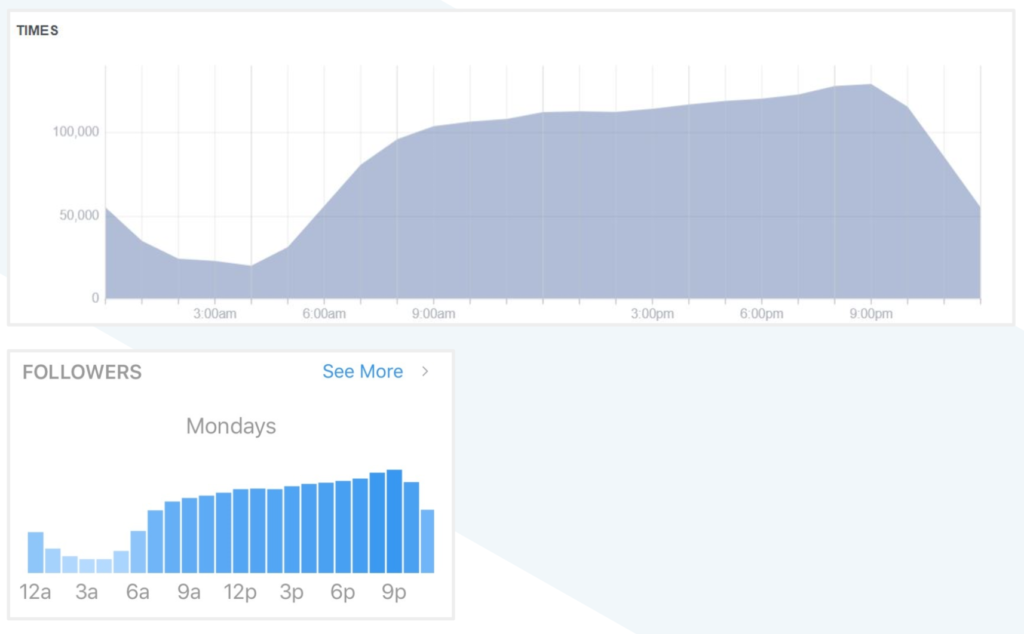 Take a look at your social media dashboards to see your top performing content and draw out trends. Here's a handy post on Instagram's Insights if you need help getting started.
Remember to keep testing, tracking, and analyzing different posting times, so you can find the answers to:
What time is our audience most active?

When are they mostly likely to see our post – and engage with it?
6 | Take it easy on the filters
Used sparingly, filters can add a nice finishing touch to an already stellar image. But not every photo you use needs a fancy filter.
In fact, if you always use super obvious filters, they can come off as too perfect. Your photos end up feeling "edited" and perhaps inauthentic.
So, if a photo is beautiful enough on its own, leave it be!
Figuring out when to use a filter and when not to is a lesson every visual marketer learns at some point. That's not to say you can't throw in a little Valencia from time to time, but be thoughtful in your decision to do so.
7 | Think ahead when creating visual content for your blog
A DMO's blog is designed to highlight the destination, which means visuals aren't just decorative add-ons for written content – they're often the focus.
When Visit Savannah or Visit Tybee have a new blog post idea or want to promote a location in their destination, they have a photographer go out and take photos specifically for those posts. Or, they use CrowdRiff to find user-generated photos to feature in their articles.
Their most popular posts are in fact the articles where visuals are the star, such as "10 Tybee Island Sunsets That will Soothe Your Soul".
Visual content shouldn't be an afterthought. Make visuals part of your original content marketing plan, because today, visual content is just as important as written content – if not more.

8 | Composition is key
What separates the best from the rest? When it comes to visual content, the answer is often great composition.
Composition refers to how an image is arranged and any photographer worth their salt will tell you it's all about balance.
So, what does that mean for DMOs?
Whether you're curating or creating visual content for your brand, pay close attention to how an image is laid out.


For example, does it adhere to the Rule of Thirds (as the image on the right does)? Is there a balance between what's going on in the foreground and the background? If there is too much happening in the photo, it can feel crowded and unfocused.
Keep these simple photography tips in mind and your visual content will not only look awesome, it'll make the best possible impression on potential travelers.
9 | Avoid visuals that feel corporate
Your visitors love sharing experiences with other travelers. For many travelers, looking at photos of a destination is almost as important as capturing their own adventures on film.
That said, today's travelers also have a low tolerance for photos that look too corporate or staged. Steer clear of photos that look perfect to the level of a stock photo — they simply don't feel as real.
This is one of many reasons UGC is such a powerful tool for destination marketers. You should balance out your branded images with the candid UGC your talented locals and visitors are sharing every single day.

10 | When possible, pair visual content with a relevant call-to-action
The best visual content not only makes the viewer feel something, it makes them want to put that inspiration into action.
So, don't leave your audience hanging! Use relevant calls-to-action to make it as easy as possible to follow-up in that powerful micro-moment.
For example, say you're posting a pic of a scrumptious dessert from a local diner on Twitter. Simply add a link to the restaurant or the listing page on your website (or both!) to encourage customers to click.
Additionally, CrowdRiff lets you not only create gorgeous galleries of user-generated content, but also overlay them with clickable captions where you can link relevant information based on what's in the photo.
Provide actionable inspiration for those who want to learn more or take the next step towards booking a trip.
Bonus Tip! Use vertical visuals on Instagram and Facebook
Before you share anything online, think about how it will look to your audience.
Most consumers prefer mobile devices to desktop – especially when browsing social media! – so it's time for DMOs to adopt a mobile-first mindset.
For some destination marketers, this means shifting their perspective on what high-quality visuals look like. For example, Visit Savannah finds that vertical photos get better results on Instagram.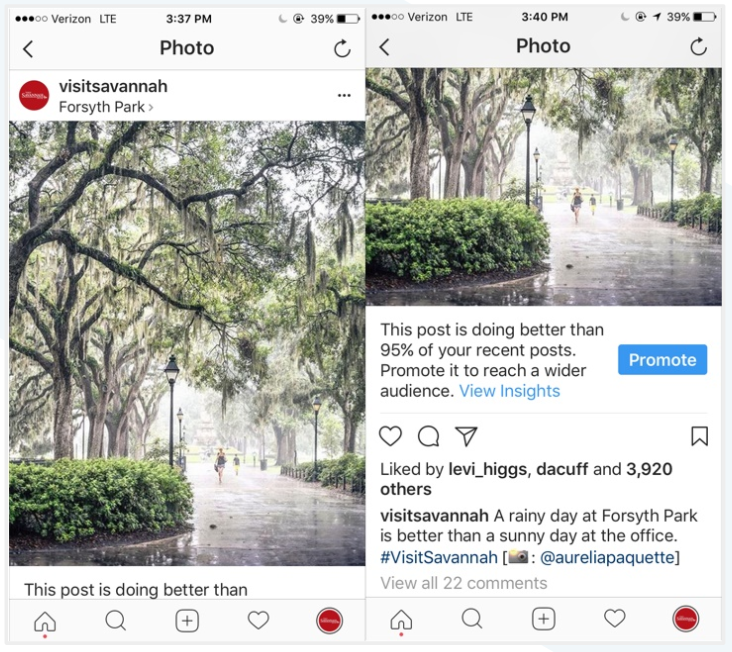 Vertical images and videos take up more visual space for mobile users than traditional landscape or even square-shaped visuals.
Of course, your own results will depend on your audience – so play around with different photo orientations on Facebook and Instagram to see the difference yourself!
Take these tips to take your visual content marketing to the next level
Building visual influence takes planning and consistent execution. Thanks to Jeremy and the remarkable team at Visit Savannah, we're able to share these tips with you, and hopefully inspire you to put visuals at the center of your marketing.
Over 200 DMOs use CrowdRiff's visual marketing platform to help them use visuals more effectively and rise as visual influencers for their brand. Find out today how CrowdRiff can help you reach and engage more travelers through visual content.
This blog post's lovely header image is courtesy of Visit Savannah!