Visual Influencer Learning Lab: A Recap from ESTO 2017
Last week I returned from Minneapolis where I attended ESTO, the annual education summit of the U.S. Travel Association.
This was my first ESTO (though CrowdRiff's third) and I was excited to host my first Learning Lab workshop, alongside our CEO Dan Holowack and customers Jeff Robinson of Visit Indy and Jeremy Harvey of Visit Savannah.
For folks who couldn't attend our session, or missed the conference this year, I'll share a brief recap:
We are in a new era as marketers, the era of visual decision making.
When I was figuring out where to go out to eat and drink in Minneapolis, I asked my local friends, and used their list of recommendations to browse websites as well as Instagram photos taken by people just like me.
I'm not unusual. Last year over 1 trillion photos were taken on the iPhone alone, many of which were shared on social media. These visuals are influencing travelers throughout their travel journey – from inspiring them to visit a destination to choosing where to stay to helping them decide where to go to eat or what activities to explore when they are in market.
In an environment of information overload, visuals are what get people's attention and make them want to learn more about a destination, a restaurant, a tour operator or a review.
If you're getting ready to head to a local festival, do you want to see photos from yesterday or 3 years ago? Can your travelers and locals see this kind of imagery on your destination website and social channels?
If not, they are going to find it elsewhere. Worse still is that you will have left them with an impression that you don't have relevant information, so they are unlikely to keep coming back to you for future trip planning.
Don't just keep your text content up to date — make sure your visuals are recent and relevant to your audiences too.
Being real is more important than being perfect.
Anyone who has worked in marketing for more than 5 years likely grew up with the notion that brands needed to project an image of perfection in order to be professional and impactful. That's why so many tourism marketing materials are filled with imagery of sandy white beaches with no crowds and hiking trails that are blissfully empty.
We all enjoy the fantasy of a dream destination, so we don't suggest you remove this imagery entirely. But people today trust imagery that is shared by other travelers more than they trust these perfect branded photos and videos.
Don't be afraid to show this side of your destination. Look at the website of Niagara Falls Canada *below) for example. The imagery they use is taken by visitors and locals, and captures the personality of their destination in a way that feels believable.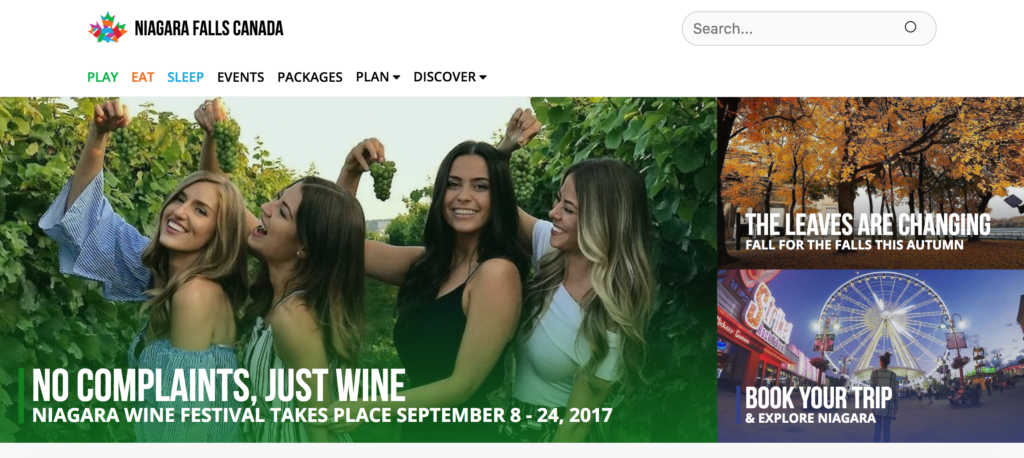 Big influence doesn't require big budgets
In our workshop, we shared examples of destinations who are go-to authorities of their destination, largely in part because they have mastered telling, curating and sharing the story of their brand. The tourism brands we showcased ranged from smaller cities to globally known destinations. And some of the best examples were done on a relatively small budget.
Gathan Borden is the Vice President of Marketing at Visit Lex, who shot a series of commercials based on footage of Go-Pros strapped on horses at a local farm. These videos cost a fraction of other videos he had produced, and yet they have become some of the highest performing. I love this nugget from him: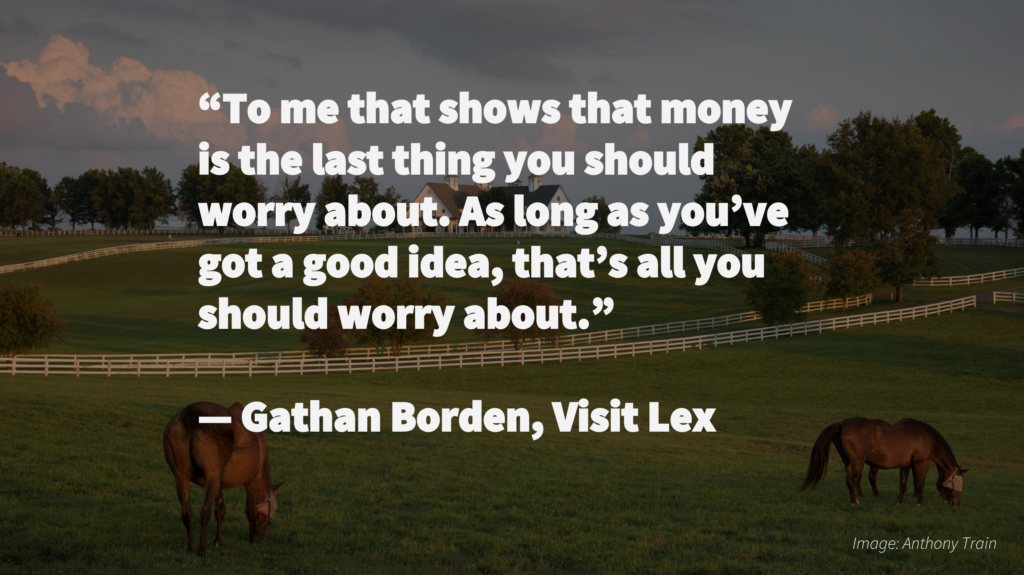 5 Common Characteristics of Visual Influencers
While every destination is unique, there are certain commonalities among those who really stand out with their visual content. If you want to achieve the incredible impact these DMOs have, consider the following:
Focus on what makes you special
It's tempting to appeal to every kind of traveler, but don't. Just don't. Focus on what makes you special, and attract the travelers who are interested in you because of this specialness. Make your traveler feel like they have discovered a destination that was tailored for people like them.
Show, don't tell
Pictures really do say a thousand words. And by pictures, we mean moving images too. Videos, GIFs, you name it. If there's one thing you take away from our session, it's this.
Let others tell your story
What if I told you there were thousands of people who were eager to promote your brand, for free. Wouldn't you jump on that opportunity? These people are everywhere online, sharing photos and videos and great experiences on Twitter, Facebook, Instagram, YouTube, etc… You just need to find them and put them front and center in your marketing.
Be aspirational and authentic
Don't choose between branded professional photography and user-generated visuals. There's a place in a marketer's toolkit for both, as they serve different purposes and work beautifully together.
Take creative risks
This one sounds easy but it's the hardest to do. We all have reputations and very public profiles – it's not easy to expose ourselves to a possible failed experiment. The problem is, some of the best ideas shared in our workshop took a stretch of the imagination and a leap of faith by the DMO. Find ways to foster and test creative ideas.
Learn more
If you're interested in seeing a copy of my slides or learning more, Tweet me @amritagurney or get in touch.
---