What Makes an Appetizing Press Tour? How Choose Chicago Charmed a Toronto Food Writer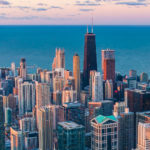 As destinations continue to grow their digital channels, influencer trips are becoming more and more common.
In fact, 86% of marketers used influencer marketing last year, with tourism marketers being no exception to the rule.

But what makes a press tour or FAM (familiarization trip) a success?
We had the chance to chat with Suresh Doss, an influential food writer based in Toronto, about one standout press trip he took last year with Choose Chicago. From one influencer's point of view, this is what made this particular trip a refreshingly enjoyable experience.
Pitching a palatable press tour — flexibility is key.
The superb video storytelling pieces that Suresh produces on his food-focused Instagram were what caught the eye of Choose Chicago's Director of Media Relations, Melanie Perez. She invited him to come to Chicago and attend the James Beard Awards, as well as eat his way through the city.
"My usual response is — I love FAMs, I love press trips, but I need flexibility, and I need it to be as organic as possible," said Suresh.
Typically, press trips involve really long days, but with awkward gaps between meals and activities. In the small windows between events, as Suresh explained to us, influencers don't have much flexibility to do anything except wait in their hotel room until the next thing.
The sample itinerary Melanie sent along was jam-packed — however, "She said to me, if you want to do anything in between, just let me know. I've designed it in a way that you can just hop on, hop off." The flexibility offered to him was refreshing and ultimately made him say yes to the five-day trip. "That's never really been offered before."
Hiring the right people to talk about the right things.
"Very rarely do I go on a food tour led by a local expert."
Suresh explained that on typical press trips, DMOs like to take care of everything internally. They'll choose and set up all the itinerary items with their partners, and act as the guide throughout the trip.
But there's a problem with this approach: when it comes to sitting down and eating at these local spots, a DMO's press representative doesn't always have the expertise to explain specific dishes, ingredients, and food histories of a particular place to another foodie.
In Chicago, Suresh joined seven other international food influencers on the trip. Each day, they visited one non-food related attraction then embarked on a food tour.
"In this case, what they did was great. Melanie hired a local food writer and a local beer writer," said Suresh. Having another foodie guide the tour was like being guided by a local counterpart, someone who spoke the same language.
On the day they spent with the local foodie, they visited nine restaurants in five hours. While long, it gave Suresh and the other influencers a really great snapshot of the different neighborhoods, as well as what each meant to that person.
"They hired the right people to talk about the right things."
Giving influencers all the pieces to complete their stories.
As for the non-food related attractions they visited, they fit seamlessly into their trip and gave the foodies even more content to work with.
For example, one of the days, the group went on a shoreline cruise of Chicago.
"It allowed me to get the photos I needed for my Chicago piece," said Suresh. "Melanie knew we'd need a skyline shot. Got that now."
It wasn't just that Choose Chicago had provided opportunities like these to help their guests tell better stories about the city — they also gave them the flexibility to make the most of them.
"The last thing you want when you're on a press trip as a photographer is to take the same photo everyone else is taking."
Which is something, Suresh explained, that happens a lot. Typically on food tours, influencers are given one plate of food to photograph in a specifically set-up spot. People then crowd around and snap up photos of pretty much the same thing.
Choose Chicago, however, had a different approach:
"Melanie gave us carte blanche access to do whatever we wanted at the restaurant we were visiting. We could look at the menu and order whatever we wanted and move around and take our own photos," said Suresh.
Different people have different aesthetic styles. Having the creative freedom to order different dishes, move around plates, and snap up the items that map to the specific story they're trying to tell (rustic vs. chic vs. modern, for example) meant that the tour catered to each individual.
"It allowed us to do our own thing and have our own materials," said Suresh. "So when I came back to Toronto and looked at the hashtag or geotag [on Instagram], all the photos were different."
Choose Chicago's recipe for a successful foodie press tour
The key theme throughout the entire experience was the attention to detail and consideration Melanie and Choose Chicago put into organizing it. Everything from the hotel (strategically next to The Magnificent Mile), to the shoreline cruise, to the adaptable schedule and creative freedom, was arranged to help their guests make the most of their trip.
"I've been to many, many different cities, and many international destinations," said Suresh. When it came to Choose Chicago's trip, however, it stood out. "You could tell [this trip] was designed by someone who genuinely cared about their city."
Suresh Doss is the Editor-in-Chief of Foodism Toronto Magazine, food guide for Metro Morning, and regularly hosts food tours himself. He was also a guest judge on Top Chef Canada: All Stars.
Find his work here:
Twitter: @suresh
Instagram: @suresh
Website: sureshdoss.com
---
Recommended reading: