What Travel Marketers Need to Know About Marketing to the American Traveler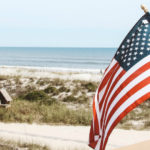 How much is the typical American traveler spending on their summer vacation?
What kind of travelers are the most influenced by social media?
How do travelers who visit National Parks differ in behavior to travelers who go out of country?
These are all questions that the folks at Destination Analysts have answered in their quarterly survey, The State of the American Traveler. The Traveler Segments Edition surveyed over 2000 participants to find out what motivates and excites different segments of American leisure travelers.
We recently had the opportunity to join Destination Analysts on a webinar hosted by our friends at Miles Partnership as a guest speaker during their webinar, going over the new insights from the summer survey.
If you didn't have the chance to check out the full webinar, not to worry. You can watch the full webinar here, and read a summary of the insights below!
Different types of American travelers: their behaviors, interests, and motivations
1 | Generation Z is always on their phone (and on Instagram)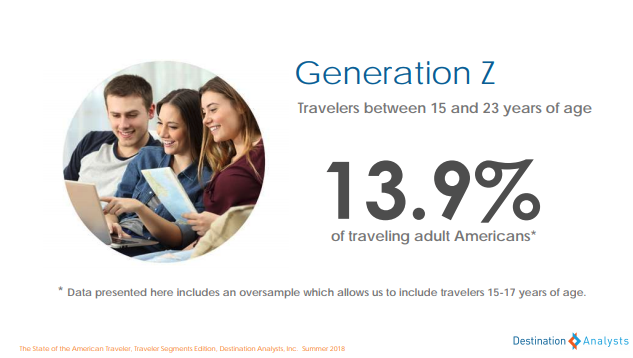 Insights on American Gen Z travelers:
Gen Z's travel decisions are primarily driven adventure and the desire to explore a new place

Instagram and YouTube are their most popular social platforms, with 80% of Gen Z saying they regularly using these platforms

They're not using DMO websites as much as other generations

They are smartphone trip-planners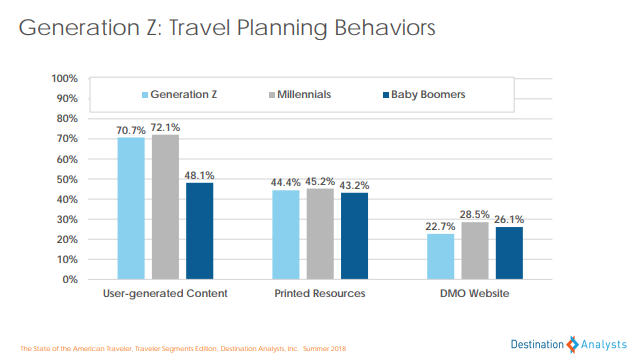 What this means for DMOs:
If you want to attract the Gen Z traveler, you'll want to reach them on the channels they frequent, with the content they like. In this case, that could mean serving them Instagram ads that use rights-approved UGC visuals. Since they are motivated to travel by adventure, use imagery of your hiking trails, lakes, or your most exciting outdoor experiences.
2 | International travelers are hyper-informed and take advantage of any travel resource they can get their hands on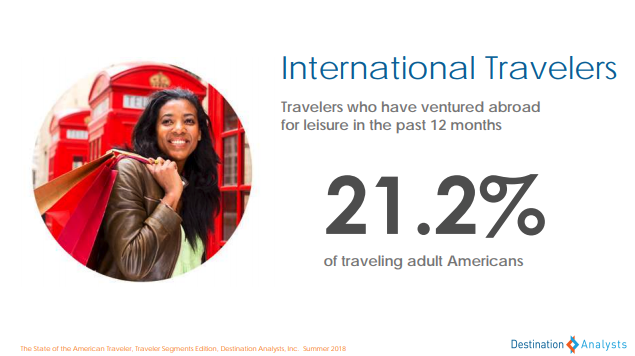 Insights on American travelers who go abroad:
Enthusiastic travelers and intend to take more trips in the following months

Hyper-informed travelers: higher usage of various trip planning resources across the board (including UGC, social media, print resources, and DMO websites)

They make greater use of DMO websites than other demographics

They are motivated to travel for cultural and culinary experiences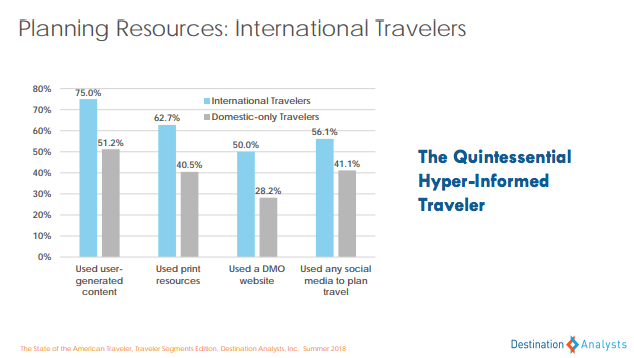 What this means for DMOs:
Because you can be sure the international American traveler will be Googling for all the resources they can find, make sure you make your website and resources stand out.
How? Start by differentiating your DMO's visuals from what people can find just by using Google. What is the sort of content only you can show them?
On Tahoe South's homepage, for example, they have an always up-to-date gallery of curated social media visuals.
Because they're updated so frequently with fresh photos and videos, they've made their website a unique hub for the type of content travelers can't find anywhere else.
3 | National parks visitors are younger families who are drawn to different parks based on its culture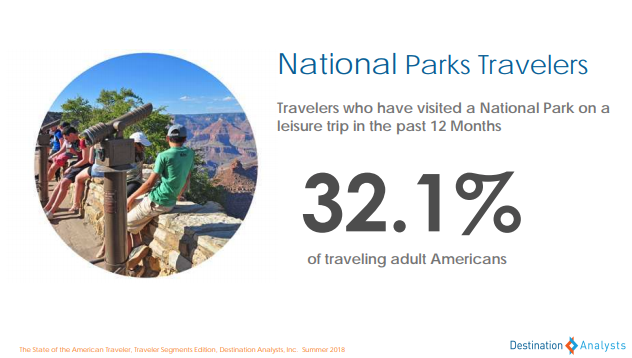 Insights on national parks travelers:
Most are young families and travel with their children 54% of the time (when the average for non-national parks visitors is 24%).

More likely to travel in an RV

They turn to UGC, print resources, and social media to plan travel

They are drawn to a national park not just for the adventure/exploration aspect, but for culture and history too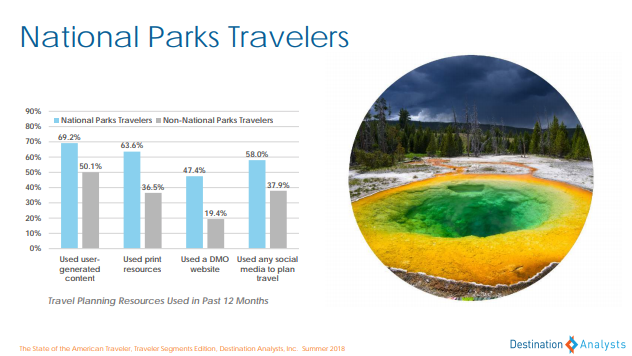 What this means for DMOs:
When you're promoting your national parks, keep in mind that these travelers are primarily driven to a park because of its unique cultural significance or history. Instead of just focussing on the different trails or landscapes available to a visitor, make sure you touch on cultural aspects as well.
For example, the New Mexico True video campaign features not the New Mexico landscape, but the people of New Mexico, and how their lives have been shaped and changed by the region. For parks, you can consider inviting locals or frequent visitors to share their connection with the place, in a video series, blog post, or even on social media.
4 | Family travelers are heavily engaged on social media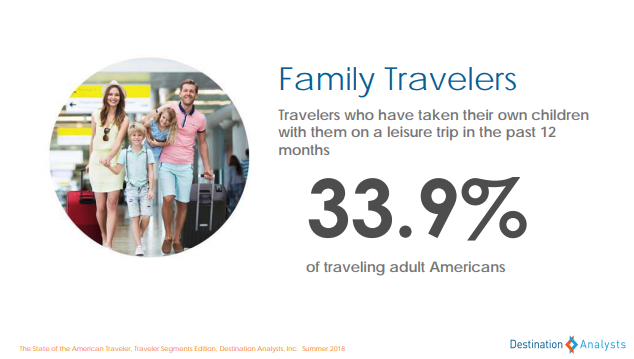 Insights on the American family traveler:
Heavy social media consumers and users

45% of these travelers say that they

always

take photos and videos to share on social media

64% use social media to plan trips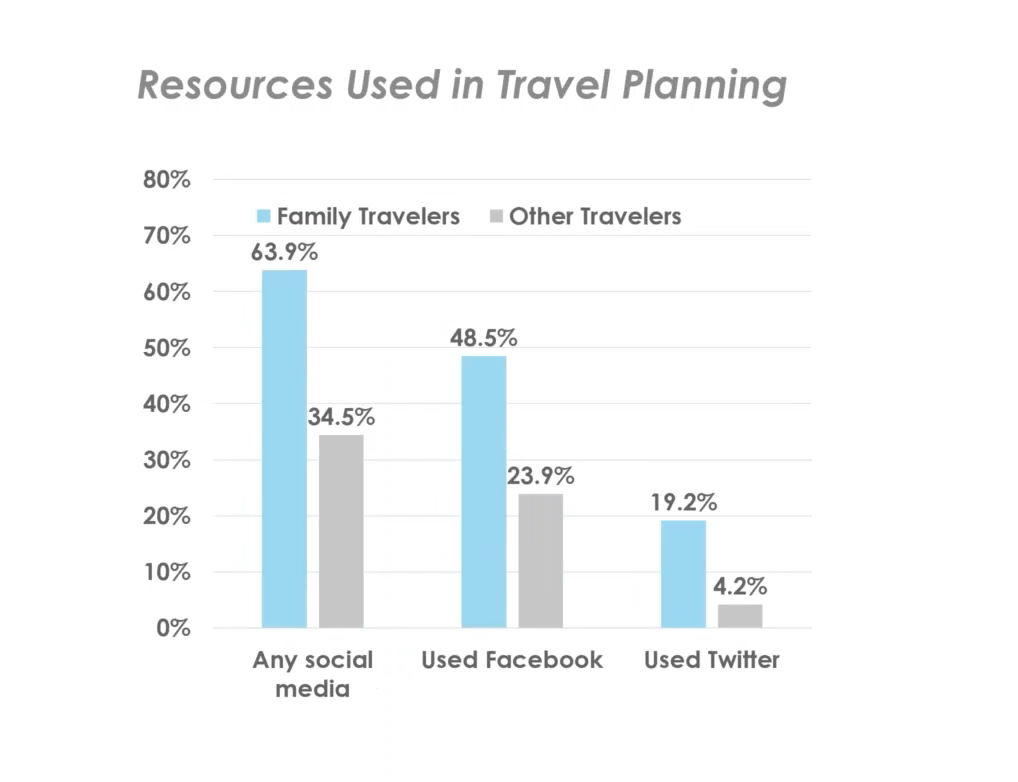 What this means for DMOs:
Family travelers are a huge segment of American travelers that are a marketer's dream. Not only do they produce a ton of UGC, they respond well to it too.
When targeting family travelers, it can be powerful to show how other families have traveled, through UGC visuals. On the Family Fun section of Visit Stockton's website, they have a header gallery of social media visuals from families who have visited.
5 | Print resource users also are heavy users of digital resources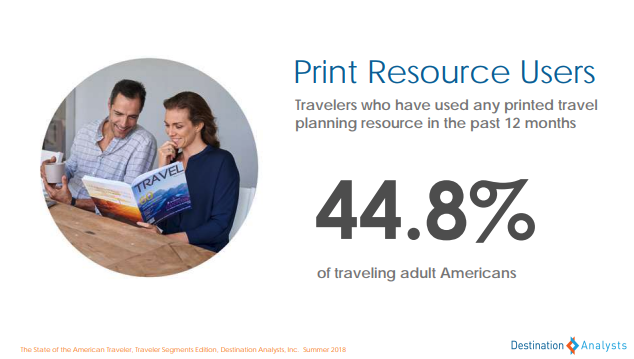 Insights on American travelers that use print resources:
Print resource users still make up a large portion of the travel market

Are not as likely to use DMO websites as others

Also heavy users of other digital resources, such as user-generated content and social media
What this means for DMOs:
What may be surprising to many marketers is that even though print resource users do indeed use print, that does not mean they don't turn to digital resources too. In fact, Destination Analysts has found that travelers who use print resources are also more likely to turn to UGC and social media as well.
A great way to tie these things together is to add the user-generated content that these travelers seek out, straight into your print materials.
Here's an example of Travel Alberta's visitor guide, where almost every other page incorporates beautiful captures of the province, taken by travelers and shared on Instagram:
6 | Social media-influenced travelers like to spend more money on their vacations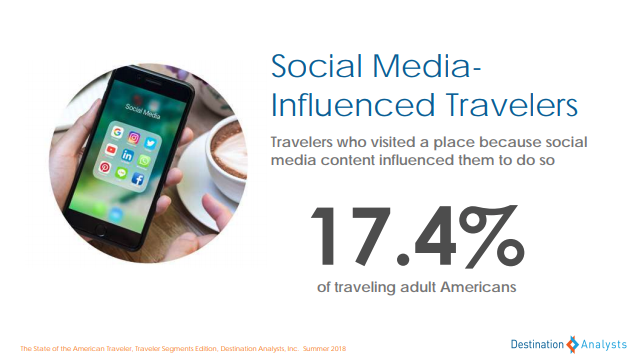 Insights on the American social media influenced-traveler:
They have higher budgets – max. annual is $3685, whereas other travelers spend around $2975

They expect to both travel and spend more in the next 12 months

Driven by cultural and culinary factors

More likely to be interested in discounts and deals
What this means for DMOs:
The fact that social media-influenced travelers have larger budgets is an affirmation of the power of social media for travel – that those who are influenced by this medium are, in many ways, an ideal traveler.
What's interesting to note is that most DMO Facebook ads feature landscapes – however, the social media-influenced traveler is most interested in cultural and culinary experiences. In the next ad campaign you run targeting this group, try testing how food centered ads stand up to your typical landscape-centric ad creative.
7 | BLeisure travelers are heavy social media users, for trip planning and bragging rights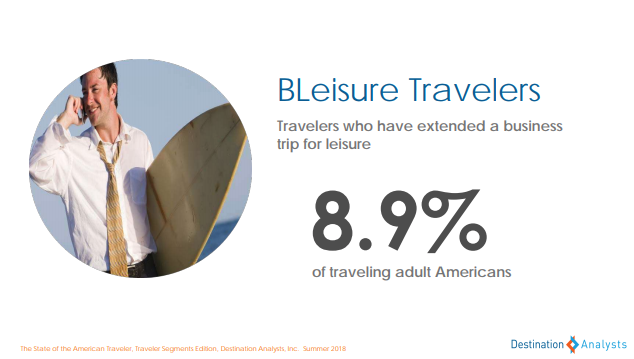 Insights on the American BLeisure traveler:
They extend business trips primarily for the chance to unwind and relax, or explore an interesting destination

30% of bleisure travelers will extend a trip if they come across a great hotel deal

80% of bleisure travelers use social media for travel planning

More likely to use social media for bragging rights, to influence their networks to travel, and start public conversations online
What this means for DMOs:
The great thing about Facebook is that you can get super targeted with your ads – meaning that you can target BLeisure travelers (or those likely to be BLeisure travelers) with great hotel deals and incentivize them to extend their trip in your destination.
Get the full insights from Destination Analysts and Miles Partnership
Whether you're an American travel marketer or an international one hoping to tap into this market, we hope that this summary was helpful. For the full insights and some visual marketing tips, be sure to get the report and check out the full webinar here.
---
Further reading