Why Destination Marketers Need to Keep Owned and User-Generated Visuals Together

If you're like most destination marketers, you use both owned content and user-generated content (UGC) in your marketing.
As a quick refresher:
Owned content includes the photos and videos that you have commissioned from professional photographers, acquired through photo shoots, or purchased from stock vendors.
User-generated visuals are the photos and videos of your destination that visitors have taken and shared on social media (like Instagram, for example) of their own accord.
Along the same track, if you're like most destination marketers, you also probably manage these two types of assets in separate systems.
But that may no longer be the best way to manage your visuals.
As UGC marketing continues to rise, managing owned and user-generated content together in one place is going to set you up for success.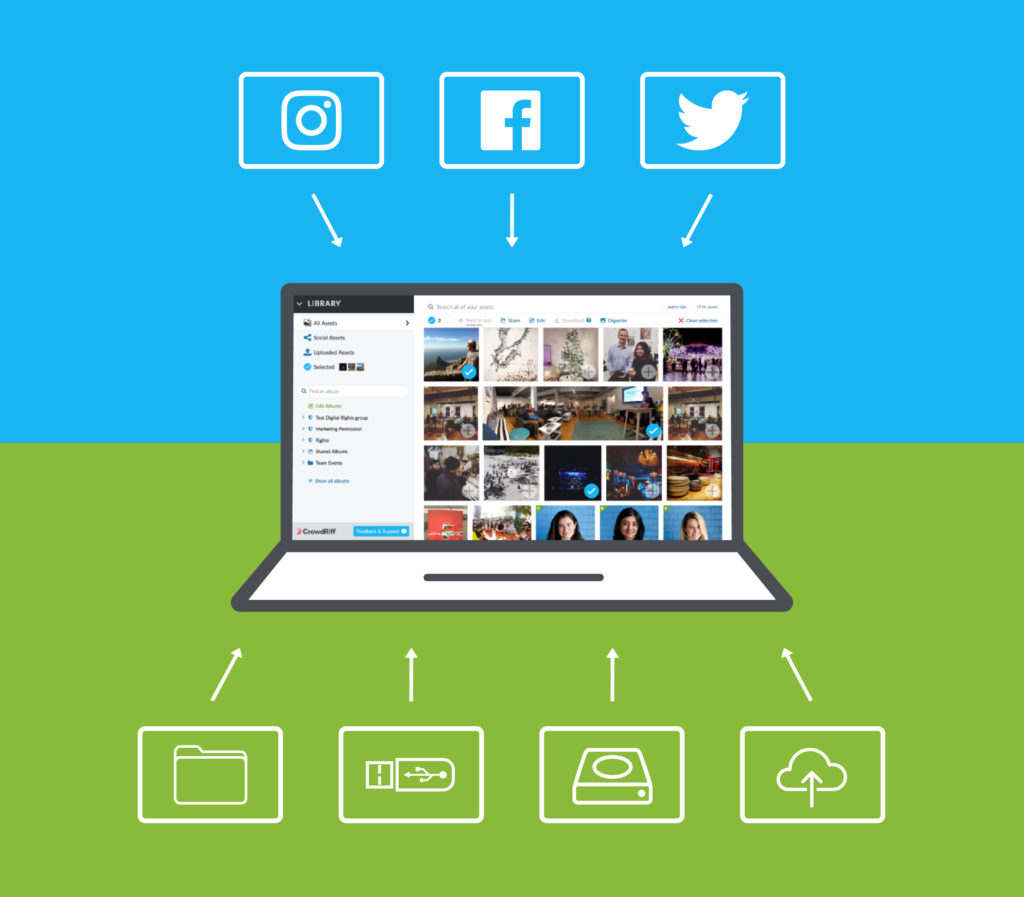 1 | You already use owned and user-generated content interchangeably.
As recently as two years ago, incorporating social media photos onto your website was something groundbreaking. Today, however, as more and more DMOs are featuring galleries of UGC front and center on their homepages, visitors expect to see this authentic perspective.
DMOs are using UGC as another regular source of marketing visuals, whether to liven up their web pages, bring variety to their social media accounts, or to make their digital ads pop. Some, like Visit Huntington Beach, Travel Alberta, and Visit Stockton, are even using rights-approved imagery in their visitor guides.
Today, owned visuals and user-generated content are being used interchangeably, so it only makes sense to keep them together and accessible in the same place.
2 | You transition to thinking about finding the best visual (regardless of its type).
Right now, before you even start searching for the photo you need, you probably make a decision on what type of image you need. You either go to your DAM for owned imagery, or to social media channels for user-generated content.
If instead you kept all your available assets together, you no longer restrict yourself to a certain type of visual from the get-go.
When you perform one search, you're searching across all your available assets. Then, you can compare them at a glance and select which one is truly the best for your use case – regardless if it's owned or user-generated.
3 | You save time searching multiple places for the right image.
Let's say you're looking for five photos of fall leaves to use in a Facebook ad campaign. You may find three of those photos in your DAM; then have to switch over to social media and perform the same search to source the rest.
If you keep your owned and UGC separate, you're constantly doubling your efforts to find what you need.
When you use both UGC and owned assets regularly, managing them both in one system means you can spend less time searching various platforms, and more time using your great visuals.
4 | You can give the media both sources of content to choose from.

With the incredible rise of the digital photo-sharing culture, with Instagram at the head, user-generated content is taking the world by a storm. It's not just brands that are tapping into UGC, but media outlets (including journalists and bloggers) are increasingly taking advantage of social media imagery to help tell their stories.
When you manage both UGC and owned visuals together, you can share both types of assets together as well.
What's more, when you throw UGC into the mix, because it's so abundant, you can provide a greater selection of fresh and current visuals from all over your destination, without breaking the bank. So the next time a journalist comes looking for pictures to include in their 10 Best Places to Brunch article, they'll not only be able to select from your commissioned photography, but also UGC from a variety of specific restaurants and cafes from all over your destination.
5 | Multiple departments can collaborate on the same platform.
The folks at Experience Scottsdale replaced their legacy digital asset management system with CrowdRiff, which also supports user-generated content. Now collaboration between departments is much more streamlined, as everyone goes to one source to find visuals.
"If I have a graphic designer who is looking for an image for a story in our visitor guide, she can look both at the UGC and digital assets we own in one spot to see what's available, and if she needs to reach out to a user to ask permission or get in contact, it's just so handy to have it all together in one platform."
– JoAnne Zeterberg, Director of Creative Services at Experience Scottsdale
But what about permissions?
A big reason you might hesitate to combine your UGC and owned content is, of course, differing permissions. Rights for UGC differ a lot from owned content, which often have expiry dates or other conditions for use, as stipulated by the original photographer.
That's why you need a solution that is created specifically to house both types of visuals and has built-in infrastructure to help manage their unique permissions.
Before you go and combine owned and user-generated content together, you need to make sure the digital asset management system you select accounts for the differing permissions of both UGC and professional photography, like CrowdRiff.
Owned and user-generated content belong together
Take a moment to think about your primary system for managing visual assets.
Now ask yourself: is it able to manage all of the visuals you use regularly in a way that makes it easy for you to use them?
Modern tourism marketers need a solution that caters to their modern use cases – and that includes having functionality for both user-generated content and owned content.