As more places around the world slowly begin to reopen, preparing for the recovery is a top priority for many destination marketers.
CrowdRiff galleries help get your message across visually.
Whether you want to communicate how road-trip friendly your destination is, its wide open spaces, or simply stay top of mind with future travelers, galleries help you regain control of the conversation and inspire action when it makes sense.
Read through the following examples to get ideas for how you can use galleries to contribute to your recovery efforts.
1 | Attract interest from the drive market
North Alabama has historically been a drive market. As an affordable destination with many outdoor activities that are naturally socially distant, the DMO is creating actionable content for when the economy restarts.
Using galleries, they created road trip itineraries using CrowdRiff galleries for people to "get out and explore once we're able."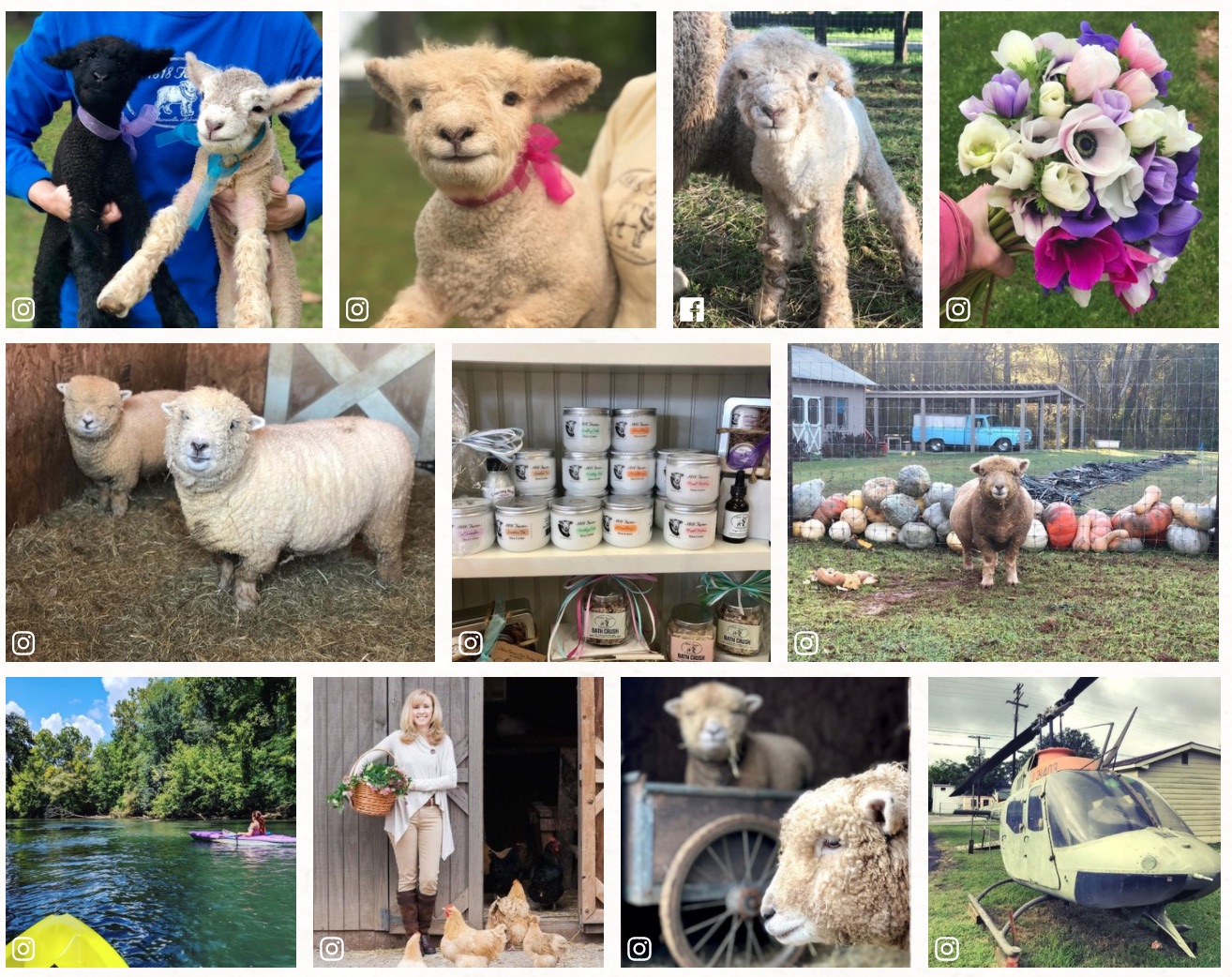 How to do it:
Decide what your road trip will look like. Take note of key places of interest. For North Alabama, these included the EarlyWorks Family of Museums, Wheeler Wildlife Refuge, and the Oakville area. If you have existing data on how people travel in your region or state, use that to inform your decisions.
Make a list of relevant partners and their social profiles. Add these partners to your tracked business accounts in CrowdRiff.
Identify any relevant, regional hashtags, and add these to your tracked hashtags. For example, North Alabama is pulling content from #northalabama and #visitnorthal.
Create multiple galleries for each stop along the way. Update the galleries as new content comes in. You can use gallery templates to bring visual consistency to your design.
Embed the gallery onto your site.
2 | Promote wide open spaces
Whether you're getting ready to market the city to locals or regional travelers, people will resume their lives cautiously. Give them certainty that your destination has the capacity to welcome them safely by showcasing wide open spaces like Highway 1 Discovery Route.
The blog uses galleries to bring the expansive beaches, serene wildlife, and uninterrupted trails of California's central coast to life. While respecting social distancing guidelines, the team has made it clear there is something here for everyone: nature-lovers, bikers, and road-trippers.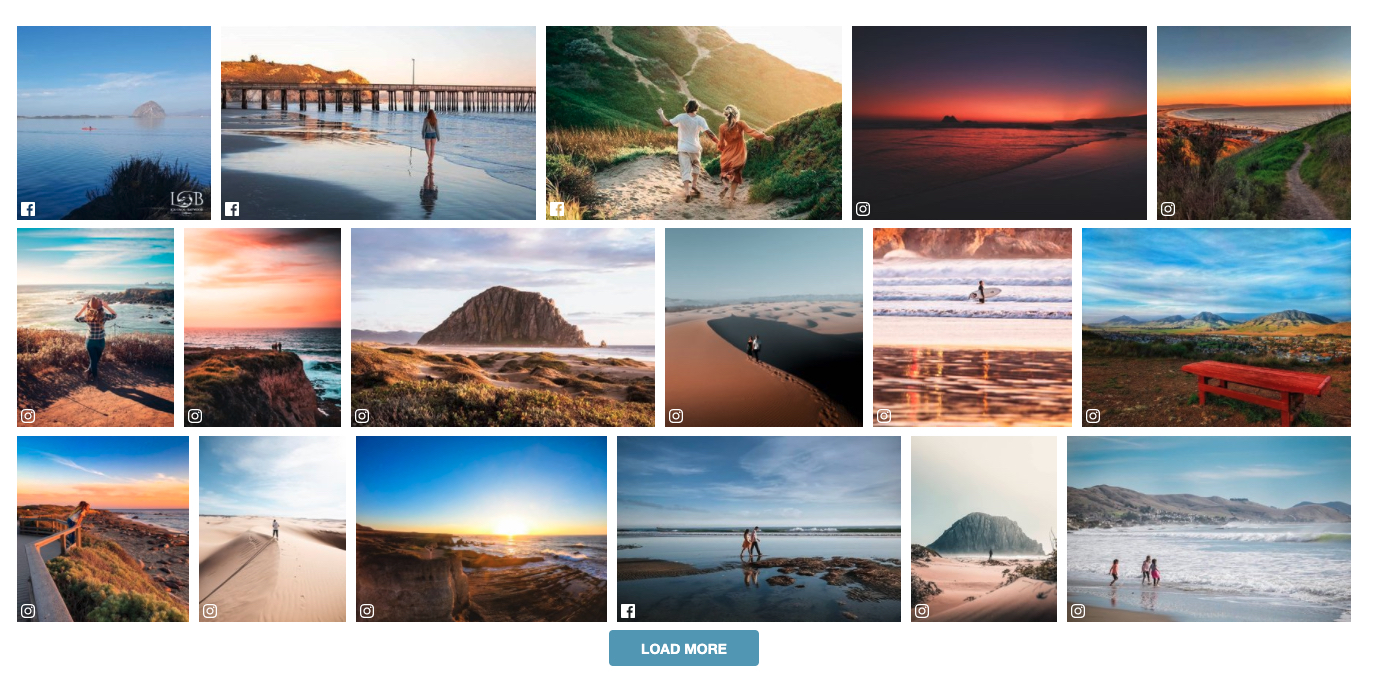 How to do it:
Undiscovered trails, rugged coastlines, rich history that can be seen from a car—find ways to softly market your destination in a way that doesn't put people's safety at risk.
Search these terms in your CrowdRiff library. If you're looking for content about the beach, for example, narrow your query using Intelligent search.
Create a gallery for each of the places you want to highlight. Use a naming convention that indicates this gallery content is for a special purpose, like "Beaches – uncrowded" or "Cycling – uncrowded."
Save your search so you can easily find and update content as the recovery progresses.
3 | Keep locals and future travelers engaged
Stay top of mind with travelers by letting them choose their own way to dream, like Visit Illinois. On their homepage gallery, they use hashtag filters, allowing people to see content based on different categories like road trips, outdoor adventures, and history.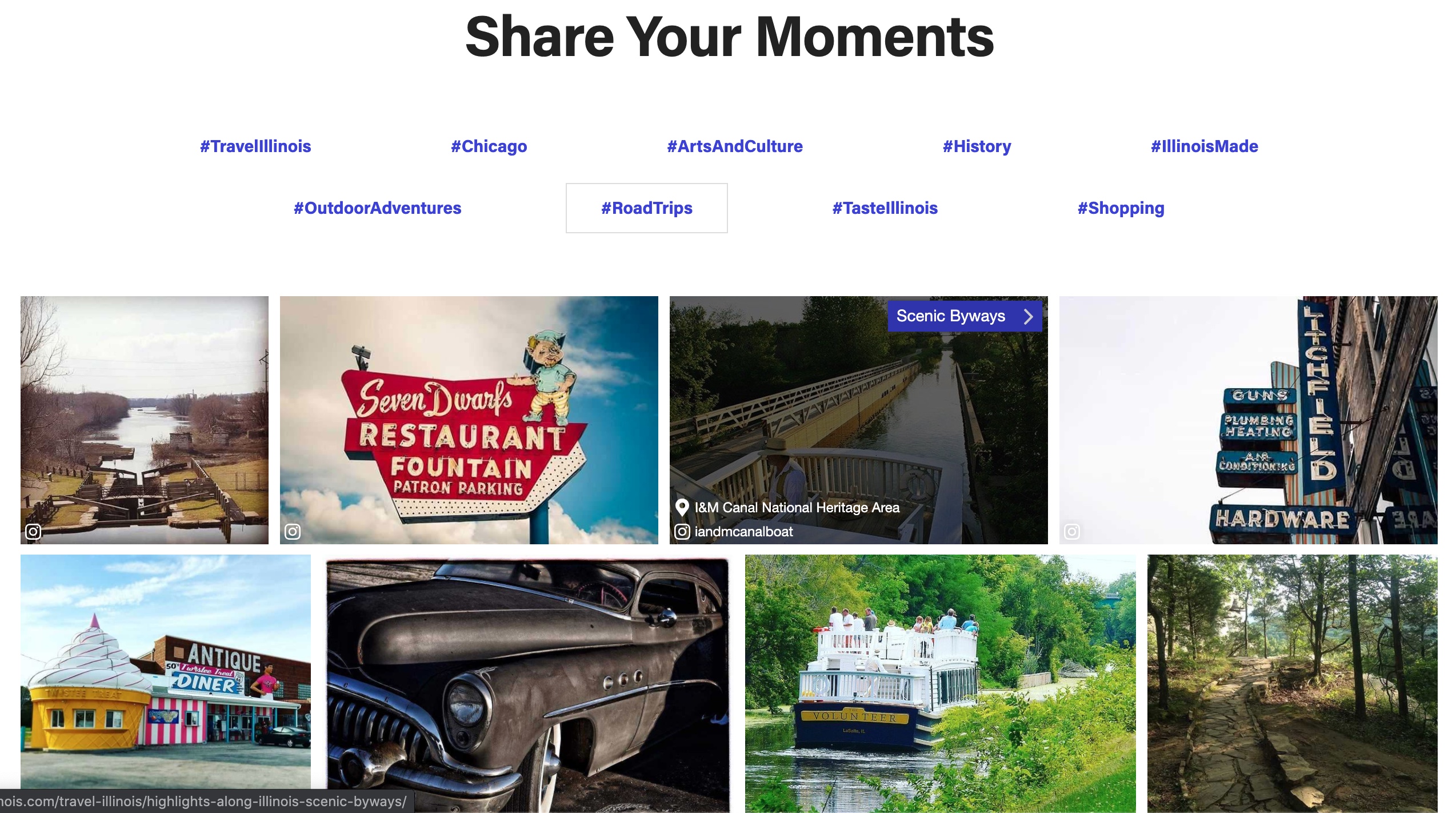 How to do it:
Keep the aspirational UGC on your homepage up-to-date. Use visuals that meet social distancing guidelines, and avoid activities with large crowds.
To create hashtag filters, create several galleries for each filter you want to display. Ask your web developer to bring these galleries to life on your site.
Deeper in the site, there's also a dedicated COVID-19 page and gallery. This helps activate local pride by showing how people are staying entertained at home, contributing to their community, and supporting local businesses.
Like Illinois, you can use CrowdRiff to market the city to locals and prepare to welcome national and international travelers again.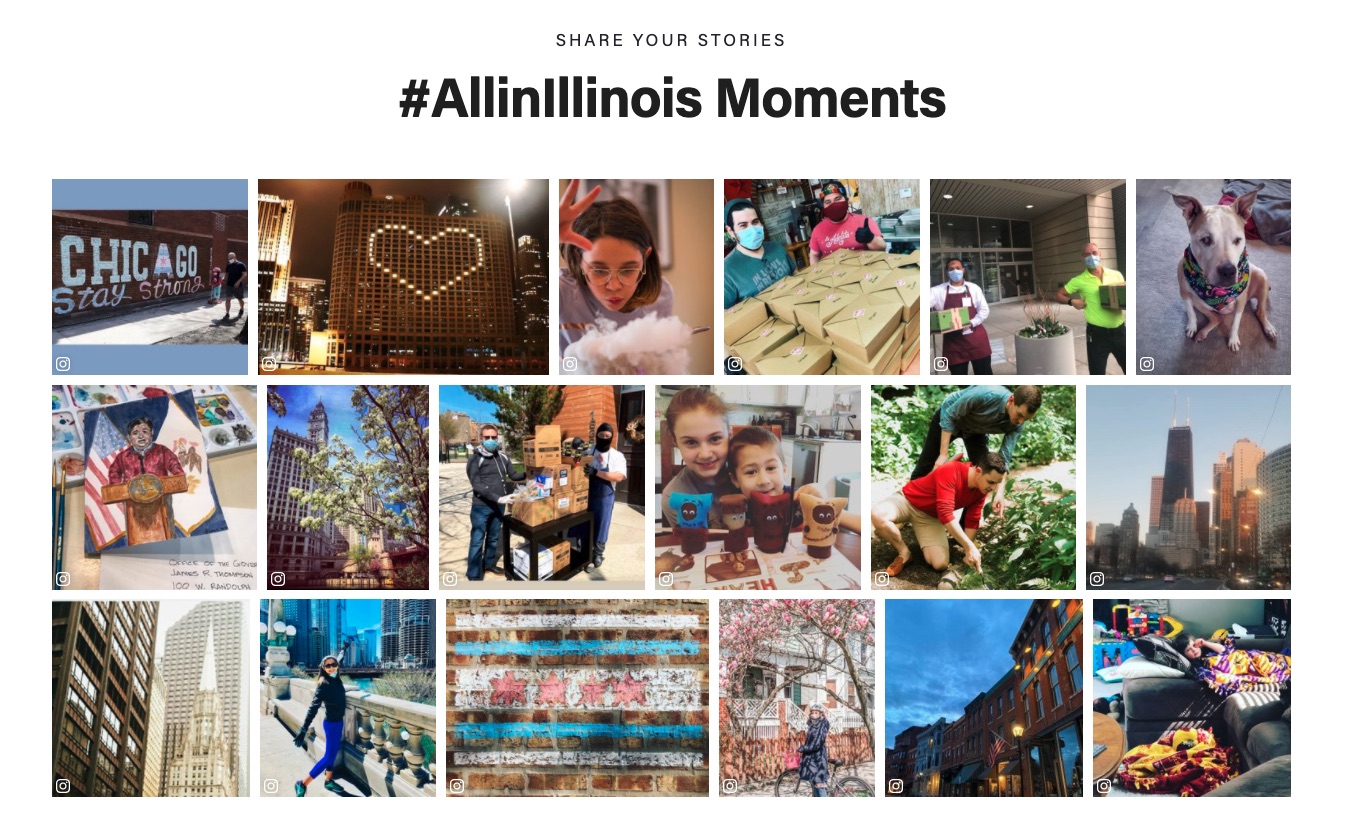 How to do it:
To build a COVID-19 gallery, choose a hashtag you will use to pull in local content, like #AllinIllinois.
Track this hashtag in your Social Trackers.
Promote it on your website, in your newsletter and your social media channels.
Pull this content into a gallery and embed it on your COVID-19 page.
4 | Inspire action through color
What better way to "Dream Now, Visit Later," then by letting future travelers dream in color?
This is the clever strategy behind Destination Cleveland's gallery for coloring pages. They're using CTAs for high-resolution download links and Google Locations to tag the pages so people can learn more about what they're coloring.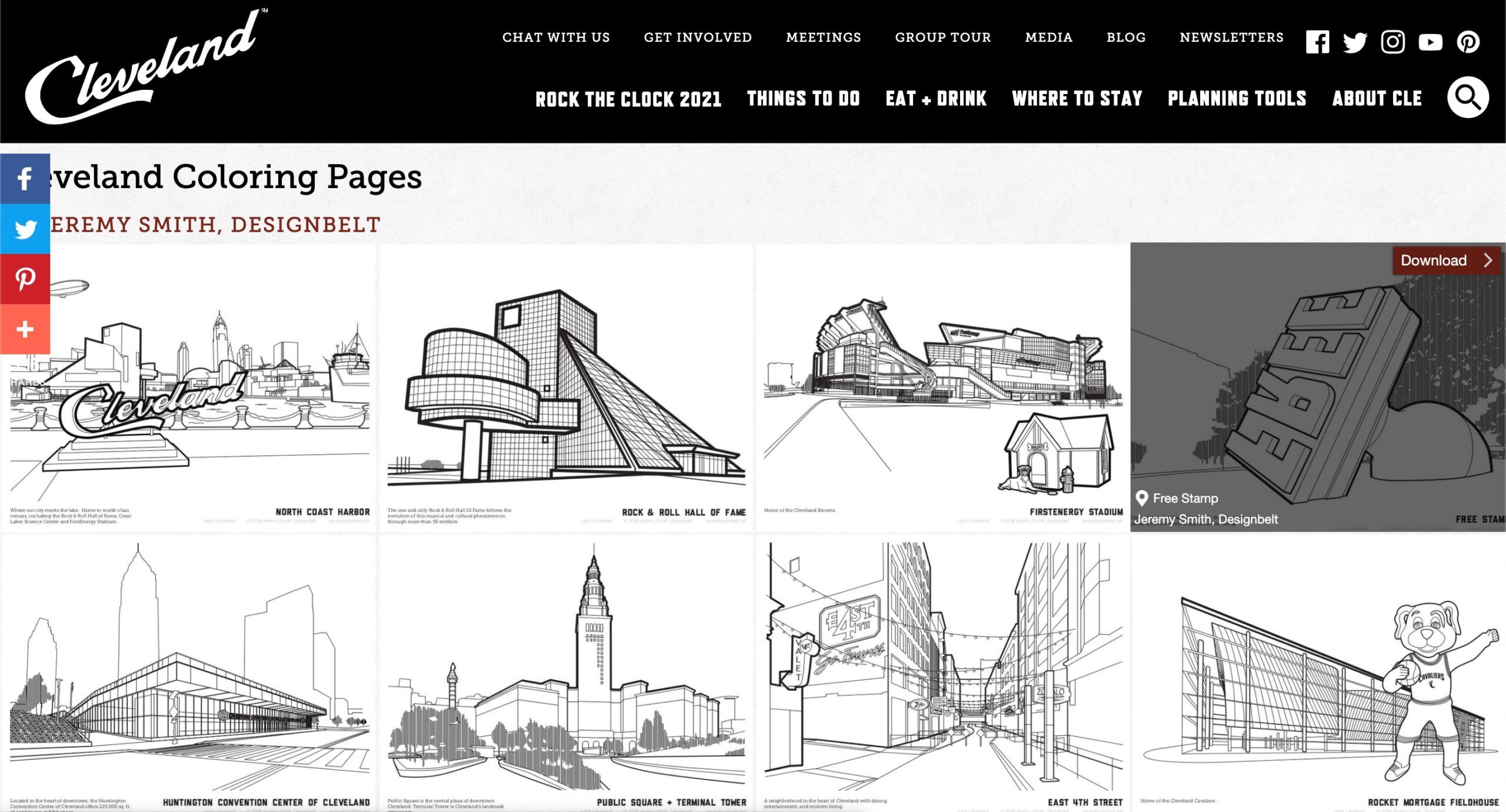 How to do it:
Commission a local artist to create outlines of popular spots in your city.
Upload these images to your CrowdRiff library.
Pull them into a gallery.
Add a CTA to each image by clicking the megaphone icon in the top left section of the screen.
Add a location to the image using Google Locations.
Embed the gallery on your website.
5 | Bring travel into people's homes
Keep locals and visitors inspired by allowing them to visit the iconic spots of your city every day.
Visit Saint Paul, MN, is hosting their Zoom meeting backgrounds in a CrowdRiff gallery. They use CTAs to drive people to their Media Hub where they can download them.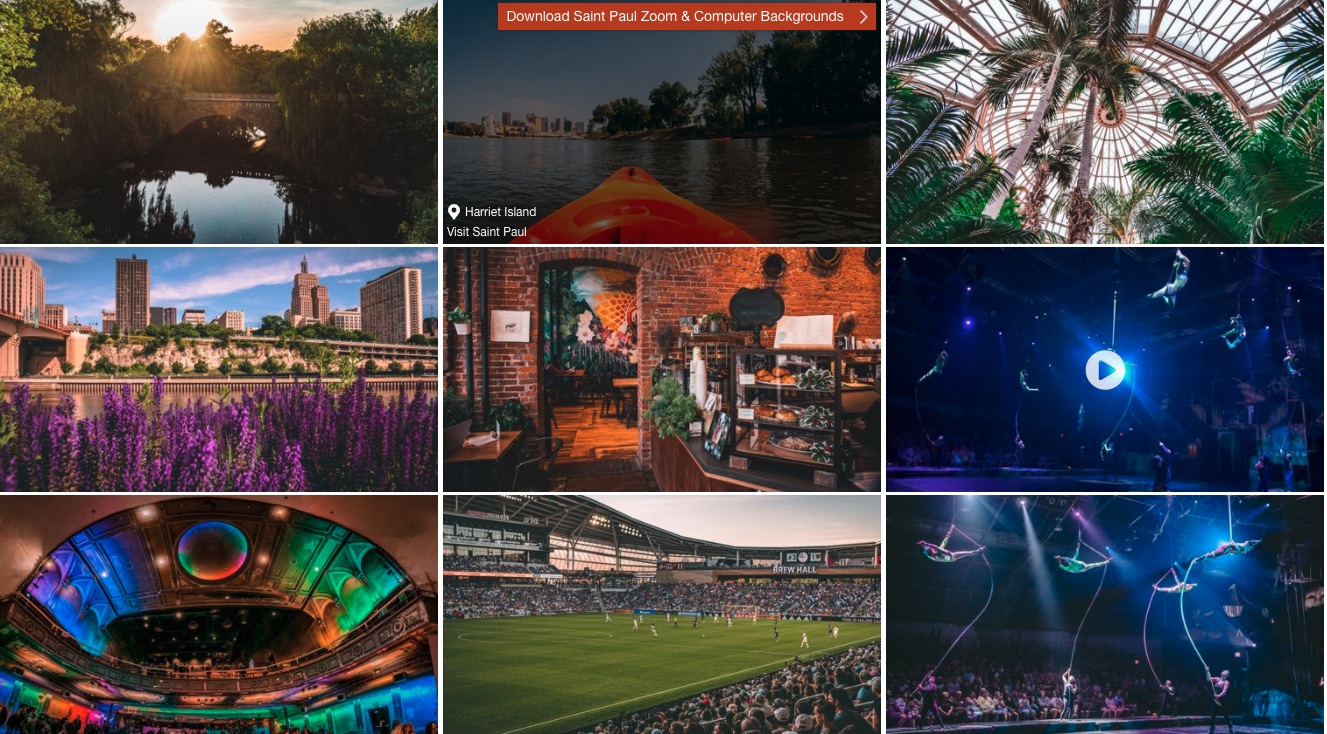 How to do it:
Once you have your Zoom backgrounds, upload them to your CrowdRiff library.
Pull these images into a gallery and embed it on a relevant page, like your "Things to Do from Home" page like Saint Paul.
Add CTAs to each image.
*To link to your Media Hub, you will need to have this feature set up in CrowdRiff.
How will you use your CrowdRiff gallery to prepare for the next phase of recovery?
Have an example you think we should know about? Let us know in our Community Stories Hub.
Image credit: @pvandeh