We get this question a lot, and understand that when you are purchasing a product, you want to do your research and make the best choice for your team's needs.
First, we'd like to acknowledge that Stackla is a respected name in the marketing industry. When we see them at conferences we always give them a friendly hello and even gift them our swag when we see them eyeing it from afar.
So what's the difference between our platforms and companies?
We can get into a feature showdown but there's a bigger point worth mentioning:
The Biggest Difference is our

Mission.
Stackla serves companies in a number of different sectors, from automotive to consumer products to travel.
CrowdRiff on the other hand, has been solely focused on the travel and tourism sector. So much so that it is part of our company mission.
We invest deeply in R&D that focuses on the unique needs of travel and tourism organizations. Most of the functionality that is now considered standard for travel marketers was originally developed by CrowdRiff, before other platforms followed suit.
While on the surface it seems like we might do the same thing, our customers feel differently once they actually use the platform.
If you are a travel and tourism brand, welcome to our community. We'd love to chat.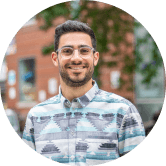 Mark Mezzapelli
VP Business & Partnerships
The Top 5 Reasons Why Travel Brands Choose CrowdRiff vs Stackla
01
Ease of use
This may not seem like a big deal if you are not the power user of CrowdRiff. If you rely on us to get your job done, all the little interactions add up to a big difference. We hear time and again that CrowdRiff is simpler to use, which means you get up and running faster and have fewer clicks to accomplish your goals.
02
Data-backed visual intelligence
We work with more travel and tourism brands than any other visual marketing provider, over 800 and counting. As a result we've processed and delivered over 1 billion travel-themed visuals, giving us intelligence on which visuals get more engagement with travelers. No other platform has the data to provide these insights.
03
Fast and direct support
Even the best products require the occasional support inquiry. CrowdRiff's support team handles all customer inquiries directly, not through a partner or reseller. Our average response time is 8 minutes!
04
Product innovation
We spend more time with travel and tourism professionals than any other provider. These conversations with customers, partners and industry leaders feed directly into our product development process. Our customers tell us time and time again how happy they are to see their ideas come to life!
05
Our people
What do people have to do with buying software? A lot, actually. Given the choice of multiple options, who wouldn't want to do business with people that are warm, friendly, and fun to be around? One of our company values is to Wow Customers, and you can see that in every interaction we have with our community.