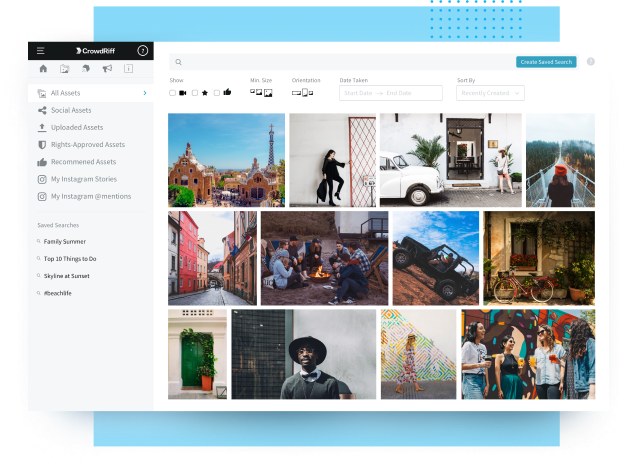 Engage locals and travelers with authentic visuals
CrowdRiff was designed to help travel and tourism marketers solve their biggest challenges around visual content. We make it easy to discover and securely acquire the rights to use the authentic photos and videos people are sharing of your destination.
Explore UGC
What our customers are saying
CrowdRiff allows us to find a regular stream of good quality content that we can share across all of our channels. It has been a very productive tool for us. We've seen an increase in quantity and quality all while having our time requirements reduced.

David Nicol Promote Shetland
Everything is super easy. You feel supported in a way that's really nice.

Jesse Dejardins Wonderful Copenhagen
We wouldn't have access to such a wide image library if we were commissioning because our budget wouldn't go as far as it does with CrowdRiff. With CrowdRiff, we have access to many more images in different styles.

Nicola Edwards Monmouthshire County Council
GDPR Compliant
The CrowdRiff platform is committed to security and privacy and complies with all regulations set out in the General Data Protection Regulation (GDPR).
Our terms of service outline the internal controls we use to ensure our compliance with GDPR.

Our Data Processing Agreements (DPAs) with every customer have been updated with contractual obligations as outlined by the GDPR to guarantee our commitment to privacy and the safe handling of user data.

Data Processing Agreements govern the relationship between the customer (acting as a data controller) and CrowdRiff (acting as a data processor). The DPA facilitates CrowdRiff's customers' compliance with the obligations under EU data protection law and contains strong privacy commitments, and has been updated to confirm our compliance with the GDPR.
Sustainable Tourism in Europe
Learn the importance of DEI in sustainable tourism, how DMOs can make the biggest impact, and the link between sustainable tourism & the local economy.
Download eBook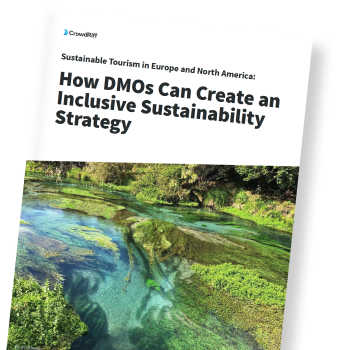 Learn more about visual marketing
Explore our extensive library of visual marketing resources