Bothell, Washington offers visitors a respite from the hustle and bustle of nearby Seattle. Located just a short drive north and surrounded on all sides by mountains, lakes, and breathtaking landscape, it's the perfect place to disconnect from the outside world and reconnect with nature.
While the destination has historically benefited from its proximity to the popular tourist attractions of the big city next door—attracting day-trippers looking for a quieter corner of Washington State—making them aware of its existence and getting them to stay the night have always been a challenge.
The Problem: Explore Bothell's Website Didn't Inspire or Engage
The stale Explore Bothell website certainly wasn't doing them any favors either, offering little in the ways of user-friendly functionality and failing to give people a reason to engage with the brand.
"They wanted a more story-driven brand experience designed throughout all of their collateral, especially their website, representing more of what the destination offers in order to better connect with their audiences," explained Josh Collins, the Director of Destination Activation and Marketing for Streetsense, a Washington D.C.-based design agency and strategy firm.
Collins says it was the Streetsense team's responsibility to grow inbound visitation and attract incremental visitors while driving brand growth, an effort that would require a complete overhaul of the destination's existing website and marketing strategy.
The Solution: Harnessing UGC to Tell An Authentic Story & Connect With Visitors
Collins explains that Bothell is a hidden gem with loads to offer and some very passionate and engaged visitors and locals who were already sharing authentic stories about the area. However, its destination marketing organization lacked an effective method for showcasing their stories or a way to invite others to begin their own.
"We wanted to take advantage of those stories and rethink how a destination connects with its visitors," says Collins.
That's what inspired the new brand, "Begin at Bothell," a tagline that seeks to entice visitors to start their journey at the picturesque town, utilizing a storybook-inspired hand-drawn logo featuring the town's iconic, quaint imagery.
Begin at Bothell
The rebrand also led to the development of a whole new website, which prominently features visual user-generated content galleries. In fact, other than the navigation bar at the top of the screen and the menu at the bottom, the entire homepage is comprised of content sourced from Instagram, and a single search bar. More specifically, "a Bothell-centered visual search engine," as Collins describes it.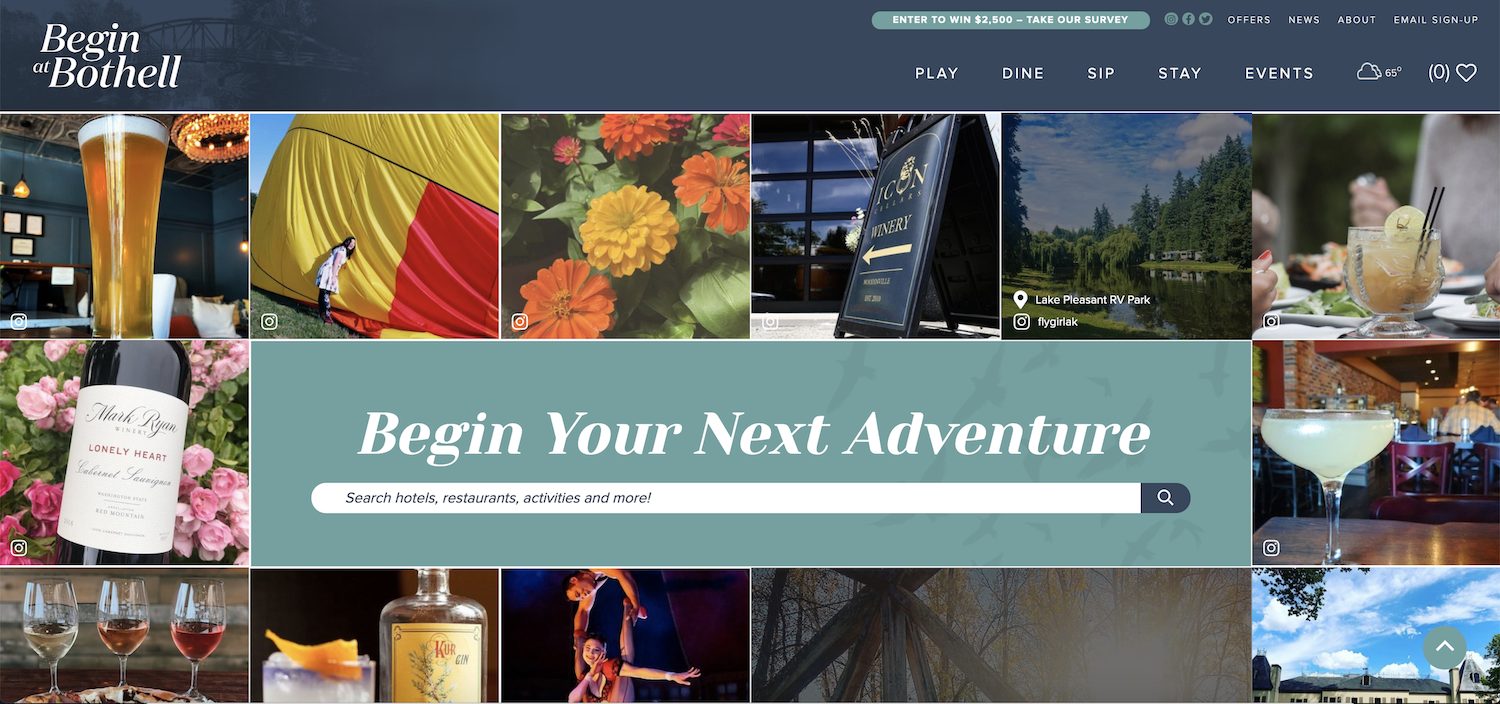 "We wanted to create an experience that takes advantage of search behavior being driven by user interest," says Collins. "We envisioned an engine fuelled by UGC via the CrowdRiff platform, producing results that could easily be packaged into visitor itineraries."
Users are invited to input any keyword into the search bar—such as specific activities, attractions or even types of food—and through CrowdRiff's API, the website provides a rich gallery of visuals to explore. But that's just the beginning.
These custom-made search-query based galleries also allow visitors to click on an image to see more information, with some even inviting them to "learn more" or "visit this location." It gives the destination marketing organization an opportunity to promote individual attractions in an authentic way, by including handy notes like address and contact information.
"Instead of just being a directory for businesses, attempting to compete with Google, we wanted to create an experience." Visitors are also invited to curate their own favorites list based on the images they see and love and export that list to their trip planner of choice.
Powered by CrowdRiff
"The team was really excited as we learned more about the depth and power CrowdRiff had to offer and our minds were instantly spinning with ideas on how to leverage the technology," he said of the feature.
Collins adds that during the 10-week development cycle, the team whittled a 110,000 image asset library down to 40,000 quality assets, and utilized CrowdRiff's AI platform to generate keywords based on their search term criteria to hone in on specific assets. After fine-tuning their visuals, they also added location information to captions and calls-to-action to certain images.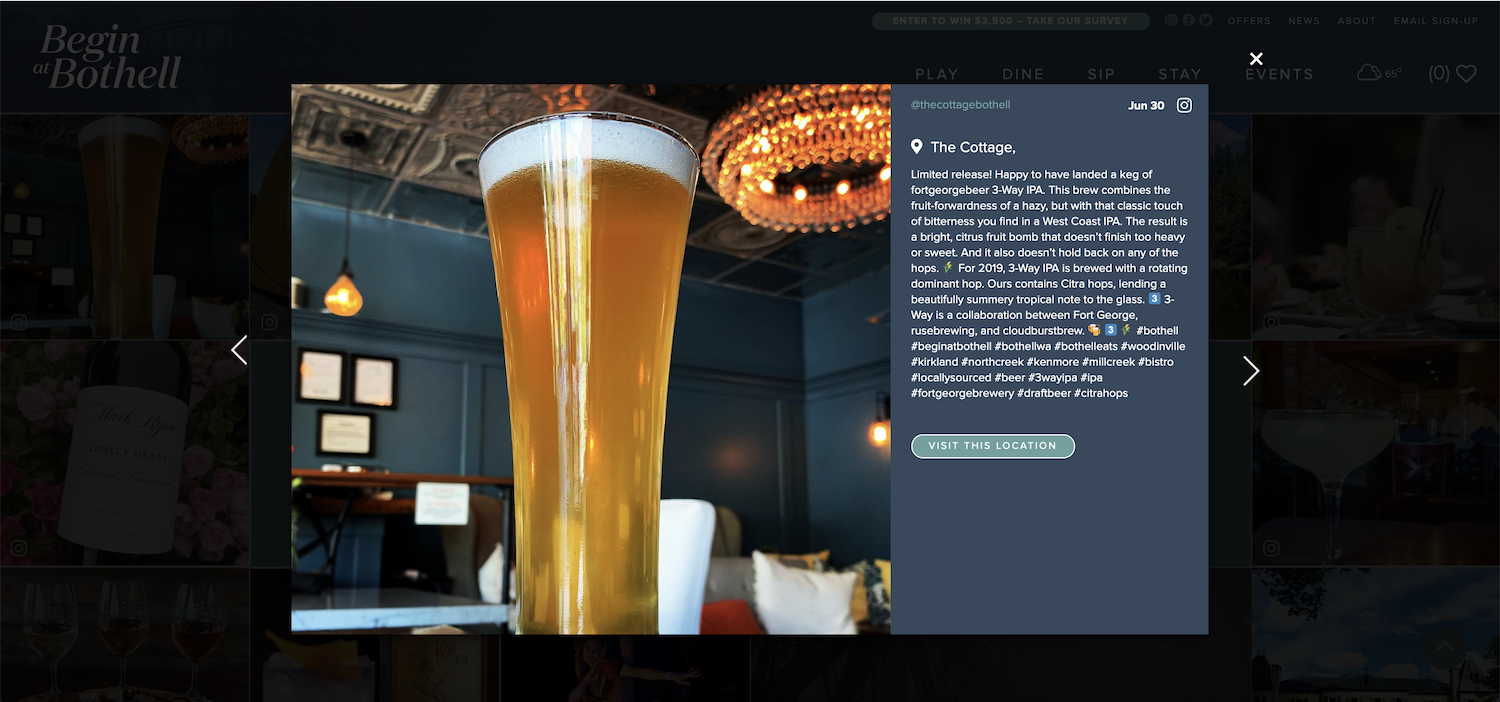 After clicking on an image in a gallery, website users are able to click "Visit This Location" to get more information and add the location to their favourites list.
"We set up close to 200 unique trackers within CrowdRiff, and that's when the magic started: we were really able to see all the incredible visually stunning UGC streaming into our library."
But it's not just the technology platform that helped Collins and his team with their herculean effort. He also credits individual CrowdRiff staff members for taking the time to understand the concept, assist with technical issues and respond to questions with "lightning" speed.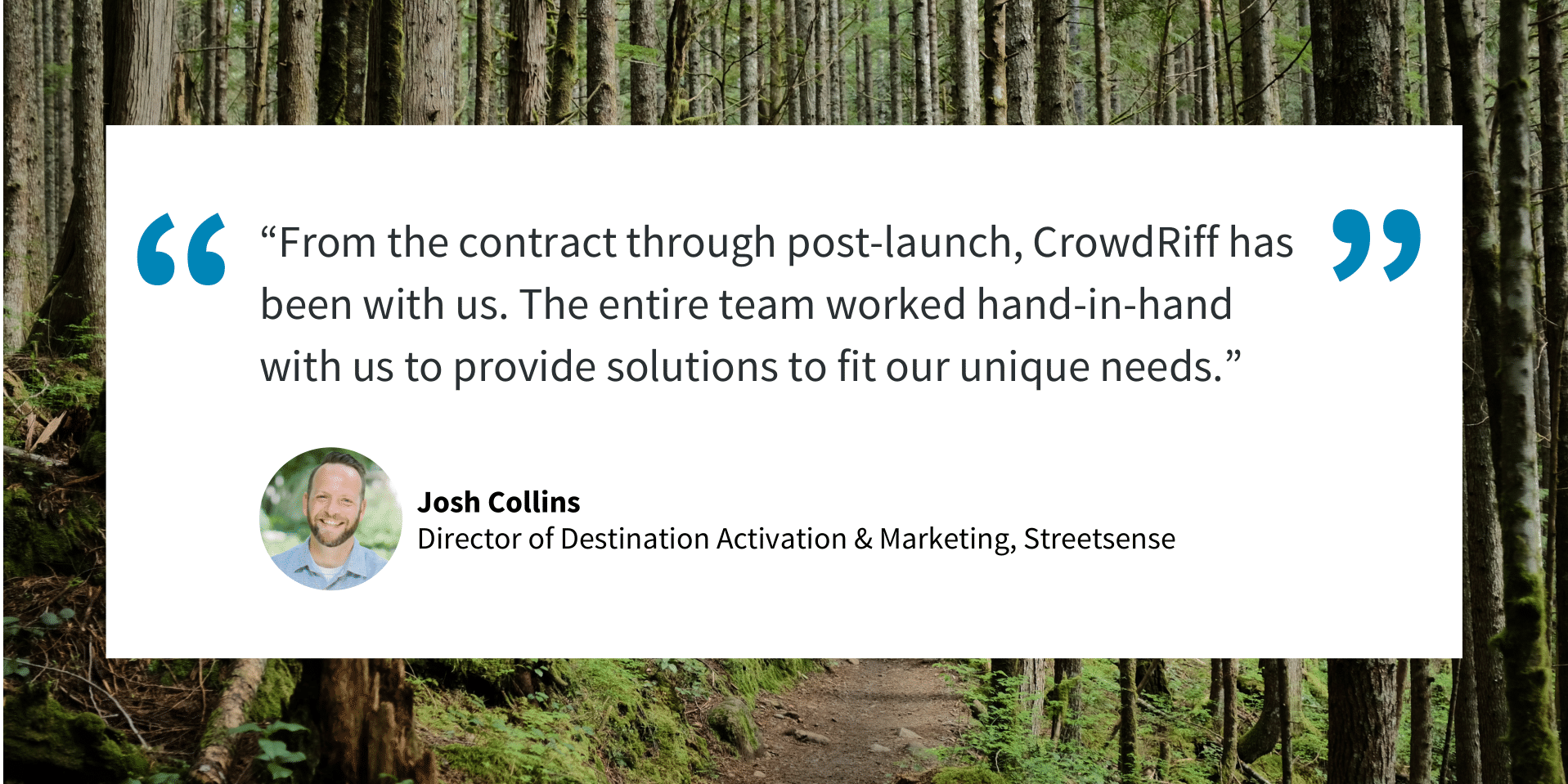 Results: 30% increase in new users, 8% decrease in bounce rate, and a 37% increase in organic sessions
The website redesign effort began in September of 2018, and on April 14th Explore Bothell launched their all-new website with user-generated content at its core. In the first month alone, the new site saw a 30% increase in new users, and an 8% decrease in bounce rate.
"Even with a new domain, organic sessions have increased 37% month over month and 27% year over year," said Collins, adding that the most significant improvement was the dramatic increase in average session duration. "The new website experiences an average session duration of 2 minutes and 59 seconds—a 91% increase over the old site."
"Although it has only been live for a short time, it's clear that the new site is truly engaging visitors with better user experience while pushing them deeper into the content."
Looking to the Future
Moving forward, along with the ongoing curation of Bothell's visual library, the team is in the process of adding CrowdRiff's Smart Gallery capability to their homepage, so that visitors will see the most engaging images when they land on the website.
They'll also be adding Google locations to their visuals, so they can streamline the process of adding location data to their images and more easily promote local businesses and attractions.
An Award Winning Design
Within weeks of its launch, Streetsense was awarded Graphic Design USA's 2019 American Web Design Award and was recently named a 2019 ESTO Awards finalist.
"Our creative strategy team developed the perfect way to convey this off-the-beaten-path destination, harnessing the city's innate whimsy to mature a brand inviting visitors to begin their next story in Bothell, Washington," said Collins. "Our projections for the rest of the year expect these results to continue as we launch the rest of our marketing outreach."