Influencer marketing and micro influencers have become one of the biggest marketing buzzwords lately.
Most of the time, marketers approach this strategy by reaching out to people with large followings.
But we've actually found that the companies we work with have grown their audiences and engagement by activating the micro-influencers.
They may only have 200 followers, not 2000, but a lot of the time they hold even more influence with their connections, than big-time bloggers.
These are the everyday people excited about your brand, and sharing photos online for their families and friends — people they have real, personal relationships with.
If you activate enough relationships with these micro-influencers, you can reach the same size audience as you would with traditional influencers — with a potentially better return too.
CrowdRiff can help you find the right micro influencers
CrowdRiff's visual marketing platform pulls in photos from all over social media, and arms you with powerful search, sorting, and organization functionality.
It's so much easier to find the active users, large or small, that are sharing photos about your brand with CrowdRiff, than manually scouring the web.
This is how you find micro-influencers using CrowdRiff:
Step 1 | Add strategic tracking terms
CrowdRiff brings in photos to your collection by tracking hashtags, geolocations, and users that you choose.
But besides tracking your brand hashtag, there are more unconventional terms you can track in order to pull photos from micro-influencers into CrowdRiff. Try thinking outside the box with these prompts! 
"Insider" photo-op spots

You know your destination best — where do people like taking photos? Think trendy local spots — not just commonly known tourist attractions.
Within your location, there are specific spots that people who are active on Instagram flock to — whether that's an aesthetic coffee shop or a wall of street art. These locations become trendy within the Instagram community.
If you're stumped on which locations to track, do a quick search on Google — "most Instagrammed places in [your destination]" — and add those locations to start pulling in those photos.
You can also keep an eye out on your existing visual collection in CrowdRiff, to keep your finger on the pulse of what and where people are sharing photos, and get a sense of what's trendy.
Crowdsourced accounts
A lot of Instagram accounts out there are now created with crowdsourced photos (or user-generated content).
In other words, their feeds are made up of reposts from other active Instagram users.
These food-themed accounts, for example, curate photos different people have taken all over these cities. You can also find fashion accounts, photography accounts, etc. Most of these accounts source their photos based on location.
If you explore these crowdsourced accounts for your location, you can find the names of these talented photographers and micro-influencers in the captions. These are people you can consider reaching out to.
You can also consider looking into related destination marketing accounts for your location. 
If you're a state DMO, track the accounts of your cities. If you're a city DMO, consider tracking your state or county's account.
By tracking these crowdsourced accounts, you can discover the micro-influencers other accounts have already found.
Step 2 | Dive into CrowdRiff's Search Insights
Search Insights is a new feature in CrowdRiff that shows you the top locations and top contributors of all the visuals in your collection. You can even discover Insights for each specific search.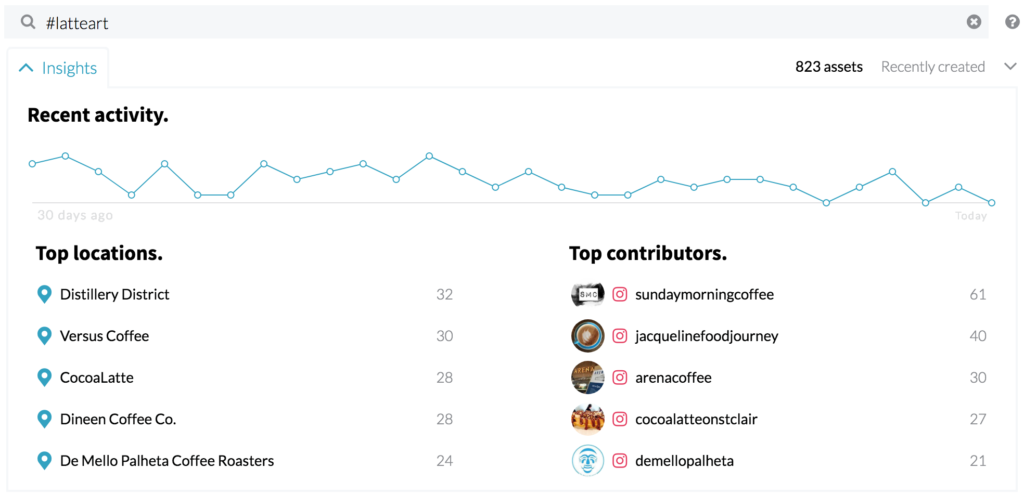 For example, if you're looking for a specific type of influencer, like fiid, you can search "#latteart" or something and then dive into Insights for the content with that hashtag.
And voila! Your traditional influencers are (likely) the ones listed in Top Contributors, and you'll find dozens of micro-influencers by searching within those top locations.
Step 3 | Sort each tracking term by likes
Now that you've pulled in a good collection of photos, and identified a few good locations to search, it's time to sort your results by likes to surface the photos taken by micro-influencers.
You can do this in two ways:
Sorting your entire collection at once

Sorting within each tracking term
We recommend clicking into each tracking term and sorting through there. It narrows down your search, so there's likely less sifting and scrolling you'll have to do.
By clicking on a photo in CrowdRiff, you can see how many likes and comments the photo has on Instagram, as well as the number of followers the user has. What you want to look for is a low ratio of both likes to followers, and likes to comments.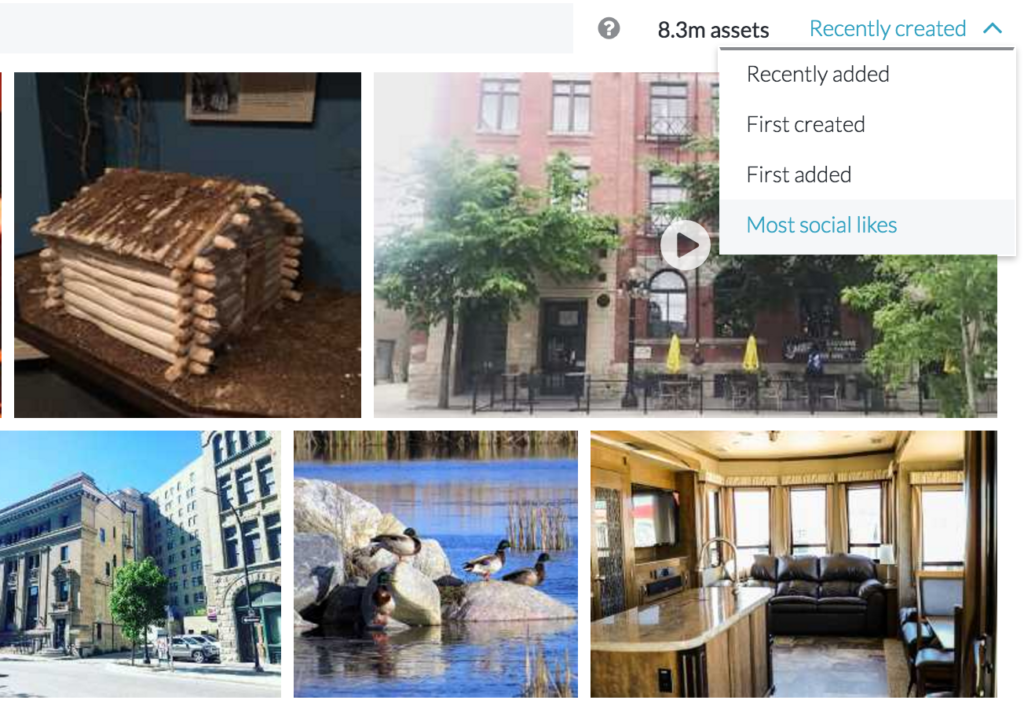 Traditional influencers tend to have significantly more likes than comments — but since people who follow micro-influencers typically know them, they have high engagement in both likes and comments.
Step 4 | Explore micro influencer accounts
People who are active on Instagram are usually connected with other active users. That means that if you know how to look, one micro-influencer will open up a pool of other active Instagrammers for you to explore.
This is how you do it: Search a known micro-influencer's username in CrowdRiff to see who else has tagged them in photos. Those other names are likely active Instagram users. 
What's more, Instagram has "suggested accounts" next to the Follow button on each profile. If you're on an influencer account, you'll be able to discover many similar accounts through that feature.
By delving into a micro-influencer's account, you can also see which niche hashtags they're using. For example, in Hong Kong, the hashtags #hkig and #hkfood are popular, and in Toronto, #torontoigers. If they're using these, other active Instagrammers are likely using them too.
You can search these hashtags in CrowdRiff to pull up the other photos tagged with these hashtags, and also add them to your list of strategic tracking terms to pull in more.
Step 5 | Organize photos to keep track of influencers you've found
There are a dozen ways you can organize micro-influencers in CrowdRiff, once you find them.
Since CrowdRiff lets you use both folders and albums, we recommend create a folder called "Influencers" to house albums that sort influencers based on their niche (photography, food, fashion, etc.) and/or project (Instagram takeover, festival promotion, etc.).
You can also add multiple keywords to each photo or video, so you can cross-sort and organize to create the system that best works for you. We recommend using keywords to identify the relationship you currently have with them (monitor, contacted, working with, etc.).
So the next time you come across an influencer, you can take one their their photos and organize it into the right album. Now, any time you want to find an influencer, you have a whole album of potential people you can work with or reach out to.
Now it's your turn
With these tips handy, it's time to try it out for yourself.
Find the everyday people that love your brand, that hold visual influence with their friends and followers.
Partnering with them will help you amplify their voices, and complement your own visual influence strategy.
From narrowing down Instagram photos, to strategically sorting and organizing them, CrowdRiff's visual marketing platform helps marketers like you surface micro-influencers.

To see what CrowdRiff can do for you, drop us a line! We'd love to hear from you.
Header image courtesy of: @janiewanders
Further reading: