How Visit Savannah Used Polls in Instagram Stories to Create an Audience-Directed Tourism Video

Walking the streets of Savannah, Georgia can feel like taking a trip back in time.
Its 22 unique squares are dotted with hundred-year-old statues and much older willow trees, its homes and churches are steeped in southern history, and the clip-clop of a horse-drawn carriage and ringing of trolley bells fill its cobblestone streets.
But there's a lot more to Savannah than the fairy tale town that people think they already know.
In considering how to engage their audience better about during a recent quarterly brainstorming session, Lauren Cleland, the Director of Digital Marketing at Visit Savannah, and her team considered if they could do something creative using one of the new features Instagram launched.
"In that meeting Larissa Allen, our Digital Content Manager, was saying how she just started experimenting with polls on Instagram, and they're performing really well," said Cleland. "We thought wouldn't it be so fun to ask people how to spend the day in Savannah, and then go there?"
Using polls in Instagram Stories to let their followers direct the perfect day in Savannah
The team decided to try making a video of a day's itinerary in Savannah, and letting their Instagram followers give input into every activity.
At first the team considered asking its Instagram followers specific questions, like whether they should showcase dinner at one specific restaurant or another, for example, but soon realized such pointed questions might alienate those less familiar with the city.
"We didn't want them to not engage because they're not familiar, so we decided to get very vague and cutesy with it, which is why you'll see questions like 'do you want to travel by foot or by wheels?' or 'do you want to drink up high or down low?' rather than saying 'do you want to go to Top Deck or Rocks on the River?'"
Visit Savannah's Instagram Story featured 10 of these questions over the course of two days, using a blank background and some relevant and fun emojis.
Nearly a thousand different people casted their votes on the best things to do in Savannah
While the first question received about 900 views and roughly 350 votes, each added to the project's momentum, with the final question receiving over 2,600 views and nearly 900 votes.
Once all of the responses were tallied Cleland and her team met with their video production partner, Vive Media, to incorporate the responses into a storyboard.
"We shot [a video] two or three weeks after we did the Instagram Story polls," she said. "We chose different locations for the video, because we are a membership-based organization, and we wanted to show and share as many of our partners as possible."
The resulting audience-directed video engaged over 64,000 people on Facebook alone
The final video showcases "The Perfect Day in Savannah," as voted by the destination marketing organization's social media followers.
As seen in the video above, each activity is prefaced with the results of the Instagram Story poll, to drive home the fact that this entire video was directed by their social media following.
The final video was featured on all of Visit Savannah's social media channels, supported with some targeted ad buys on Facebook and YouTube. It was also repurposed into an article on the organization's website, featured in its newsletter, with the unused B-roll shots incorporated into other video projects as well.
The Perfect Day in Savannah video ultimately received 64,000 views, 372 shares, 761 reactions and 175 comments on Facebook alone. It was also viewed more than 10,000 times on Instagram and nearly 17,000 times on YouTube, where it had an average view length of 1:40.
This video is one example of Visit Savannah's multi-platform approach to social media content
Cleland explains that taking social media interactions and turning them into marketing assets is all in tune with the destination marketing organization's overall approach to social media.
"We're always looking for ways to bridge the gap," she said. "We don't want social engagements to live in a silo, we want it to be a multi-platform approach."
This social media-led video is far from the first time Visit Savannah has included their online community in their marketing. Having worked with CrowdRiff for nearly two years, Visit Savannah has used the platform to get rights to nearly five thousand photos and videos from social media, as well as incorporate galleries of user-generated content all over their website.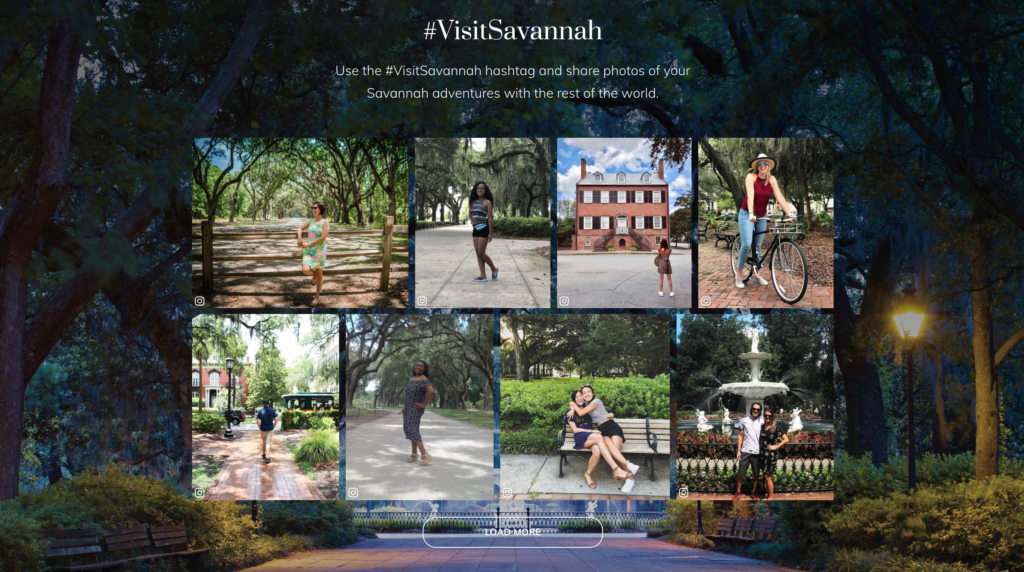 This project's true success is how it is able to demonstrate the diversity of a place that people often think of as highly homogenous, with the help and input of hundreds of different people.
In other words the video, like much of the destination's marketing material, seeks to showcase both what people love about Savannah and what remains to be discovered, in their own words. Or as Cleland puts it, "we get to show both what people expect in Savannah, and what they don't."