How Huntsville's New UGC-filled Pocket Guide Gets Locals Excited to Talk About their Hometown

How do you re-teach the country's most educated population something they think they already know?
That's the challenge for the Huntsville/Madison County Convention and Visitors Bureau in recent years. The town in Northern Alabama — often referred to as "Rocket City" — is home to the world's largest space museum, the United States Space Camp, the Redstone Arsenal army post and the most PhDs per capita in the entire country.
While the city's 200,000 residents are well versed in rocket science, state history and military tradition, the one topic many struggle with is their hometown.
Educating Huntsville's locals to be more engaged in promoting their town as a destination
"Huntsville has changed so much—even over the past decade— that what we're finding is that a lot of our locals that are from here and grew up here don't consider Huntsville a travel destination," said Kristen Pepper, the Marketing Manager of the Huntsville/Madison County Convention and Visitors Bureau. "We want to make sure our locals are educated and aware of all the things we have to offer."
Pepper explains that when business and leisure travelers arrive their first interactions are often with local residents, so it's important for locals to be aware and in tune with the DMO's messaging. "The best case scenario is they are our ambassadors," she said. "The challenge is just making sure they feel comfortable and have the knowledge to be that."
The #iHeartHsv social media contest gets locals to share photos on topics not covered in their visitor guide
In recent years Huntsville has run a social media photo contest in order to encourage local participation, but this past year they added a new element to the project that's really got people talking.
Over the previous 4 years the Huntsville/Madison County Convention and Visitors Bureau has run a contest that asks its social media followers a new question during each of the 14 days of February leading up to Valentine's Day.
Visitors and locals are encouraged to answer by posting a photo and using the hashtag #iHeartHsv. Each day the best image is selected and shared on the destination's social channels, with the winner receiving a prize pack that includes souvenirs and gift certificates to local restaurants and hotels.
"It could be, 'what's your favorite dog-friendly spot in Huntsville?' or 'where's your favorite piece of public art in Huntsville?' or 'where's the best rooftop view in Huntsville?'" said Pepper. "It's information that's not really covered in our destination guide."
The modern version of an old favorite: a pocket guide filled with the winning #iHeartHsv imagery
While the contest and the information shared by participants previously only lived on social media Pepper says the DMO decided to bring the project to life for its fifth anniversary this past February. Drawing inspiration from a vintage postcard that was once popular amongst locals, they presented the 14 winning photos in the postcard-sized "Huntsville Pocket Guide."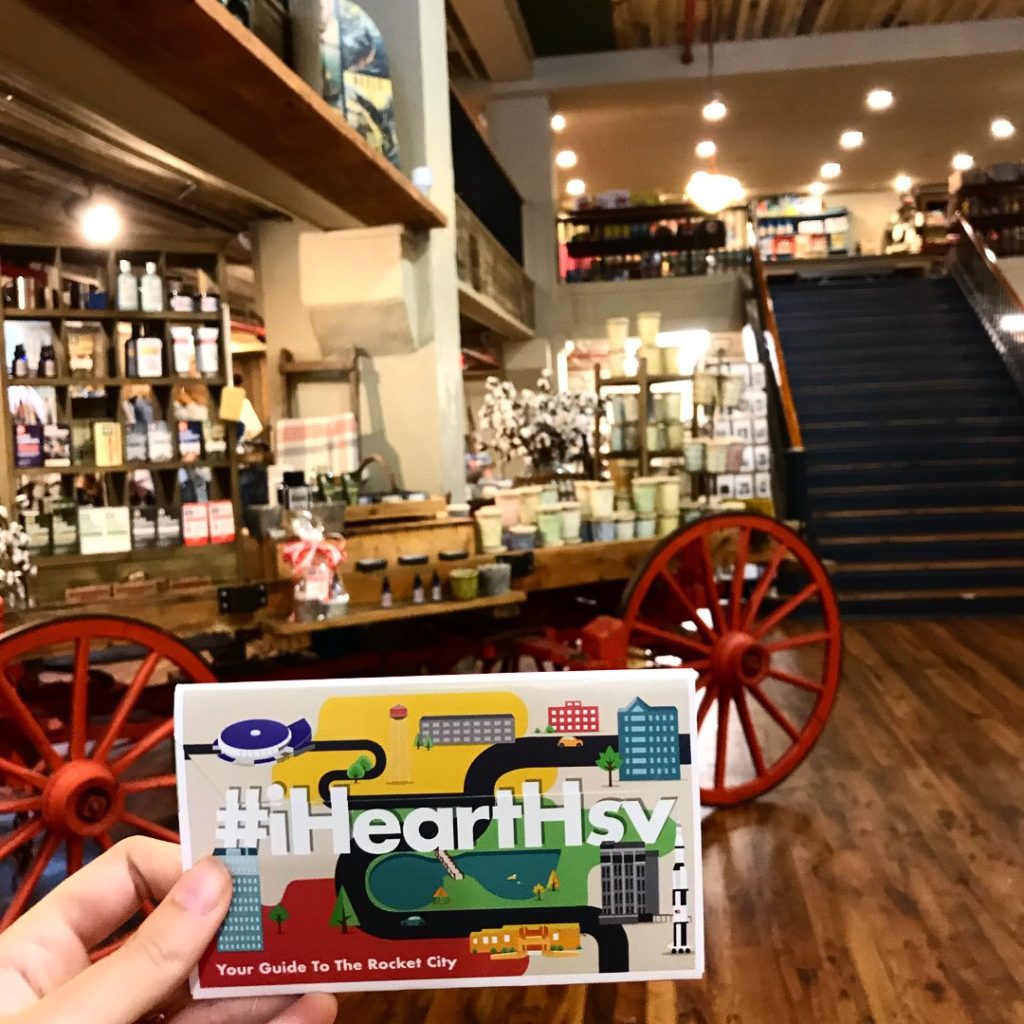 "Using CrowdRiff we had the idea to collect some of the photos that we had gathered during the online campaign and bring that into the printed realm," explained Pepper. "The pocket guide is actually fashioned after this vintage postcard from Huntsville, but we take a modern twist by showcasing all the photography we got from visitors during the campaign this year."
The postcard-sized pocket guide folds out to reveal the 14 winning photos as well as the questions they were intended to answer. Pepper explains that while their destination guide is filled with more traditional tourism information, many of today's travelers— particularly younger travelers—ask the same questions they pose in the #iHeartHsv contest.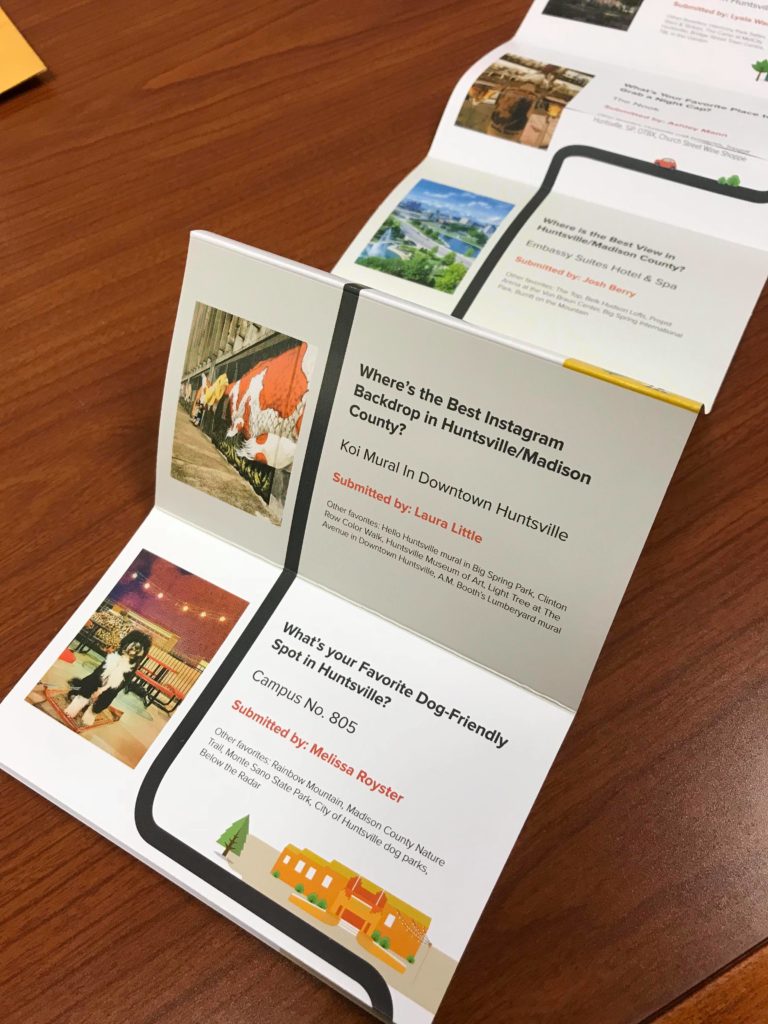 "When they come into Huntsville they want to know where they can take the best Instagram photo, they want to know where they can take their pet," she said. "We describe [the Pocket Guide] as the destination's younger, cooler sibling who knows where to hang out."
Using CrowdRiff has streamlined how the team finds, evaluates, and gets rights to #iHeartHsv imagery
Pepper adds that while in the past she and her team manually compared images across Facebook, Instagram and Twitter and reached out to winners individually, the contest became much more streamlined after they started using CrowdRiff in September of 2017.
Not only did the visual content marketing platform make it easier to choose a winner by sourcing all images tagged with the hashtag across multiple social media channels, but Pepper also says building the Huntsville Pocket Guide would have been far more labor-intensive without it.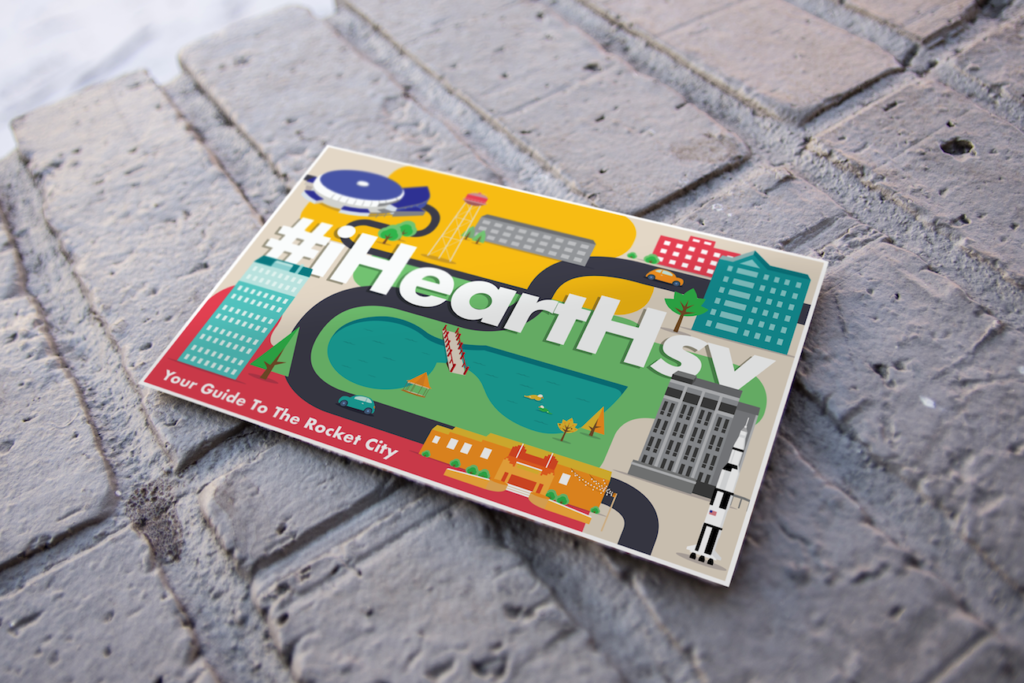 "Since we were turning this into a print piece we wanted to make sure we had the proper permission and rights to use these photos in the way we wanted to use them, and CrowdRiff played a big part in that too," she said.
"Getting those permissions, keeping it all in one place, making the initial contact between us and the winners; CrowdRiff just made that whole process more efficient and easier."
The response to the Huntsville Pocket Guide has been so great, they reprinted a second batch for 3x as many
This year the #iHeartHsv was the largest in its five-year history. The total reach of the social campaign was approximately 12 million, and Pepper says the partners that are distributing the Huntsville Pocket Guide can barely keep them in stock.
"We just ordered 1,000 to see what the response was going to be like; those were gone within two weeks," she said. "We did a second order of 3,000, and at this point we've got about 500 left."
And it's not just visitors grabbing them, either. According to Pepper local businesses and government organizations request copies of the Pocket Guide to distribute to out-of-town guests.
"People are calling, emailing, reaching out every week asking if they can get 100 here, 200 there, 25 here," she said, adding that the local ATF division requested guides to distribute to out-of-town trainees at Redstone Arsenal. "We're hearing from organizations that want to distribute these to their clients or people they're working with."
Not only are the #iHeartHsv campaign and the pocket guides engaging visitors online and upon arrival, but they're encouraging the local population to explore, discover and celebrate their hometown.
"When you give your locals that opportunity to really shine and to have their photography or their input highlighted in a piece like this, that really gets them excited, and motivates them to participate."
Pepper adds, "They want to feel like they're part of our narrative, that they're part of the story we tell when we're out promoting Huntsville as a destination."
Images are from Huntsville/Madison County Convention and Visitors Bureau.
---
Recommended reading: