It's that time of year again: cue the rainbow flags, Pride parades and all things 2SLGBTQ+ (Two-Spirit, Lesbian, Gay, Bisexual, Transgender, Queer, plus other identities) that make Pride Month the special time that it is. After two years of pandemic disruptions, Pride is back in full force this year and we at CrowdRiff are ready to get our rainbow on!
For many 2SLGBTQ+ travelers, June is the only time they feel seen by brands. Known as rainbow washing, it's a trend we've seen play out each June in recent years. Major corporations paint their brands the colors of the rainbow and march in parades in June only to mostly go silent on their support for the community the rest of the year.
By now, many destination marketing organizations (DMOs) know that Pride isn't just something 2SLGBTQ+ travelers feel in June – it's something they feel every day all year and have worked tirelessly to earn the legal protections and growing acceptance to do so.
As a travel brand, your organization has a responsibility to make this community feel welcomed every month, and there are lots of creative ways to do this even if your destination isn't well-known among the 2SLGBTQ+ community or doesn't host a Pride parade and activities throughout the year.
The best way to make sure you're authentically representing your local 2SLGBTQ+ community is to make sure you're working with content creators who identify as 2SLGBTQ+ and are telling stories that speak to every part of the acronym. Let's dive into some ways to do this on social media and beyond that will pay-off in big ways for years to come and make your community stronger in the process.
Regularly invite creators to the table
While paying attention to every letter of the acronym in your content is important, DMOs should be especially mindful of involving folks who have faced the most marginalization in society and even within the 2SLGBTQ+ communities, such as those who identify as transgender, non-binary, and Two-Spirit.
Pew Research Center data from 2021 show 42% of U.S. adults know someone who identifies as transgender and 26% know someone who uses gender-neutral pronouns like they/them/theirs.
You should involve 2SLGBTQ+ content creators from the very beginning of your content planning to help ensure a diverse set of viewpoints are included in what stories you'll share. This page from Travels of Adam is a great place to find creators to work with who may also be able to connect you to other creators who live in your destination, whether you're just starting out or want to expand your talent pool.
Think of creating an 2SLGBTQ+ "content council" that regularly meets to share what's going on in the community and how you can find and elevate local stories that speak to larger trends and issues 2SLGBTQ+ people are experiencing.
Tip: 2SLGBTQ+ travelers are always looking for the latest and greatest safety information for your destination. They want to know things like whether it's safe to hold their partner's hand in public or publicly identify themselves as 2SLGBTQ+ at their hotel or local businesses. Local creators can help share this information and make sure you're doing it authentically, i.e. your audience is hearing directly from people just like them.
Go beyond Pride parades to show you understand the community
Get boots on the ground, both those of creators and your DMO staff, to meet the local 2SLGBTQ+ community and understand different events throughout the year that matter to them.
You may have assumed your local Pride parade was the most popular event (and it very well may be!) among the community, but maybe you didn't consider that an annual art fair, food festival, or sporting event was also a big draw for 2SLGBTQ+ travelers.
Virginia Pride, for example, is hosting at least 20 events from June through the end of September to celebrate the 2SLGBTQ+ community that include parades, concerts, and film screenings.
Use 2SLGBTQ+ talent in front of and behind the camera
It's not enough to just share content portraying 2SLGBTQ+ travelers – the creators behind the camera should also be part of the community. This helps make the people in front of the camera more comfortable and also helps ensure the story that's being told will be truly representative of your destination's 2SLGBTQ+ story.
We're also impressed with this video from Destination Vancouver that features two 2SLGBTQ+ locals who show travelers different health and wellness experiences they can enjoy in Vancouver, even pointing out spas that specifically cater to travelers who identify as Two-Spirit.
Consider this: Beyond social media, understand where the 2SLGBTQ+ community is consuming content. In 2021, Nielsen looked at the most popular streaming services for U.S. 2SLGBTQ+ adults (see chart below) and found that Netflix and YouTube were the most popular streaming platforms. Check out content created by and featuring 2SLGBTQ+ people for inspiration and also to create content specifically for these platforms. Or maybe even partner with creators on ways your destination could be included in shows or movies.
Everyone wants their own Netflix Original series, right?!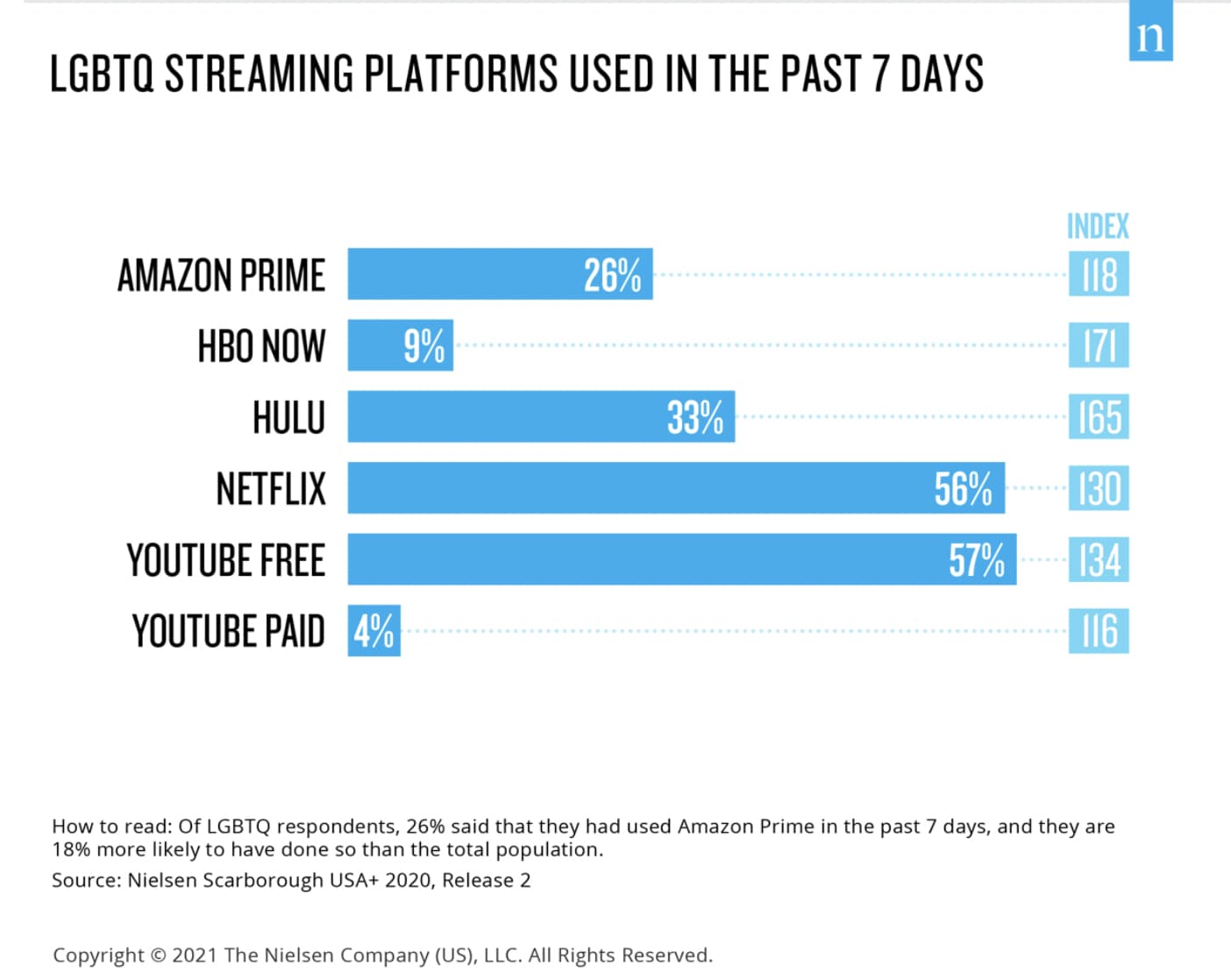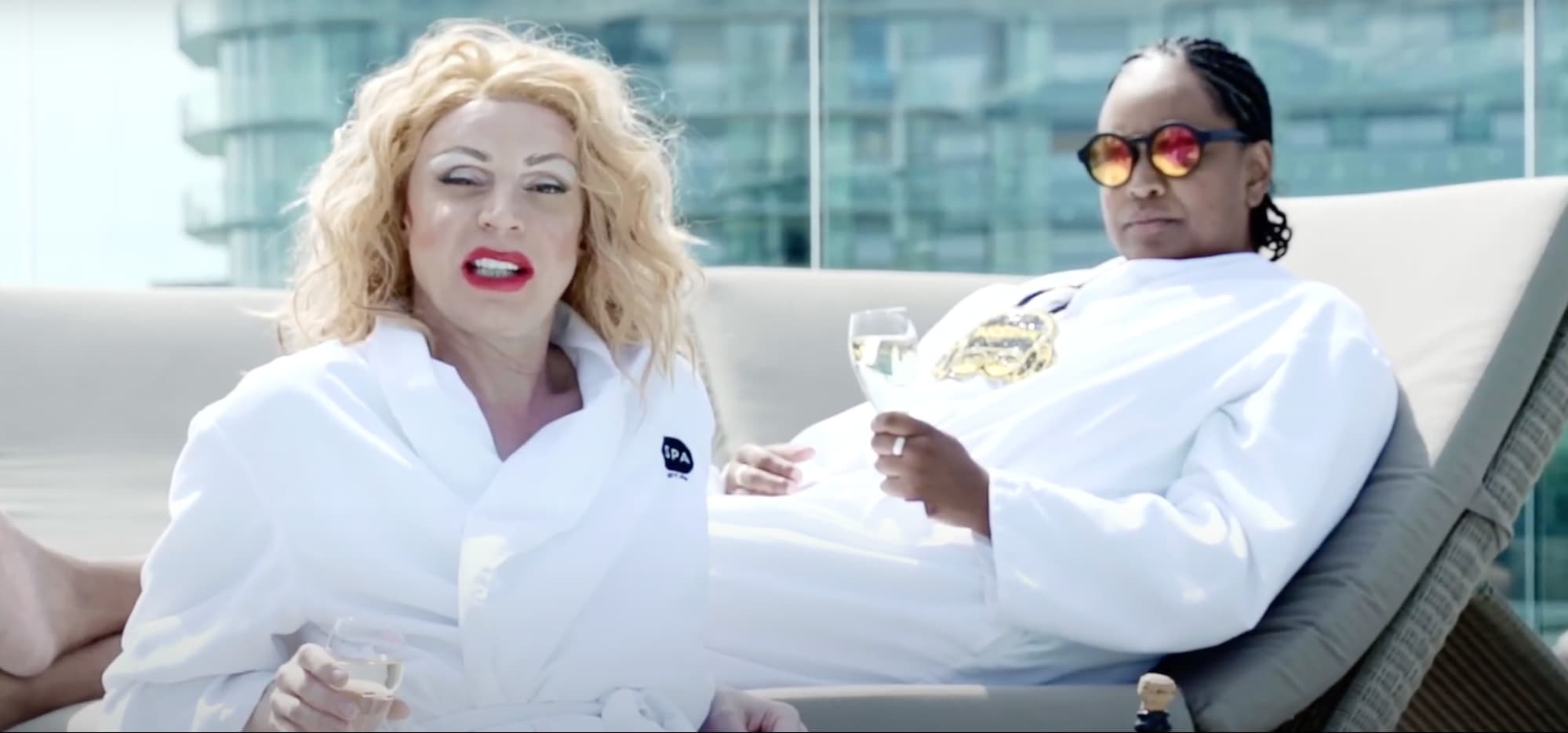 *Screenshot from You Belong in Vancouver YouTube video
Spotlight 2SLGBTQ+-owned businesses
More than anything, 2SLGBTQ+-owned businesses like bars, restaurants, hotels, and shops are community gathering spaces. They're places to connect IRL where the community can show its Pride and feel safe and supported.
While many of these businesses may already be well-known to your 2SLGBTQ+ audience, don't assume that they are. There's always an opportunity to tell new stories of iconic businesses in your destinations and feature new businesses and owners that are trying to do something different to show their Pride.
One example is how OutThere Magazine highlighted a gay couple who own and operate a hotel in an Austrian ski village.
DMOs can also get inspired by 2SLGBTQ+business owners like Aria Sa'id, who points out that 62% of transgender people travel alone, and Jenny Bruso, who founded Unlikely Hikers, which is a "diverse, anti-racist, body-liberating outdoor community featuring the underrepresented outdoorsperson."
Tip: Work with companies like HospitableMe, which provides inclusivity training and resources to businesses. Make sure to share with your partners, too! That way your destination is working towards making every business 2SLGBTQ+-friendly.
Wrapping up: Use Pride Month to celebrate your entire destination
With so much uncertainty in the world, the 2SLGBTQ+ community gives us something positive to celebrate. While the community still has a long way to go to securing full equity and inclusion with the rest of society, the progress that's been made in recent years proves that more 2SLGBTQ+ travel maps are being colored in by destinations that have done the hard work to welcome these travelers and make them feel safe.
Keep in mind that social media has also helped this community grow and come together. Nielsen found that 40% of 2SLGBTQ+ adults spend at least three hours per day using social media and 44% spend more than five hours per day on social platforms. The 2SLGBTQ+ community is also 30% more likely to use Snapchat, Instagram, and Twitter than their hetereosexual counterparts. These are a few examples of places where your creators should be and where you can find them, and we can't wait to see the beautiful stories you'll share.
Need more inspiration? Check out our post on other 2SLGBTQ+ creators to follow and Happy Pride!