What's the secret to attracting more Instagram followers?
Whether you're just starting out or looking to refresh your Instagram strategy, it can be tough to get more users to click 'follow' – especially for smaller brands and organizations that are still growing their customer base.
But there are ways to make it easier!
Contrary to popular belief, you don't need a huge budget or well-known brand name to develop a large, loyal Instagram following.
Here are some simple, actionable tips for organizations that want to get noticed, grow their audience, and boost engagement on Instagram.
1 | Identify an official hashtag for your brand
It's important for your brand to have its own official hashtag to have an organized way to encourage people to share photos and talk about you.
Tip: When Destination BC was just starting out on Instagram, they decided to adopt a hashtag that was already gaining some traction: #exploreBC.
Instead of starting a new social conversation, they hopped on to an existing one. That made it easier than starting from the ground up and trying to get a whole new hashtag to trend.
Choose one that's short and snappy (and easy to spell!), like Tupelo's here: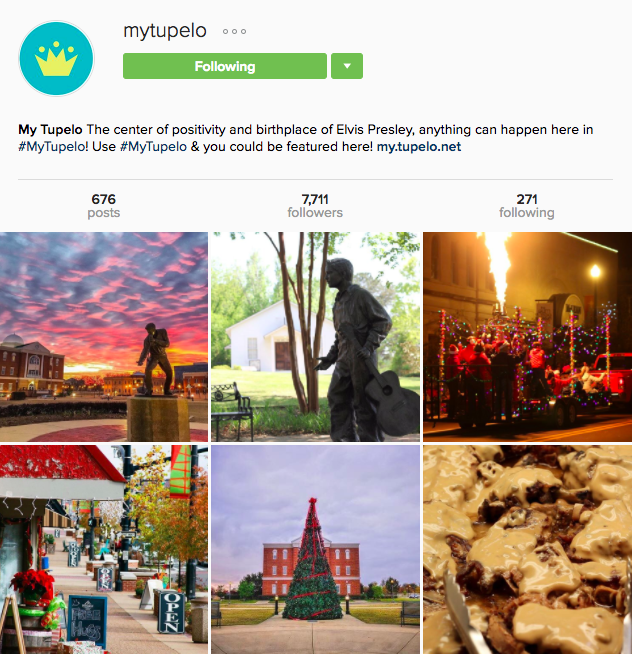 Even if you are creating a new hashtag, as long as you use it consistently and encourage your Instagram followers to do the same, it'll catch on.
2 | Map out your hashtag strategy ahead of time
There's nothing worse than having the perfect photo ready to post but no hashtags to go with it!
It's a good idea to come up with a library of relevant hashtags for future reference. Start by thinking about what key terms you want your brand to be associated with.
A tool like Hashtagify can jumpstart your brainstorming by making it easy to find popular hashtags.
You can also keep a running list of hashtags for campaigns — this might be for any special events you want to participate in or promote on Instagram.
Fun fact: Instagram posts with eleven or more hashtags tend to receive the most engagement.
If you're worried about going overboard with your hashtags, here's an elegant way to keep your captions clean: put your hashtags in a comment. Your posts will still show up in those hashtag searches, but won't clutter your caption.
Click "comments" and you'll see the hashtags this small cafe uses!
3 | Post at least once per day
Consistency is key to growing your following, so it's important to post on Instagram every single day. Posting at least once a day increases your visibility, while posting consistently creates a reliable Instagram presence that your fans can count on.
On average, most major brands post 1-2 times per day – but engagement doesn't drop off for brands that regularly post even more.
4 | Share a mix of authentic and aspirational content
Posting once a day can sound daunting. You might think, Will I have enough content to share?
Not to fear, though, because you can always look to your fans for inspiration. They're taking thousands of beautiful photos around your brand.
Find the ones you love, ask for rights, and share them on your own feed!
In fact, studies show that showcasing both authentic (UGC) and aspirational (your own branded photos) increases effectiveness by 28%.
So for maximum impact, share a combination of aspirational visuals (branded images) and authentic content (UGC). Remember to give proper photo creds in your caption, just like how Visit Duluth does it here:
The most popular Instagram accounts not only post high-quality images on a regular basis, but their feeds present a clear visual identity.
Think of your Instagram as a lookbook for your brand. It should have a distinct style that shows people, at a glance, what your organization is all about.
On Travel Yukon's feed, you can clearly see the appeal it'd have to an adventurous nature lover: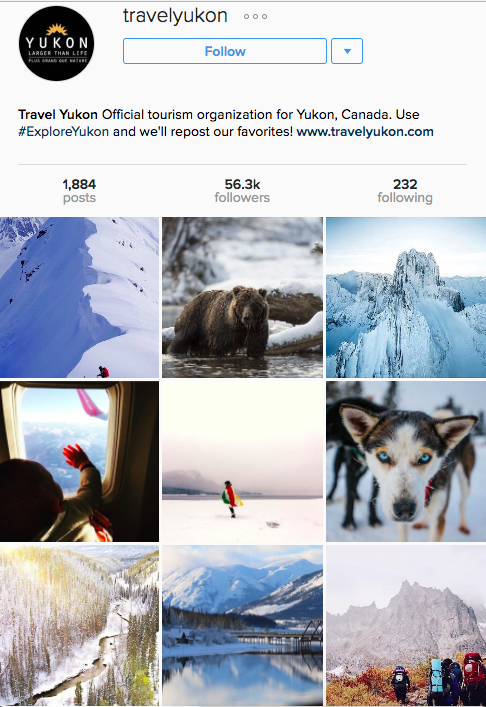 You can also consider using similar filters on all your images or stick to a color theme to tie your posts together.
Simple photo editing tools like VSCO Cam or Camera+ can really up your Instagram game and make your feed appear more polished.
6 | Spark conversations and engage with fans
Want to connect with more Instagram users? Don't be afraid to make the first move!
Start conversations with anyone who might share your organization's interests or goals.
Explore your favorite hashtags to find other users and brands who are posting similar content. Like and comment on their photos to get your name out there and make some new connections.
Not sure what to say? It could be something as simple as complimenting a great shot, using emojis to show appreciation, or asking if you can re-share their stellar photo with your audience.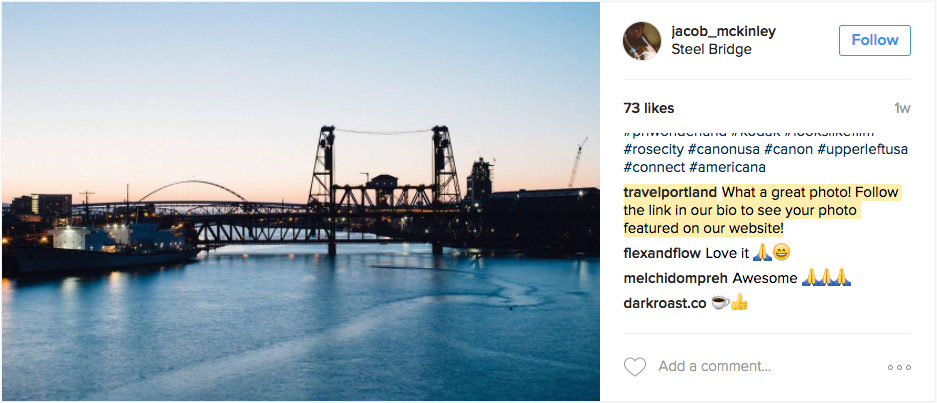 Destinations like Travel Portland use CrowdRiff to discover interesting UGC, engage with it, and publish it in their marketing. Find out more here!
7 | Ask influencers to host takeovers on your account
An Instagram takeover is a fun way to boost engagement, build relationships with industry influencers, and reach a wider audience. It's a win-win-win scenario!
Initiate your own takeover by inviting a host – either an influencer, employee, partnering organization, or brand advocate you can trust – to temporarily take control your account.
Check out Destination BC's #guestagrammer series for takeover inspiration!
If it's your first time planning a social media takeover, we recommend checking out our guide on how to do so successfully.
8 | Hold contests and giveaways for your followers
An Instagram contest is a great way to engage with your existing followers and attract new ones.
For example, hosting a giveaway that gets users to post photos with your brand hashtag will broaden your reach on the platform – not to mention inspire plenty of UGC!
But what to give away?
Consider this: though your overall goal might be to use Instagram to attract more visitors or increase sales, your first followers will likely be locals and existing fans.
So if you're a destination, don't be afraid to reach out to your local businesses about offering discounts to winners – perhaps a day-pass to a museum or a gift card to a local restaurant. (And you can never go wrong with a Starbucks gift card.)
Don't forget to ask winners to share pictures of them enjoying their prize!
9 | Share your Instagram posts on Facebook and Twitter
Cross-posting is a simple way to get more from your visuals.
It's easy to do directly from the app. Tap the three dots in the top right corner of a posted photo, and choose "share".
Not only does this develop your brand presence across multiple platforms, but it allows more potential fans to discover your content. After all, your Instagram posts deserve to be seen by as many people as possible!
10 | Plan a profile series or themed campaign
Creating an ongoing series of themed posts can bring your Instagram feed to life. It creates a sense of stability, sets expectations, and gives your followers something to look forward to.
Maybe that means sharing one photo a week that features up-and-coming local businesses or a series that highlights hidden gems in popular neighborhoods.
Humans of New York is a great example of a visual influencer that gained traction by specifically doing profile series.
What makes Humans of New York and Destination BC's #guestagrammers stand out in the Insta-world? They've mastered the art of telling visual stories. When people see these, they connect emotionally.
So why not branch out from the usual one-liner Instagram captions in these special posts, and tell a compelling story?
You should continue posting daily, but balancing your one-off posts with a themed campaign can give your organization a more defined Instagram presence.
11 | Reach out to similar organizations for cross-promotion
You're not the only organization looking to grow your audience! Reach out to partners and relevant brands for cross-promotion and you'll both benefit from the spike in exposure.
For example, destinations can reach out to local businesses, as well as nearby cities or states.
Here's Explore Canada, for example, a huge brand (and country!) with a huge Instagram following.
In their caption they not only use #ExploreCanada, their own hashtag, but also #ExploreNB (New Brunswick, a small Canadian province) and #Kouchibouguac (a national park).
Whether you promote each other's accounts, repost each other's images, or use each other's hashtags, teaming up with similar organizations is a great way to score some new followers and support your partners.
Any organization (big or small) can achieve "Insta-success"!
Remember, consistency is key. That means ongoing dedication to your strategy. So once you have a clear plan of action, stick to it!
As you develop your Instagram presence and discover what works best for your organization, you'll see an increase in your followers, engagement levels, and customer base.
---
Further reading: