How DMOs Can Easily Spotlight More Local Businesses with CrowdRiff

Think of your top three favorite spots in your destination.
Maybe they include a great bakery or a music venue or a business that takes people on walking food tours.
Many local businesses like these are at the heart of your local economy. But a lot of the time, they slip by unnoticed by travelers. It's not that visitors don't want to check out the best local businesses – it's that they don't know about them yet!
That's why independent travel blogs are so popular – they often go beyond the well-known top sights and tell stories about lesser-known places. But because there can be so many local spots, as a DMO it can be difficult finding a great way to continue promoting each one.
CrowdRiff gives you an easy way to draw attention, drive traffic, and connect visitors to unique local businesses. So in addition to your biggest partners, even the smallest holes-in-the wall will get a chance to shine.
Let's take a closer look at how CrowdRiff makes it easy to better spotlight hidden gems.
1 | Unlock an abundance of visual content for even the smallest local hotspots
For a small local business, a little exposure can go a long way. The Eiffel Tower needs no introduction; that small bakery one block over, on the other hand, probably does.
The hard part is getting high-quality imagery of each and every smaller, lesser-known place that your visitors might want to discover.
If you're starting to get a headache thinking of all the time and resources it'd take to go and take pictures of each location… think again! Luckily, there are already hundreds of photos and videos of each place scattered across social media.
Did you know? In fact, only 10% of all visual content is tagged with a branded hashtag – which means you could be missing out on 90% of UGC captured in your destination.
CrowdRiff helps you tap into those visuals by automatically sourcing them into your collection as they're posted. After that, you can choose to request rights to them or curate them into a website gallery.
Using CrowdRiff means you'll always have access to an endless library of usable visuals of your destination, large or small, as photographed by your locals and visitors.
2 | Easily highlight a variety of local businesses at once with engaging, custom galleries
CrowdRiff galleries allow you to curate and display as many photos or videos as you like; you don't have to choose just one business to feature when you can feature 5 or 10 (or more!) at once.
Before starting with CrowdRiff, Visit Phoenix – like many other DMOs – used one standard hero image in most of the headers on their web pages featuring one of their members.
They'd switch out the photo every couple of months to feature another member, and change it up. However, while undeniably a gorgeous photo, one single picture was just never enough to give a true representation of the volume of businesses they had to offer.
Now, they use custom CrowdRiff galleries at the top of each page, where they can feature multiple partners and local businesses at once: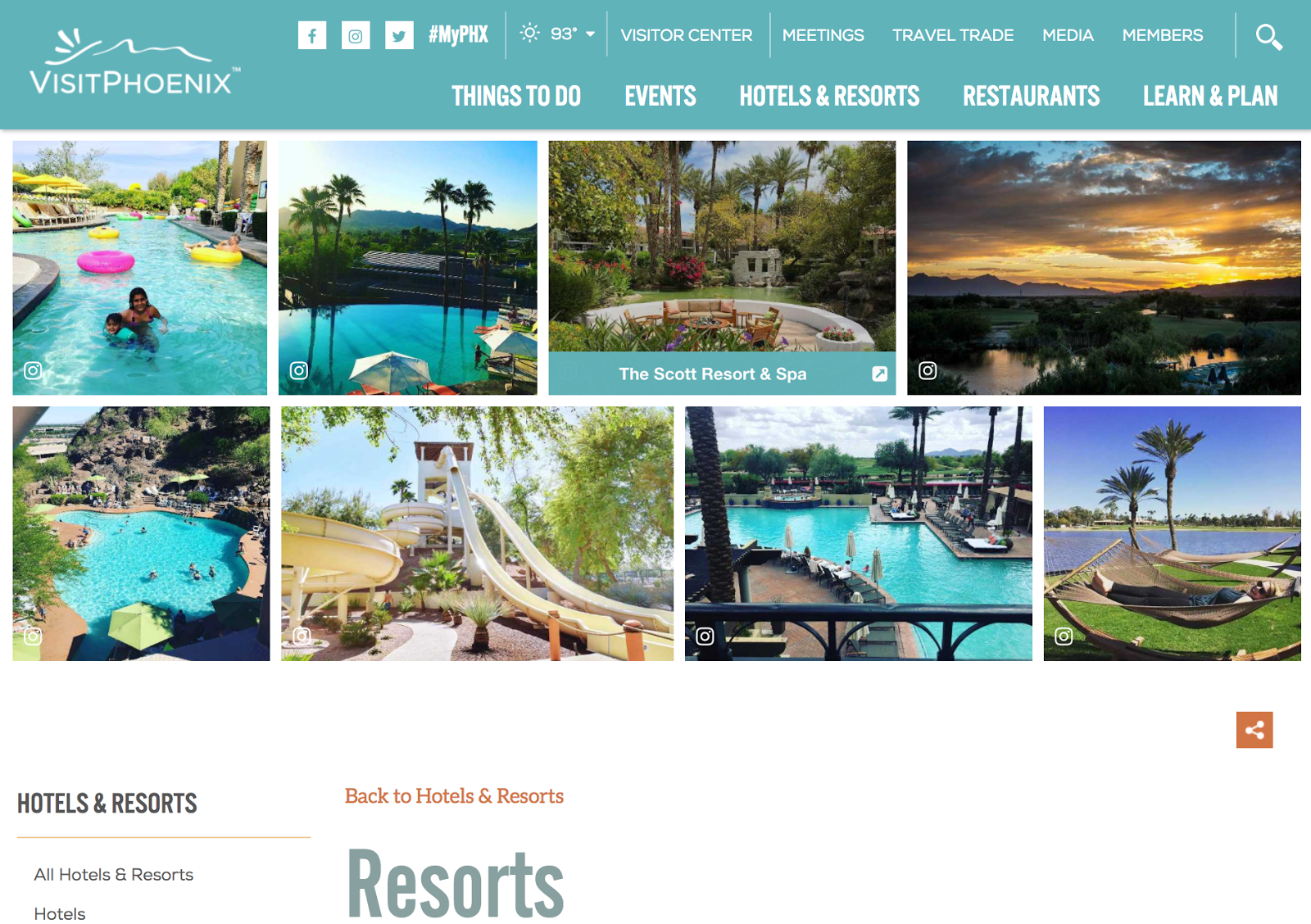 "We're able to showcase more of our resorts, more members, and more engaging pictures. A lot of them are directly from travelers."
– Chad Hays, Sr. Online Marketing Manager, Visit Phoenix
What's more, updating a gallery is as simple as a click of a button within CrowdRiff, so you can change photos as often as you like, without needing to enlist the help of a developer.
So where can you use a CrowdRiff gallery to highlight more local businesses?
Blog posts on hidden gems or must-visit restaurants
The local business directory or listing pages on your website
In place of a static hero image on your homepage or a landing page
Top Tip: CrowdRiff brings all of your visual assets together in one place, so you can populate a gallery with any type of image or video – not just UGC! If you have the perfect commissioned photo to include, you can insert it right alongside your social images.
3 | Use visuals to inspire, and then drive action with clickable captions
Have you ever seen a picture of a place online that made you say, "I want to go there!"
If there was no context around the image, chances are you never really got to do anything about it, because you didn't know where it was or how to find out more (and then subsequently forgot about it). No matter how inspired a web visitor feels by a visual on your website, they won't take action if you don't give them a direct opportunity to do so.
That's why CrowdRiff combines visuals with Calls-To-Action that DMOs can use to direct visitors in the right direction.
What are CrowdRiff CTAs? On top of curating beautiful custom galleries, CrowdRiff allows you to overlay any image in a gallery with a caption and a button that links to your business listing page or the business's actual website.
For a live example, hover and click on the images below:
So, when someone interacts with a picture they're interested in, they see the caption and can click to learn more about the business, make a reservation, or take whatever step you want them to.
CrowdRiff ensures that after you show them great photos of local businesses, those fleeting micro-moments of inspiration won't go to waste.
4 | Discover rising stars in your destination, right from your home screen
As a DMO, it's up to you to connect potential visitors with the best local experiences your destination has to offer. This includes helping them find the newest, coolest shops and restaurants.
So, it's crucial that you keep your finger on the pulse of the local food, drink, and shopping scene by staying up-to-date on the places, businesses, and trends local people are talking about.
How?
CrowdRiff brings together social images and videos from all over your destination, so you can learn about up-and-coming businesses that aren't even on your radar yet (and see what people are saying about them online).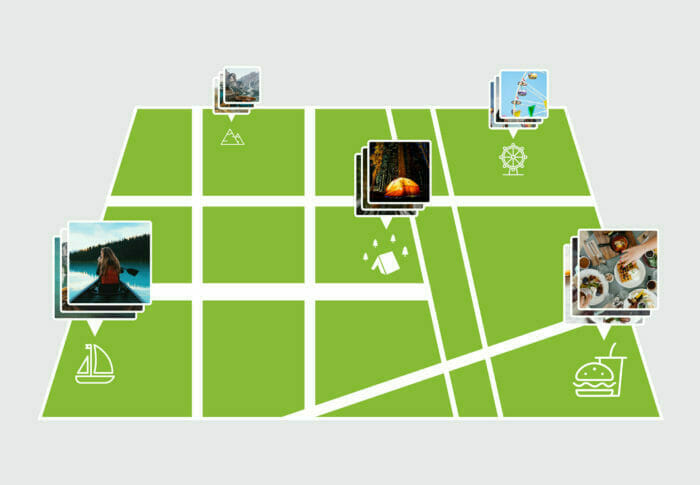 You start to see new photos of new cafés and shops popping up, right from your desk.
Your locals are already sharing their new discoveries with the online world, but CrowdRiff is bringing it to your attention.
Even with new spots and restaurants popping up every day around your destination, you can simply log in to CrowdRiff to see what the latest buzz is all about.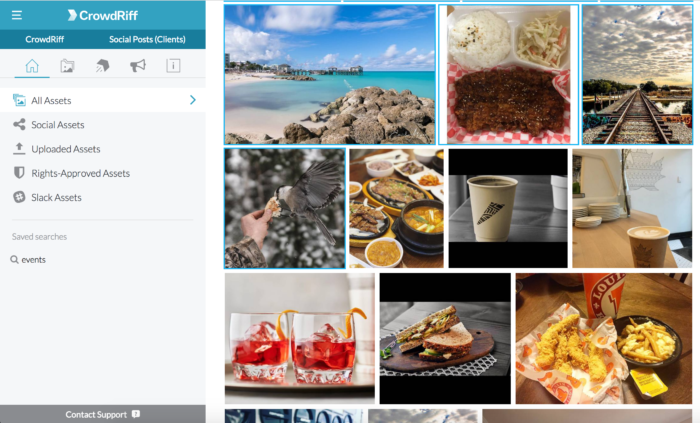 Shine a brighter spotlight on your local favorites
Travelers don't necessarily need you to remind them about the big, iconic sights your destination has to offer – but they do need some help discovering the unassuming local hotspots.
CrowdRiff gives you an easy way to find engaging visuals of your best local businesses and help travelers see what matters.
Want to drive business for your local partners and help tourists get the authentic experiences they crave? Get in touch with us today to find out more!