10 Examples of Visual Influencer Brands All DMOs Can Learn From

We've all felt it — that irresistible pull a fantastic photo or video has to draw us in and make us crave the experience it features.
Visuals have huge influence over the decisions we make. And this is especially true for travel.
Whether we're planning where to go, what to do, or where to eat, travelers directly draw inspiration from the photos and videos they see online.
The DMOs that are excelling are taking advantage of this, as visual influencers. Being a visual influencer means captivating and attracting more travelers through visuals, as well as being the go-to authority of your brand story.
Here are 10 examples of DMOs who have elevated their brands into visual influencers, by using visuals in creative and impactful ways.
Visual Influencers in Websites
1 | Visit the Faroe Islands
They might've been one of Europe's best-kept secrets, but through extraordinary visual marketing, the beauty of the Faroe Islands is now evident to anyone who visits their website.
The site opens to a dramatic, sweeping video that instantly draws you in. Every element of the site – including the navigation – is highly visual.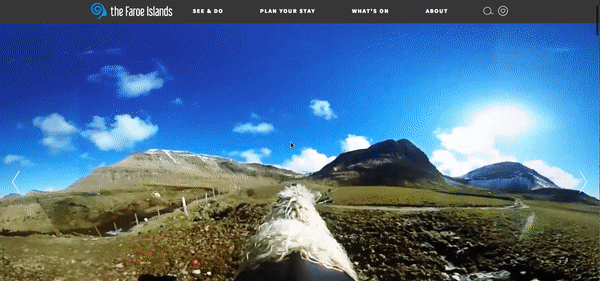 And the gem of the site is, of course, Sheep View, their virtual reality tour in 360 video (which we have given much love to on this blog). Sheep View gives you a visual experience so immersive, you don't even need to leave your seat to experience a bit of what's waiting for you in the Faroe Islands.
2 | Visit Fort Worth
Visit Fort Worth does an awesome job of showcasing relevant photos to travelers at the right time. A great example of this is with their neighborhood guides.
Each neighborhood has its own web page on the Fort Worth website. And at the top of every page is a unique gallery of social images, all curated from that specific part of town.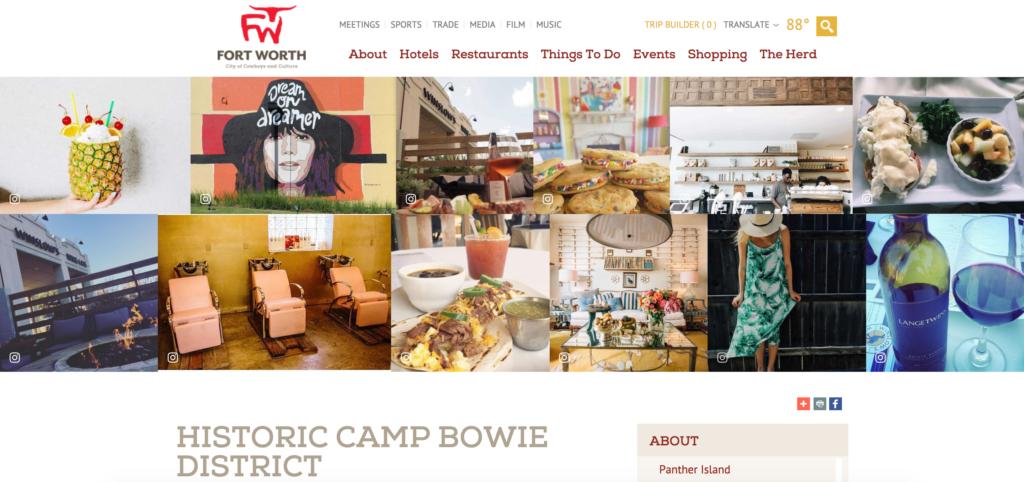 By sharing these visuals of what's happening on the ground directly on their website, people don't have to default to investigating photos separately on Instagram to get a good sense of each neighborhood.
3 | Visit Telluride
Visit Telluride does an amazing job of giving real-time visual information to travelers — almost like providing a virtual window into their destination.
For visitors to a ski destination like Telluride, weather conditions are super important. Understanding this, a lot of DMOs will list their current temperatures on their website. However, Telluride takes this one step further, by providing a live feed of their destination, so that people can see what the weather is like, first-hand.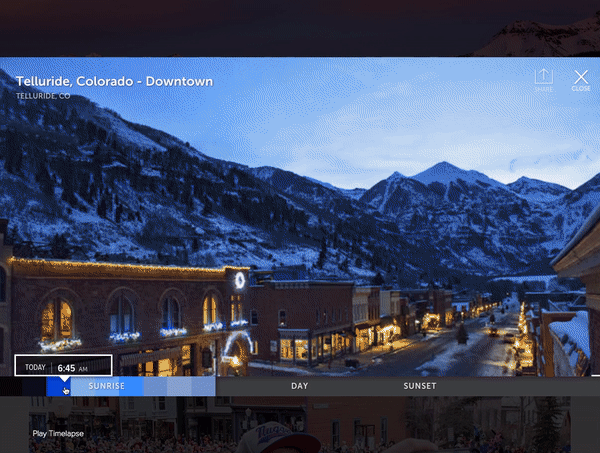 Their live cameras capture conditions on the mountains and also throughout town.
4 | Travel Manitoba
While written articles are typically the focus of a blog, visuals are just as important. Manitoba Hot, Explore Manitoba's blog, has perfected this balance.
Throughout their articles, they sprinkle in multiple galleries of user-generated content, not just as "decoration" but to really support and complement their posts. For example, in their visual "Pumpkin Spice Tour" blog post, their visuals are really the star, while the words work to guide and draw connections between the visuals, and elaborate on each location.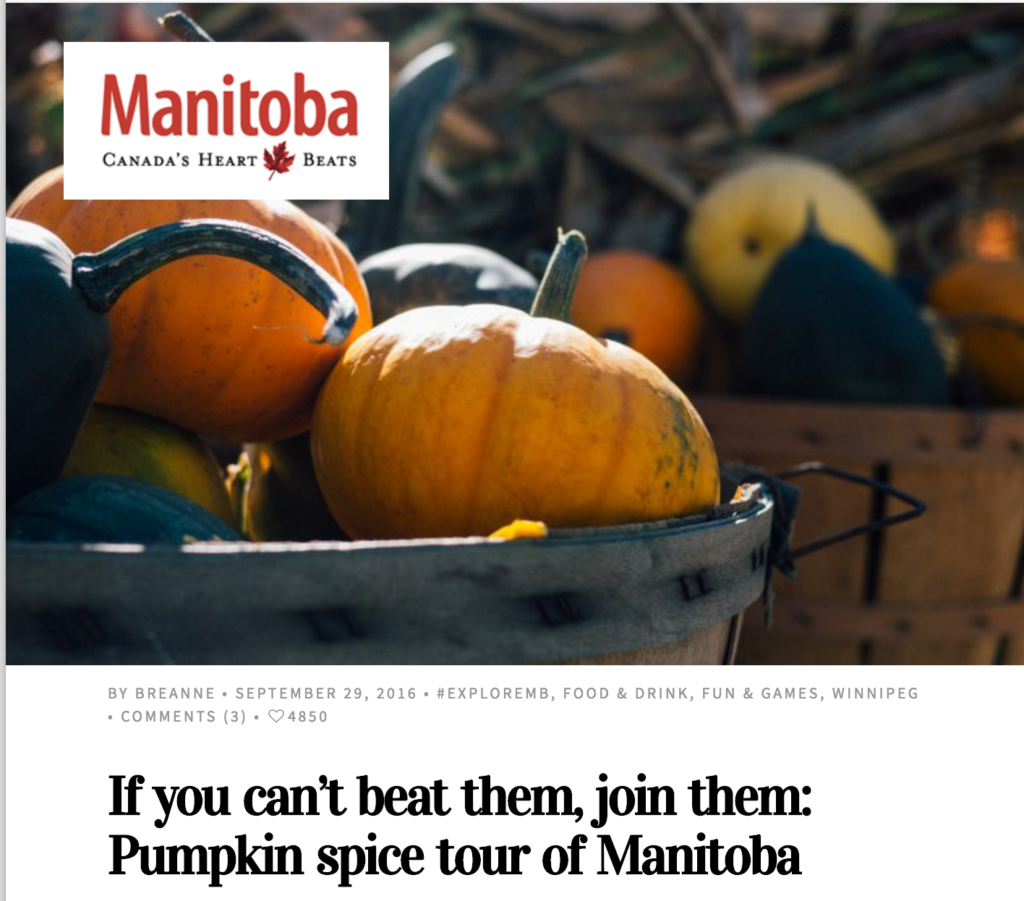 Loving these sites? Read this article for more examples of outstanding DMO websites.
Visual Influencers in Travel Video Marketing
5 | Visit Iceland
As one of the travel industry's great success stories and now attracting thousands of visitors each year, Visit Iceland developed a video campaign to encourage responsible tourism.
The Iceland Academy is a series of videos that teaches visitors about cultural norms and traditions, so tourists can be informed and respectful while enjoying their visit. The videos take place against some amazing scenic backdrops, so they remain inspirational while being educational, and are hosted by humorous and light-hearted locals.
Visit Iceland does a great job of using video to effectively influence their audience, even when it comes to more difficult conversations.
6 | Destination Canada
Destination Canada acquired rights to thousands of UGC photos and videos from Instagram to create an incredible video series called Found in Canada to target the U.S. travel market.
With these authentic visuals, they created fast-paced, high-energy, attention-grabbing content. Each video features tons of photos and videos that showcase different parts of the country through the eyes of excited locals and travelers alike.
Many of the videos have between 1-3 million views – so their content is clearly hitting the mark. This isn't a one-off viral hit, it's a proven formula for video content travelers want to watch.
7 | Explore St. Louis
Explore St. Louis's social hub, STL.Live, is an engaging microsite that provides an amazingly immersive visual experience, combining a living mosaic of hundreds of user-generated visuals, with videos from influencers.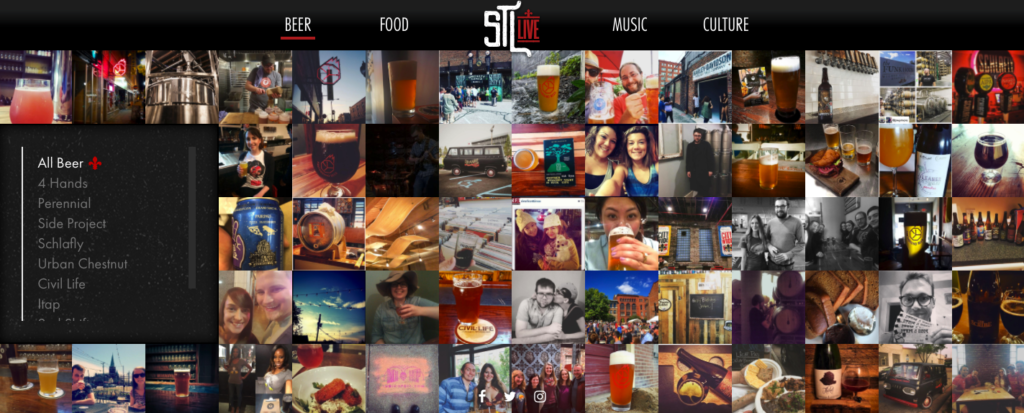 There are four sections: Beer, Music, Culture, Food. Each takes visitors to a custom page of relevant visual content – like a photo album built around the topic. Here, visitors can explore a mix of social photos or watch videos Explore St. Louis produced with local influencers and talent, specifically on that topic.
Because the both the videos and social photos are from real people, the microsite feels very authentic. It's like getting a snapshot into the city, through the eyes of hundreds of locals.
Visual Influencers in Social Media
8 | Visit Colorado
Visit Colorado is just one example of a DMO that's been very successful in finding high-quality social photos of their destination, and using it in their marketing.
Because their #ColoradoLive hashtag is extremely popular, they use CrowdRiff to sift through the noise, unearth the best visual user-generated content, and acquire rights to them.
With a collection of rights-approved social photos, Visit Colorado is able to incorporate more authenticity in their visual marketing. A great example is this ad they created:
CrowdRiff customers find that ads featuring user-generated photos have a 3X higher click-through rate than those that don't.
9 | Tourism Saskatchewan
Saskatchewan is a lesser known travel destination in Canada, but they've done a great job of opening people's eyes and minds to the variety of experiences people can have there — through visuals.
Rather than simply re-posting any pretty traveler photos on their Instagram, Tourism Saskatchewan carefully curates photos to create a moody, beautiful depiction of their province.
Additionally, Tourism Saskatchewan co-created the "Saskatchewanderer" program. Every year one lucky person is selected to travel the province and share their experiences on social media.
The Saskatchewanderer program creates a lot of high-profile conversation around their brand online. First the Saskatchewanderer who is posting amazing visuals from all over the province, and then Tourism Saskatchewan jumps in to amplify that voice and spread the word of this individual's fantastic travel experience.
10 | Destination British Columbia
We couldn't talk about visual influencers without a shout out to Destination British Columbia for their interactive visual trip planner, the BC Explorer.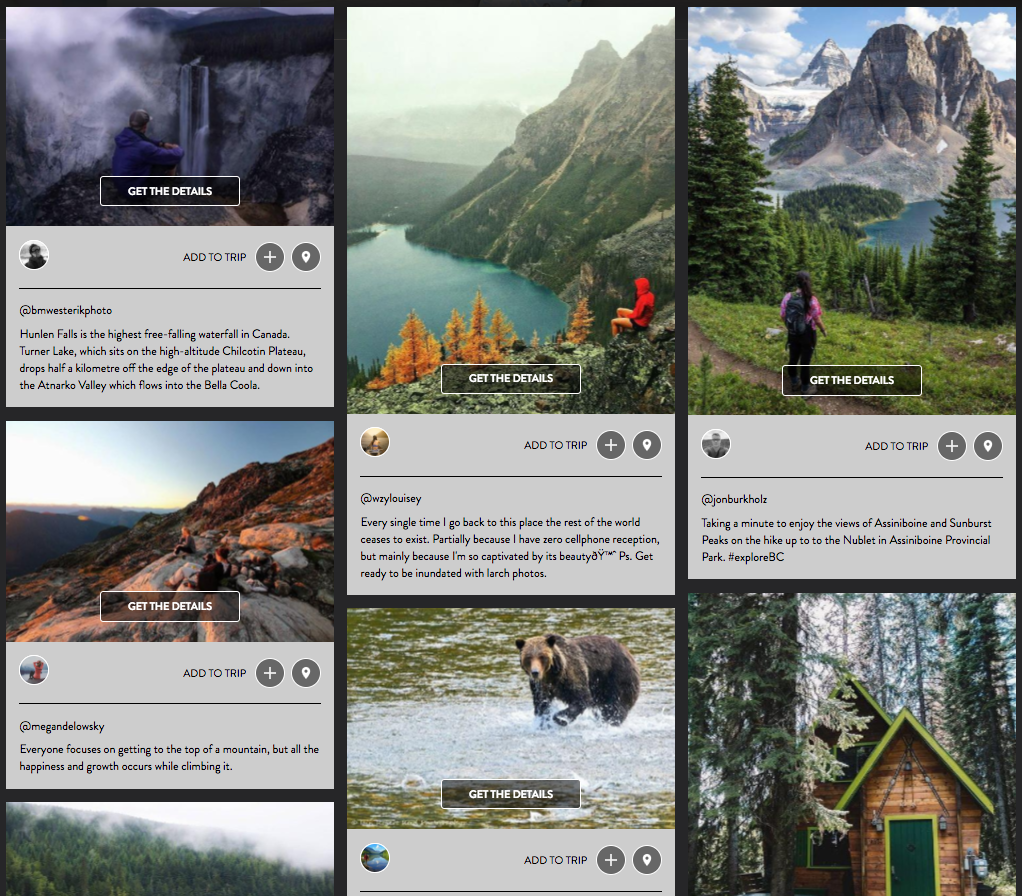 The BC Explorer is a direct response to the traveler trend of visual decision making. Powered by Instagram content, sourced and rights-approved with CrowdRiff, the BC Explorer lets travelers explore UGC photos to draw inspiration, learn more about what's depicted in each photo, and then create custom itineraries based on their favorites.
The BC Explorer is a trip planner that connects visual inspiration to action.
Reach more travelers by becoming a visual influencer
Travelers are making decisions like where to go, what to do, and what to buy based on the visuals they encounter every day.
Take advantage of visual decision making by becoming a visual influencer, and marketing with less words, and more visuals.
Need some pointers? CrowdRiff's visual marketing platform helps DMOs market to travelers more effectively with visuals and become better visual influencers.