How to Take Control of Your Brand Story Through Smarter Content Sharing

As a destination marketer, your visual content is a vital part of your brand.
It's what tells your story.
It's what helps you stand out.
It's what turns potential visitors into repeat visitors.
Your content library holds an incredible amount of power, like a giant turbine creating energy for your destination. But to get the most out of it, you can't just share all your content with every journalist, meeting planner and local organizer – the surge of visuals would be overwhelming.
To keep the light shining bright on your destination, you need to tailor your content to the needs of your collaborators.
Getting the right content in front of the right people quickly not only creates a better experience for the people who are helping your promote your destination, but also leads to more of your visuals getting used, increasing the impact of that content.
We built Media Hub with that vision in mind: create a central place where you can easily share and tailor content to the journalists, meeting planners and other collaborators you work with.
Here are a few ways shaping the content you share will benefit your team.
Personalized content is good for business
Each group you collaborate with will be interested in different content.
Meeting planners will probably be looking for skyline shots and scenics to put on signage and event collateral.
Embeddable UGC would be great for bloggers because it provides an eye-level perspective for a story.
You might want to show media and press only content that's been cleared to meet certain publishing guidelines.
It's already easy to see how groups can help here.
A skyline shot probably isn't relevant to a journalist, a UGC embed isn't of much use to a print publication, so why surface them? By filtering out content that doesn't speak to an individual, you make it easier for them to find that perfect visual.
Combine that tailoring with Media Hub's easy search and mobile-friendly design and you're delivering a difference-making experience – the kind of positive interaction that makes collaborators want to work with you again and again.
Take control of your brand narrative

Visual content isn't something you can set and forget – to compete for clicks and bookings, destination marketers are constantly refreshing their content mix.
The truth is, the set of photos you painstakingly hand-picked to share with publishers last year might not be relevant to them today.
Seasons change.
Events roll into town.
Photography trends emerge.
To deliver a consistently superior experience for collaborators, you have to think about today and tomorrow – you need to be able to update content and distribute it seamlessly.
With the ability to swap content in and out across groups, Media Hub gives you the ability to influence how your destination is positioned in the greater marketing landscape.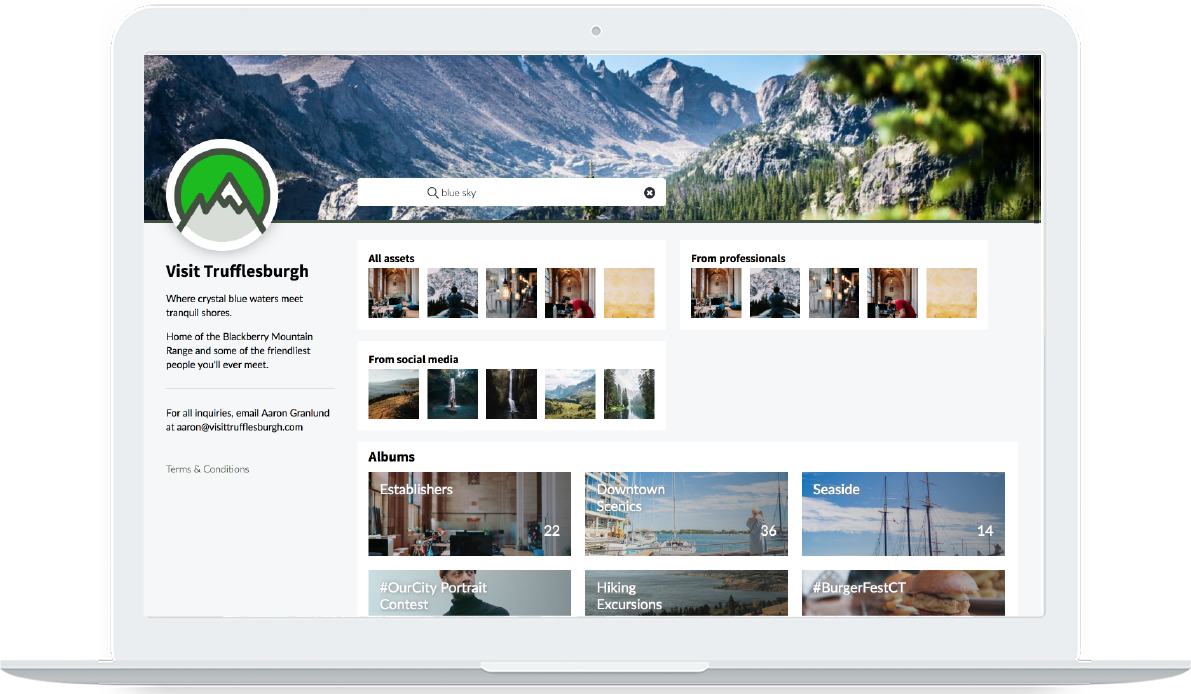 If you're trying to rebrand to appeal to millennials, you can replace those photos of historical landmarks with food and street art.
If you're trying to break away from legacy attractions, you can share more photos of your new cultural tentpoles.
By influencing the content that will ultimately be seen in publications and marketing collateral, you gain control of the story being told.
Keep track of what's getting used and who's using it

In addition to organizing your collaborators into groups, Media Hub gives you control over access to your content. If you want to know how each photo and video is being used, you can ask collaborators to tell you what they'll be using it for before approving it for use. You can also get them to agree to usage guidelines and set content expiries. Media Hub gives you everything you need to share content with complete confidence.
See it for yourself!
We're always adding new innovations and time-savers to the platform, and we'd love to show you all the ways we're making life easier for destination marketers.