The Power of User-Generated Content for Disaster Recovery

It's a reality many in the tourism industry know too well: an unforeseen disaster strikes and a destination that's been doing well suddenly becomes the center of attention in the media.
Disaster preparedness and recovery was a topic at Tourism Academy this past year, with one of the panel talks devoted to it. There's a lot of valuable information and insights that were brought to the table – especially when it came to the ability user-generated content has to lift an affected destination up in these situations.
When the media swoops in, it can paint a one-sided picture
Though ticket sales, bookings, and heads-in-beds may have been on the rise, negative events and the publicity that follows is often enough to upend tourism in an area, even after the destination has recovered.
The modern news cycle often prioritizes these tense, emotional situations. When Hurricane Irma hit the east coast in September 2017, the damage and debris received plenty of media attention – however, there wasn't much mention of the beautiful beaches that remained clean or the many businesses that bounced back and were welcoming patrons once more.
Because of the one-sided coverage, oftentimes, after a destination experiences a high-profile disaster, would-be visitors have trouble shaking off the negative stories the media has constructed.
Thankfully, DMOs have another powerful media source at their disposal: user-generated content.
The photos and videos locals are taking reflect what's really happening on the ground
Locals are still taking pictures and sharing them on social media. After a crisis is over, people are once again enjoying coffees at their favorite cafes, spending time in their favorite neighborhoods, and altogether resuming their lives as usual.
The photos and videos they take and share online of these moments are, in and of themselves, powerful sources of information for what's really going on in a destination:
They're trustworthy.

Since these visual stories come from everyday individuals (whether locals or travelers) people can trust them as unbiased views of what life looks like in a given destination.

They're the most up-to-date.

Social media images from today can show the most current and accurate window into your destination. They're more relevant than what the media might've presented a month ago.

They're abundant.

When you're in recovery mode, you want to deliver frequent communication of new information. A big reason why UGC is so valuable in these situations is that every day, new photos and videos are being shared.
"Locals are your content." Sage advice from @GathanDBorden on leveraging local writers and instagrammers to tell your destination story. #TourismAcademy

— brittbrouse (@brittbrouse) June 14, 2018
What you can do to regain control of the conversation with UGC
Here are some actionable ways you can use UGC to mitigate negative perceptions of your destination when disaster strikes.
1 | Feature up-to-date UGC front and center on your website
Earlier this year, British Columbia was struck with wildfires – something that can be a scary prospect for a traveler. During this time, to help keep people up-to-date on the situation, Destination BC updated their website galleries with real-time UGC from unaffected areas, to communicate that there was still a lot left to explore.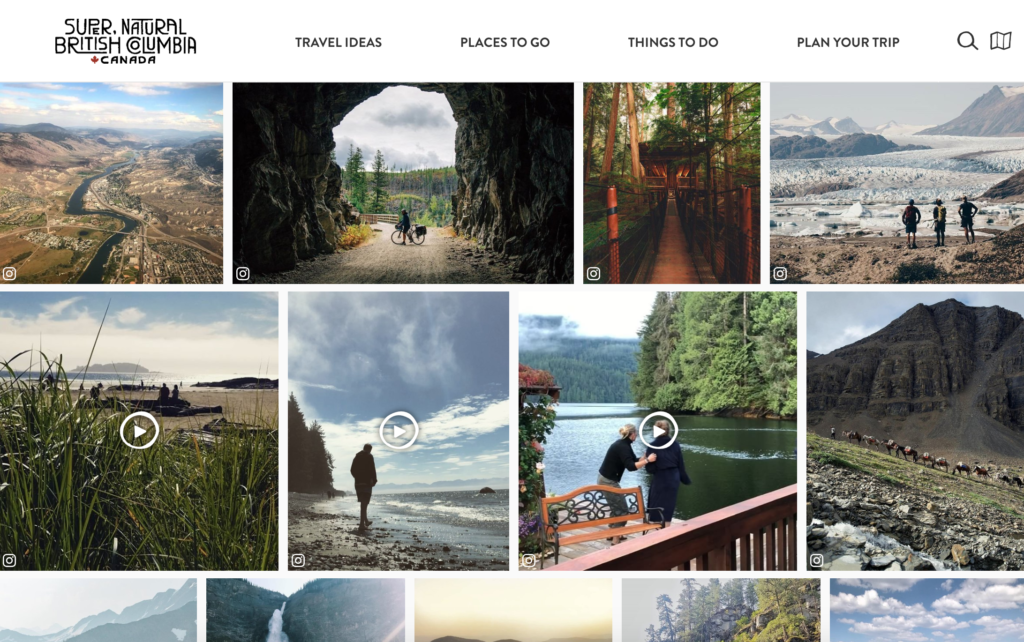 By sharing current photos of your destination from social media on your website, you're using social proof to show anyone who lands on your homepage what your destination actually looks like – right now.
When incorporating UGC onto your website, it's a good idea to emphasize authenticity and timeliness with language like "this week's top images" and "views from the ground." The key is to keep the content current by updating the images often – and conveying that.
2 | Take control of the social conversation about your destination
When the wildfires hit Northern California last year, Visit Santa Rosa actively monitored what people were saying on social media once the fires were long gone.
"We took a proactive approach to mention and comment on UGC that mentioned our businesses that were open after the disaster, specifically including pictures that were taken after the disaster. It was very powerful to showcase and share content from visitors that featured our open businesses. This helped mitigate the impression that there was nothing left after the disaster or that everything was closed."
Brad Calkins, Executive Director at Visit Santa Rosa
On the flip side, since UGC is unfiltered, it also means that sometimes the wrong information gets passed along, especially in the aftermath of a disaster. Brad shared that a part of curating UGC meant that Visit Santa Rosa monitored it closely and regularly commented on social media to clarify when people might've been mistaken.
"Its our responsibility to make our visitor feel comfortable and safe" Devon Perry from South Jersey talking about disaster response. #TourismAcademy #crisiscommunication

— Erin (@eekslifka) June 13, 2018
3 | Share UGC with the media and your partners
If you're actively tracking user-generated content already, and highlighting it on social media and your website, a good way to extend the reach of your message is to share this content with the media and your tourism partners.
Give the press something else to talk about. These authentic photos can spark new stories that can help spread the word that your destination is thriving again.
Many of your partners will benefit from sharing the UGC that positions them in a positive light again. Encourage them to share UGC of their neighborhoods or surroundings, or (depending on what kind of organization they are) pictures of their own guests enjoying themselves.
Let the world know you're open for business
People trust user-generated content because it provides authentic and real-time windows into what's going on. It's a powerful source of visuals that destinations can leverage in times of crisis when you feel like your side of the story is getting lost.
For more information on visual UGC, explore these articles: