Why Attractions Should Be Using User-Generated Content in Their Marketing

What do amusement parks, zoos, aquariums, and other attractions all have in common?
Their visitors can't resist taking and sharing photos and videos of their experiences… meaning there's a ton of user-generated content (UGC) created around each attraction every single day!
Why is this important to a marketer like you? Because using the right combination of authentic UGC and branded visuals can help you draw a crowd.
Attractions of all shapes and sizes can leverage UGC to inspire new and returning guests to visit.
Let's explore why visual UGC is becoming such a powerful marketing tool for top attractions – and why you need to start featuring more social imagery in your own marketing.
More than ever, your visitors are visual decision-makers
Thanks to social media, visual decision-making is more common than ever.
What does that mean? Your potential customers are deciding where to go and what to do based on the images they see on Instagram, Facebook, and Twitter. When future visitors are making plans (and even when they're just casually surfing online!), they're getting inspired by social UGC shared by their friends and peers.
That means seeing a photo or watching of video taken at your attraction can generate interest and spark visitors to take action – perhaps by reading up on your attraction, starting to plan their visit, or even grabbing tickets online.
If you truly want to inspire people to visit your attraction, you need to display the right type of images in the right places. This requires developing your attraction's visual influence and taking control of your brand story through a mix of UGC and owned media.
Your customers are more receptive to social media than traditional ads
Not surprisingly, most people trust their friends and family more than advertisers. In fact, 92% of your potential customers believe recommendations from people they know more than any type of ad.
To make matters even more complicated, consumers are constantly bombarded with ads everywhere they look – to the point that they no longer register much of the marketing content they see. Unfortunately, this means it's harder than ever to connect with your audience.
The good news?
Social media and UGC are able to bypass the ad fatigue most of us have developed. That's because unlike traditional marketing, social media is often candid and unfiltered.
When a guest shares a photo from their recent trip to your attraction, their friends and family are more likely to consider visiting than if they simply saw an ad for it.
Read what happened when Discover The Palm Beaches incorporated UGC into their marketing.
Whether it's their cousin's Facebook photo or a local influencer's Instagram post, seeing an image on social media can inspire your audience to check out your attraction.
Sharing authentic UGC as part of your marketing strategy allows you to take advantage of social media's ability to blur the lines between personal recommendations and promotional content.
UGC makes a big impact
UGC is one of the modern marketer's most powerful marketing tools:
(For more user-generated content stats, here's a great resource.)
What's more, not only does UGC make your marketing more effective, it also diversifies the way you're able to tell your brand story.
Tapping into UGC provides you with more content than ever – which means you can choose the very best visuals that represent what your brand is all about. Plus it also provides you with a wider variety of timely, relevant content.
Basically, if you need diverse content to market your attraction, UGC is a goldmine.
Displaying UGC alongside your branded assets brings a breath of fresh air to your marketing, as it allows you to showcase your attraction through the perspectives of a range of visitors — not just your own.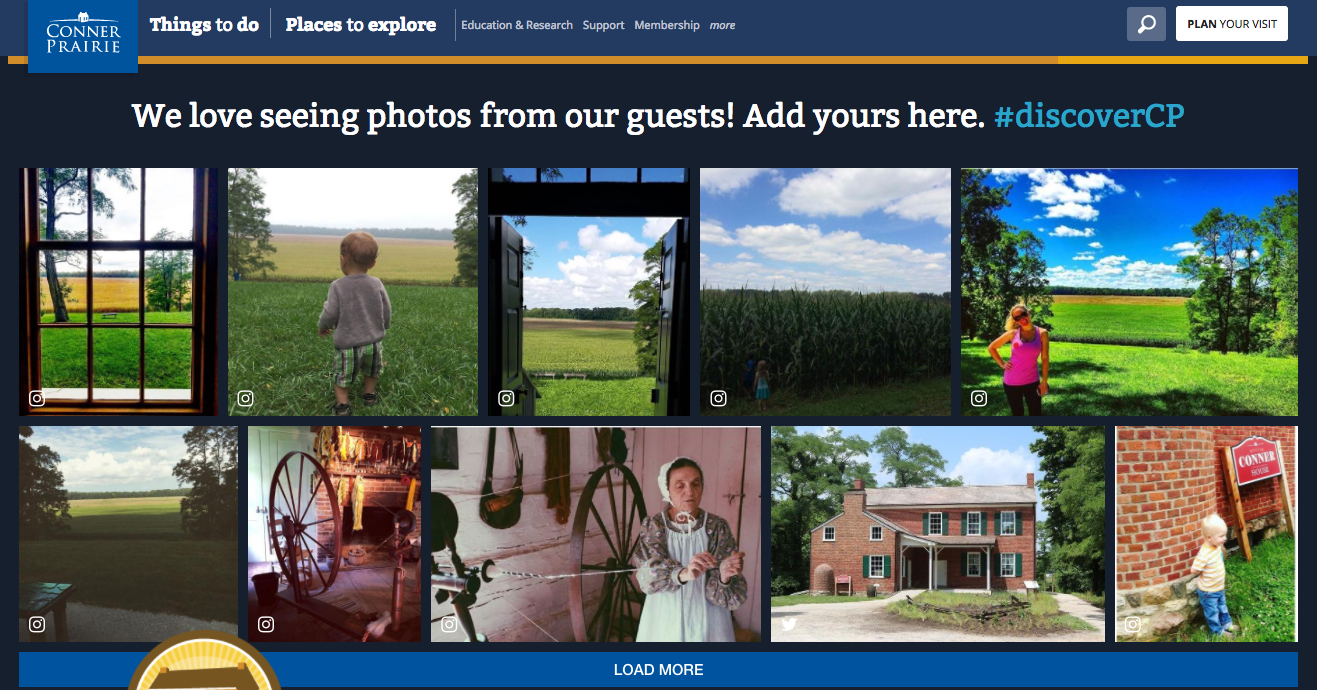 How top attractions use UGC in their marketing efforts
If you're not sure what to do with the awesome UGC your visitors are sharing online, we've got a few ideas to get you started. Here are a few easy ways you can incorporate UGC into your digital marketing and build your attraction's visual influence.
Display visual UGC galleries on your website. With CrowdRiff, you can easily curate and display interactive visual galleries on any page of your site. Add custom calls-to-action to each visual that links to relevant pages on your website so visitors can click to dive deeper when an image catches their eye. The result? A 4X increase in average time on site, a 30% reduction in bounce rate, and a more engaged audience.
Expand your image library by getting the rights to UGC at scale.

By securing the rights to high-quality social visuals, CrowdRiff customers gain access to a much wider range of images that can be used to promote their attractions. For example,

Hornblower Niagara Cruises

has grown their library of

rights-approved images to more than 10 thousand UGC visuals

within a few short months.

Leverage UGC photos for more powerful digital ads. Once you've got the rights to a collection of UGC images that represent your brand, don't be shy about making them the stars of your marketing campaigns. CrowdRiff retrieves the original high-res image, so you can use UGC just about anywhere you'd use a professional photo – and why wouldn't you? After all, CrowdRiff customers using rights-approved UGC in their digital ads have a 3X higher click-through rate.
Interested in seeing more? Here are 6 ways attractions use CrowdRiff to boost their UGC marketing.
Take control of your brand's visual story and stay top of mind
Chances are, there's already a huge collection of UGC related to your attraction available on social media. CrowdRiff allows you to tap into that valuable resource so you can uncover the most relevant, high-quality UGC available and put it to work marketing your attraction.