As of June 2018, Instagram Stories now has over 400 million daily active users! It's no wonder many DMOs are now diving deeper into advertising on this channel.  
Today's marketing teams need to prepare visual content to use across social channels like Instagram Stories – we've built a platform that makes the process simple from start to finish.
Here's how to make a quick Instagram Story ad with CrowdRiff.
Step 1: Find the best photo for the job
When all your visuals are in one place, finding the right one for your ad is easy, whether it's owned or from social. CrowdRiff eliminates the need to look in multiple places and across different channels for the photo you need.
It also helps you make data-driven decisions on which photo to use:
Using our

Gallery Insights feature

, you can instantly see which visuals are already getting more clicks on your website. For example, if you're looking for an engaging food picture, you can take a look into the gallery on your Restaurants page to see which photo is getting the most interaction. Putting that photo in an ad should get you more clicks.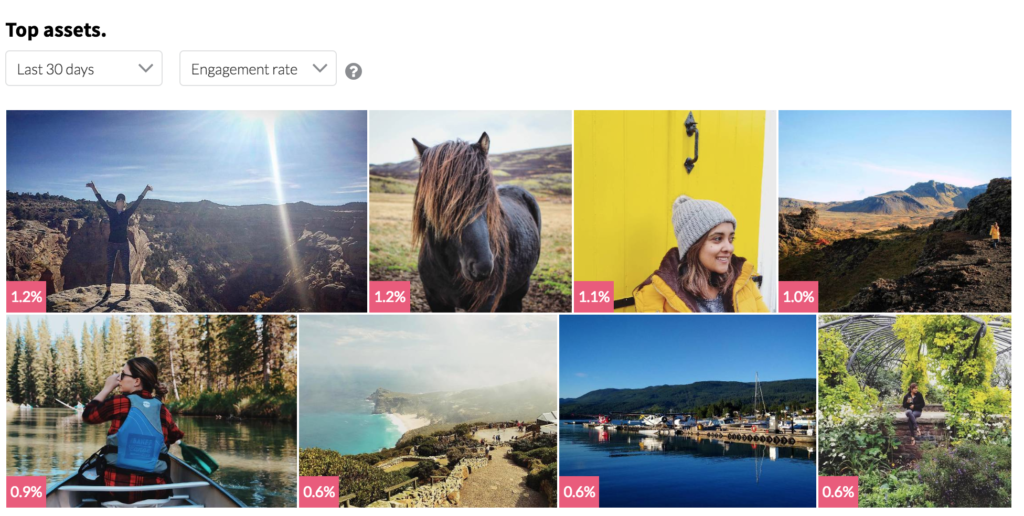 Clicking the

Smart Curation button

shows you only the top-quality content (as graded by our artificial intelligence technology), to help narrow down your choices. This is especially helpful when you're bringing in a high volume of user-generated content, so you can immediately sort out the gems from the rest of the noise.
Step 2: Get rights to the photo
If the photo you found is from social media, your next step is to get permission to use it in your ad. (And if you're using a photo you already own, skip this step and move on to the next!)
All it takes is a click of a button and CrowdRiff takes you to the photo on its social platform with a custom comment, asking for rights. From there, CrowdRiff manages the approval process and notifies you when you get rights – meaning you don't have to keep checking your Instagram to see if someone has responded.
Step 3: Edit the photo (right in the app!)
After getting the photo you'd like to use, you'll likely want to touch up the photo, and crop it to the Instagram Story ad format. Perhaps you want to add some copy too. You can do all of this within CrowdRiff, using Creative Editor.
Instagram Stories need tall, skinny photos (9:16 aspect ratio to be exact), so in most cases, you'll need to resize your visuals to fit the ad. Luckily, Instagram Stories are one of the nine size presets in Creative Editor, so you can have your photo ad in seconds.
Want to add a tagline? No problem, you can do that too.
After you're done editing your photo, CrowdRiff saves your edited image as a separate file so you always have the original. Now it's ready to use!
Step 4: Click and drag into your Facebook Ads Manager
With CrowdRiff's Chrome extension, Sidekick, you can access any of the visuals in your CrowdRiff library – including the Instagram Story ad creative you just put together – and drag-and-drop it straight into your Facebook Ads Manager.
When you use Sidekick, you skip all the steps between preparing the image and actually using it – like downloading the image, renaming it, and uploading it again. You don't even have to leave your browser.
There you have it – sourcing, editing and publishing an Instagram Story ad in under 10 minutes with CrowdRiff!