Learn how CrowdRiff Studio helped the team at Visit Long Beach boost their content visibility on Google all while repurposing existing content into a mobile-friendly format that is transferable to multiple channels.
Located in southern California, Long Beach is an ocean-front gem that boasts beautiful beaches, marinas, and 11 miles of protected waterways. Samantha Mehlinger, Vice President of Communications, and her team at Visit Long Beach wanted to highlight just how spectacular their city is and, in July 2021, called on the help of CrowdRiff Studio to support them in delivering on some of their highest priority goals.
The team at Visit Long Beach had just updated their website to be more user and mobile-friendly, and they wanted to complement this effort by adding more mobile-friendly content that was discoverable in Google. Samantha also wanted a way to repurpose their existing content into new formats that could be used across multiple platforms, and be shared by their state DMO Visit California. This is where CrowdRiff Studio stepped in. 
CrowdRiff Studio lets DMOs create Web Stories, which are like the social media stories we all know and love – except that they are evergreen and discoverable on the web. Web Stories can be made with new or existing content and showcase a destination and its attractions in a short-form visual , tappable format. You can also get more from your CrowdRiff UGC content by easily importing it into CrowdRiff Studio to use within your Stories.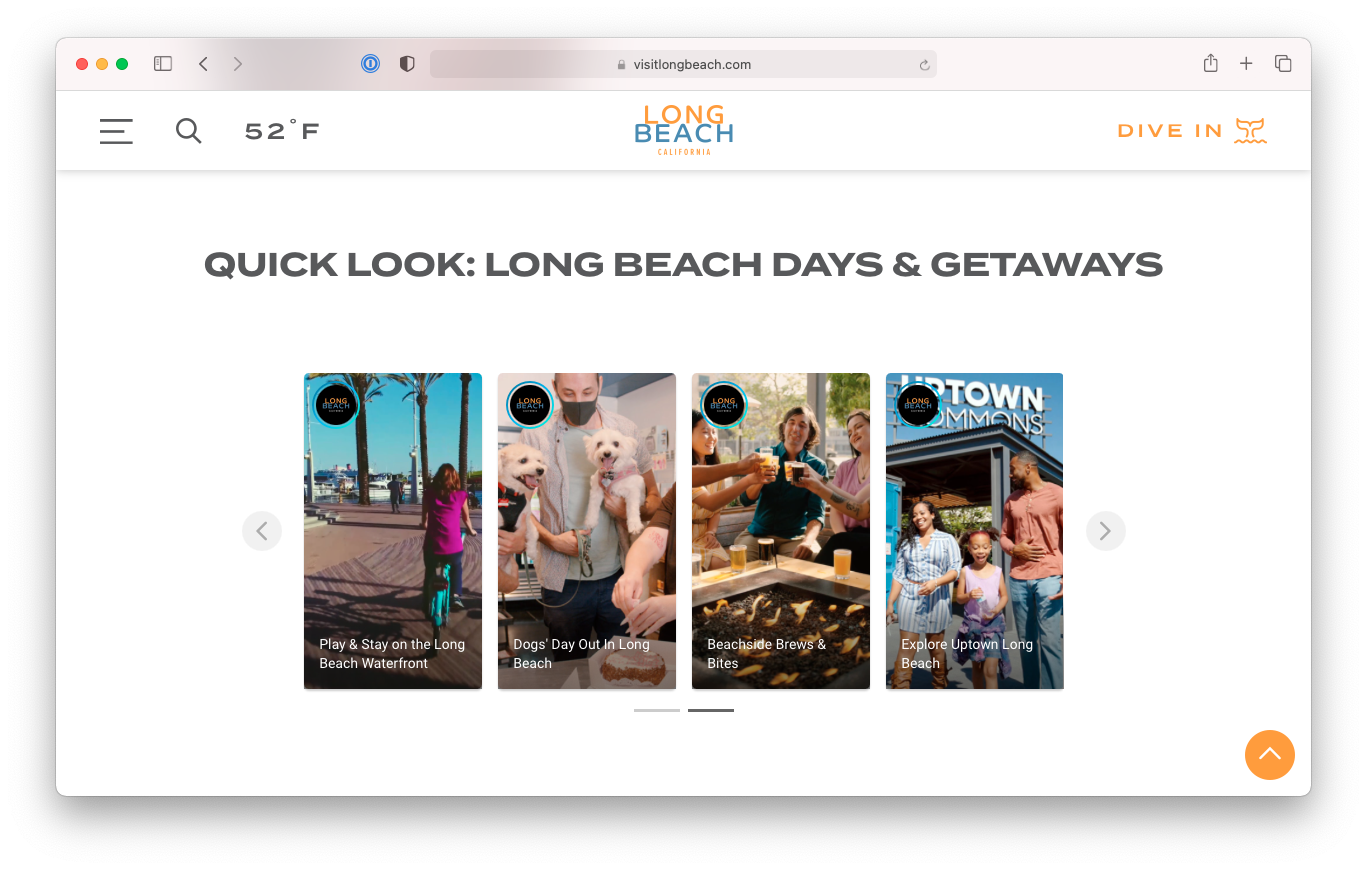 The team took existing blog posts, photography, and videography from their summer "Long Beach Days & Getaways" campaign and converted them into Web Stories for their website, which Samantha said helped "reintroduce existing concepts to our audience, in a new visual way".
They also saw an opportunity to save time by sharing Web Stories across their social channels like Instagram and TikTok."It's all about transferability" Samantha added, "I view CrowdRiff Studio as an opportunity to take what you're already doing and just put it in a different platform".
Web Stories present content in an easily digestible format for travelers, especially on mobile, which came as an unexpected bonus to Samatha.
"I didn't really recognize until we got into the platform how useful it would be for converting our content to a mobile-friendly format".
This is particularly beneficial to Visit Long Beach as the majority of travelers who are visiting their website do so from a mobile device. "It's actually a better format for sharing content for somebody who's just searching on mobile as they can more easily click through the content in a more visual, user-friendly way." 
The unique swipe-up functionality on Web Stories created with CrowdRiff Studio was a game changer for Samantha. Unlike social media stories, the swipe-up on CrowdRiff Web Stories has valuable information specifically for travelers, like Google Maps locations or destination opening hours. "Travelers can scroll up, get the information about each destination and see it on a map and get the link to their website. I mean you really can't do better than that. So it is a really useful tool."
Web Stories are indexed by Google and show up in Google Search results, making this another way that they differ from social media stories. In Samantha's opinion, this is "one of the major benefits to the platform". 
Despite some initial skepticism, the performance of Visit Long Beach's Web Stories on Google search has continued to perform well and is helping to drive more travelers to their website. "That was not one that I expected to be as successful as it has been for us", admitted Samantha. "It's a new format, so I wasn't sure how exactly it would look when it came up in Google, or how quickly we'd see a return on it, but it happened very quickly."
The team has already received one million organic impressions across Google Discover and Search, helping to boost awareness and bring more travelers to their site.
However, the main goal that CrowdRiff helped the team to work towards was working more closely with the state-level DMO, Visit California. They wanted to leverage Visit California's impressive reach to promote Long Beach to a wider audience.
"You're the local expert and you want to have control over your own narrative – CrowdRiff Studio gives you the opportunity to do that".
Lastly, Visit California has embedded Web Story Galleries across its website on various themes like cycle trails or breweries. These galleries are constantly refreshing and pulling in Stories from all of their partners across the state, including Long Beach. This has helped streamline communications with Visit California and it's boosted the reach of local content created by Visit Long Beach. This has been a big plus for Samantha, "it gives us an opportunity to constantly keep putting Long Beach on their radar." 
Looking ahead, Samantha concluded that she's excited to look for new ways to integrate Stories into their website, "there are definitely other ways that we could be using Web Stories that we haven't thought of yet." Keep an eye out for Visit Long Beach's Stories across their website, social channels, Visit California's website, and on Google.
Are you interested in joining CrowdRiff Studio? Get in touch with our team to learn more!