Women have always been a linchpin of the travel industry. According to a World Tourism Organization (UNWTO) report on gender equality and tourism, the global tourism workforce is 54% female in stark contrast to 39% in other facets of the economy. Pay inequities abound, particularly for BIPOC women, and women in the travel sphere face a 14.7% wage gap on average.
The travel industry is far more than just destination marketers; global travel wouldn't be possible without tour operators, air transportation workers, accommodation and service industry workers, and many more. It's important to recognize the hard work, contributions, and success stories of women in travel.
We've got a long way to go toward meaningful change, fair labor, and true equality, but this International Women's Day, we're excited to shout out several trail-blazing destination marketers who are innovating their corner of the industry.
Colleen Eliason | Communications and Sales Coordinator at Visit White Mountains
Colleen is a shining example of a destination marketer with an eye for good content. She manages daily posts to their three major social media accounts (Facebook, Twitter, and Instagram), and collaborates with their marketing assistant on content for their blog and TikTok.
Their team also leverage tools like CrowdRiff for the White Mountains Travel Guide, which helps them secure rights to user-generated content and find compelling images for the annual book.
"We are so fortunate to have a treasure trove of assets at our fingertips for every season and recreational activity we can think of," said Colleen. "Our Admin team is comprised of six people and all but one of our team members are female. I am certainly quite proud to be a part of a female led organization."
Want to support Colleen and team's work?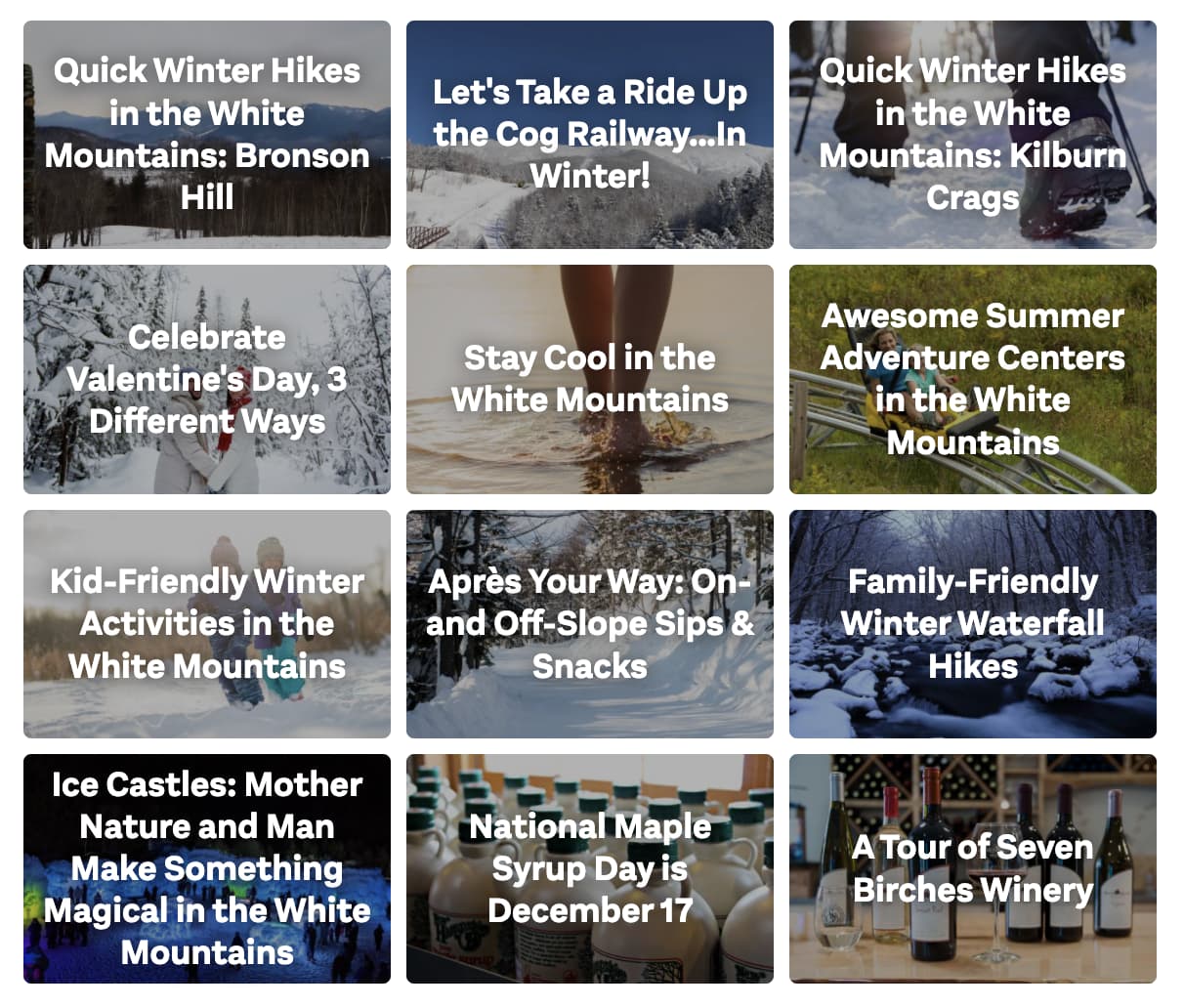 Emily Zertuche, CTE | Vice President of Marketing at Visit Corpus Christi
Emily was named an "emerging star in tourism in 2021" by The Travel Vertical. At Visit Corpus Christi, she shows the world a new side to Texas — the coastal side! — by spearheading a new website design and a holistic rebranding and repositioning of the destination.
She told The Travel Vertical, "We want our community to have full input on what we do and have buy-in of our destination's brand to collectively unite on our vision of putting Corpus Christi on the map as the Gulf Coast Capital…That's what being in the Gulf Coast Capital really means – to be part of our diverse, inclusive coastal community."
How to support the Visit Corpus Christi team:

Danni Melquist | Director of Marketing at Fargo Moorhead
The Marketing team at Fargo Moorhead happens to be an all-female team, and Director of Marketing, Danni Melquist, instinctively understands how unique and special that can be.
"I feel so lucky that I have so many women in destination marketing that I have been able to bounce ideas off of and have helped me gain my footing in the industry. Everyone is so willing to share ideas and grow and learn from one another instead of seeing each other as competition which is truly refreshing," said Danni.
More from Visit Fargo Moorhead:

Staci Mellman, Chief Marketing Officer at VISIT FLORIDA
As CMO at VISIT FLORIDA, Staci Mellman consistently creates innovative experiences that bring the Sunshine State to the rest of the world, whether that's sharing all about the state's accessibility efforts or clever brand plays, like a UV-sensitive map of Florida that reveals a list of Florida's best natural adventures when exposed to the sun.
How to support Staci and team:
Rachel Semik | Media Relations Manager at Tempe Tourism
During her time at Tempe Tourism, Rachel Semik encountered a unique challenge with hosting familiarization FAM) trips in light of COVID-19. Previously, these FAM trips were crucial opportunities for building relationships with travel bloggers, influencers, and media professionals. Instead, Rachel and team hosted a virtual FAM powered by UGC.
Her resilience and adaptability helped the Tempe Tourism team bounce back, and nurture relationships with creators and the local community. Today, Rachel applies that same grit to her new role as a Media Relations Manager at Visit Phoenix.
More resources:

Putting it all together
The celebration of women's achievements in the travel industry doesn't end here. This is just a tiny peek into the meaningful work women around the world are doing to make travel more diverse, accessible, and intentional.
Have a name to add to this list? Nominate a colleague or mentor by emailing marketing@crowdriff.com