Though surrounded by some of the most popular natural sandstone formations in the country, Sedona, Arizona was never really built to accommodate the mass of tourists that flock to the town throughout the spring, autumn, and weekends year-round.
The influx of tourism presents a new challenge for visitors and locals alike
On those peak travel days, its two-lane roads often crowd to a standstill, the parking lots near its main attractions reach capacity early in the day and never seem to let up, and even some of the attractions themselves are starting to show signs of wear and tear.
The town and its surrounding area feature over 200 trails covering 300 miles, 1.8 million acres of national forest land, 80 fine arts galleries, countless native artifacts and historical sights, and a longstanding culture of spirituality and wellness.
The majority of visitors, however, don't seek to enjoy all that the area has to offer, typically spending their time traveling to and waiting for a parking space at Bell Rock, the Chapel of the Holy Cross, or one of the area's other famous attractions.
"We want people to come here and be happy, and nobody likes traffic, even if you're stuck in traffic staring at the most beautiful red rock formation you've ever seen," said Kegn Moorcroft, the Director of Communications for the Sedona Chamber of Commerce & Tourism Bureau.
"If the parking lot is full at that red rock formation and the cars aren't moving, you're bound to get some angry visitors
—
and locals."
Finding a way to make tourism sustainable within a tight budget
To make matters more complicated, Moorcroft, who compared the traffic conditions of the small town to downtown Los Angeles, said the town isn't keen to invest in more infrastructure projects. She explained that visitors are drawn by the small town appeal, something an eight-lane highway could jeopardize. Nor is the town looking to discourage visitors from traveling there, as the local economy is wholly dependent on the tourism industry.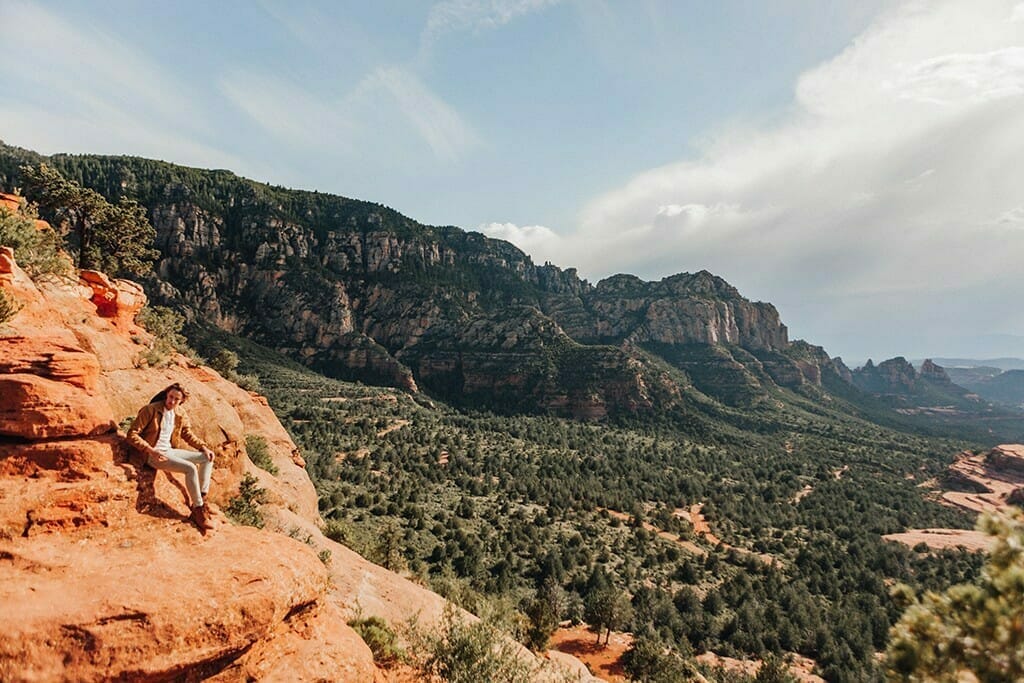 "Our town is only 10,000 people, and 10,000 are employed in the tourism industry. This is our lifeblood; we don't have another economy base, so we need to make sure it's an industry that's sustainable."
Moorcroft's objective in recent years has been to spread out Sedona's visitor population to a wider range of dates on the calendar and a wider range of locations on the map; but without a dedicated budget, the project seemed more like a pipe dream. "We don't want to use taxpayer money for ideas we're putting together for visitors, so it's been a careful process to make sure everyone is happy," she said.
Breaking through with creativity, resourcefulness, and help from the state
After a year of working through potential solutions, Moorcroft and her team came upon a rare opportunity to turn their vision into reality. In July of 2016, they submitted their proposal for a new tourism microsite to promote Sedona's lesser-known attractions to the Arizona Governor's Conference on Tourism's Grand Pitch competition, which awarded one winner $100,000 in free media buys from the Arizona Office of Tourism's media partners.
Congratulations to Sedona as the #AZGCOT GRAND Pitch winner. pic.twitter.com/9Ps5ISxAAb

— AZ Lodging & Tourism (@AZLTAnews) July 13, 2016
The idea was called Sedona Secret 7, a highly visual standalone website that would drive interest towards seven lesser-known attractions in seven popular tourism categories, including hiking, biking, arts and culture, spirituality, vistas, stargazing, and picnics.
"We decided to put together a presentation to see if people would like this idea, and we won The Grand Pitch, which means that we had $100,000 of ad buys with major, amazing publications and online digital assets."
But there was one catch — "We had to put it together in one year, and present on our success at the next conference one year later."
After winning the Grand Pitch, Moorcroft and her team began collaborating with key local partners to bring their idea to life, including:
the Forest Services department to help scout locations

state and local governments to secure shooting permits and ensure they were promoting the right trails at the right times

local nonprofit agencies to ensure they were on board

local influencers to employ as photographers

their agency of record, OH Partners, to help orchestrate the production within the allotted time
The resulting website uses visuals to inspire travelers to visit Sedona's hidden gems
SedonaSecret7.com, takes its visitors on a visual journey through some of the lesser-known attractions of the region. Each recommendation includes some basic information — such as the distance, difficulty and pet friendliness of hiking trails, or the shopping availability, location and kid friendliness of cultural sites — but are ultimately showcased using vivid, inviting photography.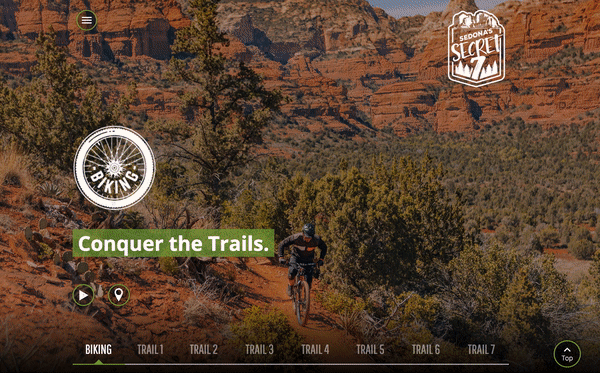 "We're visual creatures, so if we can inspire people using a beautiful image, they're ten times more likely to go to that site than just reading about what they might experience," said Moorcroft.
"The website truly is about the visuals. There are no paid actors or models in here, they're just real people from the area who love Sedona, and we're hoping the passion visitors see in their faces is real."
Since its launch to the public following the 2017 Arizona Governor's Conference on Tourism in July, the microsite has averaged about 200 sessions per day, approximately two minutes each.
"Phase two is integrating CrowdRiff with this website, which we'll begin likely in February," said Moorcroft. "We're probably going to do a [user-generated] gallery within each of the seven themes, and we're hoping to use the Sedona Secret 7 hashtag to pull out some great imagery that's already out there."
Dispersing foot traffic to more areas means both visitors and locals can better enjoy Sedona's beautiful landscapes
In the meantime locals are finding that traffic on its busiest roads, parking lots and attractions are beginning to thin out, while some of its previously untouched sites are gaining new popularity.
"Our overarching goal is sustainability, which means getting people in mid-week and off-peak seasons, and getting them off the beaten path," said Moorcroft.
"We know that if they've done Bell Rock and Cathedral Rock, they'll be looking for new things to do, new challenges, new adventures, new experiences, and that's what we're hoping the Secret 7 campaign offers."
---
Interested in seeing more of what other DMOs are doing?
Read what five forward-thinking DMOs like Visit Arizona and San Francisco Travel have done to create website content for travelers that is targeted, unique, and inspiring in our latest eBook: Making Your Website an Insider's Guide to Your Destination.