When you're looking for authentic visuals to display on your website, social media is an absolute goldmine.
So some DMOs add UGC aggregators, in the form of widgets and plugins, to their site that pull in photos from Instagram. But are these free tools enough to realize the full potential of your visual content?
Not exactly.
DMOs that rely on a plugin or social widget actually miss out on important opportunities to connect with travelers.
Here are five things that happen when you upgrade from a simple UGC aggregator to a full-fledged visual marketing platform like CrowdRiff.
1 | Stop driving traffic away from your site
Instagram plugins might look great, but they contribute to a major problem for DMOs by directing traffic away from their website.
Here's the thing: we know you've got click-worthy photos.
Whenever someone clicks on a photo in a widget or plugin, they're redirected to Instagram. So although these social hubs look pretty, they interrupt your web visitor's experience, and reduce the time spent on your website.
How a visual marketing platform does it better:
A visual marketing platform allows you to embed Instagram galleries directly on your web page. So visitors can explore your visuals without going anywhere.
Take a look at the Visit Eau Claire's stunning homepage UGC gallery: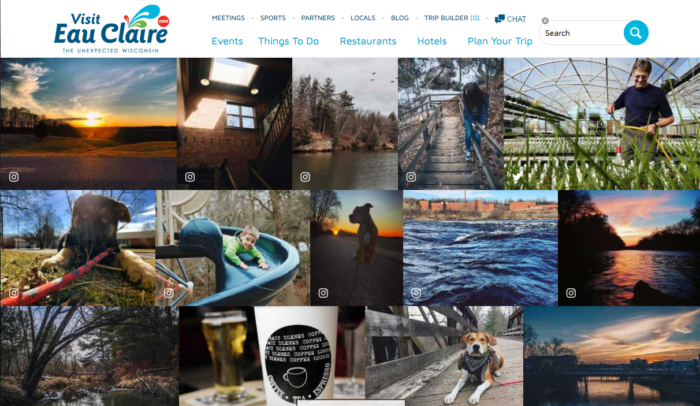 Website visitors can scroll through the gallery and easily get more context by clicking to see the full-screen image.
This also allows curious users to view the original description, comments, and hashtags without ever leaving your site.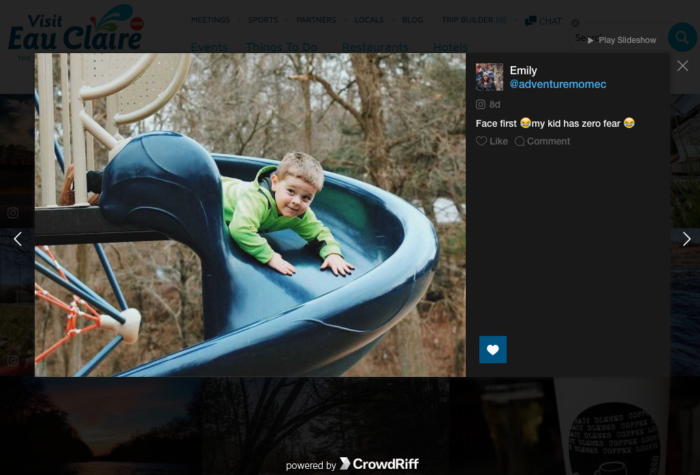 Fact: Customers using CrowdRiff's visual marketing platform have seen bounce rates decrease by 20% and time on site shoot up 400%!
2 | Spice up your visuals with various sources
A plugin might connect to your Instagram and show off your own collection of photos. Some DMOs even set it up to feature a stream of photos from a particular hashtag.
But the options with a plugin are limited.
What if you want to include images from more than one Instagram profile? Or from multiple hashtags? Or even from more than one social media platform?
There's also a lot of content that an aggregator simply can't find – content that your travelers want to see!
How a visual marketing platform does it better:
A visual marketing platform connects you to a much wider pool of UGC so you can show travelers what your destination looks like from every angle.
Sourcing your galleries from a combination of travelers, locals, influencers, and partners means you'll never miss an opportunity to share an image that might inspire future travelers.
For example, the Royal Ontario Museum has curated a phenomenal gallery of visitor photos for their latest Blue Whale exhibit — from Instagram and Twitter.
CrowdRiff can find photos from specific hashtags, users, and keywords so you can find the type of visuals you want for every page of your website. Plus, we give you access to more UGC by source images from all over Instagram, Facebook, and Twitter.
3 | Take control by curating and moderating content
Incorporating UGC into your visual branding is crucial and showcasing UGC on your website is a step in the right direction.
However, when your Instagram widget simply pulls the stream of photos associated with the hashtag you specified, you're kind of giving the public free reign to post content straight onto your website.
Whether it's a low-quality image, an unflattering depiction of your destination, or a random selfie, this raw stream of UGC can potentially distract from the rest of your amazing content.
How a visual marketing platform does it better:
If you want more control over which images appear on your website, a visual marketing platform is exactly what you're looking for.
CrowdRiff might source a thousand photos into your collection each day — but you hand pick the ones you want to create a gallery with and embed on your site.
Not only do you have the power to weed out unsavory or irrelevant photos, but you can style visuals to match your branding.
4 | Create themed galleries for specific website pages
Where does your Instagram widget display visuals on your website? Typically, if you're using a widget or a plugin, you'll only host images on the homepage.
So when travelers visit any other part of your website, they no longer have the opportunity to explore and enjoy your visual content.
Having one social hub is better than none, but a single gallery can't make an entire website visually immersive by itself.
How a visual marketing platform does it better:
Expand your visual marketing to include multiple themed galleries across your website.
Since you curate images to put into galleries, you can create specific galleries for different website pages, destination attractions, or themes.
Hammock Coast curates unique user-generated content to position South Carolina as the perfect destination for very specific experiences.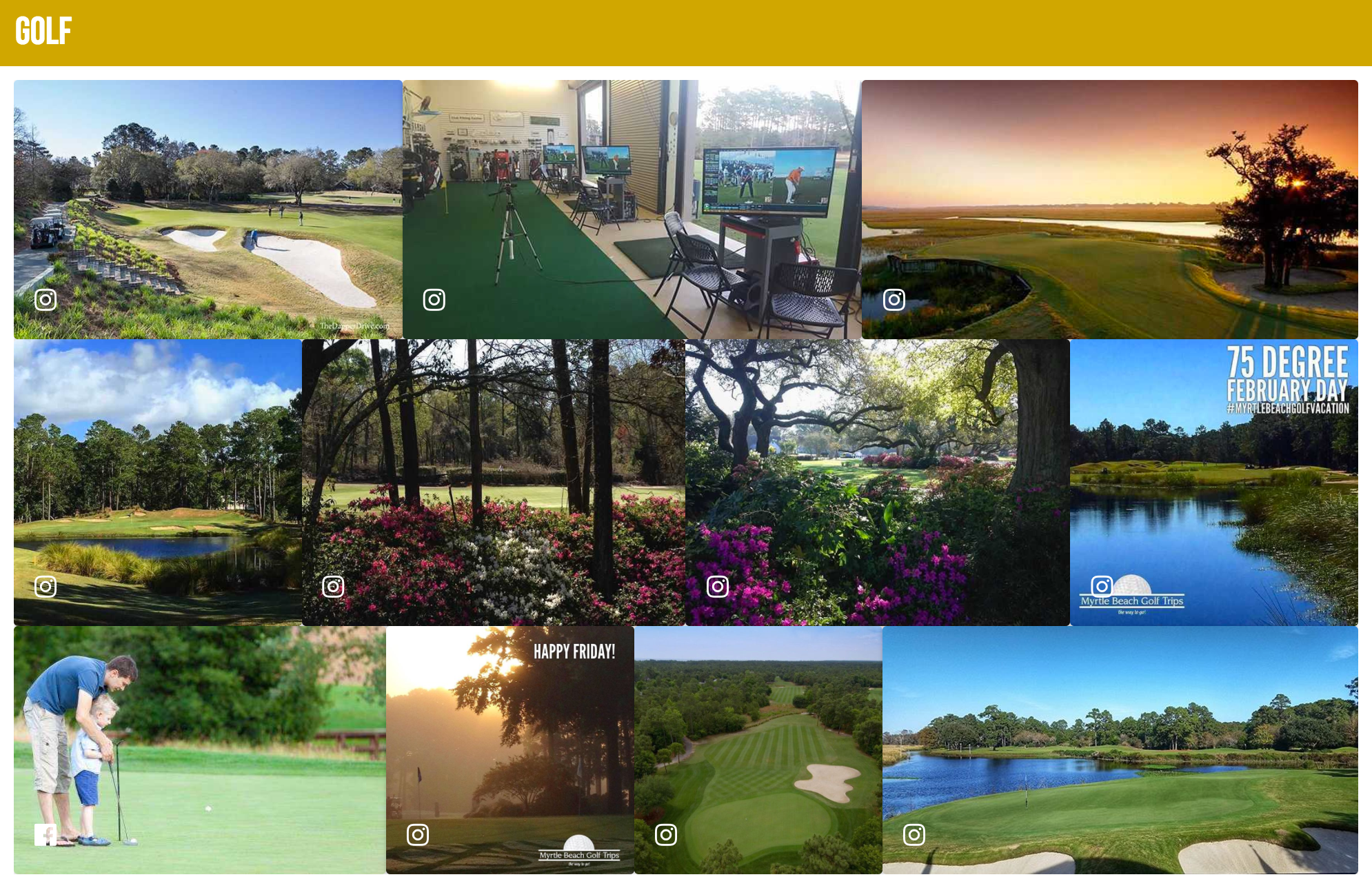 For instance, they've dedicated an entire gallery to golf (the sport of choice for many visitors) and another gallery to weddings.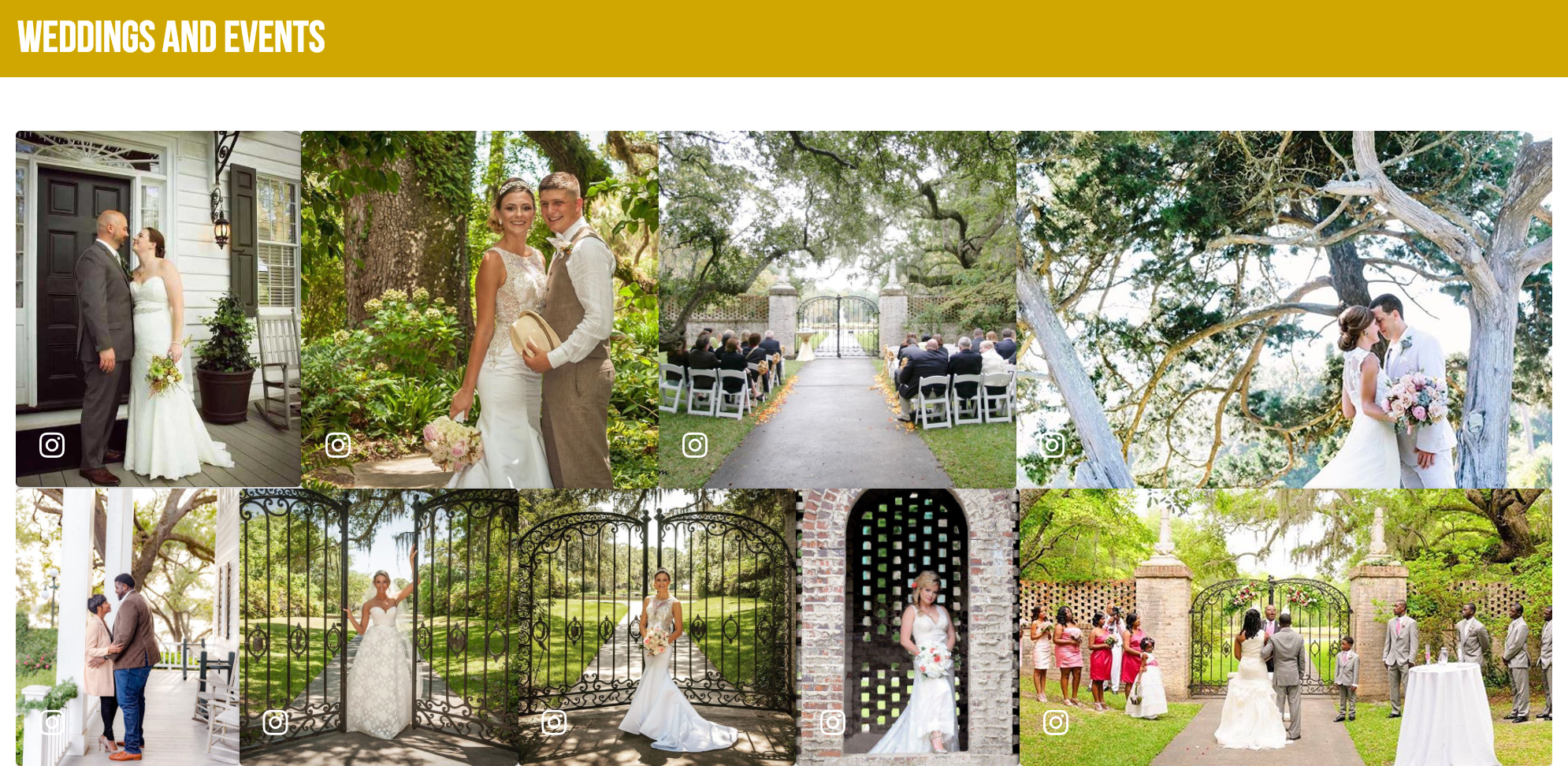 Another great example is the Christmas-themed gallery Explore Branson created for the holiday season!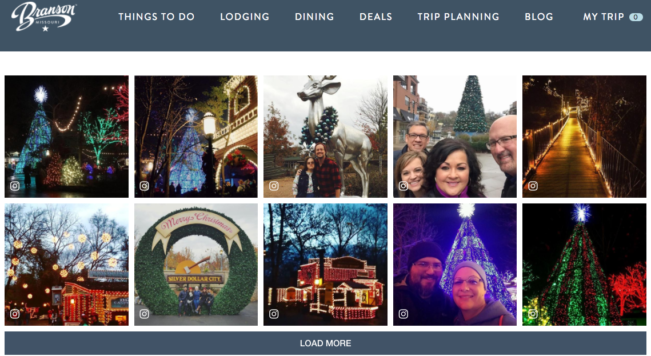 5 | Share the spotlight with your tourism partners 
Can your Instagram plugin help you promote your tourism partners? We didn't think so.
A social widget is a good starting point for upping your visual marketing game but doesn't offer the features a DMO needs to help its partners and local businesses thrive.
How a visual marketing platform does it better:
Using a visual marketing platform opens up many possibilities that don't exist with a simple social hub, such as promoting your tourism partners directly through visual content.
Whether you want to link to their website or another page on your on site with more information, CrowdRiff makes it easy to overlay any photo in a gallery with a direct link.
Nassau Paradise Island leverages this opportunity to promote local restaurants, activities, and hotels. Customers can scroll through the gallery until they spot something that catches their eye.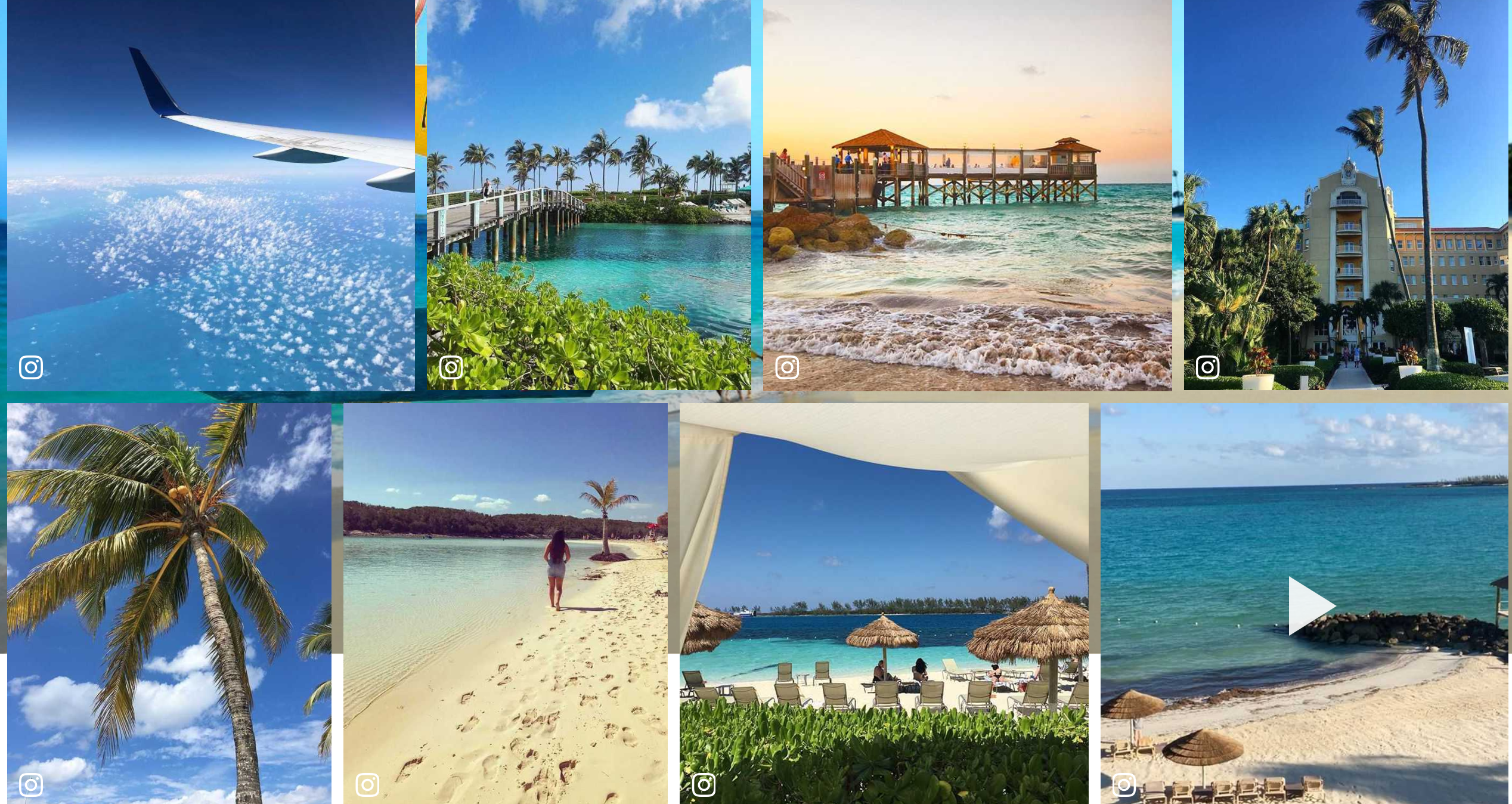 For instance, I was intrigued by this beautiful oceanview. Simply hovering over the image revealed a clickable call-to-action that directs visitors to discover details about the resort itself.

Looking at examples like this, it's no surprise that using CrowdRiff to insert CTAs drive 20% of web traffic to tourism partners, including local businesses and attractions.
Visual UGC is about more than painting a pretty picture
Sourcing and showcasing user-generated content goes beyond decorating with your website with appealing images. That's why using an Instagram plugin, browser extension, or social widget just doesn't cut it.
Luckily, there is a more scalable, versatile solution DMOs, attractions, and museums can turn to instead: a visual marketing platform.
Tools like CrowdRiff make it possible for you to center your overall travel marketing strategy around powerful visuals created by your community.
CrowdRiff helps customers see incredible ROI like:
And more!