Imagine: It's another typical day on the job, as an all-star social media manager.
Your main tourism season is revving up, so this morning, you're looking for a user-generated pic from an excited traveler to feature as your #PhotoOfTheWeek.
On Instagram, you scroll through the photos in various hashtags, then the photos that are tagged in your location. You pay attention to the captions, seeking some sort of mention of "travel" or "vacation".
Finally after a lot of searching, you find two great photos. You send each account a DM, and write their usernames on a sticky note to help you keep track of rights requests.
You glance at your watch, and realize it's already lunch time.
As a social media manager, you know more than anyone how much the manual part of social media can draw out one task — if only you could've spent those 3 hours using great visuals instead of finding them.
If this sounds like you, read on to discover how CrowdRiff's visual marketing platform helps social media managers free up over 12 hours every month:
1 | Uncover 9X more visual content than you would normally, in the same amount of time
While you may be monitoring the photos in your brand hashtag every day, most content — 90% on average, in fact — isn't tagged with a DMO's hashtag.
That's a goldmine of visuals you're missing out on — simply because it just doesn't make sense to spend hours combing through all the other hashtags and geo-locations on social media that might exist for your destination.
However, CrowdRiff is a game changer.
CrowdRiff aggregates visuals from multiple social networks and multiple tracking terms (hashtags, geo-locations, users, keywords, and more) into one searchable hub — aka your CrowdRiff library.
That means that in the same amount of time it would take you to open Instagram and check one hashtag, you could be opening CrowdRiff and discovering so much more.
2 | Find the perfect visual for any use case in seconds
Looking for a very specific image? That's a near impossible and time-consuming task when you're scrolling endlessly through Instagram.
In CrowdRiff you can search phrases like "sunset at the harborfront" or "family vacation," and the platform will crawl through captions, hashtags, and even comments to surface the exact visuals you're looking for in a matter of seconds.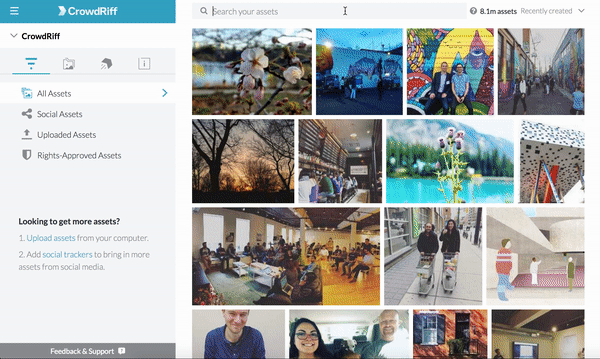 You can even search time frames, and get really narrow with your search.
Need a photo to promote an upcoming event? Since CrowdRiff can source content from up to five years back, you can search for the photos from last year's event and have a multitude of relevant visuals at your fingertips.
When we said "any use case" we meant it!
With CrowdRiff's lightning fast search, marketers experience a 90% reduction in time spent searching for on-brand visuals.
3 | Share the best user-generated photos to your followers with just a click of a button
What happens when your favorite visual marketing platform (that's us!) joins forces with your go-to social media automation tool?
Sharing and highlighting great community content on your social channels takes no time at all.
With CrowdRiff's Buffer integration, any visual you find in CrowdRiff can be pushed straight to Buffer, with photo-creds and a link back to the original post automatically added.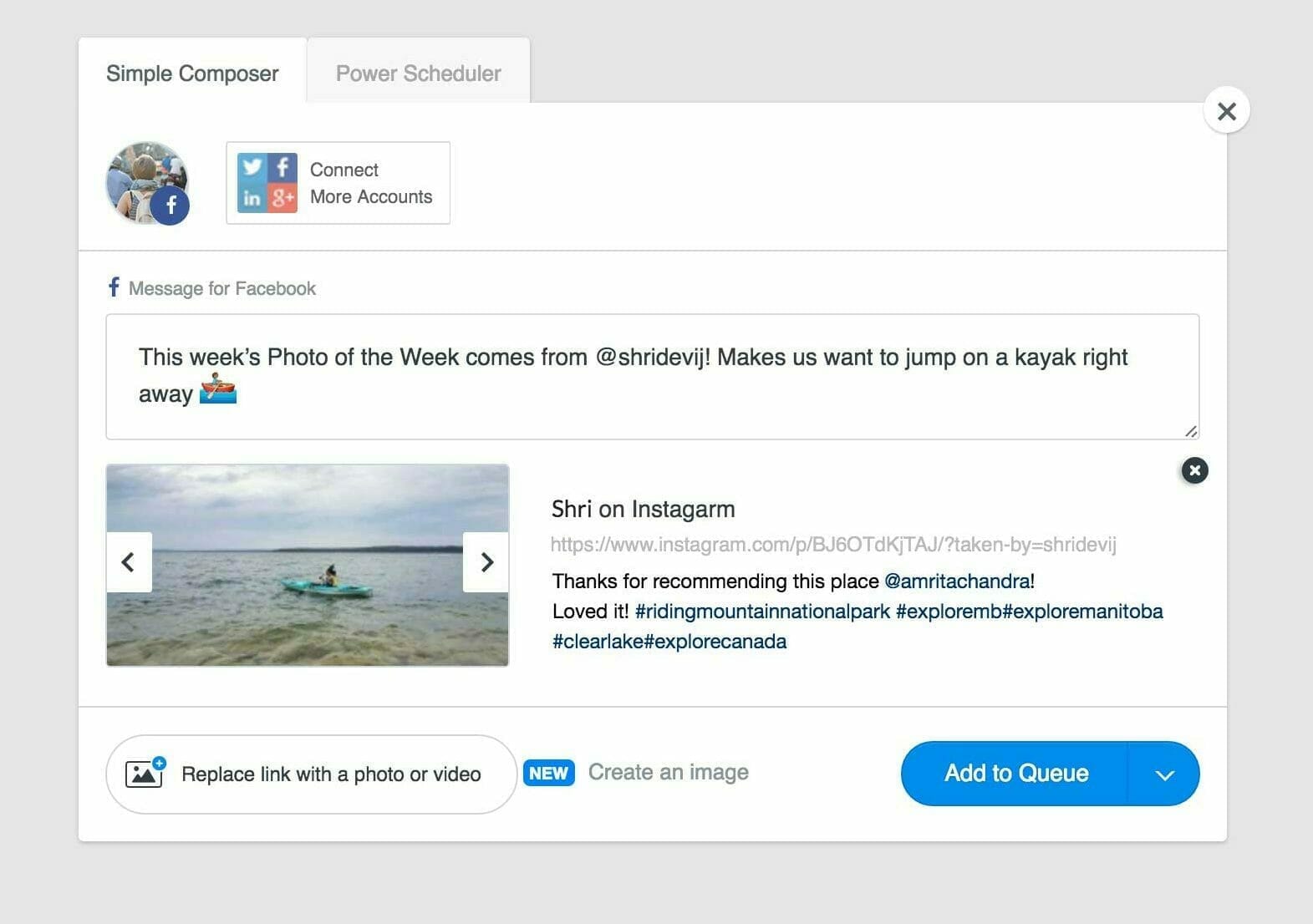 What's more, CrowdRiff automatically grabs the full resolution version of the photo when you share it — so you no longer have to stress about emailing back and forth with the photographer.
4 | Effortlessly identify influencers and popular locations
Want to know your destination's most Instagrammable locations? Or how about the people that are sharing the most photos?
CrowdRiff's Search Insights can reveal all this to you.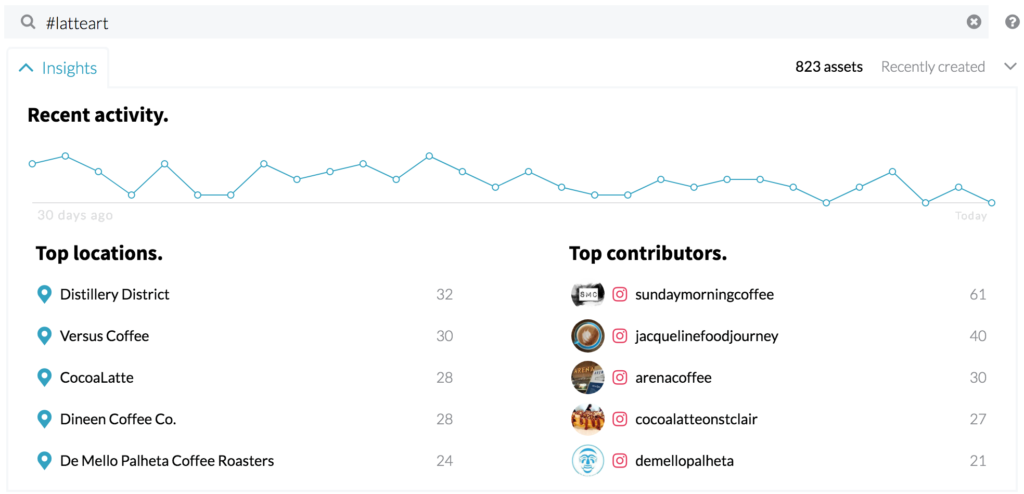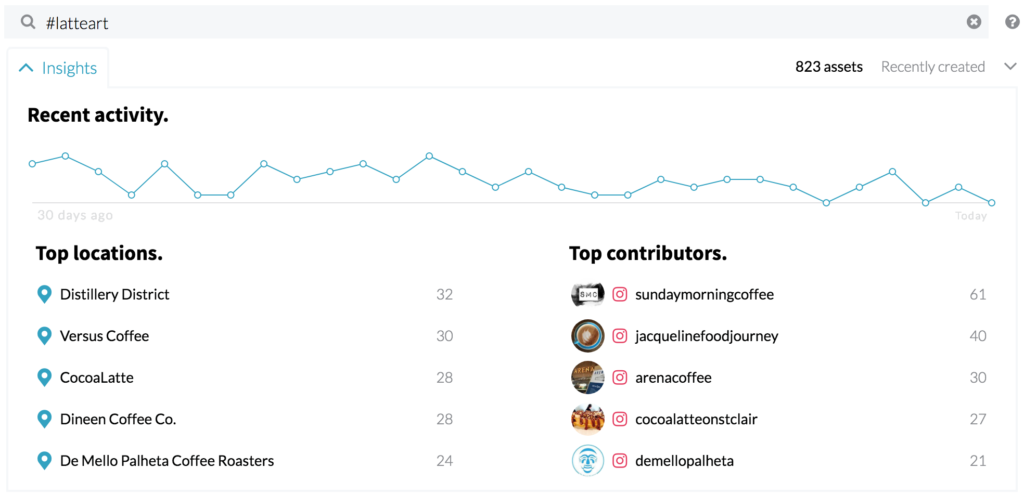 Insights reveals the top locations and top contributors of visual content in your library. In addition, Insights refreshes for each search you perform — meaning you can find the top cafes where people are sharing, for example, #latteart photos, as well as the people that are posting about #latteart the most.
This means that in CrowdRiff, you'll automatically find the top suggestions for influencers and photographers, for any given niche.
Now, you can always have your finger on the pulse of trends, as well as people who are excited and engaged about your destination.
5 | Have more conversations with people who are sharing photos of your destination in less time
As a social media manager, a huge part of your job is engaging new people on social media, developing relationships with community advocates, and getting your brand noticed!
To do that, you're actively commenting on posts and jumping into existing conversations around your brand on social media.
But while typing up one comment doesn't seem like a lot, you know firsthand how much time actually goes into leaving thoughtful comments. And when multiplied by ten, twenty, thirty posts … well, that can eat up hours of your week.
Well guess what? CrowdRiff enables social media managers to send out personalized pre-written comments at scale. So whether you're engaging with one, two, or fifty posts, all it takes is a click.
Some CrowdRiff customers even use Conversations to promote the use of their brand hashtag. For example, when they discover great user-generated visuals in CrowdRiff that aren't tagged with their hashtag, they'll simply send out comments like this:
From using CrowdRiff's Conversations feature, customers typically see a 20-30% increase in followers within the first month!
6 | Get rights to more great user-generated visuals in a fraction of the time
When you're asking for rights some eye-catching photos on social media, your workflow probably looks a little something like this:
Direct message users or (comment on photos) to

ask permission

to use a photo in your marketing

Keep track of who you've been communicating with, and which photos have been approved on an excel sheet

Email back and forth to get the full-resolution image
This process — first looking for the perfect visuals, then requesting rights to them — can take a long time. Plus, there are a lot of moving parts to stay on top of when you're requesting multiple photos.
What if you you could request rights to 100 photos at once? Using CrowdRiff's rights management, you can request rights to photos at scale (whether that's ten, twenty, or more) in one step. All requested content stays organized in CrowdRiff, so that you can easily keep track of which photos had been approved and which you're still waiting on too.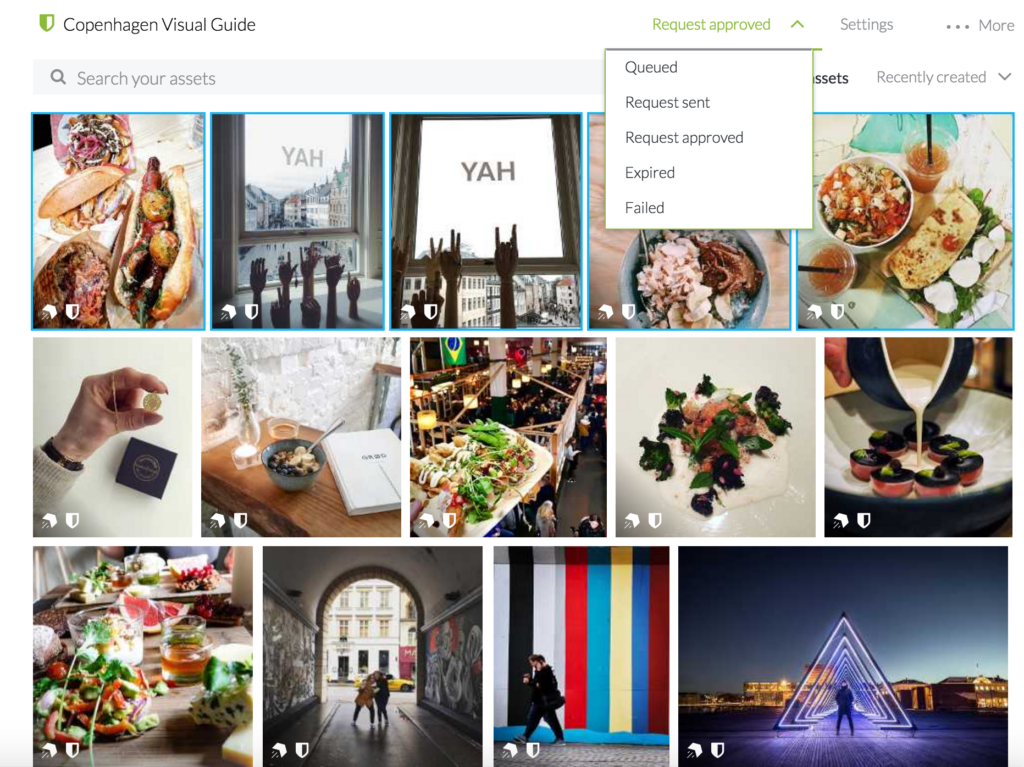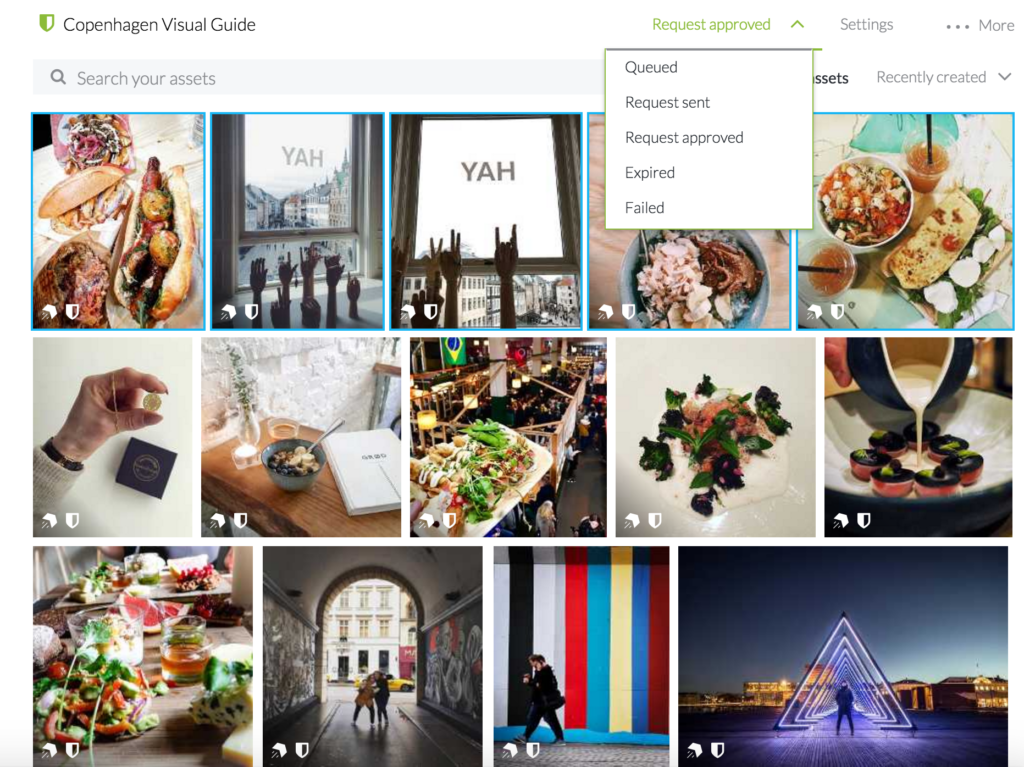 Then, once a photo gets approved, CrowdRiff automatically fetches the high-resolution version of it for you to use.
You spend a fraction of the time finding and requesting rights to more photos (headache free!)
Spend less time finding visuals, and more time using them to inspire travelers.
With CrowdRiff, your typical day could look very different.
Imagine: this morning, you're looking for a photo of an excited traveler to feature as your #PhotoOfTheDay.
So you open CrowdRiff, search "vacation," and after scanning the results choose 10 great contenders. And oh! A few of them even feature some of your lesser-known partners.
You click another button, and send your favorite off to queue in your Buffer. The others, you tuck away in a folder, to save up for a rainy day.
It's only 9:10am, and you already feel super productive.
This could be your reality. Marketers using CrowdRiff save on average 12 hours a month in their social media routine (that's 1.5 days!).
Interested? Let's chat.