How Chile Created their Award-Winning Video Campaign: Find Your Chile

Before Chile's national tourism service, SERNATUR, set out on its most ambitious video campaign ever, the destination marketing organization was struggling to establish itself as a key South American destination for international travelers.
The marketing material was outdated, failing to showcase the diversity of landscapes and people that truly differentiate the thin coastal country from its neighbors.
"We had to [refresh] all the visual material that we had because it was like five years old," said Constanza Smok, SERNATUR's B2C Marketing Manager. "They were more documentary videos, not advertising videos, and we wanted to cover the destination in ways that wasn't in those videos at all."
Finding a way to capture the best of Chile in a major video campaign
Chile is home to the continent's southern-most point, but also neighbors Peru in the north; they are bordered by mountains on east, and the ocean on the west. Because of the country's unique geography, Chile is home to a wide variety of cultures, peoples and landscapes. It's one of the only countries in the world where you can wander a desert in the morning, ski in the afternoon, and spend the night in a major metropolis.
Capturing all of those unique elements in a single marketing campaign posed a huge challenge, but was also the best way for the country to differentiate itself from the rest of the continent.
"Here in South America, you have so many natural attractions that it's always a challenge to find the specific one that Chile has to show," said Magdalena Ramirez, SERNATUR's Branding Manager.
"It's difficult to tell the entire world to come to Chile, because you're talking to millions and millions of people, and you need to make some sort of emotional connection with each one of them."
The "Find Your Chile" video campaign
To capture that diversity while making an emotional connection with viewers, SERNATUR set out on its most ambitious video project ever.
Production began on the "Find Your Chile" campaign last April, featuring one flagship video supported by 27 additional videos that hone in on the specific activities, attractions, and landscapes that are "waiting for you."
Some examples include "Patagonia Is Waiting for You," "Surf Is Waiting for You," and "Astrotourism Is Waiting for You," with the best of each appearing in the flagship video, "Chile Is Waiting for You."
All 28 videos have been cut into 30-second and two-and-a-half-minute versions, and have been translated into Spanish, French, Portuguese, English, German and Italian.
"In just one campaign, we wanted to show that you can find yourself alone in the middle of the desert with the stars waiting for you, and within a few hours you can be in Patagonia in an untouched landscape," said Ramirez.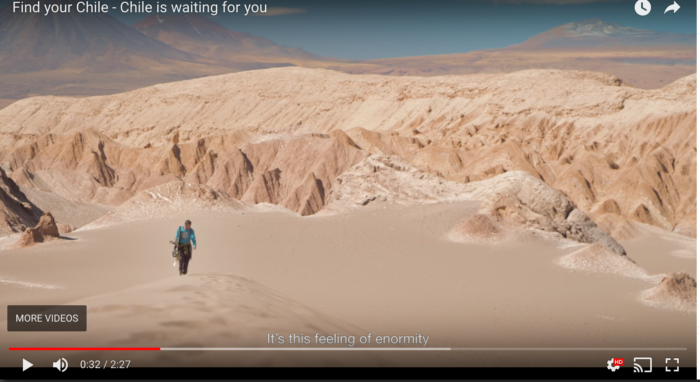 Incorporating real travelers into the videos on the fly
While the videos are filled with shots of the natural landscape, they're anchored by interviews with real travelers and played over a traditional Chilean soundtrack remixed into a more modern style.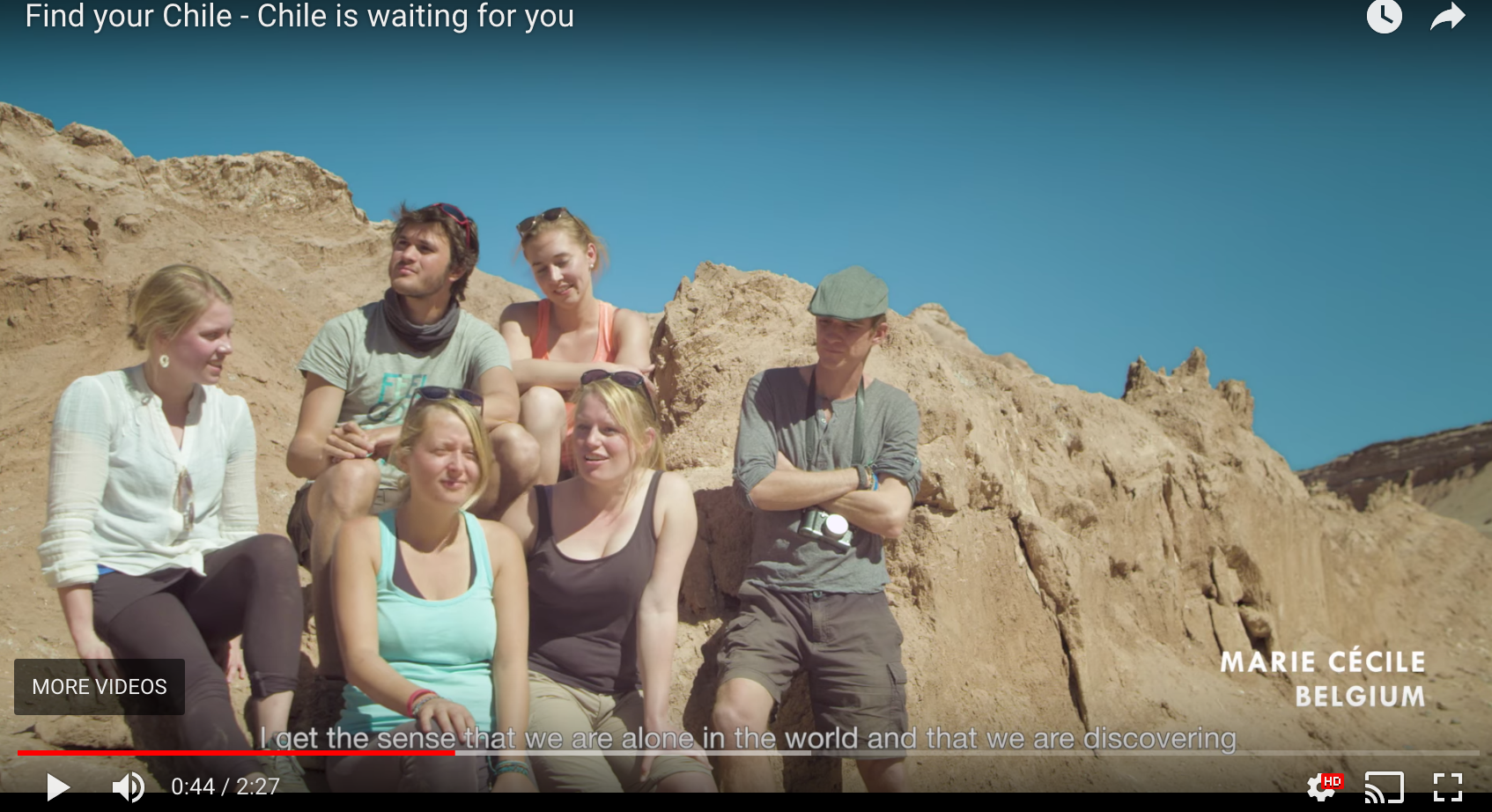 "'Find Your Chile' also had only [international] tourists talking about their experience, because we wanted their testimonial about what Chile is like," said Ramirez.
Rather than recruit tourists to speak in the videos, however, SERNATUR just showed up to some of the country's biggest attractions with a camera crew and asked to interview the people they found on location. "It was spontaneous, and that's, I think, the main attraction of the video: all the testimonials are real," said Ramirez.
"It wasn't difficult to find people willing to talk and be part of this project because most of them were delighted with the landscape, nature and the experience of being there," adds Smok.
"People feel the emotion that the travelers are experiencing in that moment. It's very honest and direct, and that's a key factor for people who are making decisions regarding where to go on their next trip."
The campaign was ambitious, but ultimately proved successful
"Find Your Chile" was awarded top honors at the United Nation's World Tourism Organizations' annual video competition for the Americas.
Great News! Our "Find Your Chile" video won first place in the Americas Tourism Video Competition 2017 @UNWTO pic.twitter.com/9CtiTF4llr

— Chile Travel (@chiletravel) September 15, 2017
"We also won in the category of best promotional campaign in a Portuguese international film and tourism competition in Portugal in the first week of November," said Smok.
The English language version of the flagship "Chile Is Waiting for You" video alone has accumulated over a quarter-million views.
Learning from this success to build an even bigger video campaign
With the success of the "Find Your Chile" campaign, the destination marketing organization is once again setting out to produce a very ambitious video project, producing another 50 videos for the coming travel season.
"They will go under the 'Open Nature brand,' which is our main brand right now for international promotion: 'Chile Open Nature,'" said Smok, adding that unlike the previous campaign, the latest batch are being filmed in the Chilean summertime.
The new campaign also integrates the stories of local experts alongside the visitor testimonials that were so popular in the previous campaign. For example, one of the videos will feature a festival in the northern part of the country, profiling both a dancer that's spent months learning traditional dances for the event, as well as visitors taking it all in from the crowd.
"This is the goal of our communications," said Smok. "We started with the basics, and now we're evolving, because we have more learning, more time and more budget, and now we have a place to start working on it from."
With such a deep archive of award-winning videos honing in on uniquely Chilean experiences, it's unlikely that would-be visitors will struggle to differentiate the country from its neighbors anytime soon.
---
Liked this article? Then you'll love this eBook: