Bob the Bridge: How Visit Omaha Turned a Pedestrian Bridge into a Local Celebrity

The Bob Kerrey Pedestrian Bridge in Omaha is a very impressive structure — in both its architecture and especially in its quirky new personality.
The 3,000 foot curved suspension bridge is one of the first of its kind to connect two states, Nebraska and Iowa. Suspended by two large towers, the bridge dangles more than 50 feet above the Missouri River, providing spectacular views on both sides.
But people didn't really understand this beautiful piece of urban architecture's intended purpose when it first opened in September of 2008. The $22 million bridge was often referred to as "the bridge to nowhere," drawing criticism for the lack of development where it ended in Iowa.
"Locals thought it was meant to be a bridge to something, but more and more have gone down there and realized it is the thing," said Deborah Ward, the Vice President of Marketing for Visit Omaha. "It's not supposed to take you from one place to the other; it's the destination."
Bringing The Omaha Bridge (aka Bob)
to Life
Instead of hyping up the bridge's own appeal, however, Ward decided that she was going to let the bridge speak for itself, literally.
"A bridge that you can Tweet with and Instagram with and talk back and forth with is something that no other city is doing, and it's really hard to do something completely different. It was also risky because we didn't know if it would work. Would people really engage with a bridge?"
In 2015 Ward and her team considered the sort of personality traits they wanted to give Bob the Bridge, describing him as "larger than life" with a dry tongue-in-cheek sense of humor and an honest, tell-it-like-it-is demeanor.
"I said I want him sort of edgy and fun. That was a way to start the creative process to build Bob's personality."
In 2016 Visit Omaha crafted a press release in the same tone introducing their newest resident, Bob the Bridge. "The media really responded very well to it," said Ward.
She adds that in spite of the initial criticisms, Bob's new personality — coupled with news of visitors travelling from far and wide to visit the bridge — changed locals' perceptions of him as well.
How Bob the Bridge Won the Hearts of Locals and Visitors
Today the Bob Kerrey Pedestrian Bridge, better known as Bob, is the host of an ongoing video blog, has his own Twitter and Instagram accounts and is prominently featured on Visit Omaha's Facebook page.
It's not just his online personality that's gotten a lot of buzz, however. Bob's real life visitors are also encouraged to interact with the bridge and post the experience on social media.
"Bob made up a term, 'Bobbing,' which is when you stand in two states at the same time and take a selfie," said Ward. "We put a sign up at the state line, which crosses right through Bob, and we told people 'it's called Bobbing, trust us, it's a thing."

Visitors are then encouraged to post their photos using the hashtag #ItHappensOnBob. "We've had the Harlem Globetrotters, we've had the Rockettes, we've had all sorts of people Bobbing," adds Ward.
To keep a two-way conversation going between Bob and his visitors, the marketing team at Visit Omaha makes sure he's always responding to Bobbing travelers on social media. Using CrowdRiff, the team tracks and monitors new #ItHappensOnBob photos that pop up, and regularly send out tailored comments from the bridge himself.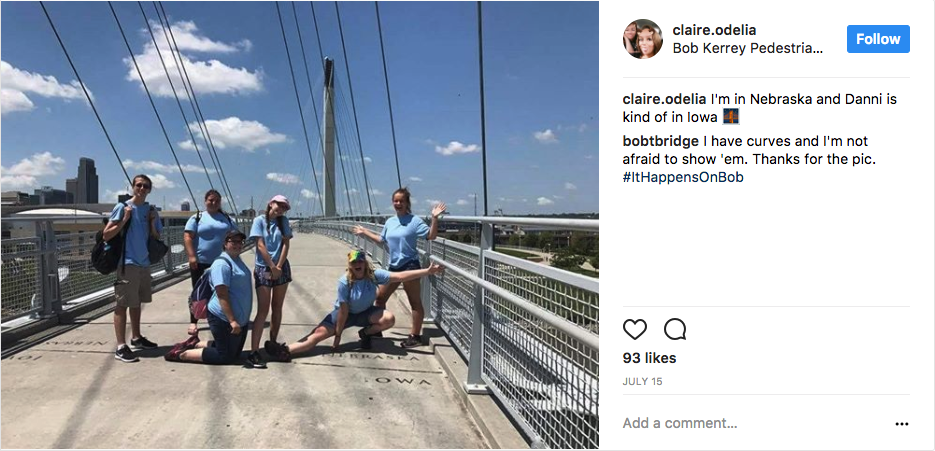 Though he was introduced to the world nearly two years ago Visit Omaha continues to find new and interesting ways to keep the campaign fresh. Recently Visit Omaha introduced a 0.9-kilometer "marathon" across the length of the bridge. Visitors are encourage to take a selfie with Bob and present it to the Omaha Visitors Center to receive an official 0.9K marathon sticker: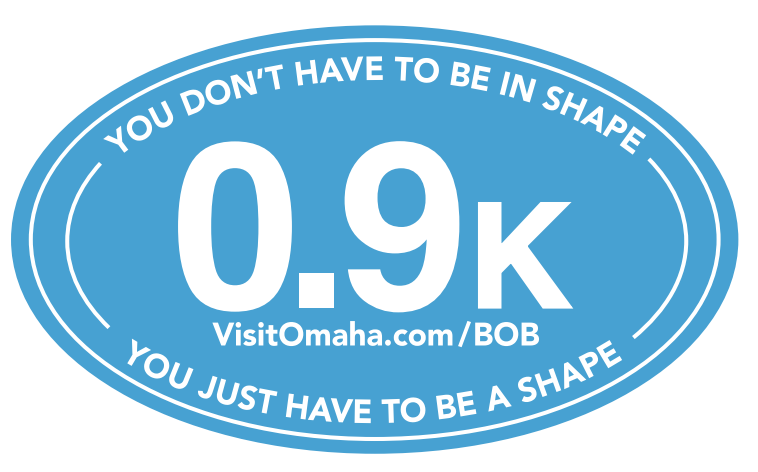 "Since May we've had more than 550 people from at least 37 states come and get their marathon stickers."
Leveraging User-Generated Content to Keep Bob's Energy Alive and Exciting
The team curates their favorite social photos and videos from 0.9k marathon challengers and showcases them on Bob's page of the Visit Omaha website. These user-generated visuals are updated regularly through CrowdRiff, so that interested visitors can see real-time photos of Bob and his fans at any given time.

Though he has less than 1,000 followers on Twitter and Instagram, a majority of them have been added since January. At the same time Bob's video blog posts have been viewed over a million times, and he's not slowing down his playful antics anytime soon. In fact, he recently asked San Francisco's Golden Gate Bridge out on a date.
"Our Bob campaign is really resonating with people, we can see it in visual terms. That user-generated content is what keeps Bob alive, and helps us share his personality with others."
Bob is quickly becoming a mainstay of Omaha's tourism appeal. Can you imagine what's next? Maybe a "Bob festival" where invitees might include Bob Dylan, Bob Saget, B.O.B, and perhaps even a special guest appearance by Jeff Bridges.
Bob thinks they may be related.
Header image courtesy of Visit Omaha.
---
Further Reading: