How to Build a Better Content Calendar Using Insights from CrowdRiff
It can be tricky to continually fill your content calendar with fresh blog articles and topics that speaks to your audience.
What are people talking about these days? What's trending and relevant?
One of the best ways to get inspired about new content ideas is to look at what your visitors and locals themselves are talking about online — and guess what? That's one area CrowdRiff can lend a huge helping hand.
By aggregating all the visual user-generated content (UGC) being posted every day around your brand in one central place, CrowdRiff helps you find inspiration in your own backyard.
"There's so much going on you find little nuggets of things that are happening in town, new public art, new murals, new stuff happening… you can have your finger on the pulse of what's going on."
Wes Rhea, CEO of Visit Stockton
Here's how this unique functionality of CrowdRiff can help inspire new ideas and inform your content calendar.
1 | Discover what people are excited about in the moment
As Jeremy Harvey from Visit Savannah says, UGC is the perfect research tool. You can turn to UGC images to gain a deeper understanding of how visitors like to spend their time, what travelers are excited to experience, and what the locals are buzzing about.
While you could dedicate your time manually scrolling through your various social channels, it simply wouldn't be possible to catch all the content at nearly the same scale CrowdRiff does.
CrowdRiff makes it easy to discover what your locals are talking about, where people are taking photos, and which hashtags are most popular — in one place. The platform can show you a snapshot of everything that's trending in your destination, so you can jump on them while they're hot.

Here are some examples of how insights you find in CrowdRiff can inspire content ideas:
If photos of charcoal treats are popping up everywhere in your destination, write up a blog post on the top Instagrammed charcoal offerings (and where people can find them!)

If everyone is checking out cat cafes, create a listicle of popular spots where tourists can enjoy coffee with feline friends.

If VR experiences are all the rage, write a piece that highlights VR lounges with the widest variety of games.
CrowdRiff helps you keep up with the latest trends and gives you the insights you need to build a content strategy that aligns with your audience's current interests.
2 | Look into the past to anticipate seasonal trends
You don't always have to wait for people to start talking about something before you jump onto the trend! CrowdRiff gives you an easy way to anticipate seasonal trends, and plan your content calendar accordingly.
In addition to giving you a snapshot of the goings-on in your destination today, you can get the same window into any time period from the past as well. CrowdRiff allows you to define time frames in your searches, making a step back in time as easy as pie.
Examples of seasonal trends CrowdRiff helps you anticipate:
When does all the excitement about pumpkin spice start? October? September? See the growth and dip of the #pumpkinspice hashtag in your location last year, to anticipate the optimal week to post your annual pumpkin spice post.

When do visitors start getting into the festive spirit? CrowdRiff will help you make an informed decision for when to start posting holiday content, like a blog post about the best route for viewing Christmas lights, the hottest spots to grab a warm drink, and the cutest local shops for holiday shopping — just to name a few!

When is fishing season in your destination? Leaf-peeping? Wine harvest season? You can use CrowdRiff to see when people tend to start posting pictures of your destination's most popular activities, to then create content for that time.

Since certain types of blog posts are bound to be relevant during a specific time of year, you can use CrowdRiff to identify when seasonal trends reach their peak, to build out your content calendar in advance.
3 | Identify passionate locals to profile
There's a shift happening in destination marketing: instead of making the physical aspects of their location the sole focus of their marketing, DMOs are looping in the locals who love the destination and make it unique.
For example, Travel Wyoming's That's WY video series profiles local ropemakers, rock-climbers, and ranch owners — against the background of beautiful Wyoming. Similarly, New Mexico's New Mexico True campaign profiles locals with specific passions, ranging from chile farming, high-altitude training, and even bird-watching.
CrowdRiff can help your organization identify the unique personalities in your destination, for any given niche. For any search you perform in CrowdRiff (e.g. "#fashionblogger" or "light photography" or "Chinatown"), the platform automatically tells you the top users who are most active and posting that type of content.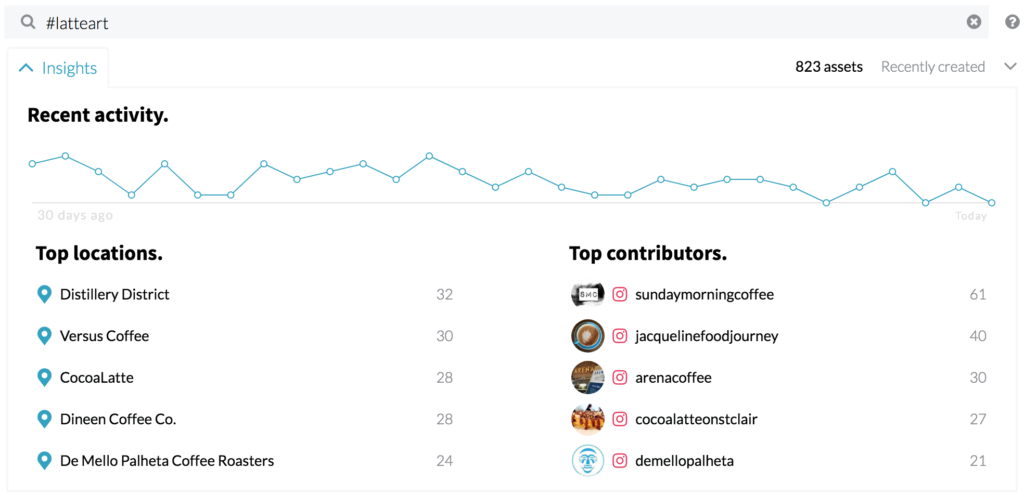 Examples of local-centered content you can create:
If your destination has a budding microbrewery scene, you can use CrowdRiff to discover a local connoisseur leading the trend and interview them about it.

Create a series of

neighborhood guides

, by identifying micro-influencers from each area and getting their stories of what that neighborhood means to them, and what they love about it.

Write up a listicle of top must-follow Instagrammers in your location, such as

this one

.
Get fresh ideas for relevant content with CrowdRiff
At the end of the day, regularly coming up with fresh ideas for the blog is a challenge — but CrowdRiff can help.
Any time you log into CrowdRiff, you see an up-to-date visual summary of the goings-on in your destination, as told through the photos from your community. You can then use these unique local insights to deliver the right blog content at the right time.
(Plus, you can also take any number of the social photos you find and turn them into galleries to accompany your blog post!)
Ready to make content planning easier? See CrowdRiff for yourself!