3 European DMOs Leveraging UGC Marketing In 3 Unique Ways (and Why it's Effective)

With 55% of consumers across all ages saying they trust user-generated content more than any other marketing, it's no wonder that travel brands all over the world are pushing the envelope of what they can do with UGC.
In addition to website visuals and social media imagery, UGC is starting to make appearances in visitor guides, visitor centers, at live events, and in out-of-home ads too.
There are 3 European DMOs we want to spotlight today, who have approached UGC creatively and strategically in their marketing, in three completely different ways. So if you're looking for ways to incorporate UGC into your marketing, and want to understand why it's important, read on!
MyHelsinki: A DMO website where 100% of its content is compiled by locals
Last June, Helsinki Marketing launched a brand new website, that was a departure from their previous, more traditional DMO website.
MyHelsinki features bright bold blocks of colors, vibrant visuals — and most importantly, put its locals front and center.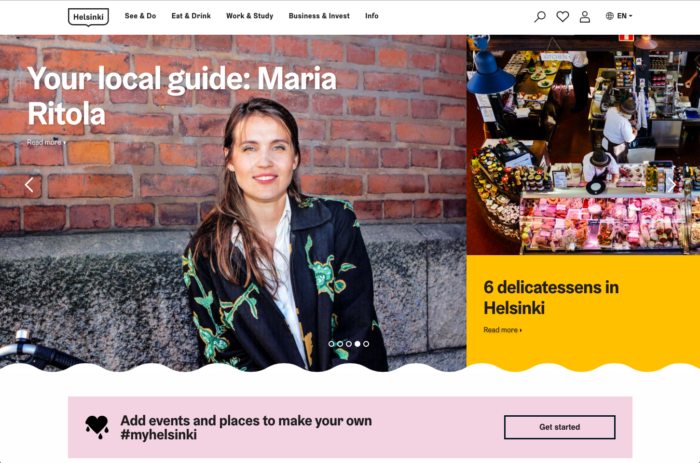 "In keeping with the website's service promise, 'Your local guide to Helsinki,' all the content has been compiled by locals," explains Tia Hallanoro, the Director of Brand Communications & Digital Director at Helsinki Marketing. "Personal recommendations are overwhelmingly effective marketing tools in the social media environment. MyHelsinki.fi gives you recommendations that you can trust."
Throughout their website are features on different locals, their connection to the city, and where they like to hang out.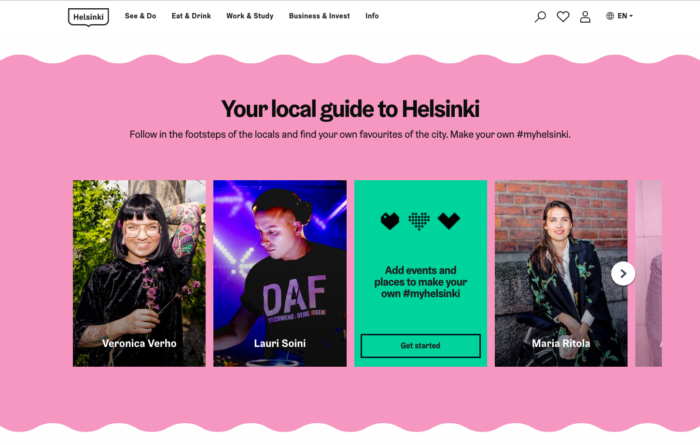 The effect is a website that loops in what Tia considers Helsinki's best attraction: the culture of its people. She explains, "Everyone is free to be part of the city as they are, with no filter, to proudly carry their own values and experiences. Helsinki has turned its people into activists who open restaurants in their living room and invite strangers to their sauna."
Through making a website that's driven by locals' recommendations, they're able to show off not only the attractions, restaurants, and small businesses that make Helsinki a worthwhile destination, but the culture of its community that make it truly unique.
Zurich Tourism facilitates UGC creation with Instameets and photo walks
What gives UGC its authentic edge is its organic nature — people are already taking pictures of your destination of their own accord. That being said, when UGC is all off-the-cuff, sometimes the challenge is getting the specific content you want in front of the people you want.
So, in order to tackle this challenge, Zurich Tourism organize Instameets and photo walks with Instagrammers with specific audiences.
For their very first Instameet, they invited specific influencers from their target markets, including @joanna from England, @punkodelish from Canada, and @skwii from Finland (to name a few). They took them around the city and specifically to "Aufsehen!" the open air exhibition, Snapchatting and Instagramming the whole time.
Through planned events like this one, Zurich Tourism is able to direct what kind of UGC gets created (in this case, imagery to promote Ausehen! on social media), without sacrificing the essence of it. And by choosing specific influencers with audiences they want to connect, they ensure this UGC gets in front of those eyes too.
What's more, to further bring out the best UGC to their target audience, they strategically curate choice social media visuals into galleries on their website.
In this way, they have a hand in guiding web visitors to the authentic content that best represents the experience they could be having themselves in Zurich.
Holland Marketing's 137 UGC web galleries help visitors discover new Dutch cities
Holland Marketing has an eye-popping 137 user-generated content galleries on their website, powered by CrowdRiff, showing off social media imagery from all over the country. Besides beautifying each page and giving a web visitor more imagery to explore, there is another strategic reason Holland Marketing uses user-generated content in this way.
Most visitors to Holland have one destination in mind: Amsterdam. People get excited to see the iconic tulips and windmills, and to visit the Van Gogh Museum. But what tourists don't always realize is that there are many other parts of Holland worth visiting, that can offer similar experiences.
So, while many of their website galleries use familiar scenes taken in Amsterdam, to draw web visitors in, they also combine user-generated content captured in other locations around the country relevant to that interest.
With these galleries of engaging UGC, they're able to introduce new attractions in other parts of the country.
What's more, according to Jasper Broekhuis, the Social Media Marketing Manager at Holland Marketing, pages that feature CrowdRiff galleries show significantly higher web performance.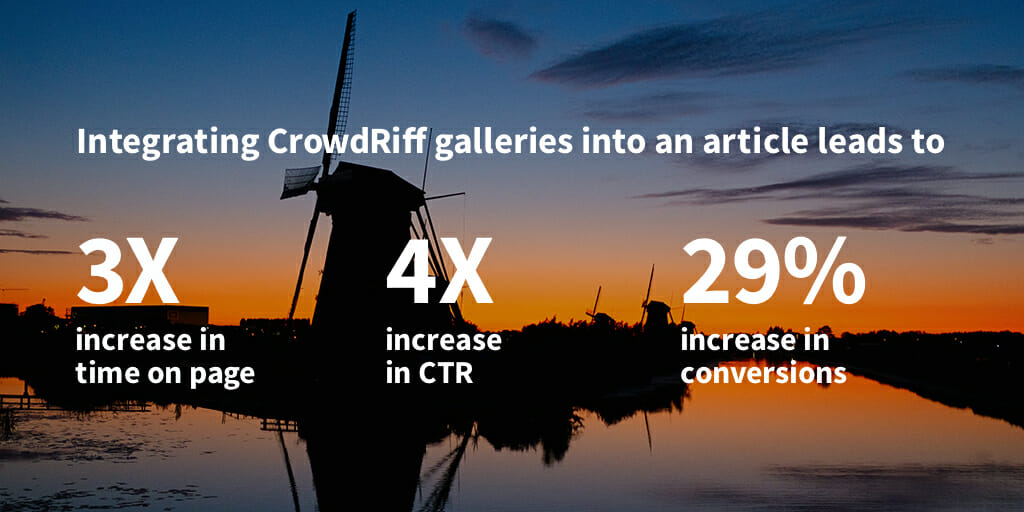 "It's in line with our DNA, and we'd like to be perceived as an open and welcoming and transparent country," he said. "UGC makes it more accessible for people to engage with our content."
Why European DMOs are investing in UGC
User-generated content is more influential on purchasing decisions.

Because UGC is produced by individuals (locals or other travelers) who don't have anything to gain by singing your praises, it is perceived as being more authentic and more trustworthy. In fact, it's been found to be

20% more influential

than branded content alone.

Locals can capture the essence of a place's culture better.

As the DMO, you may tell travelers all about what makes your destination unique — but putting local voices first, you're putting people who embody what you're trying to convey in the spotlight.

It's already out there and travelers are already turning to it.

It's the classic

if you can't beat 'em, join 'em!

73% of millennials

post something every day while traveling, and

52% of Facebook users say their friends' travel photos inspire their travel plans. Millennials are already using

user-generated content to plan their trips

so DMOs are roping UGC into their own marketing.
Read more about the benefits of UGC here.
Discover how you can tap into UGC alongside your owned visuals.