How to Find Any Photo or Video in Seconds with CrowdRiff Image Search

Today, if I were to ask you to show me a photo taken at one of your local independent cafes, how would you find that?
Scroll through various folders on your computer or cloud storage system? Browse Instagram, perhaps? Or likely, you're sighing because you have a million other things you have to do, and finding a photo from your huge collection of visuals can sometimes take longer than you'd like.
But imagine if your entire library of visuals worked like Google's image search, and every photo or video you owned was always at the tip of your fingers. Now imagine if your entire library of visuals included all the social content that exist in your destination too.
That dream is a reality for 200+ marketing teams using CrowdRiff to manage their visuals.
Meet CrowdRiff's Intelligent Image Search
CrowdRiff is the only visual marketing platform that allows brands to source both owned and user-generated visuals into one central hub. With the thousands of photos our customers have in their libraries, we want it to be easy for them to find exactly the visuals they're looking for.
Go ahead, forget those filenames.
Instead of struggling to remember the obscure filenames of the photos you want to find (i.e. IMG_28419, etc.), with CrowdRiff you can search for what's in the photo. Every single photo you upload into CrowdRiff is immediately analyzed by Google Vision, and then tagged with relevant, searchable keywords.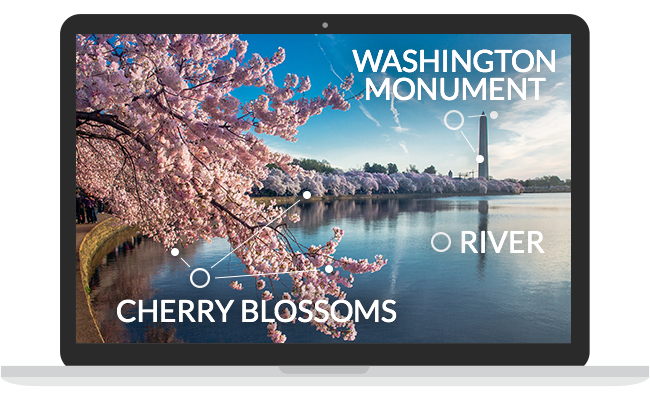 As for social images, CrowdRiff crawls through hashtags, captions, and comments to surface the exact visuals you want to see.
Discover content you never knew you had.
Gone are the days where you have to have a specific image in mind. Now you can search based on what type of image you want to see, like "breakfast in downtown" or "street festival" and be shown a variety of images you can then choose from. Since CrowdRiff sources new social images into your library every day, you'll always find great new content.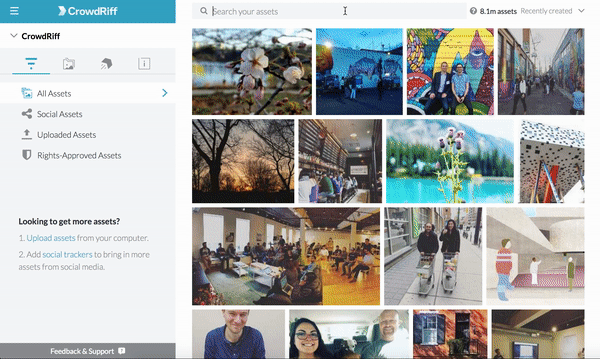 Search within specific time frames.
Have a photo contest going on? If you only want to see the social images posted within the timeline of your contest, CrowdRiff can do it. Your searches can get as specific as you like, whether you're looking for content from a specific week, season, or year. Plus, CrowdRiff is the only visual marketing platform that can search through social media content from up to 5 years ago.
When the Real Magic Happens: Using CrowdRiff Search
Customers using CrowdRiff save an average of 12 hours a month searching for on-brand content. Here are some of the situations when you'll be thanking your lucky stars you're using CrowdRiff Search:
Finding last year's images to promote an upcoming event.
Julia Hill, from Visit Phoenix, uses CrowdRiff to find the social images from previous years to promote upcoming events. Because while Visit Phoenix may not have a catalogue of imagery for every single event in their destination, their community does.
"CrowdRiff helped us have almost an infinite number of usable authentic event photos and this really freshened up [the Events] page. We would never have been able to have this type of variety otherwise."
– Julia Hill, Content Specialist at Visit Phoenix
Fulfilling media requests immediately.
Ever received a media request for visuals and struggled to reply quickly? With CrowdRiff Image Search allowing you to get as specific as you need, finding multiple photos or videos that match a journalist's exact request takes no time at all. So no matter when a request comes your way, you can satisfy it instantly.
Learn how the CrowdRiff Share Portal helps facilitate photo sharing.
Surfacing influencers for interest-based campaigns.
Logan Hildebrand, from Kansas Tourism, uses CrowdRiff to search and find people to invite Instagrammers to the niche "Instameet" events in specific locations they host throughout the state. Using CrowdRiff Search takes the guesswork out of finding the right content creator.
"I can't stress enough the amount of time it saves and opportunity it gives."
– Logan Hildebrand, Digital Media Manager at Kansas Tourism
Keep your finger on the pulse of trends.
The social content people are posting in your destination can give you a great window into what people are excited and talking about. What dominated the Instagram feeds of your local community last year? Was it #sushiburrito or #acaibowl?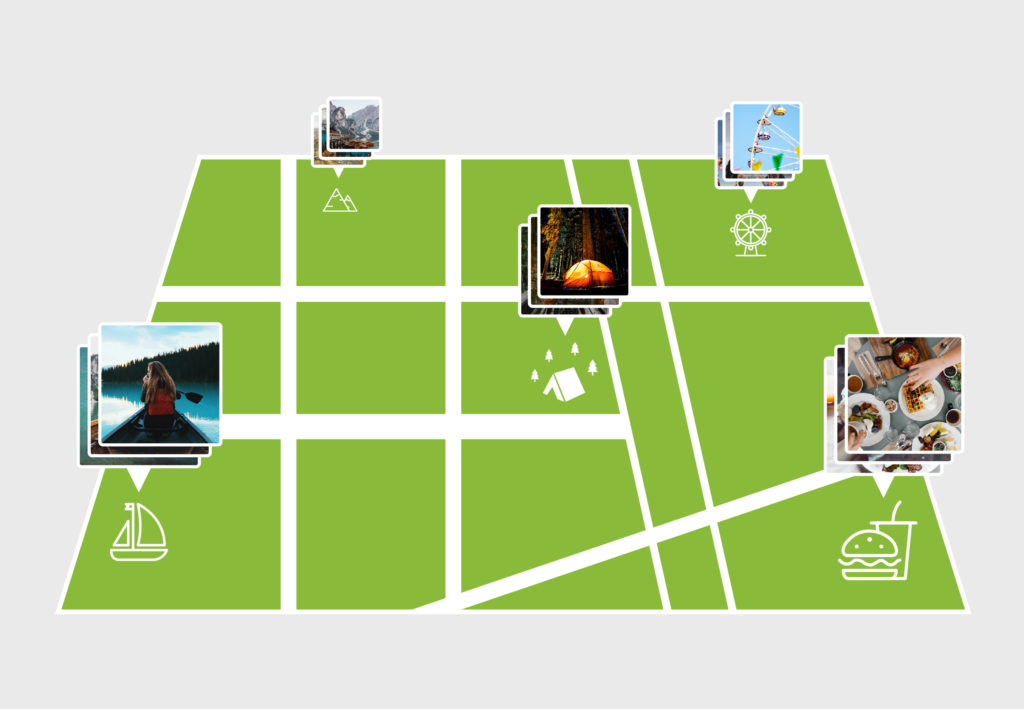 Perhaps you want to know what the most popular restaurant in your destination was last month. With CrowdRiff, you can input time parameters and see all the content from any given time period (and up to 5 years in the past) at a glance. And CrowdRiff Search Insights will extract the tangible data from that content as well.
Ready to see CrowdRiff Image Search in action?
CrowdRiff's visual marketing platform makes it easy to find any photo or video in seconds. Talk to us, and we'll be happy to show you!