Introducing Recommendations: Visual Content Suggestions Tailored to Your Team

Whether it's picking a documentary to watch, a place to eat, or a job to apply for, we've come to rely on our digital platforms to help us make faster, more informed decisions by getting to know us.
You're right, I should get a case to go with this iPhone – good suggestion, Amazon!…

Wow, Jiro Dreams of Sushi was incredible – solid pick, Netflix!…

One of my high school friends started a cryptocurrency app? I should connect with her – thanks, LinkedIn!
Now, the same concept be used to connect your team with the next photo to use in your marketing.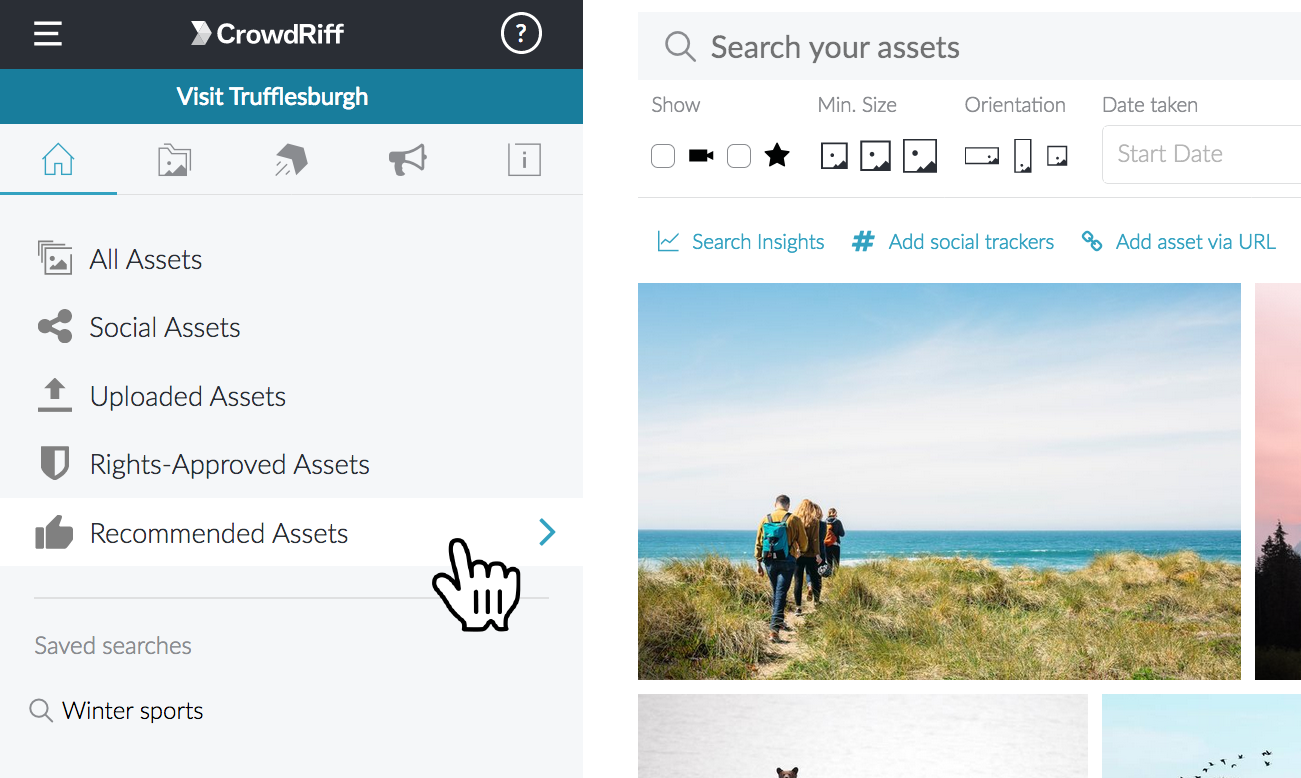 Using AI, CrowdRiff learns what kinds of photos your team likes and provides personalized recommendations. By focusing on what your team chooses to use in website galleries, albums shared with media partners and other visual marketing initiatives, we develop an understanding of your visual brand and get to work finding your next standout photo.
We take a fine-toothed comb to your preferred content, analyzing everything from the subject of the photos (e.g. objects, people and setting) to where they came from (e.g. locations, networks and users) to their tone and layout (e.g. filters and aspect ratios). We then scour your content library for on-brand content and package it neatly so personalized suggestions are only a click away.
Here are a few ways having data-backed content recommendations will help your team today and tomorrow.
1 | Get today's tasks done faster
Our recommendations are based on the photos you've actually been using in your marketing, so they're naturally fine-tuned to the projects you're currently working on.
After using the photo on the left in a gallery, CrowdRiff recommended four more that would complement it
If you've been gathering visuals for a fall campaign, the photos of colored leaves and weekend markets you curated yesterday will inform the photos we'll suggest today, meaning you'll get the right visuals faster so you can cross more items off today's task list. CrowdRiff is like a devoted intern that came in early to stack fresh photos of pumpkins and foliage on your desk before you arrived in the morning.
2 | Keep your team creatively aligned
Let's say you and two other team members are putting together visuals for a web page. If you're all picking photos independently, how do you know they'll be cohesive? Sure, you may have had a quick brief or sent a few messages back and forth, but once you actually start getting to work on it, are you checking in to make sure you're all aligned?
Because CrowdRiff considers visuals used team-wide, our recommendations will represent your combined tastes, reflecting the breadth of visuals the three of you chose. In that way, CrowdRiff keeps you aligned creatively without any effort, allowing you to focus purely on the task at hand.
3 | Live in the now with recommendations that adapt to your changing needs
Your marketing changes over time. The types of photos you would've picked last year might be completely different than the ones you'd look for today, and we wanted to build that thinking into our recommendations.
Think about it: in the Chinese calendar, 2018 is the Year of the Dog, so today, you might be piling up pictures of pups. But next year, when it's the Year of the Pig, would photos of dogs help you much? Probably not.
As relevant as they might be to a campaign you're running today (and as cute as they are), they might not be a top priority six months from now
That's why recently curated photos are weighted more heavily in our model. We use historical data to set a rough baseline of content that might interest you, but the photos that get put at the top of the pile are chosen based on your current tastes.
Want another smart recommendation?
Suggesting visuals is just one of the ways CrowdRiff makes you more effective. As a modern destination marketer, we know Facebook is also a big part of your digital strategy. That's why we've put together a deep dive on how Facebook ads are being used in travel and tourism. Whether you're from a boutique museum or a state-level DMO, you'll want to check it out.