3 Success Stories from Mountain Destinations Using UGC

With 800 million monthly active users on Instagram, and 95 million posts shared daily, today's travelers are taking, sharing, and consuming visual content like never before.
In this era of visual decision-making, marketers can't ignore the power of images to help potential visitors choose where to go, what to see, and what to do on vacation.
In fact, the travel brands that are incorporating user-generated imagery into their marketing are the ones coming out on top. Here are success stories from 3 adventure destinations that use UGC to strengthen their brand, boost online engagement, and attract more visitors.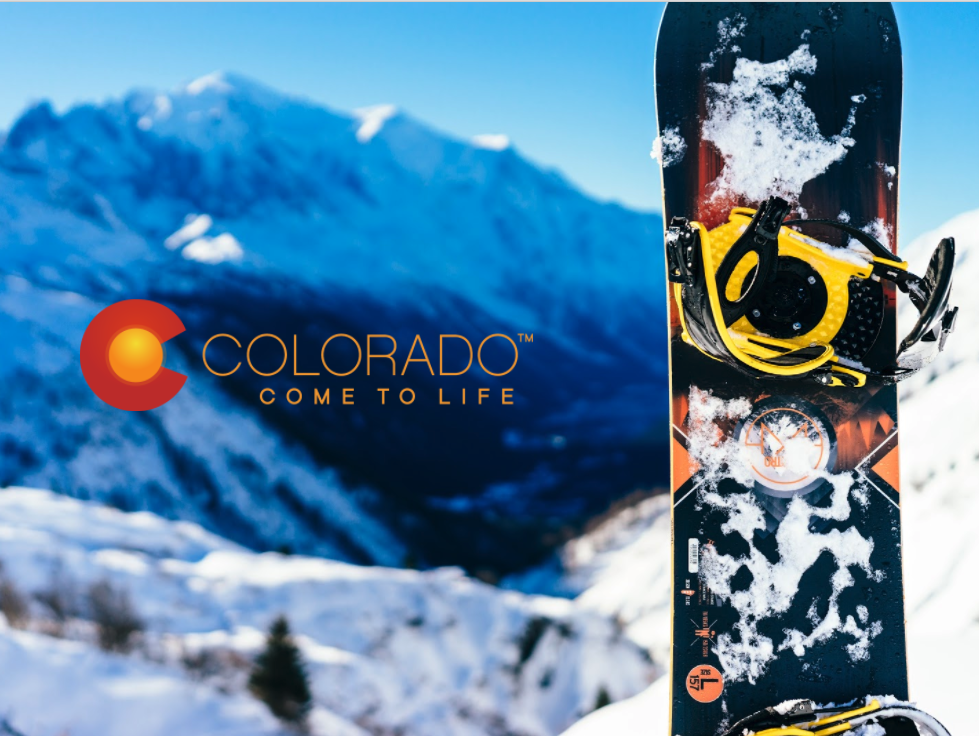 Three years ago, Colorado Tourism decided to dive deep into UGC visuals. Their first order of business was simple: they created the #ColoradoLive hashtag and encouraged travelers to share photos and videos on social media.
Then, they invested in CrowdRiff, to help them take advantage of it all.
Fast forward to present day and Colorado is sitting on a fast-growing treasure trove of UGC visuals. On Instagram alone, the #ColoradoLive hashtag has been tagged in over 300,000 posts.

To manage such a high volume of visuals, Colorado Tourism uses CrowdRiff to collect everything into one platform, where all their content can be searched and retrieved within a matter of seconds.
When the team sees a particularly captivating photo in CrowdRiff, they request the rights to it.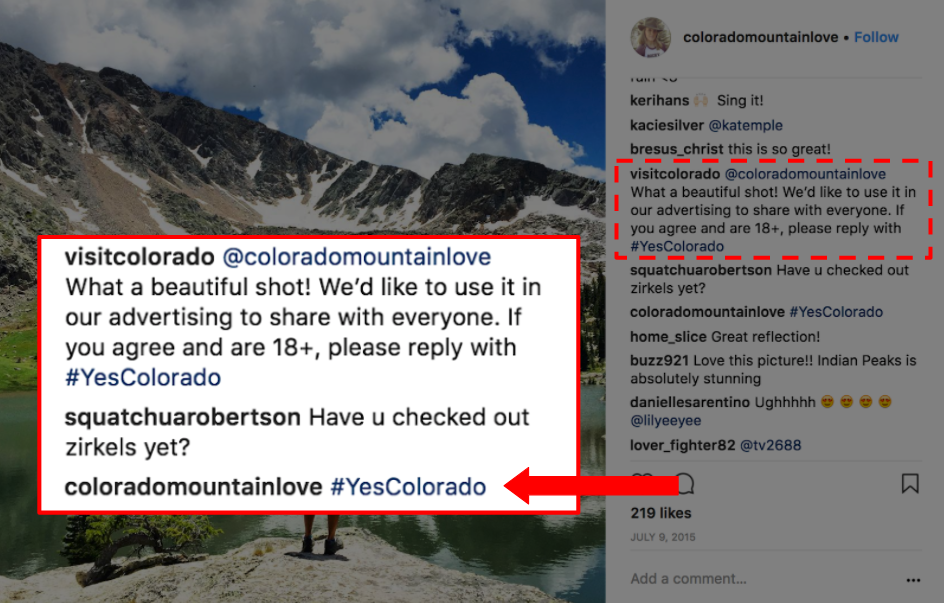 Colorado has amassed thousands of quality images that can be used in everything from their digital ads to print ads to on-site displays. By actively interacting with this user-generated content, they're also building up a huge collection of brand ambassadors – people who simply love to see and share imagery from their beautiful state.
In less than 5 years, Colorado Tourism Office has delivered over 5 million UGC images across their marketing channels and built up an impressive audience, which includes:
702,000 Facebook fans

216,000 Twitter followers

3.3 million YouTube views

125,000 Instagram followers
Their success extends beyond digital marketing benchmarks into real financial returns. With 77 million annual visitors and $19.1 billion in economic impact, the state is experiencing record-breaking tourism numbers. That includes over a billion in taxes collection and a tourism growth rate that's double the national average.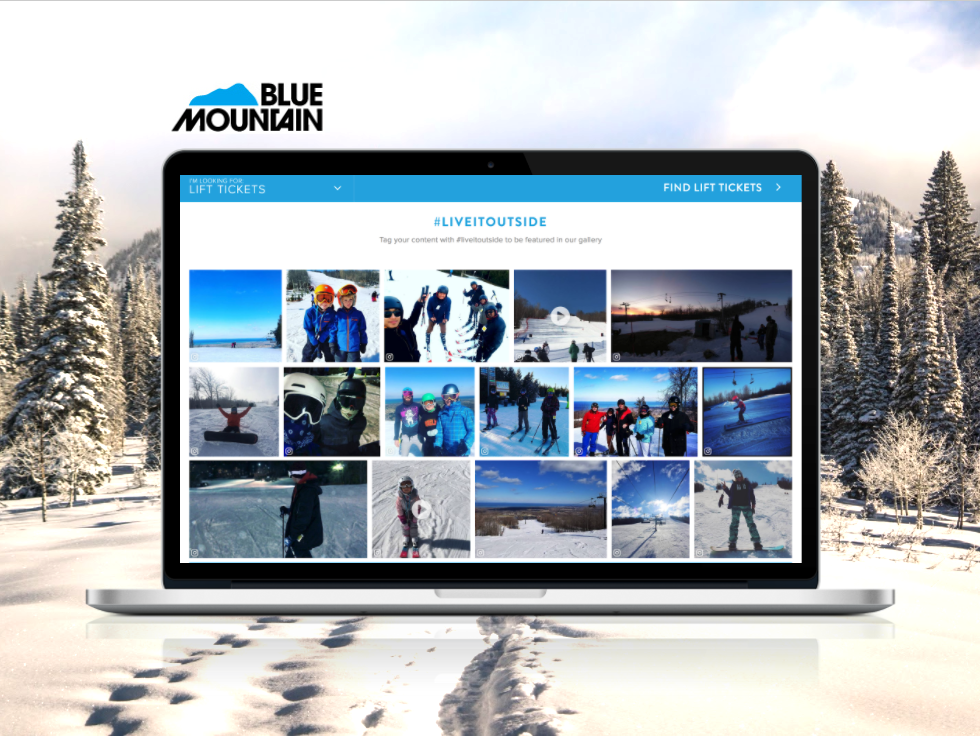 Ontario's Blue Mountain Resort proves that you don't need to be a large state DMO to reap major rewards from UGC. This all-seasons adventure resort gets big value out of their UGC in a number of ways.
First, they earn trust by regularly updating their website with fresh, relevant UGC. This allows visitors to see what's happening on the slopes right now, rather than what the hills looked like last month or last season.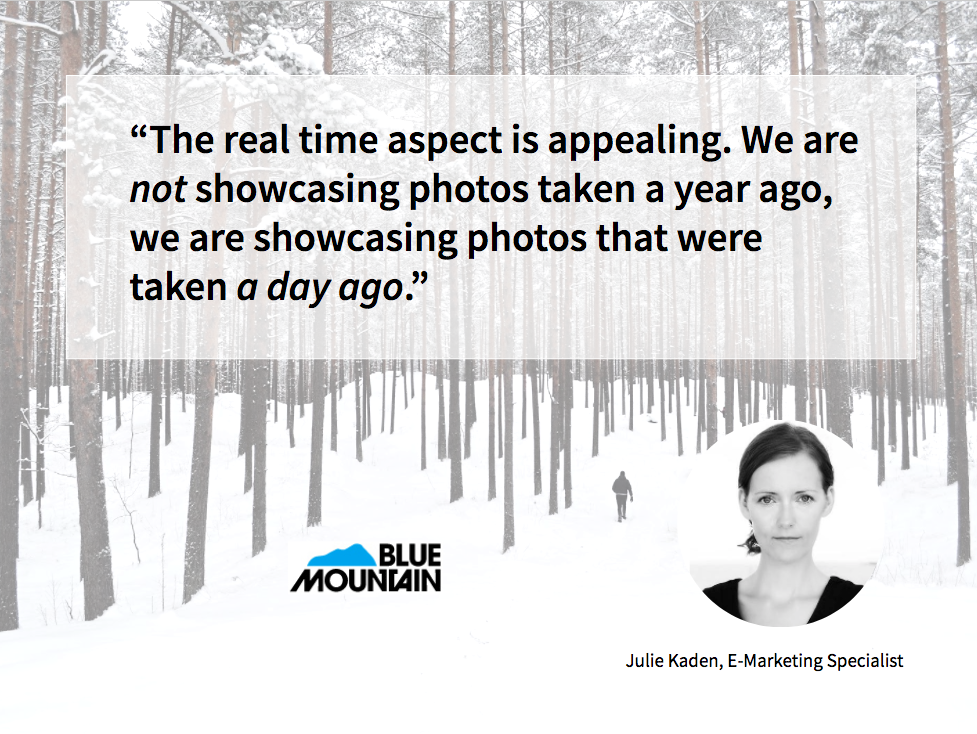 Blue Mountain also incorporates UGC into the entire visitor experience — they have dozens of digital displays throughout the entire resort that showcase choice social photos and videos.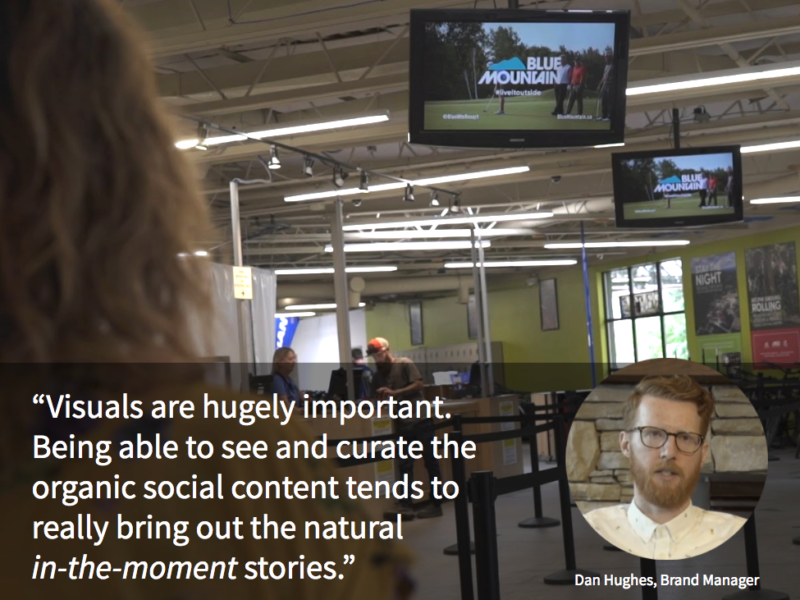 So, whether guests are waiting for lift tickets or sitting down for lunch in the ski village, they can soak in a slideshow of authentic imagery and see what fellow skiers are up to.
Plus, who wouldn't love to see their own photos featured on one of these screens? Displaying these UGC photos inspires more guests to share their content online and gives them ideas for other things to experience during their visit.
Another unique benefit of UGC, particularly for Blue Mountain, is that they can showcase the diversity of visitors coming to the resort. Whether it's a family vacation, a girls' weekend, or a group of visitors who are new to Canada and to skiing, UGC helps Blue Mountain reflect this in their marketing.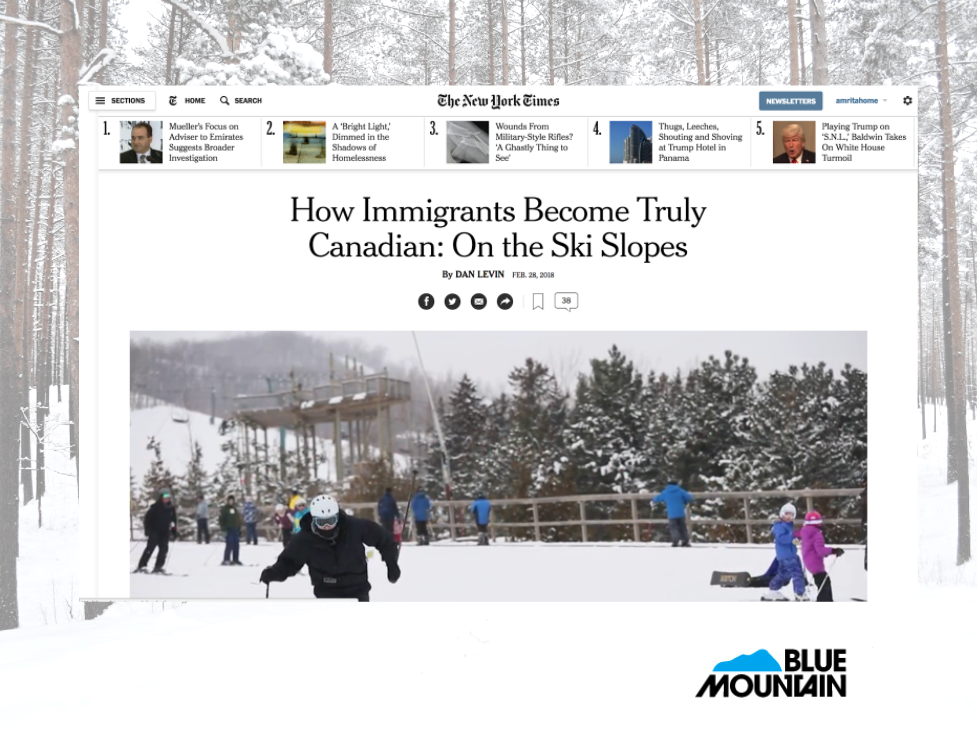 This initiative has been so successful that Blue Mountain was recently profiled in the New York Times as an experience that helps immigrant Canadians adapt to and enjoy their new country.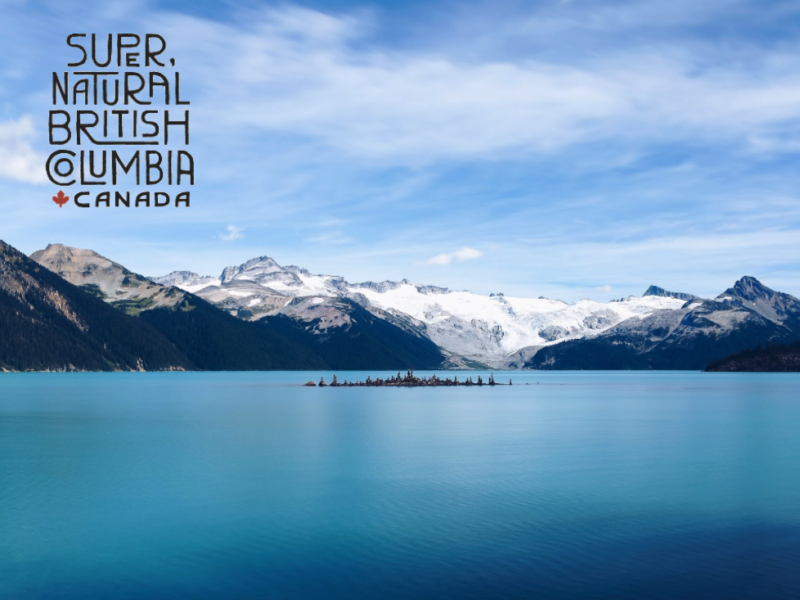 Our third example of a mountain destination using UGC is Destination British Columbia, Canada. Destination BC built the world's first visual trip planner, powered entirely by UGC photos, in partnership with CrowdRiff.
A visitor can go to the BC Explorer web experience and select a theme, such as "Mountain Experiences," to filter the imagery to show photos from other travelers taken in the Rockies (and beyond!).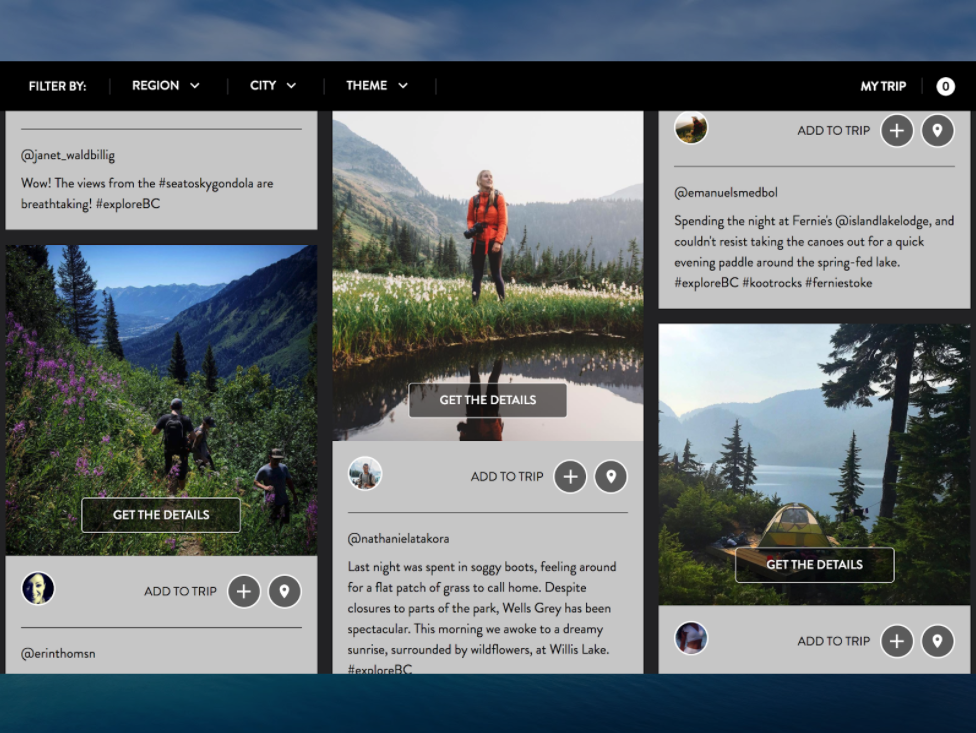 While someone is browsing, when a particular image catches their eye, they can also click on it to get more information, and even book a tour or accommodation.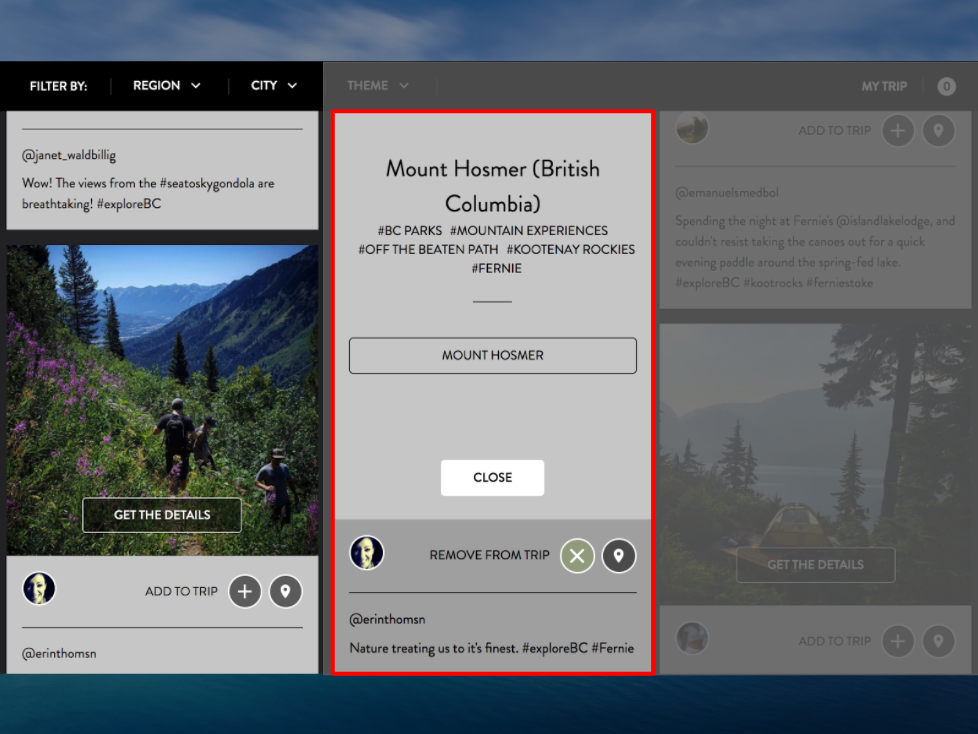 Visitors can also use these images to view their trip on a map – rather than just as a list – so they can easily visualize how far apart each of their stops are and plan accordingly.
The BC Explorer takes the visual discovery aspect travelers love about Instagram, and makes it actionable – so that instead of just getting ideas for their trip, they can go right ahead and plan it too.
With more than $17 billion in annual tourism revenue, Destination BC's investments in authentic visual content are certainly paying off. Over 3 million images have been shared with their hashtag (#ExploreBC) and a sizeable chunk (34% to be exact) of all Canadian ski trips take place in British Columbia.
Visual content matters now more than ever
For the first time in history, UGC images are available and accessible to tourism and travel brands all over the world. With the right tools and technology, destinations, attractions, and resorts can find, curate, and share the right type of UGC to deliver trusted, personalized imagery at scale.
Want to find out how your organization can use UGC to emotionally engage with potential travelers? Get in touch with our team today!