At a time when destination marketing organizations (DMOs) big and small are looking for cost-effective and impactful ways to reach travelers and boost engagement, this small regional DMO is finding success with user-generated content (UGC) sourced from CrowdRiff UGC. The team even appeared on The Digital Marketing Institute's podcast, Marketing for Tourism, where they went into even more depth of how CrowdRiff UGC is helping them achieve their goals.
For the past 13 years, the Yarmouth & Acadian Shores Tourism Association (YASTA), based in Western Nova Scotia, has been actively marketing its destination. The area encompasses the southernmost tip of Nova Scotia, and draws travelers, many of whom reside in the Northeastern U.S., seeking out experiences to convene with nature, arts, and culture.
The tourism association itself is fairly small — with just three core employees and a CEO — so making sure they can save time and acquire the rights to UGC to leverage earned media and boost site engagement is crucial, says Yarmouth & Acadian Shores Tourism Association CEO Neil MacKenzie. The association has been using CrowdRiff UGC for the past five years.
"Before CrowdRiff, our team would be scrubbing social channels manually and endlessly scrolling partner and visitor channels for engaging and relevant destination content," MacKenzie says. "CrowdRiff has saved us so much time because we can now follow creators and publish their content so much quicker, and because Galleries sort automatically based on engagement."
The cost savings is also important, he adds. "Earned media is key for destinations, but it can be expensive hosting familiarization tours, influencers, and travel media to help tell the story of our destination. CrowdRiff allows us to leverage earned media from creators who are already telling the story of our destination, and often in a very authentic way."
For the destination of Yarmouth & Acadian Shores, UGC is especially important because of the value of earned media. "Social continues to grow and it's getting even more challenging to keep up," MacKenzie notes, referring to the growth in popularity of platforms like Instagram, YouTube, and TikTok.. "As destination marketers, we need to leverage earned media and the authentic stories and content that creators are sharing about our destinations. UGC will remain an important earned media channel going forward."
Yarmouth & Acadian Shores uses UGC as a supplement to their in-house or branded content because, as MacKenzie notes, "it's a more trusted form of content. It's way more engaging than branded content often, because it has that alive feeling, you know?"
The discovery process for UGC through CrowdRiff UGC has also been beneficial to the DMO, he adds. "Sometimes you'll see things that you've never seen before, or from different perspectives and angles," MacKenzie says. "You can discover more places around your own backyard, and things you haven't necessarily seen before. It also helps us really get a feel for what's around us, and what's happening."
UGC shows up in individual galleries for each of the DMO's partners' listings on their website, as well as seasonal photo galleries on the DMO's website and in their email marketing, or in galleries for regional events. Gallery walls also help the DMO popularize event-specific hashtags, making it a useful event tool, too. The DMO also uses CrowdRiff UGC to find images that they can gain rights to, and use in other channels, like print media.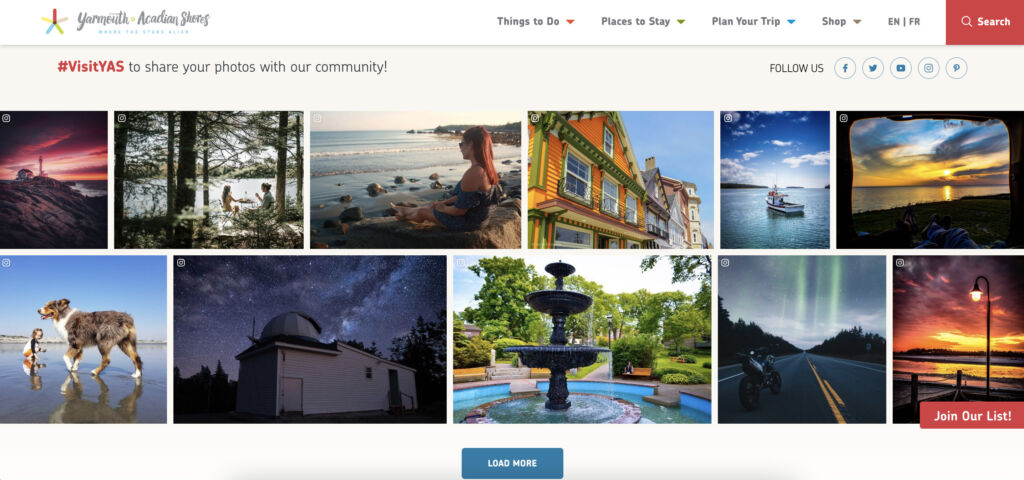 Perhaps one of the biggest benefits of using CrowdRiff UGC is its ability to help boost engagement, notes MacKenzie. "The automation that CrowdRiff has in the Galleries that allow you to move photos, or arrange them based on how they're being engaged with is a really great automation tool. The Galleries really ensure that people's time on our site is higher."
He continues, "The CrowdRiff Galleries are often one of the most engaged pieces of content on our website. When we look at our website, it does help with click-throughs to our operators, which is one of our ultimate goals as a DMO. It's shown many operators the value of creating social channels and curating them and building an audience and a community with their own channels because we can amplify it, but it helps them, too."
If MacKenzie could share any advice or best practices with other DMOs, it would be to make sure you always diversify your sources of marketing content and be sure to incorporate UGC. "Invest in owned media and branded content but leverage earned media like UGC too. Find that right mix; see if you can get these folks who are already creating content to be storytellers for you even if they're starting out, because they might be a good content partner for you moving forward."
And he adds, don't stop at just one distribution channel. "Think about all the ways you could be utilizing all this content, and how to leverage it for your strategic goals. You need a tool like CrowdRiff to help you manage this content, and build themes and galleries and deploy it to your other channels."
Want to learn how your DMO can boost engagement?
Get in touch with our team for a personalized demo of CrowdRiff UGC.
Learn more