How are travel and tourism marketers approaching spring and summer content planning?
As more people get vaccinated and think about travel again, destination marketers are making significant changes to their content plans and messaging.
In this post, we're sharing strategies from destination marketing organizations (DMOs) and convention and visitor bureaus (CVBs) of varying sizes across North America and Europe to give you fresh ideas and inspiration for your spring and summer campaign planning.
Be sure to sign up for our Live Webinar on Summer Content Strategies with Simpleview and Marketing Greece here.

1 | Promote messages of assurance in spring, exploration in summer
The UK government recently announced a recovery plan that could see international travel reopening by mid-May. During this time, Visit Britain will be focused on sending the message it is safe to travel.
"And that will be partly because we are where we are on vaccinations. It is also because we've been very, very successful on a program that we've run called "We're Good to Go" — we've got about 45,000 businesses that have signed up to it and that means they have to comply with COVID safety requirements," Visit Britain CEO Sally Balcombe told Skift.
Moving into the summer, they will shift to a more proactive message encouraging people to get out and explore Britain. The plan is to build on a campaign they launched last year called Escape the Everyday, which will be used domestically first then internationally.
Balcombe expects international travel to pick up more in late summer, autumn, and 2022 as traveler confidence rebuilds. Until then, domestic will be the lifeblood of the tourism sector.
Idea: Focus on building traveler confidence in your messaging and content for the next 3-6 months.
2 | Reactivate campaigns around your brand pillars
Similar to Visit Britain, Visit Austin is focused on recovery messaging for the spring, and more direct booking messaging in the summer for leisure travel.
In early March, the state of Texas officially reopened. Since then, Visit Austin has been seeing a surge in searches, bookings, and conversions on the site.
They have moved into phase two of their recovery around "rebuild and restore," which also means significant changes to their content strategy. They've shifted from shut down messaging to welcome those interested in coming to Austin.
By the summer they expect to have more direct "book your stay in Austin" messaging and will be reactivating campaigns they had started pre-COVID around their brand pillars (live music, the outdoors, and food). These campaigns will be targeted around the country and internationally as well.
Idea: Circle back to campaigns you had running pre-pandemic. How can you tweak them to be relevant to the current climate as travel starts to rebound?
3 | Celebrate your local DNA with resident stories
Even before the pandemic, Helsinki Marketing was a world leader in place branding. Their recent mini-documentary series, "Helsinki Freedom," which celebrates life in the Finish capital, is no exception.
For the series, five creators shared their takes on Helsinki on the concept of freedom. The episodes focus on pillars of what makes Helsinki unique—from high-quality education, access to nature, LGBTQ+ rights, safety, and a healthy work-life balance.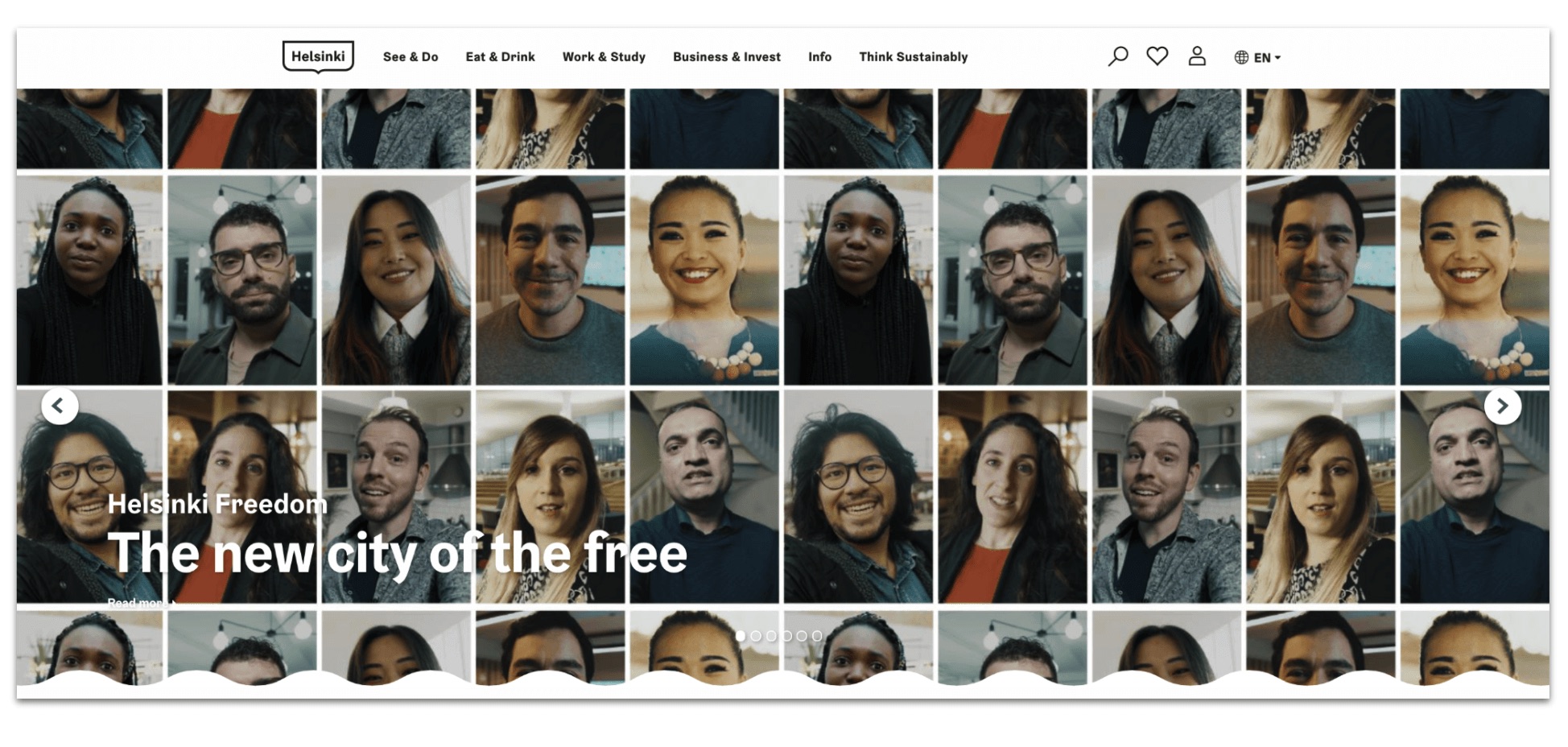 Each pillar includes various formats of content like blog posts, short videos, visuals from diverse voices.
The campaign is aimed at those considering making Helsinki a permanent home. It also appeals to those looking to study or work there in the medium-term. These are all factors that can boost Helsinki's economy at a time when many are not yet traveling. The local storytelling adds authenticity and personality in a way that a generic list of "reasons to study and work in Helsinki" would not.
Idea: Discover and amplify why locals love your destination. Use these stories not only to attract more visitors but also in your longer-term place branding strategy to create a better quality of life for all.
4 | Showcase hidden gems with user-generated content
Last spring, when things were closed around Greenville, South Carolina, their Social Media Manager, Jay Adams, came up with a creative campaign to inspire future travel.
The campaign used the alphabet to feature two "virtual tours." One, for the hidden gems in their culinary scene, and the other for less-known attractions. Each series ran concurrently between May-August 2020 and provided 15 straight weeks of content consisting of four posts per week on Instagram (52 posts in total).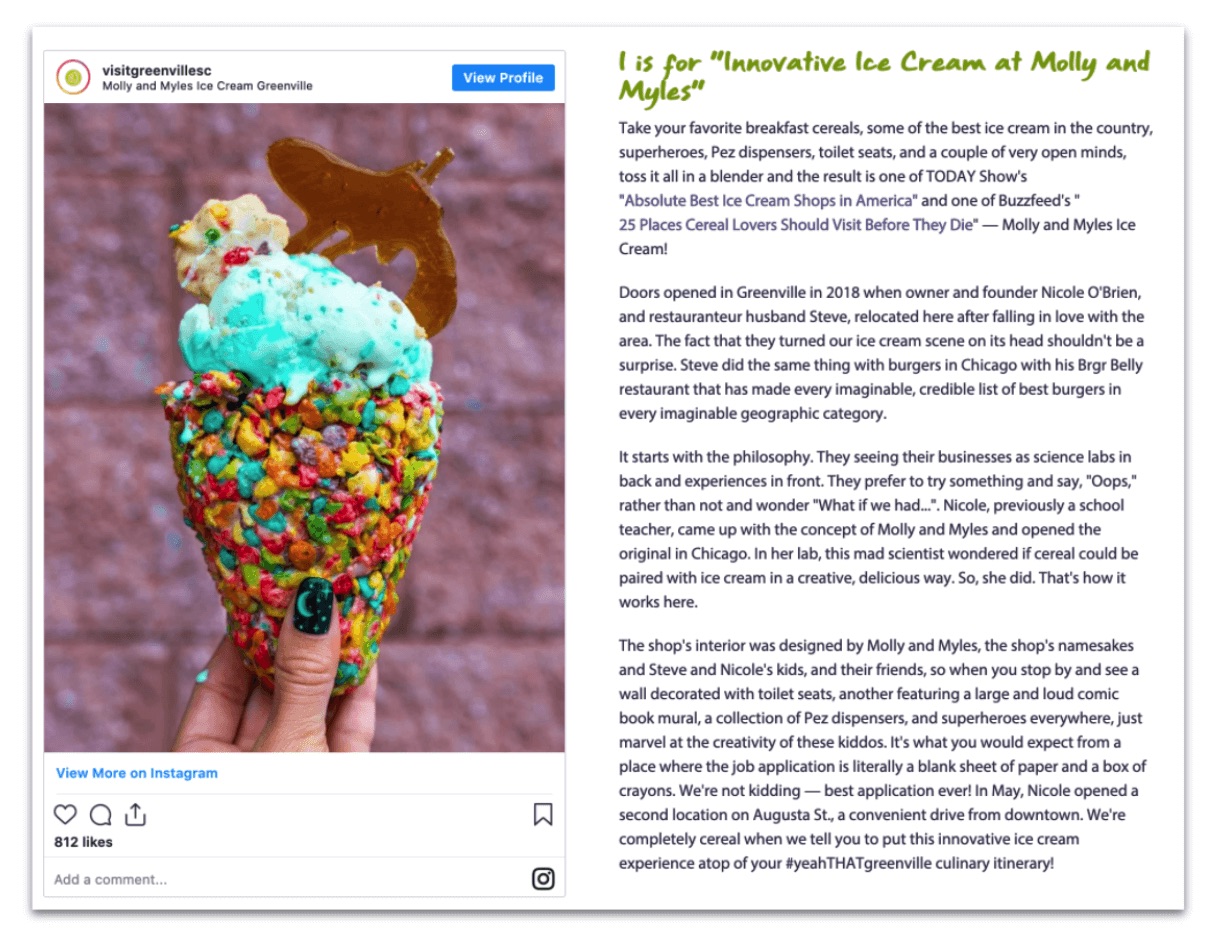 They also created dedicated web pages for each topic so the content could live in one place, be searchable, and drive evergreen traffic to member-listing pages. The campaign was a huge success:
~1 million impressions
869,600 people reached
33,900 engagements
3.5% campaign engagement rate
215 friends tagged in post comments
Idea: Leverage content from your local businesses and tourism partners to drive interest to less-known areas and boost engagement with locals and would-be visitors.
5 | Leverage bloggers to promote offbeat tourism
With tourists slated to return to Greece in May, one non-profit organization is aiming to disperse much-needed tourism benefits outside of well-trodden places like Mykonos and Santorini.
Travel Bloggers Greece is a collective of 10 local bloggers and two international members from the U.S. and the U.K. According to Skift, the six-year-old group has worked with more than 25 destinations and hundreds of local businesses that include tour providers, and transport and hospitality companies.
Although TBG isn't funded by the government or Marketing Greece, they have worked with smaller towns like Tolo, Epirus, and Kasos to promote tourism last summer.
Idea: Showcasing off-the-beaten-track experiences will be critical to not only attract tourists to your destination but ensure the economic benefits of tourism are dispersed across the country.
6 | Market themed experiences across borders
The European Travel Commission has been running a campaign called #CuriousEurope, which is all about how Europe is a place that incites curiosity through shared history, cultural diversity, and natural beauty.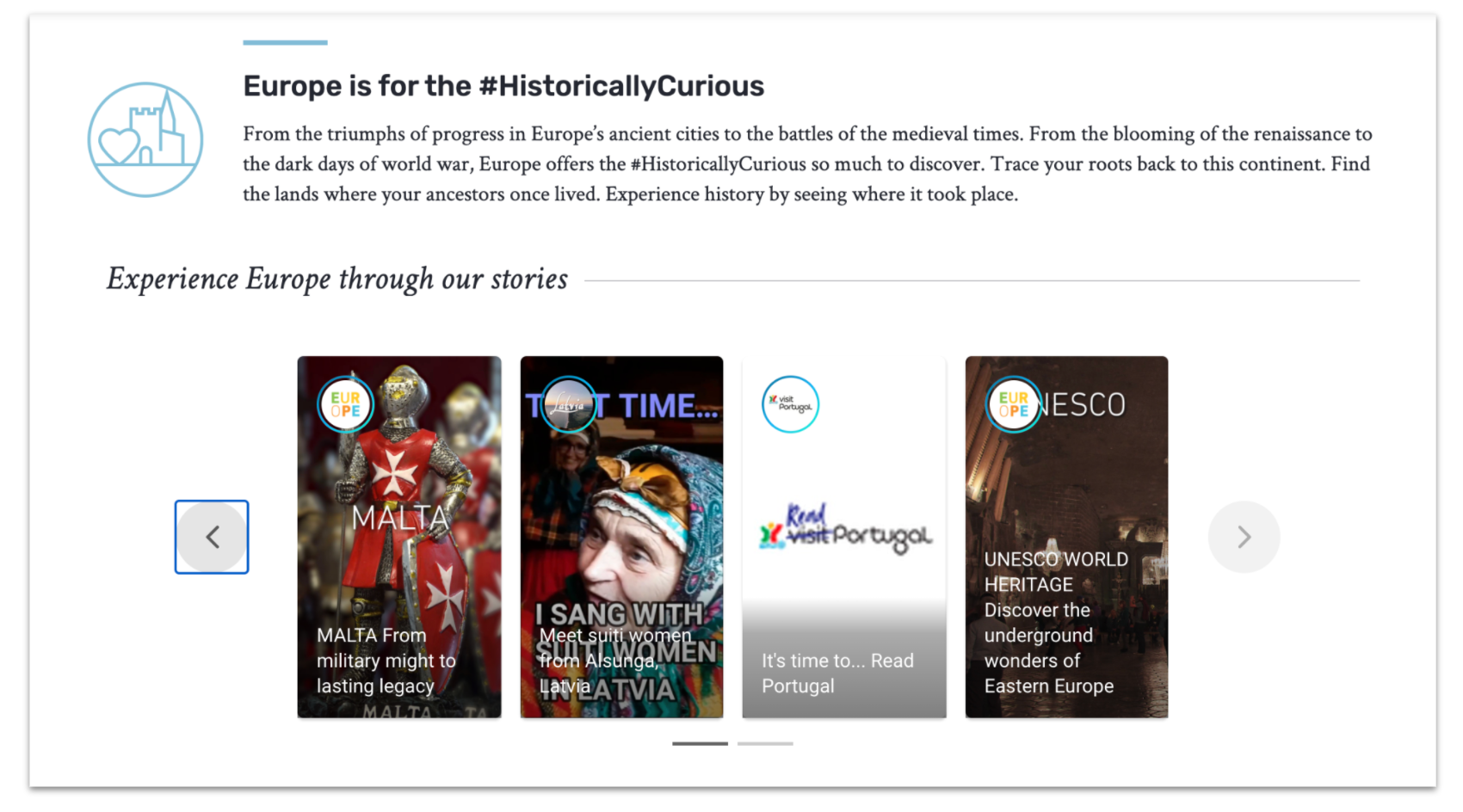 ETC has been leveraging CrowdRiff's Localhood for the campaign to allow for different experiences to be showcased across borders. They created various galleries to showcase different aspects of Europe, such as nature & outdoors, cities, culture, art and urban adventures, and history, heritage, monuments, and significant sites.
With the EU's recent rollout of a COVID-19 pass to allow travel this summer for those who are vaccinated, the campaign is a great opportunity to promote kickstart tourism recovery.
Idea: Take a data-driven approach to collaborate across state and country borders and promote shared experiences. Discover the experiences that attract your target audiences and co-market things like road trips and workcations.
How can you better promote your destination as travel resumes?
Throughout the pandemic, people have learned how much there is to explore in their own backyards. As travel begins to resume, there will be a hunger for messages of reassurance, local experiences, and a general sense of escape.
Marketing strategies like revisiting pre-pandemic campaigns, tapping into local UGC, and promoting tourism to less-known areas are all ways destination managers can kickstart the tourism economy and create more harmony between residents, visitors, and your tourism partners.
Be sure to sign up for our Live Webinar on Summer Content Strategies with Simpleview and Visit Austin here.