China is emerging as one of, if not the most, vital markets for international travel.
The country's growing economic power has resulted in a higher proportion of business partnerships, international education and tourism opportunities around the world, but especially in America. In 2016 there were approximately 2.97 million visitors to the U.S. from China, according to Statista, which predicts that number to reach 4.54 million by the year 2022.
Chinese tourists typically stay in the country longer, and far outspend visitors from other locations. In 2016, for example, Chinese tourists spent a combined $33 billion in the United States, or $7,200 per person, representing an increase of 9 percent over the previous year.
A growing focus on getting leisure travelers from China to discover Georgia
Chinese visitors to the U.S. tend to see the most iconic cities first, with New York City, Los Angeles, Las Vegas, San Francisco and Washington often topping the list.
But even for places like Georgia, Chinese tourism represents a massive economic opportunity that can't be ignored.
In 2008, the Georgia Department of Economic Development established the Greater China Region Initiative, after Delta Airlines began offering direct flights to and from Atlanta to China. Their mandate was to increase economic opportunities with the Chinese market and installed Stella Xu as its director.
"We started hosting conferences to bring Chinese buyers and tour operators to Atlanta for business meetings as well as to experience our city," said Xu, adding that after a number of years on hiatus Delta recently decided to bring back the direct flight from Atlanta to China, which will begin again in July 2018.
While inspiring leisure travel to Georgia from China has always been a part of the Initiative's mandate, it took a backseat during the period when no direct flights to the state were available.
"As of this moment, our leisure travel is still a very small percentage; a majority are business travelers coming for trade shows, as well as students and their families," said Xu. "Hopefully, with the direct flight, we can bring more leisure travelers."
After years of focussing on developing key relations with Chinese businesses, with the direct flight soon to be reinstated, the Georgia Department of Economic Development has taken proactive steps to show prospective Chinese leisure travelers what southern hospitality is all about.
Highlighting key American icons in marketing materials to appeal to Chinese tourists
When it comes to the state's overall tourism marketing strategy, Xu says it's all about showcasing the sounds, smells, tastes and hospitality of southern culture, highlighting how it differs from America's coastal cities. While much of the marketing materials produced for the Chinese market follow along the same themes, Xu says it's her job to tailor Georgia's marketing materials and visitor's guides to appeal to travelers from the region.
"We look at the overall strategy and then we pick and choose things that we think will resonate with the Chinese, mostly culturally-centered," said Xu, explaining that there's extra emphasis on quintessential Americana, like World of Coca-Cola or the state's many movie sets from iconic American films like
Forrest Gump
.
Many Chinese tourists are also familiar with classic novels like Gone with the Wind, and they are intrigued by Georgia and the South described in the novel, which Explore Georgia tries to bring out in their marketing.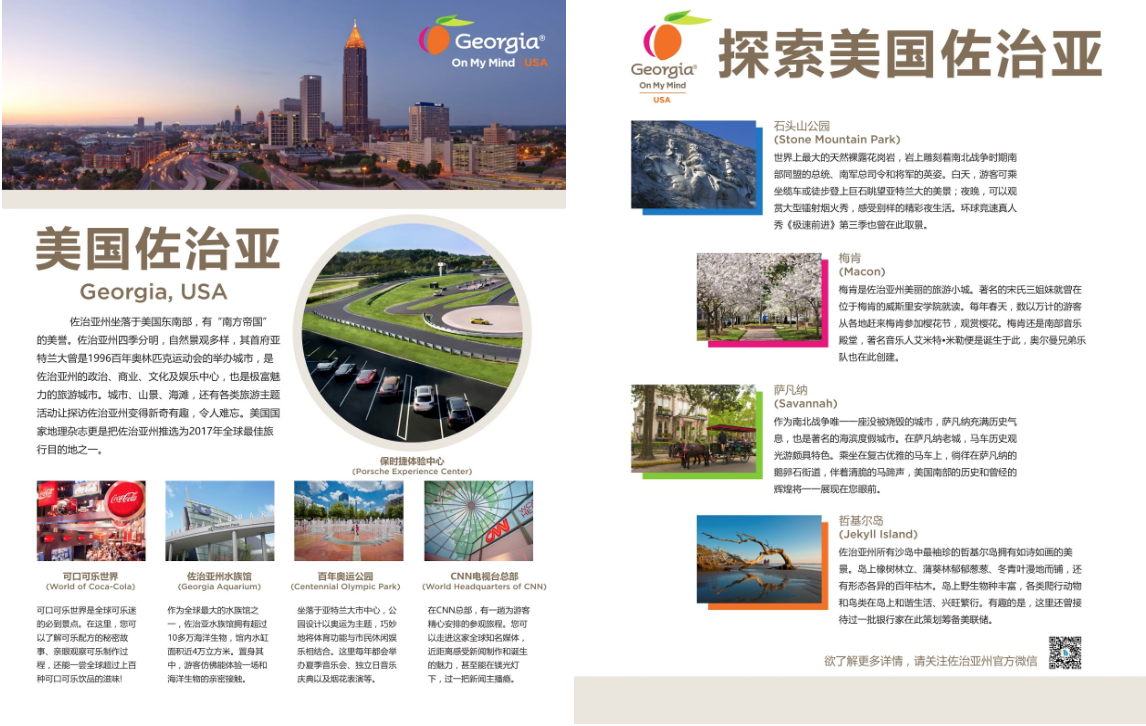 "We add a special touch, and wording language and the style of the pictures for what the Chinese would like to see," she added. "We tend to choose content that Chinese people do not get to experience in China on brochures and branding materials."
For example, in this page of Explore Georgia's 2018 Chinese visitor guide, set against a stunning photo of a quintessentially Georgian wetland, explores different places in a traveler can experience the wonders of the state's unique natural terrain.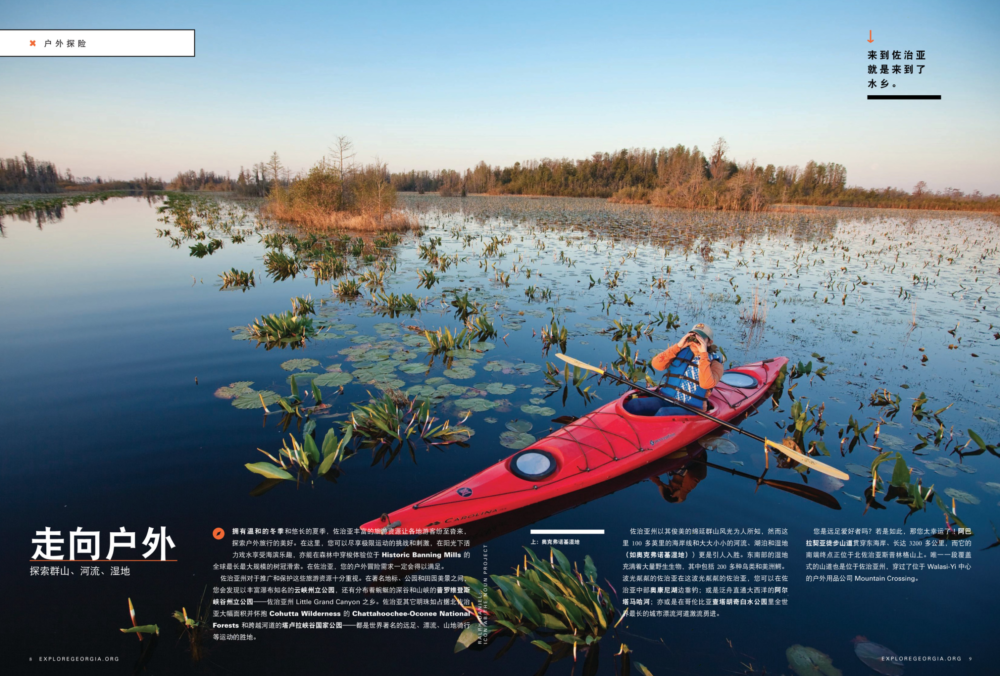 Another page in their visitor guide is an exposé on Georgia's rich music and film culture. Here they tie back international American culture icons, like James Brown and R.E.M., to the state where they originated.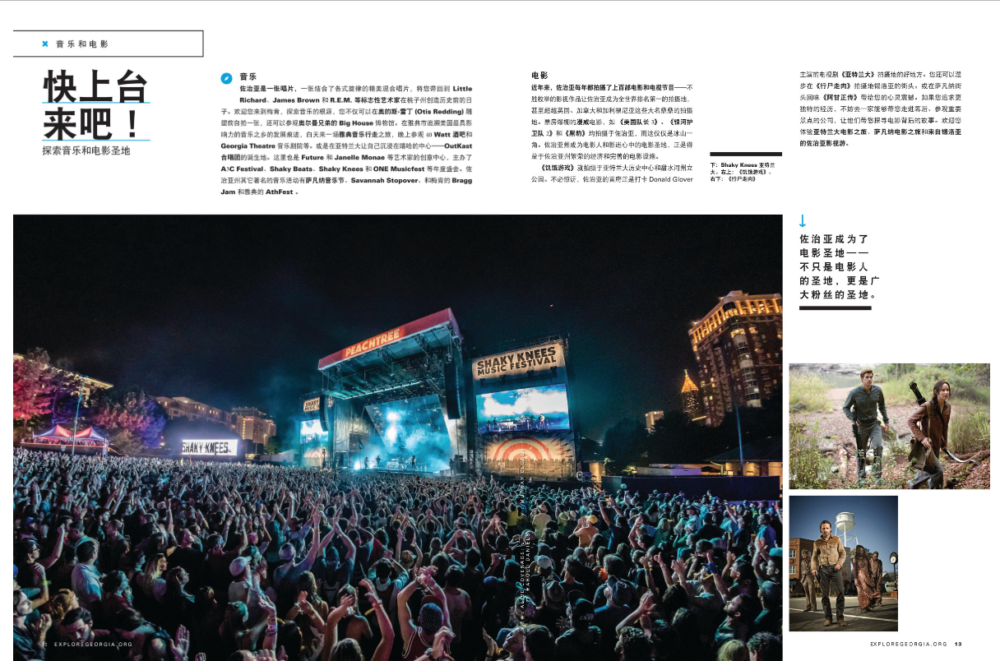 This page also reveals filming locations of well-known movies, such as The Hunger Games, that took place in Georgia.
Xu says that this strategy extends from the visitor's guides to the website to the social media campaigns and blog posts that the tourism department creates in Mandarin for the Chinese market.
Helping tourism partners to prepare for accommodating Chinese travelers
Essential to facilitating the flow of tourism from China is ensuring that visitors have all the resources and amenities they have come to expect from major American cities, such as tour guides that speak their language and hotels that are accustomed to hosting Chinese guests.
"We help the tour operators to develop marketing collateral and to hear their concerns, their feedback, what they're looking for, what their clients are looking for," said Xu, explaining that their goals extend beyond getting travelers to Georgia, but then also making sure they have a great experience in their state. That means supporting "our partners, like the CVBs, hotels, retail stores and everyone who wants to attract visitors, we help them become China-ready."
Explore Georgia's targeted efforts see consistent yearly growth in Chinese visitors
Since its creation 10 years ago the Greater China Region Initiative—which recently hired its second full-time employee—has seen the number of Chinese visitors gradually increase over time.
"When I joined the department in 2008, China was not on the top 10 international visitors list," said Xu. Today the country is fifth behind Canada, the U.K., Germany and India. "For the past four years the number of Chinese visitors has increased every year by 20% or 30%, as well as their spending power."
Xu's overarching advice when it comes to engaging with the Chinese market is to put in the time to facilitate connections and deeper relationships, both online and in person.
"The Chinese market is a relationship-driven market, so you have to be there all the time and establish relationships and make friends with people," she said. "It takes a long time to do that."
While Xu explains that it may be a while before they can compete with America's major states, Georgia is becoming recognized to the Chinese market as a gateway to the southeast and a perfect starting point for a 2nd or 3rd visit to the country.