Haka Tours is pursuing a big, hairy, audacious goal, or BHAG for short. In early 2019 the New Zealand-based adventure tour provider challenged itself to welcome over one million guests by the year 2025.
"The science behind the BHAG is that it's something you have a 50% chance at failing at, so you're really trying to challenge yourself," explained the organization's digital marketing manager, Barnaby Lawrence.
The Problem: Haka's Website Didn't Inspire Potential Guests To Book A Tour
Accomplishing such a lofty goal, explains Lawrence, requires Haka Tours to not only inspire a global audience to choose the country over all other destination options, but to also choose an adventure with the touring company well before their arrival. The problem is that the organization's former website didn't do much in the way of inspiration, offering only clunky, text-heavy descriptions of what the company could offer its guests.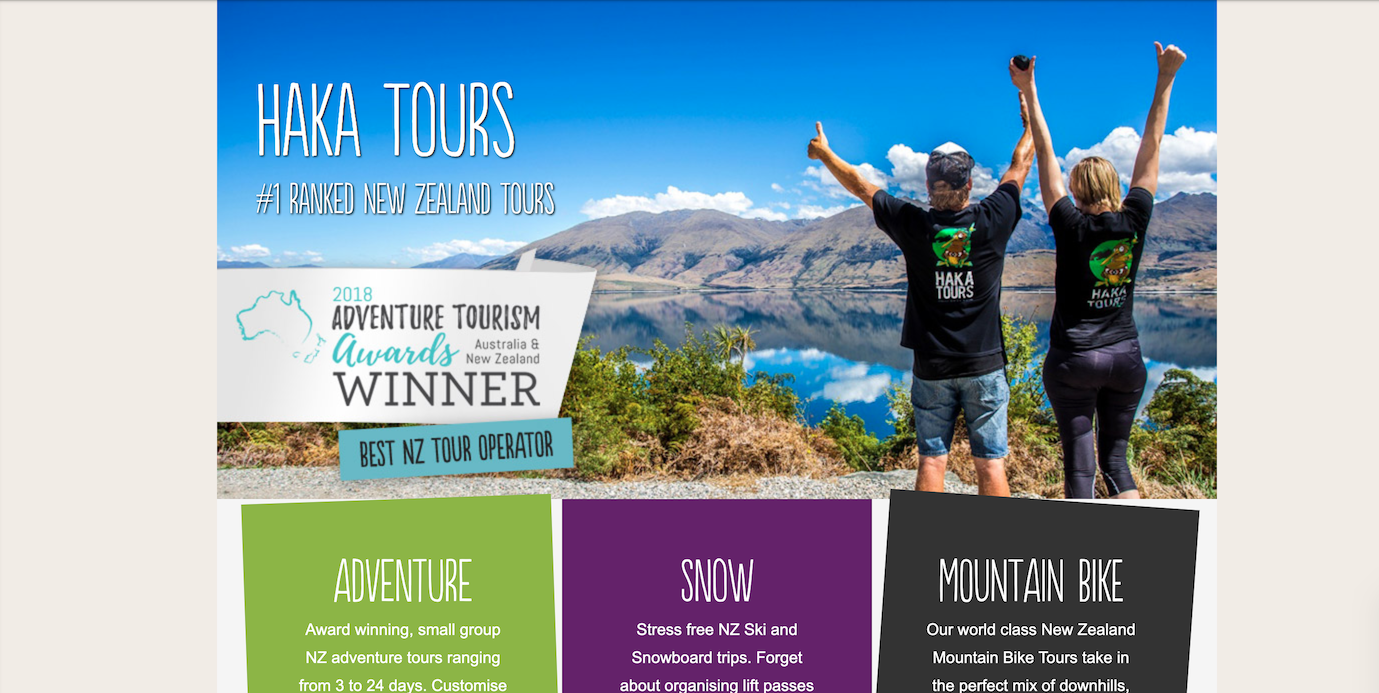 A screenshot of Haka Tour's website homepage before the redesign
"The goal of the website redesign was to provide a more immersive experience for people who visit the site, not only to give them more information about the tours that we offer but also improve the level of content, IE imagery," said Lawrence.
"We also wanted to introduce other types of content that previously didn't exist on our old website, so lots more information about the individual towns and attractions within New Zealand, as well as the activities you can do here."
"A Series of Disorganized Dropbox Folders"
Though the new website was designed to showcase more social media content the internal process for finding, gathering and sorting that content quickly proved overly burdensome. Haka Tours was using a series of disorganized Dropbox folders, with no intuitive tagging or search functionality. It wasn't long before they began searching for an alternative, and discovered CrowdRiff this past March.
"We were essentially looking for a better plug-in to replace our Instagram gallery on the home page, and Ryan our founder knew of CrowdRiff, so he flipped the link to the marketing team," said Lawrence.
Lawrence admits that he doubted the claims made by CrowdRiff representatives in regards to the speed and simplicity of the integration process, having been disappointed by vendors in the past.
"With all technical integrations, when you've been in this game for a while you naturally become quite sceptical at that, but it was a breeze," he said. "It's one piece of code, you slap it onto the site and you switch it on."
The Solution: CrowdRiff Helped Haka Discover, Secure The Rights And Organize Their Visuals
While Haka Tours was only looking for a simple plug-in replacement, however, Lawrence says the digital marketing team was excited to explore the additional functionality CrowdRiff was able to provide.
"It really sunk in the additional benefits of using the platform like CrowdRiff and everything that could be done with it," he said. "Once we understood the functionality of the platform and what it brought to the table we quickly backfilled our plans for the site with what it was able to do for us."
Lawrence explains that it not only streamlined the process for showcasing user generated content, but also enabled the organization to more easily discover content, secure the rights to it, organize it and catalogue it.
"What CrowdRiff has given us back is a lot of time," he said. "It's so fast and convenient to hunt down not only people who are using your hashtag but people who are visiting different parts of New Zealand or doing the activities you would find on a Haka Tour, and find, showcase and save that content."
Visitors to the new and improved hakatours.com are immediately immersed in stories of real-life visitors told through vibrant and engaging imagery. Furthermore, while the organization initially signed up with CrowdRiff to better populate its homepage, user generated content can now be found throughout the website, and beyond.
Results: 45% Lower Bounce Rate, 75% Higher Page Views And 30% More Sessions Per User
"The initial intent was to replace the gallery on our home page, which is our Instagram stream, but what that's now become is multiple galleries throughout the entire site that utilize content based on hashtags," said Lawrence. "The homepage showcases a mixture of all the tours you can do, but we then have individual galleries for each individual tour category—IE 'snow' or 'mountain biking'—and beyond that we have location-based galleries to support the destination content on our site."
An example of an individual gallery for the Coromandel region.
Since the website's re-launch, Haka Tours has seen a 45% reduction in bounce rate, a 75% increase in page views, and 30% more sessions per user. Lawrence says CrowdRiff played a "key role" in those improvements, but adds that it's only just the beginning.
He and his team are currently utilizing gallery analytics to determine which content receives the most engagement, and intend to incorporate those high-engagement images into banner ads, print marketing materials and blog posts in the future.
"I think the potential we're seeing through CrowdRiff is yet to peak, and we're going to continue to lean into the functionality that it has," said Lawrence. "Absolutely I feel it will play a solid role in reaching that BHAG over time."