In July of 2017, Marc Garcia was on vacation in Southern California. It was the same beach getaway he had taken with his family countless times before, but that year something was different.
Marc's then four-year-old son Mason had been diagnosed with autism when he was fourteen months old, and while the family had been on plenty of vacations with him previously, this one was particularly difficult.
"He had meltdown after meltdown, and we got the stares from people, the muffled whispers," says Garcia. "The thing was, this wasn't necessarily coming from other guests like us; it was from supposed hospitality professionals."
Garcia says he knew there was little he could do to change this particular west coast destination, but he could make a real impact in his hometown. That's because Garcia is the President & CEO of Visit Mesa, overseeing the marketing activity for the state of Arizona's third largest city, and the country's 35th.
Making the city of Mesa autism-friendly provided support to the community as well as an economic opportunity
Upon his return, Garcia organized a strategic planning session and began considering ways the city could be better positioned to support the autism community. But this wasn't just a feel-good charity initiative, says Garcia. The more he and his wife became involved in the world of autism parents, the more he came to recognize the significant economic opportunity it could provide.
"My wife, who is one of those autism moms that's really channelled in, I learned from her just how tremendously loyal autism families are," he said. "When they hear about a product or service that is autism-friendly they flock to it, and they keep coming back."
Garcia presented the idea of engaging this community to his board, both as an opportunity to make a difference in the lives of other autism families and as a way for the under-the-radar city to make a name for itself in the hospitality industry.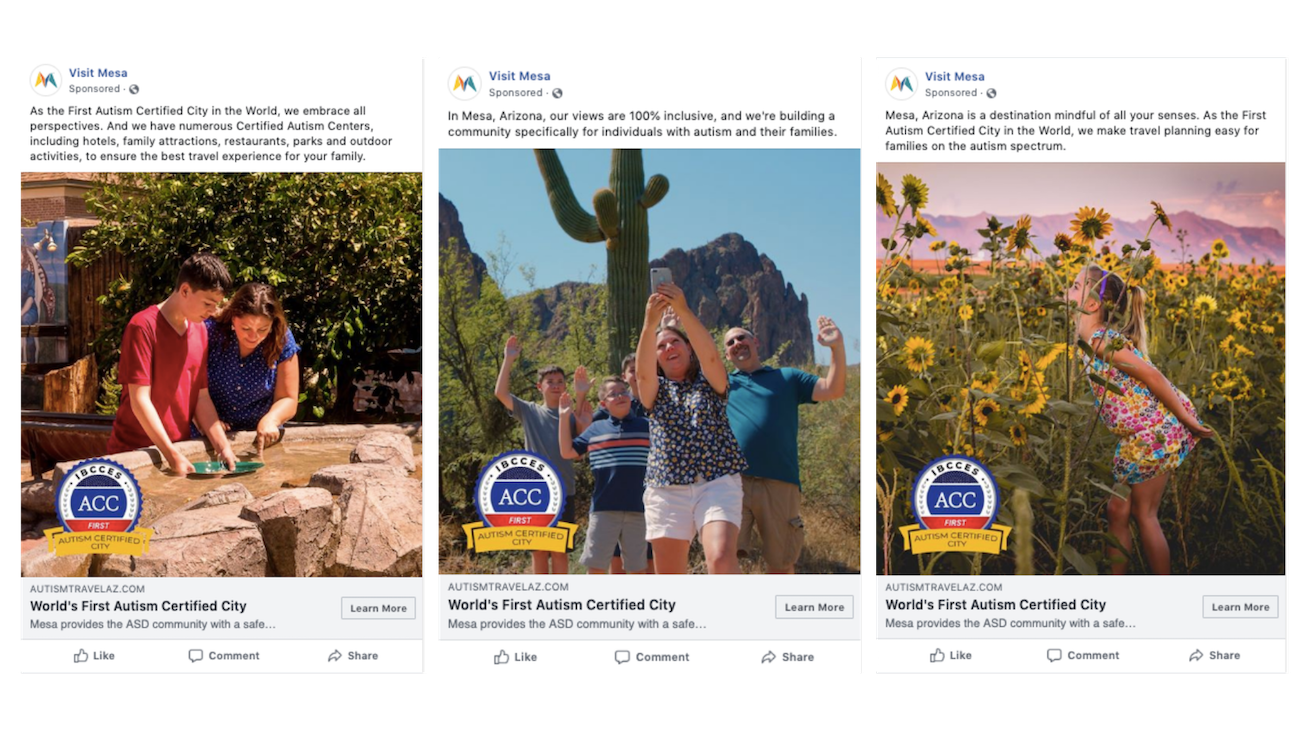 Visit Mesa's Facebook ads, announcing their designation as the first Autism Certified City.
"I wanted to do it the right way. I wanted the autism community to look at it and say 'that's the real deal,' so we needed something more than a sticker in the window," says Garcia. "I wanted a top-to-bottom educational platform where employees in our business had to learn what autism is, understand that it is a sensory disorder, and understand what the world looks like through the lens of someone who lives with autism, so you can deliver the best customer service possible."
The staff at Visit Mesa and their partners went through training to become autism certified
After searching for an organization that could provide such certification, Garcia discovered the International Board of Credentialing and Continuing Education Standards, or IBCCES, which had an autism certification program for healthcare and educational institutions, and had begun credentialing the hospitality industry as well.
"I reached out to IBCCES in December, and by March Visit Mesa had become the first-ever Autism Certified DMO in the country," he says. "I arranged for my board and my staff to go through [the training] first, and while we were doing that we prepared for April of this year, when we put out a call to the community to join us in this effort."
As part of the announcement, Visit Mesa created this video of the Thibault family exploring some of Mesa's autism certified attractions.
By the time April 2019 had rolled around, Garcia says he had already received commitments from a handful of organizations, including a few major hoteliers, the Mesa Parks Department, and the Mesa Chamber of Commerce.
"The Mesa Chamber of Commerce helped us make inroads into non-travel related companies, then the city itself responded, and they joined the effort," says Garcia. "The mayor was an early supporter — we had a video of him asking Mesons to make history by doing this, and that's when the police department came on, then the fire department, and it was just a domino effect."
To date, almost 4,000 people have gone through training or committed to do so
While each participating organization had unique requirements for becoming autism certified, they typically included training for at least 80% of all customer-facing staff members as well as some executives. Some were also required to provide additional services like sensory guides or quiet rooms.
Garcia adds that training for front line staff typically consisted of a half-hour long online program, while executives and human resources professionals were often required to attend in-person training sessions of up to four hours.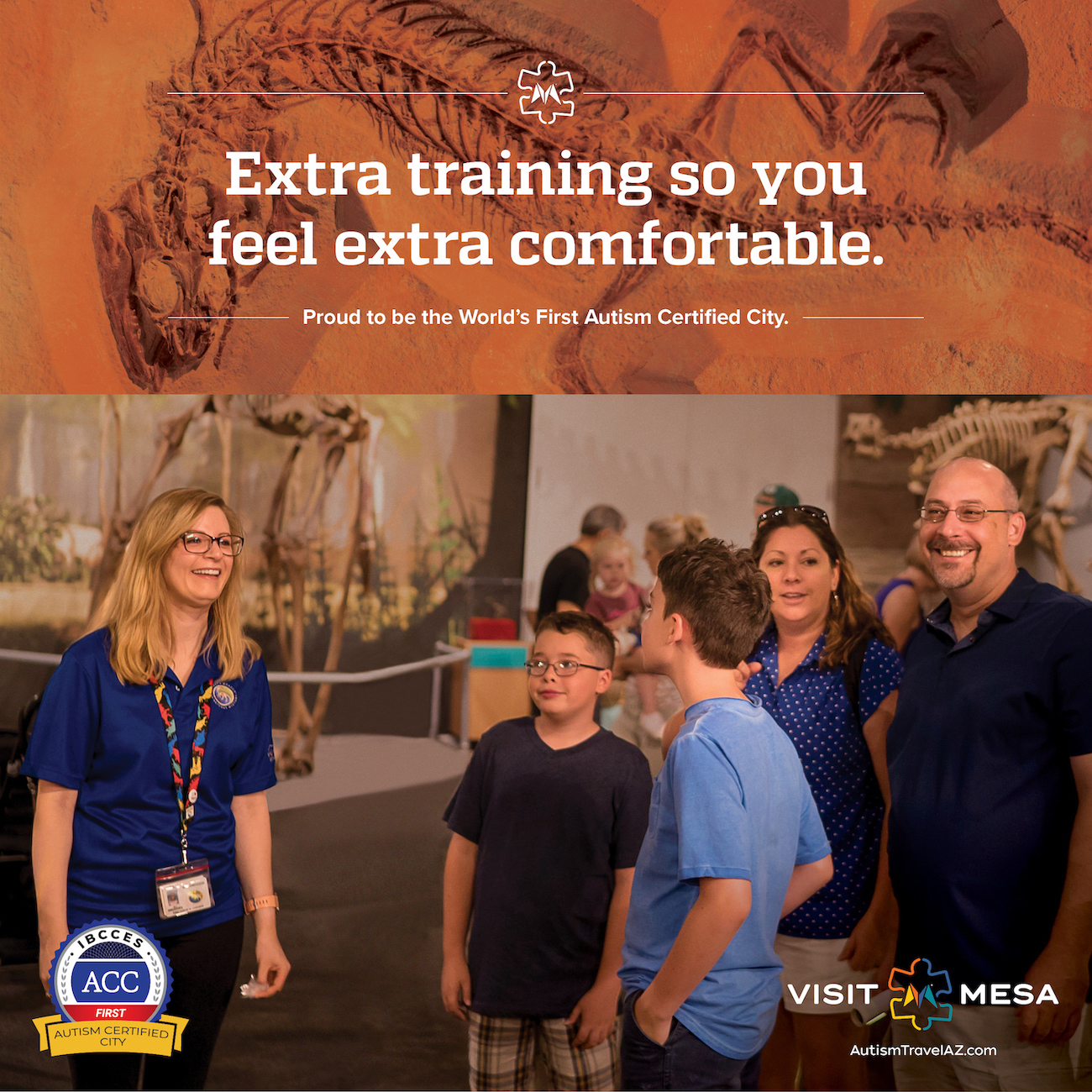 "It's been amazing; nearly 4,000 people have either gone through the training or committed to do so," he says. "It made me extremely proud to do what I do for a living."
All of these efforts led the IBCCES to declare Mesa the first-ever Autism Certified City in the United States. Today, travelers can explore autism travel guides, certified sensory guides, and get a full list of participating organizations at www.AutismTravelAz.com.
Looking to the future: "a commitment to total inclusivity"
"Just from what we see on social media, and how much this was shared from the Autism Society of America and the National Association of Autism, among a whole host of others, the likes and shares of that story has been incredible," he says. "It's heartwarming."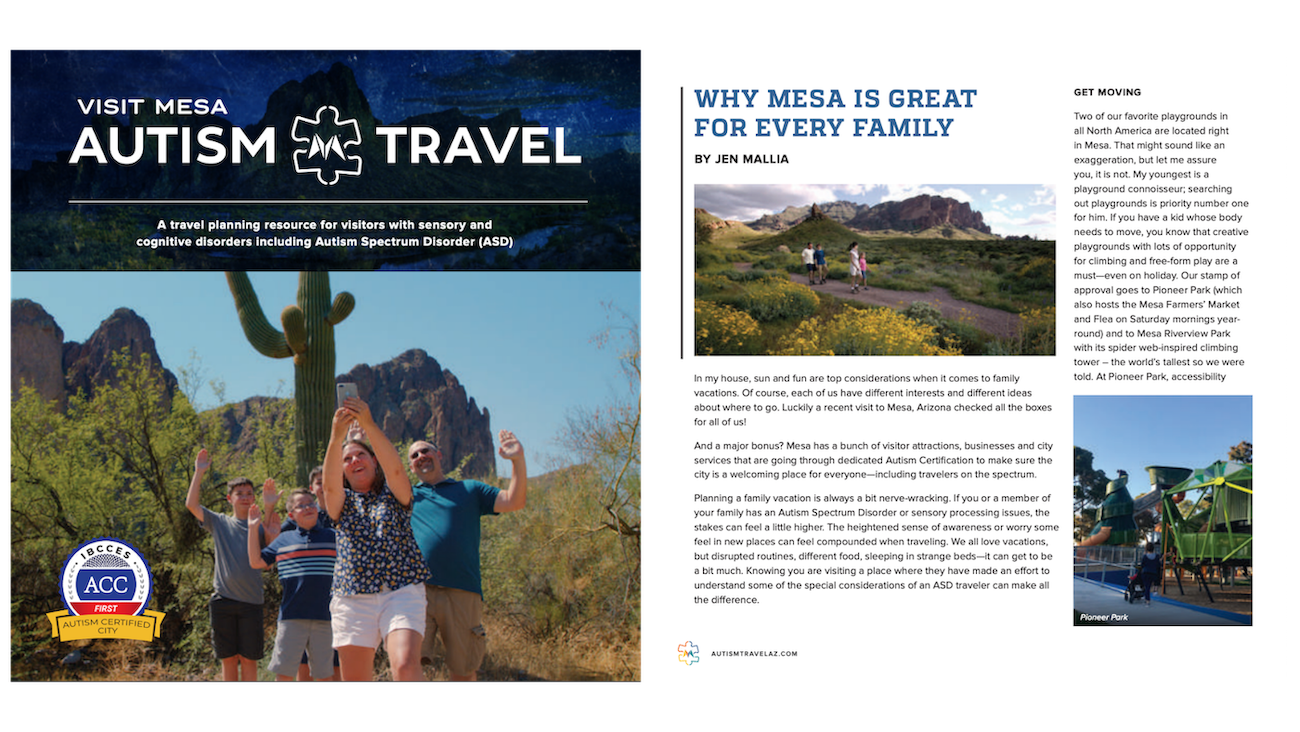 Visit Mesa's Autism Travel Guide features editorial content and local recommendations from writers with children on the spectrum.
Just as Garcia had promised his board when he first proposed the idea nearly two years ago, the city's efforts have been recognized and celebrated by the autism community. Many on social media have announced plans to visit, and the comments they leave demonstrate just how grateful the community is. In fact, Mesa just received a convention booking that will cover the cost of the entire training program as a direct result.
In the future, Garcia says the city will be looking for ways to expand into neuro-diversity hiring practices, and eventually into better housing and infrastructure practices as well.
"We're not just going to focus on autism; we have a commitment to total inclusivity, so we'll be working and finding ways to work with other disabilities as well," he says. "I don't have a timeline for that yet, but that's where we're going."