The Shetland Islands are known for their dramatic coastlines, golden beaches, and globally renowned bird watching. But Promote Shetland, the destination marketing body responsible for promoting the northernmost Scottish islands, wanted more than to just attract tourists.
The challenge: presenting a more holistic view of Shetland
The website redesign was part of a much larger place branding project that aims to encourage more people to live, work, study, and invest in the Shetland Islands.
"The website redevelopment was driven by our desire to present a more holistic view of Shetland as a great place to live, not just a great place to visit for a week or a fortnight. You can come and live here and have a great career and life for yourself and for your family," says David Nicol, Manager, Promote Shetland.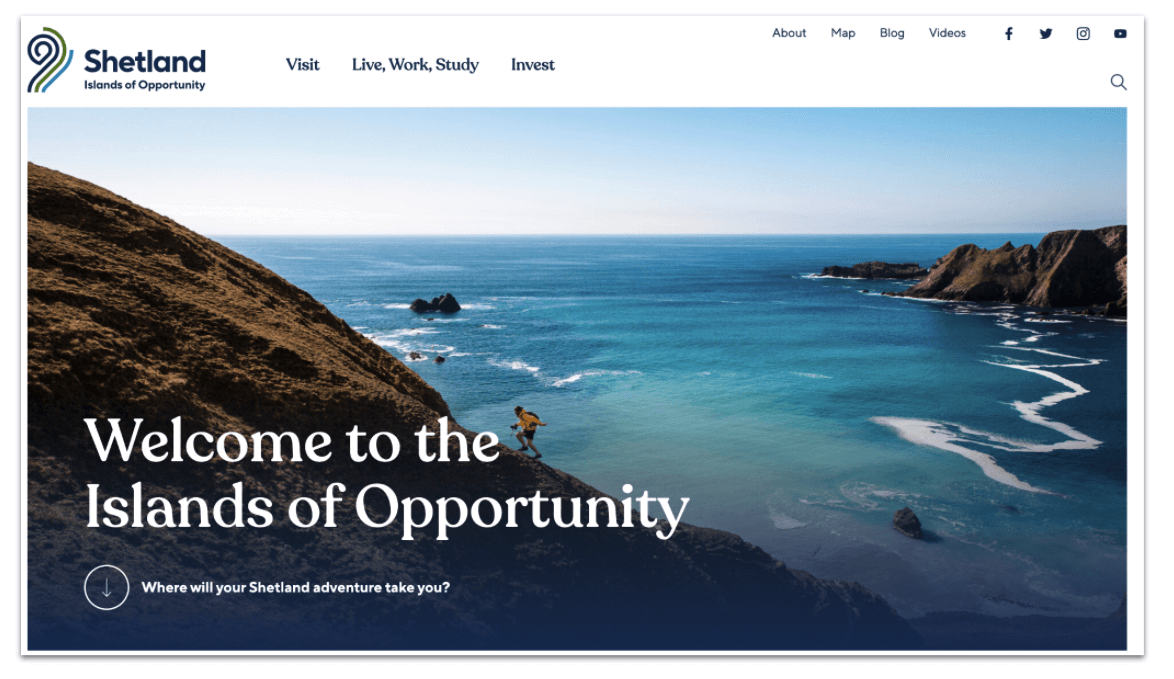 The new Shetland brand was created by NB Communication, where David Nicol is the Managing Director. NB delivers the Promote Shetland destination marketing service on behalf of the Shetland Islands Council, in addition to working with other clients from all over the UK.
The solution: a refreshed brand that embraces local content
Promote Shetland was already using CrowdRiff on their previous website to increase engagement and promote authentic experiences for visitors.
But during the rebranding process, CrowdRiff became even more crucial to source stunning new images for the website and their social media channels.
The travel restrictions in place in 2020 meant that many more locals were exploring and capturing their home islands, and as a result, there has been no shortage of captivating local views being shared on social media.
"It's a great advert for the Islands to have all these local residents effectively being ambassadors for Shetland and sharing great stories."
"CrowdRiff has been very useful to find content to share on the website, and keep our social channels fresh across all the different platforms."
"It has been a very productive tool for us. It has saved us a lot of time finding images that are relevant for what we're trying to say about Shetland."
They currently have over 100 Galleries across the new website that contains almost 4000 images. Along with CrowdRiff single embeds, these live everywhere from main webpages to inspirational blog content, displaying the work of local photographers and the unique draws of Shetland.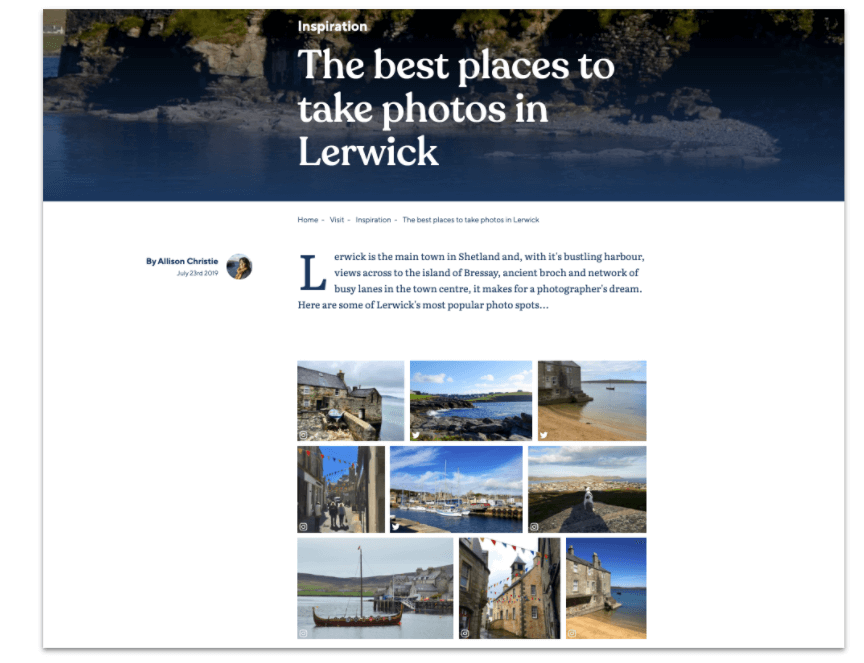 This emphasis on local user-generated content has also prompted them to use CrowdRiff as a tool to identify new, talented photographers to work with.
David says inspirational content, like these blog posts and social posts, has been getting impressive levels of engagement. And in general, the new site has a high time on site and low bounce rates. It's also received a ton of positive feedback.
"There's been a ton of powerful comments. People have been saying 'I can't wait to move there,' or 'that's the number one place on my bucket list'."
"CrowdRiff allows us to find a regular stream of good quality content"
Before CrowdRiff, the Promote Shetland team sought to build and manage a small stock library for their visual marketing needs. The challenge was that the photography dated quickly over time and became less and less usable. Even if they commissioned locals to take new shots, it was a time-consuming and clunky process.
David says CrowdRiff allows them to keep their marketing fresh, relevant, and active.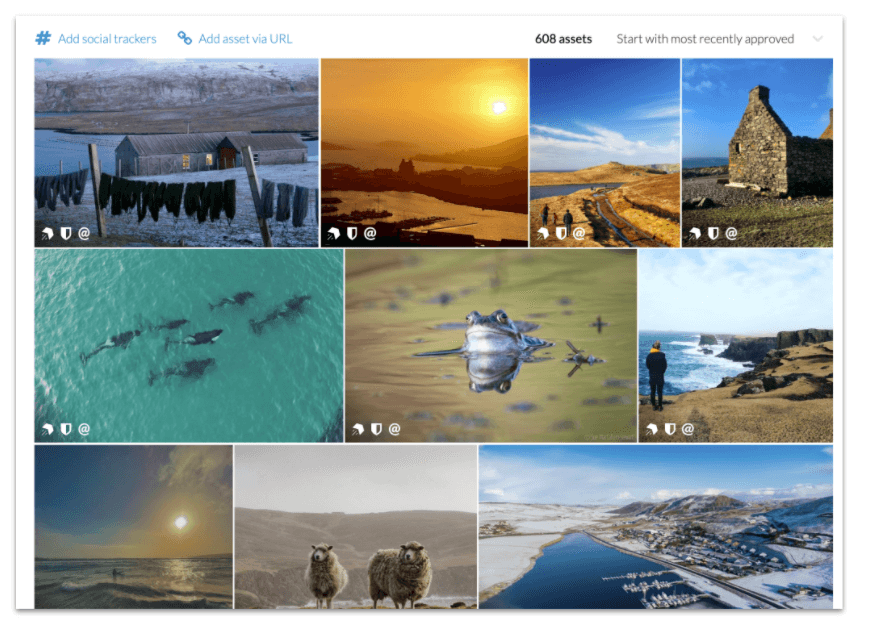 "CrowdRiff allows us to find a regular stream of good quality content that we can share across all of our channels. Without some kind of platform to aggregate that content together for us to find and share, we'd be doing less, and it would take more effort to try and source those images."
"We've seen an increase in quantity and quality all while having our time requirements reduced."
Planning content in an uncertain environment
Thinking about the rest of 2021, David says the biggest challenge they are facing right now is the continuing uncertainty about what the short-term and mid-term future looks like.
"When should we go live with our campaigns? When do we move from the current inspirational content and onto more action-focused content to tell people to come and visit us now, or book your holiday today, that kind of thing."
"We would love to encourage tourists to come back to the Shetland Islands as soon as it's safe to do so. But we're unsure, as everybody is, when that will actually be."
Until then, they will continue providing up to the minute guidance on travel restrictions, showcasing the breathtaking views of the islands, and keeping Shetland in people's minds.
Header image credit: @vitanskys
Want to learn more? Check out our webinar on Attracting Travelers with Savings Passports, Check-in Trails, and UGC!