Our attention spans are shorter than ever, so we'll cut to the chase: short-form video now ranks #1 for most engaging content types and has the highest ROI of any social media marketing strategy.
Marketers only have an average of eight seconds to hook customers in before they scroll away. So for destination marketing organizations (DMOs) that aren't already creating short-form videos on platforms like Instagram, TikTok, or YouTube, it's time to get in the saddle and start creating to see what resonates with your audience.
And did we mention? The pay-off for finding stories and hitting the record button could be huge – data from Wyzowl shows people share videos at twice the rate of other content which boosts the chances of your destination going viral!
But we get it: the thought of having to create tons of video, especially for small teams, likely sounds daunting and expensive. However, we love being the bearers of good news: you don't need fancy camera equipment to shoot and edit video and you also probably have partners that are ready and willing to help create this content on your behalf!
CrowdRiff's Community Growth Lead, Zoë Weldon, talked to social media powerhouse Beril Gutierrez at eTourism Summit 2022 in June during a session called "Harness Short-Form Video to Capture the Personality of Your Destination." to get the low down. Gutierrez is the director of social media and content at Discover the Palm Beaches.
As a social media expert, professional photographer, drone pilot, and travel influencer who currently manages accounts with more than two million followers, we thought Gutierrez was the perfect person to tell us about the latest trends in short-form video. She also shared what she's learned from exponentially growing the Palm Beaches' audience with snappy, attention-grabbing videos that are raising the bar for the industry.
Let's take a look at some of the top tips Gutierrez shared during the session:
Don't be afraid to work with niche or nano influencers for video
Discover the Palm Beaches worked with a certified scuba diver who had fewer than 10,000 Instagram followers and 200 TikTok followers – not exactly the kind of reach a marketing team would want to invest in.
But Gutierrez took the plunge and worked with the diver to create a video that ended up getting more than 12 million views and featured the Palm Beaches as a great destination with unique diving opportunities. It's an example of a video that the DMO wouldn't have been able to create themselves because no one on staff is a certified diver or has experience, so working with an expert diver that their audience would trust made sense.
There's also a difference between a content creator and an influencer, according to Gutierrez. When the team first worked with the scuba diver, he wasn't an influencer with a massive audience but he could create beautiful underwater videos that told the destination's story.
Some influencers may have hundreds of thousands of followers but may not be able to create quality content that helps tell the story you're trying to tell. Sometimes people are both, and it's ok to work with both creators and influencers depending on your team's needs.
Treat local creators as part of your team
The DMO creates roughly 40% of the content it shares on its social channels and the other 60% is user-generated content (UGC). The team puts a big focus on forming great relationships with local creators who are passionate about sharing the destination because these are the people who are creating the inspirational content that the DMO needs.
One creator the DMO works with created a video about Peanut Island, a man-made island that Gutierrez considers a hidden gem, that was buried in one of their Stories. They didn't think the video was good enough to post to their main feed, but they asked them for the video and they sent the high-resolution version that they shared.
Overnight, the Palm Beaches Instagram account gained 10,000 followers and their TikTok audience grew by 40,000 followers. The video has more than 1.6 million views on Instagram and about three million on TikTok. And it was also content that people couldn't get anywhere else because Peanut Island is relatively unknown and it showcased a new side to the destination.
"Some DMOs are not going to have that kind of growth in an entire year," said Gutierrez. "This is why you need to really establish great relationships with your top 15 local content creators…For example, we have a local content creator retreat coming up in August and we'll take them out to do paddleboarding and cruising."
"As much as I love creating content myself, UGC is always going to give any destination the authenticity you want," she said.
Instagram's changing algorithm makes close creator relationships even more important
Instagram's algorithm is now prioritizing that content creators themselves get the original views on a post. For instance, if a creator shares a video and then a DMO reshares it to their feed, the algorithm will consider that a featured post that the DMO didn't actually create.
Discover the Palm Beaches now includes in its contracts with creators that they must wait for the DMO to publish the content before they're able to share it on their own accounts.
The same video won't work for every social platform
The first few seconds of a video have to hook you in or viewers don't finish watching and quickly scroll away. This is true regardless of the platform, but every platform is nuanced.
Each social platform has algorithms operating in a different way. "TikTok is very much a soundtrack-based platform, so if your sound is perfectly in line with the video that you're showing, it is going to be successful," said Gutierrez. "Instagram is a bit more serious on that end. It's not as much about the fun and friendly vibes as TikTok is, so you've got to be a bit more serious and Facebook is even more so."
Gutierrez notes that it was a comment from a TikTok follower that gave her a wake-up call. "[The follower said] 'your videos are too short on TikTok,'" she said. "So I said, 'well, the longer versions are on Instagram because that's where we post the longer versions.' And the follower responded, 'I don't have an Instagram account.' That's when I realized that our audience is completely different by platform. The ones that are on Instagram aren't on TikTok."
"Instagram people want to see a whole lot more of what you're actually offering," she said. "They want to know the prices, the dates, all those details. TikTok people, they just want to know, wow, this is great, let's go. They start tagging each other. They say to their friends, 'when are we going?'"
YouTube Shorts is "extremely underrated"
YouTube is a legacy video platform and its newest feature, YouTube Shorts, is tapping into the high demand for snackable video and shouldn't be overlooked by DMOs.
Launched in 2021, YouTube Shorts videos are limited to one minute in length and are presented as vertical video, ideal for mobile.
Gutierrez knows the value of being first to jump on a feature trend, so Discover the Palm Beaches is now including YouTube in its video strategy. One-minute videos are created for its YouTube channel and then edited for other platforms. The video will be one minute for Instagram and 30 seconds for TikTok and 15 seconds for YouTube Shorts with music overlaid.
And as the world's second largest search engine (after Google), having short-form video available on YouTube makes your destination significantly more discoverable to travelers searching for trip information.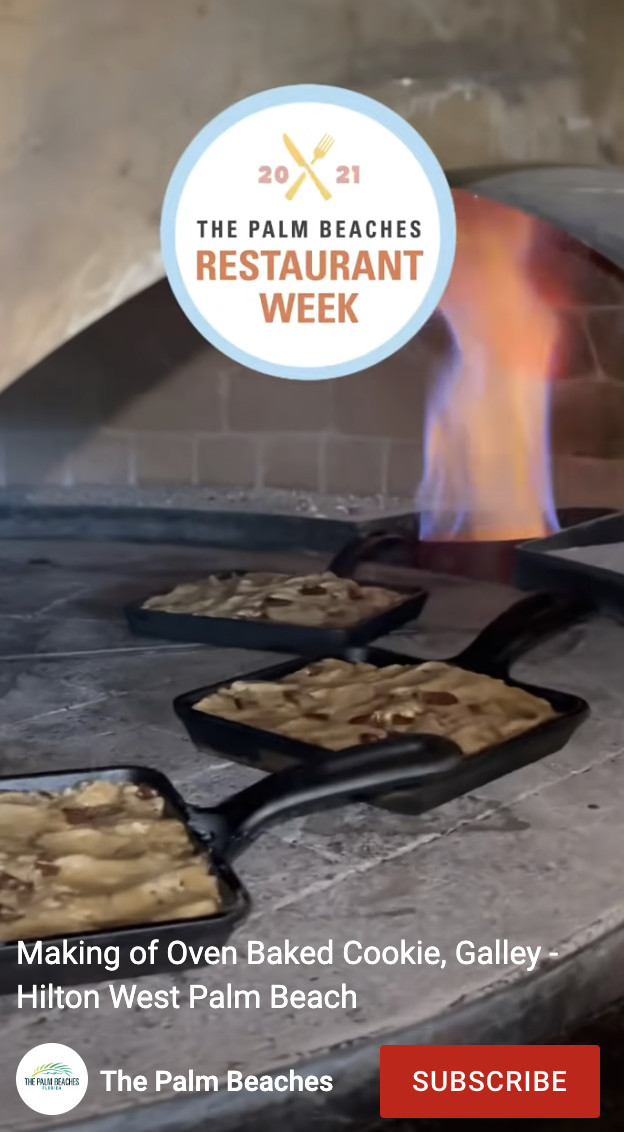 Making video more authentic: no professional gear required
As a professional photographer, Gutierrez feels the most powerful cameras available are on the smartphones in our pockets.
She said most creators she knows use their phones to take photos and videos and edit directly on the TikTok or Instagram apps, and many also use InShot or iMovie.
For interviews, Gutierrez uses a tripod, Rode microphone system, and recommends a DJI OM5 gimbal for stabilizing your smartphone.
"So much content on social is so perfect, but people no longer can relate to that, right?," said Gutierrez. "They want to know what's real. And [short-form videos] gave us that option. Videos are not so curated. People are not editing a lot. So it's a bit more real colors, a bit more the raw person that you're seeing in the videos. So I love that it doesn't have to be too curated… you just need to share, share, share."
Discover the Palm Beaches also regularly hosts workshops with its partners to teach them how to create video using the devices they already have. Partners learn how to frame photos, how to get certain video shots, and how to tap into current social media trends to put their own spin on them.
Older generations are gravitating to TikTok
TikTok is no longer a playground exclusively for Gen Z and millennials as older audiences. While the vast majority of TikTok's audience is still younger than 44, more than 11% (more than 109 million people) are 45 or older.
Discover the Palm Beaches currently isn't spending any budget on TikTok because it knows the average age of visitors to the destination is 55+. All TikTok content so far has been organic, but Gutierrez knows that will change.
"What's interesting about TikTok is that views literally skyrocket all of a sudden because the algorithm knows that the more people who share it, the more they open it to other people for them to see the video," she said. "And with the Peanut Island video we've learned that the shelf life of a video is so much longer than any other platform. It's been almost 10 months since we published this video and it's still getting views and likes."
Final words: short-form videos are easy to create
We've already established that short videos don't require expensive equipment or large budgets to make an impression on your audience. And it's now easier than ever before to create these videos with platforms like CrowdRiff Creators, formerly known as Localhood.
Google is increasingly investing in visual content through its Web Stories because it knows more people are spending time on platforms like Instagram and TikTok for news and information, which is Google's bread and butter.
That's why CrowdRiff created CrowdRiff Studio, a short-form video editor for every channel, allowing you to create Web Stories with ease. These short-form visual stories live on the open web and have unique travel features like Google map integration and can be repurposed for social platforms. The best part? They take less than a half hour to create on average and don't have any complicated coding.
Interested in how CrowdRiff can bring your short-form video library up to speed?
Get in touch with our team to see what we can do for your destination!
Learn more