This is a gated content, please fill out the form below to view this content.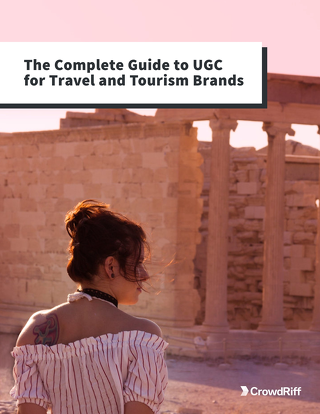 Read this eBook to learn:
What is UGC?
Why should travel and tourism brands use UGC?
Ways to use UGC
Getting rights to images and videos
Best practices for getting photo rights
How CrowdRiff manages UGC rights
Travel is such a visual experience. When we visit a new destination, stay at a new resort, or experience a new attraction, we take photos to preserve our memories.
We then want to share those experiences with our friends and families through the visuals we capture. That might be why today, more than ever, travelers are sharing photos and videos of their travel experiences across social media networks.
Today, user-generated visuals like these have more influence over a traveler's decisions than any other content type. That's why we built CrowdRiff: to help travel brands, resorts and hotels, attractions, airlines, and other travel brands discover the best visuals, and deliver them throughout their marketing to inspire and attract more visitors.
In this eBook, we share tips on how your brand can put user-generated content (UGC) to work as part of a successful marketing strategy. We also offer examples from leading brands and practical advice on acquiring the rights to UGC. We're proud to say that many of the inspiring images in this eBook are UGC; they're sourced from social media, and rights-approved through CrowdRiff.
We hope this resource gives you a better understanding of what CrowdRiff does, and the value we can bring to your brand. Enjoy!