When Michelle McAleese is in a time-crunch, she knows she can rely on CrowdRiff.
"We know we have access to all the user-generated content we've already asked for approval for. Having that content on hand has been crucial as we move through different phases and all of our marketing efforts."
Michelle, Social Media and Content Marketing Specialist, Tourism Kamloops, says CrowdRiff started as a way to share UGC on its social channels but quickly evolved into so much more. Now, Tourism Kamloops leverages CrowdRiff to:
Create themed, UGC-powered Galleries on different blogs (they have 300+ across the site!)
Source content for website header images
Support its partners by sharing content via CrowdRiff's Media Hub
Create and share travel stories content to drive traffic to partners and promote the destination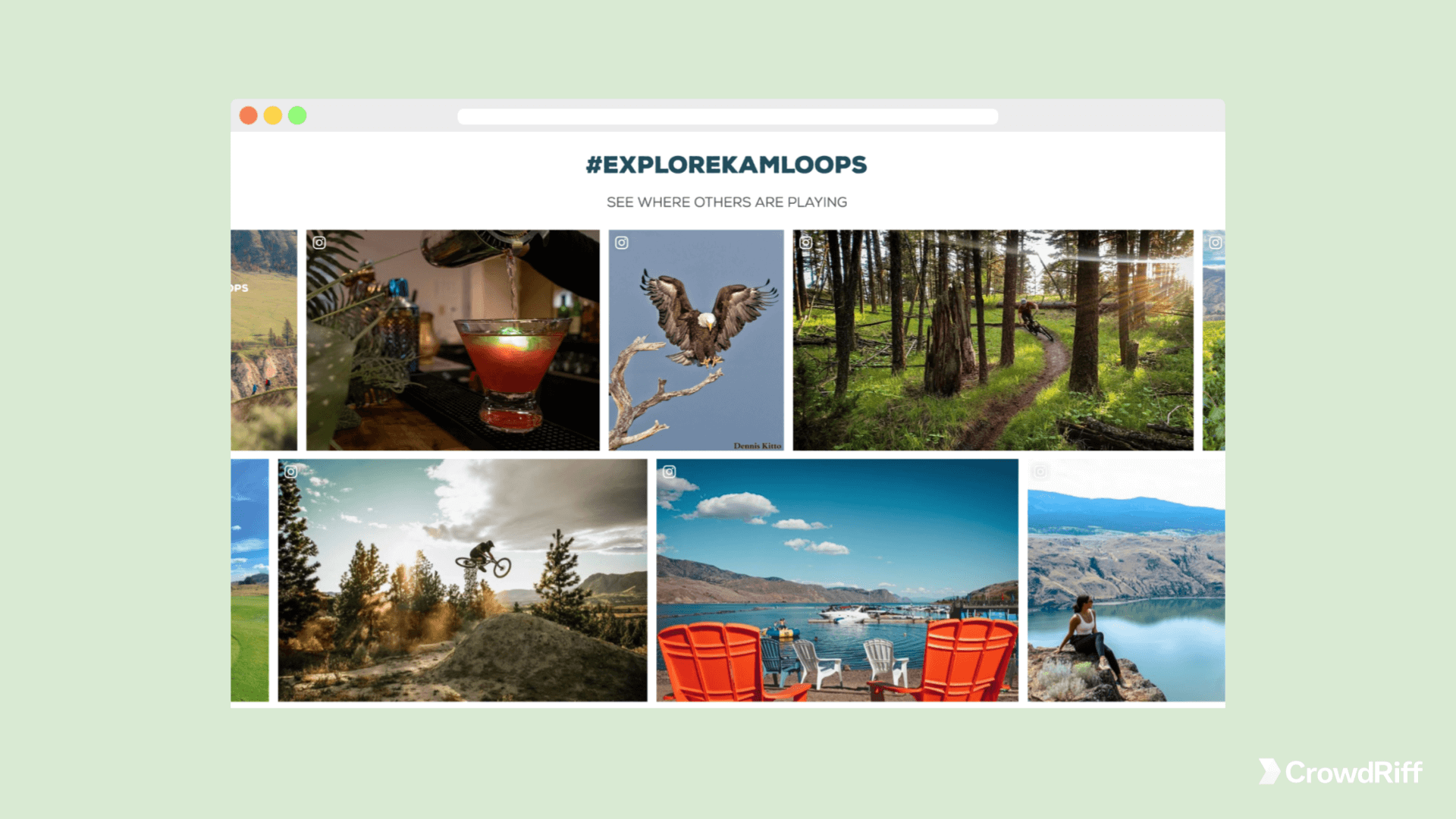 Repurposing story content to drive bookings
With its high season coming, Tourism Kamloops wanted to elevate the message that its golf courses were reopening. Michelle came up with the clever idea for its partner, Golf Kamloops, to create an Instagram Story about it.
She used CrowdRiff's Connect feature to pull the Instagram Story content directly into a Gallery that she embedded at the top of the golf page.
She added calls to action to each of the stories that linked directly to the specific course on the Golf Kamloops website so people could easily book a T-time or golf package.
"This really helped us provide that referral and direct link to a partner site as well as creating that local experience for a local or visitor."
Since launching the Gallery, they've had a 109% engagement rate, 521 interactions, and 479 views.
Within the same time period, the Galleries at the top and bottom of the page received a 40% engagement rate. Unlike the Golf-themed gallery, Michelle notes the purpose of these Galleries is to drive awareness, not traffic or bookings.
Working with Golf Kamloops to create the stories
Golf Kamloops is part of Tourism Kamloops, as it belongs to a British Columbia marketing consortium for participating golf courses.
Michelle worked with her colleague to create the content for the stories. Her colleague was instantly excited by the idea. "She loved it. She felt it created a unique opportunity to amplify her content to our larger audience as well."
They worked together to create the Gallery to "make sure that the funnel was really cohesive and usable for anyone on our site."
"This really amplifies that message and allowed us to even put it into one of Golf Kamloops' blogs, so we could use the story content across multiple avenues."
In the coming months, as Tourism Kamloops works toward recovery and supporting its partners, Michelle wants to use Connect even more. "I want to see if we can share other partners' Instagram Stories and create Galleries on different pages or blog posts that direct referrals to their site."
"CrowdRiff has been a game-changer"
Like many destination marketers, Michelle is constantly trying to meet content demands across various channels. Making sure content across their social media and website is constantly fresh and seasonally appropriate is a challenge, especially with limited time and resources.
"CrowdRiff has been a game-changer for my role. It has made it a thousand times easier to source exciting, new third-party content that captures the stories from our locals and visitors."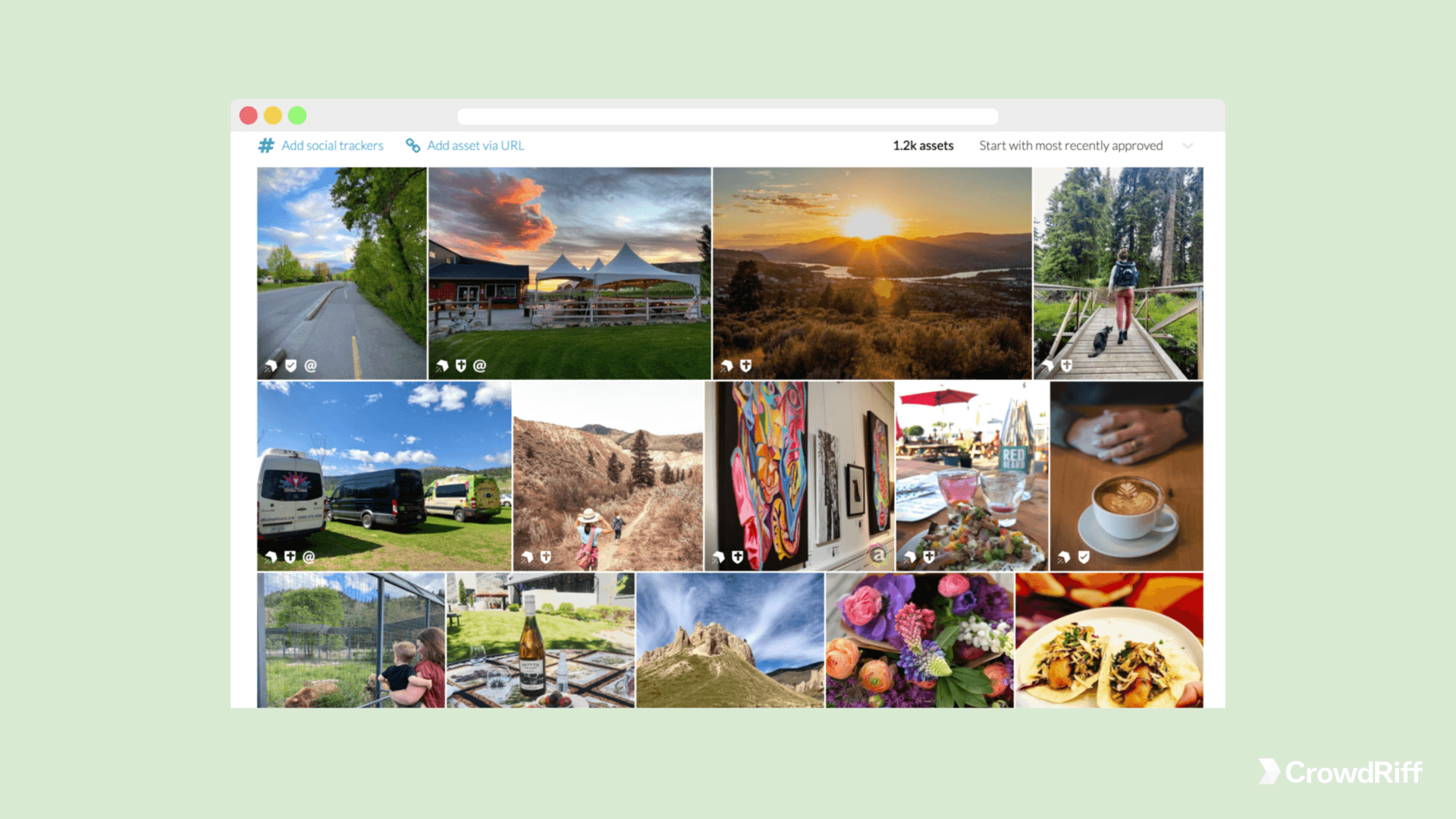 "It also allows us to easily source content from our partners by pulling their posts and stories directly into the platform."
Not only does Michelle use the content across Tourism Kamloops' website and social media channels, but she also uses them in print materials through CrowdRiff's Advanced Rights Management.
The digital asset management component of CrowdRiff has helped her stay organized. "Housing key pieces of information on each image and photo credit usage rights have been a huge help."
Saving time and keeping content fresh with CrowdRiff
Michelle says the visuals they find on CrowdRiff have really elevated their content.
"It would take a lot more time to try and source that content through Instagram. Without CrowdRiff, we'd be heavily reliant on a lot of the photos or videos that we purchase."
CrowdRiff plays a big role in helping keep their content fresh, too. They can easily swap out images in web Galleries and source new, more relevant visuals as tourism continues to reopen and recover.
"We really like to tell our story through third-party authentic locals' experiences. Our vision for tourism is to have folks experience Kamloops like a local. Without CrowdRiff, it would be quite challenging to share that story."