Nestled among the Great Smoky Mountains, Jackson County in North Carolina is at the ideal intersection of incredible natural landscapes, plus easy access to lively downtowns — the perfect balance of town and country.
Tourism plays an important role in the region's local economy: A recent annual travel impact study notes that the county, which comprises the communities of Sylva, Cullowhee, Dillsboro, Webster, and Cashiers, sees $494 million in visitor spend, which translates to $800,000 a day for local businesses.
"We take a lot of pride in what we do," says Caleb Sullivan, Sales and Marketing Manager for the Jackson County Tourism Development Authority. "It's not just about seeing the success of our campaigns; it's seeing them change lives."
To attract high-spending visitors near and far, from Raleigh and Charlotte, North Carolina, to as far as Atlanta, the Jackson County Tourism Development Authority has invested heavily in its social media strategy over the last few years.
Sullivan says, "Social media marketing is our No. 1 source of driving traffic to our website. It outperforms Google in terms of cost-per-click and outperforms every ad buy that we have by a wide margin." This year, the tourism authority increased its monthly budget for social media marketing by nearly 30 percent, up to approximately $10,000 a month, primarily because it's so vital to driving visitors to the destination marketing organization's (DMO's) website.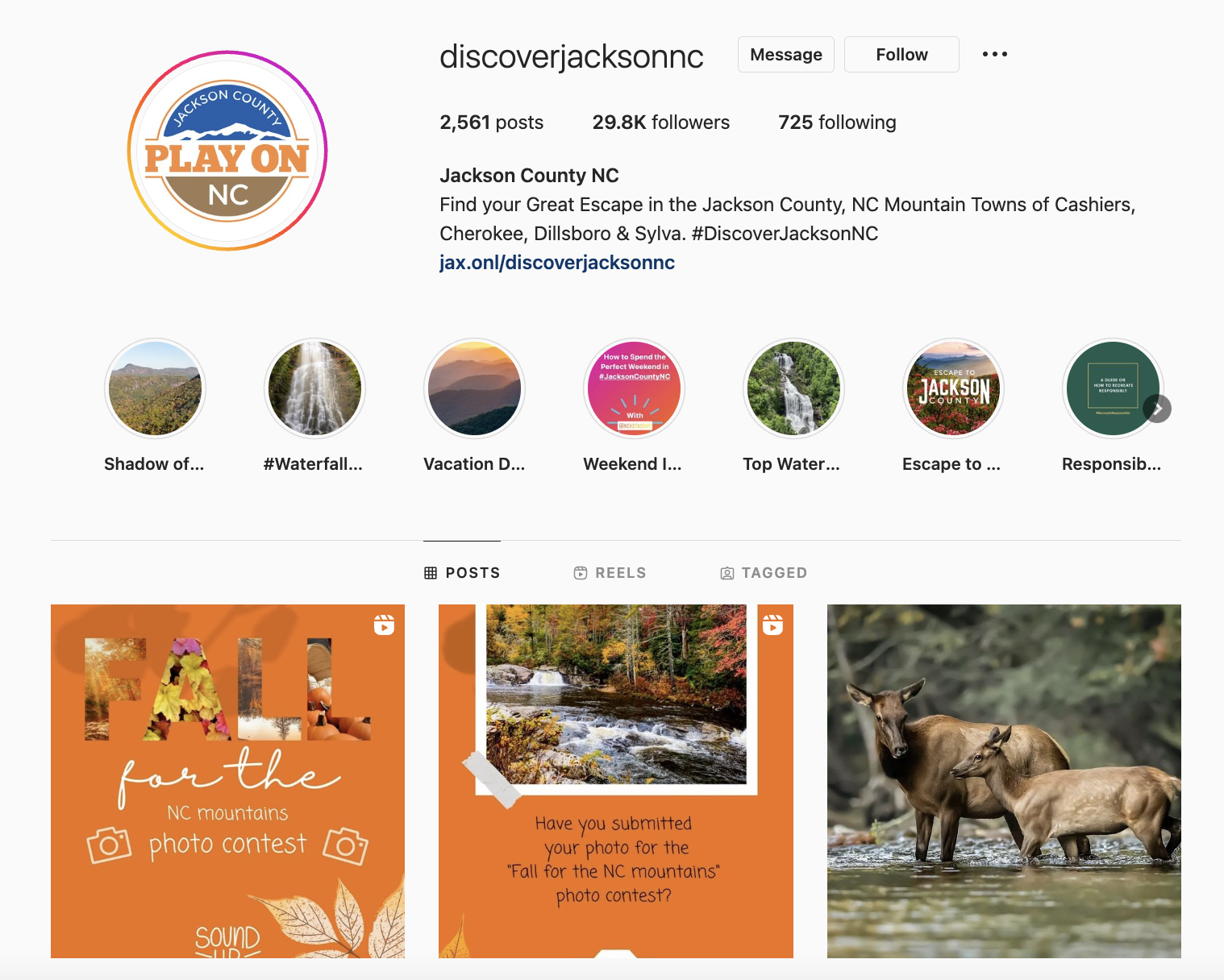 Because social media marketing is so vital for Jackson County tourism, it's equally important that the content being posted is of the best quality, which is how user-generated content (UGC) has become so invaluable in terms of marketing the destination.
CrowdRiff, Sullivan says, played a crucial and pivotal role in sourcing exceptional, high-quality content for the DMO's social media marketing strategy, which in turn helped drive more visitors to its website.
"For me, CrowdRiff has always been my one-stop-shop for high-quality UGC," says Sullivan. "It allows me to source images all over the county without leaving my desk. It's like having a bunch of photographers that you've sent all over the place and then you bring that in, get rights, give them credit, and they love it. It's made it a lot easier for me to create consistent high quality content, and identify the key photographers we use a lot of times. And it's a lot easier than scrolling Instagram."
One area, in particular, where CrowdRiff has made it easier for Jackson County Tourism Development Authority to utilize UGC is when it comes to photo rights. Before using CrowdRiff, Sullivan would have to spend lots of time finding images, writing out individual rights request messages, and tracking responses. With the CrowdRiff Platform, they can find more visual assets faster and use the rights app to streamline the rights request and tracking process.
Jackson County posts a range of different content on its social media platforms, but Sullivan says the DMO has seen a lot of success in posts related to accessible travel and to sustainable travel, something that UGC is helping to drive. A recent campaign about accessible travel was the second largest driver of direct traffic to the destination, he says.

CrowdRiff's automatic Gallery uploads for Instagram have also saved the team lots of time and effort, Sullivan adds. "Our homepage feature Gallery is largely from our Instagram page," says Sullivan, "It's just beautiful content, and one of my favorite ways to utilize UGC."
Social media continues to evolve, especially with the growth and popularity of short-form video content such as Instagram Reels and TikTok. Reels, for example, have become Instagram's fastest-growing feature worldwide, surpassing Instagram Stories in search interest. Social media management software company HootSuite also saw that Instagram boasts a 1.5 percent boost in engagement rate for video posts. TikTok, which primarily consists of short-form video content, is one of the top 20 most-visited websites in the entire world.
Going forward, Sullivan says he wants to use UGC more often to create Instagram Reels which can also be embedded into the DMO's blog, and to create short-form videos for platforms like TikTok, which are seeing increased popularity.
Coming up, Jackson County is embarking on its annual Secret Season campaign for the holidays, meant to offset the slower tourism season which relies heavily on social media marketing. "We've seen steady growth and occupancy year over year because of it … we're actually seeing the fruits of that labor."