As restrictions shift across state and city borders, DMOs are taking different approaches to engaging their audiences online.
Some, like Santa Monica Travel & Tourism, are targeting new markets, like people coming into LA for the day. Others, like Visit Fort Worth, are tapping into less-known angles to promote their city to road trippers.
How have DMOs pivoted to market to locals and (when restrictions allow) travelers? What role does user-generated content play? Scroll through the following examples, which we surfaced from our customers, to find out.
Engaging local audiences
Examples of DMOs engaging local audiences around their own communities, cities, and within the state.
Santa Monica Shines targets LA day-trippers
Santa Monica Travel & Tourism just launched its "Santa Monica Shines" campaign. The campaign highlights all the great outdoor things to do in Santa Monica and how to travel there responsibly. The bottom of the landing page features a CrowdRiff-powered UGC gallery highlighting people wearing masks and local businesses.

On the page, there is also a trip planner. The trip planner helps target their new market, LA day-trippers. Once through the questions, it takes users to a revamped partner listings portal.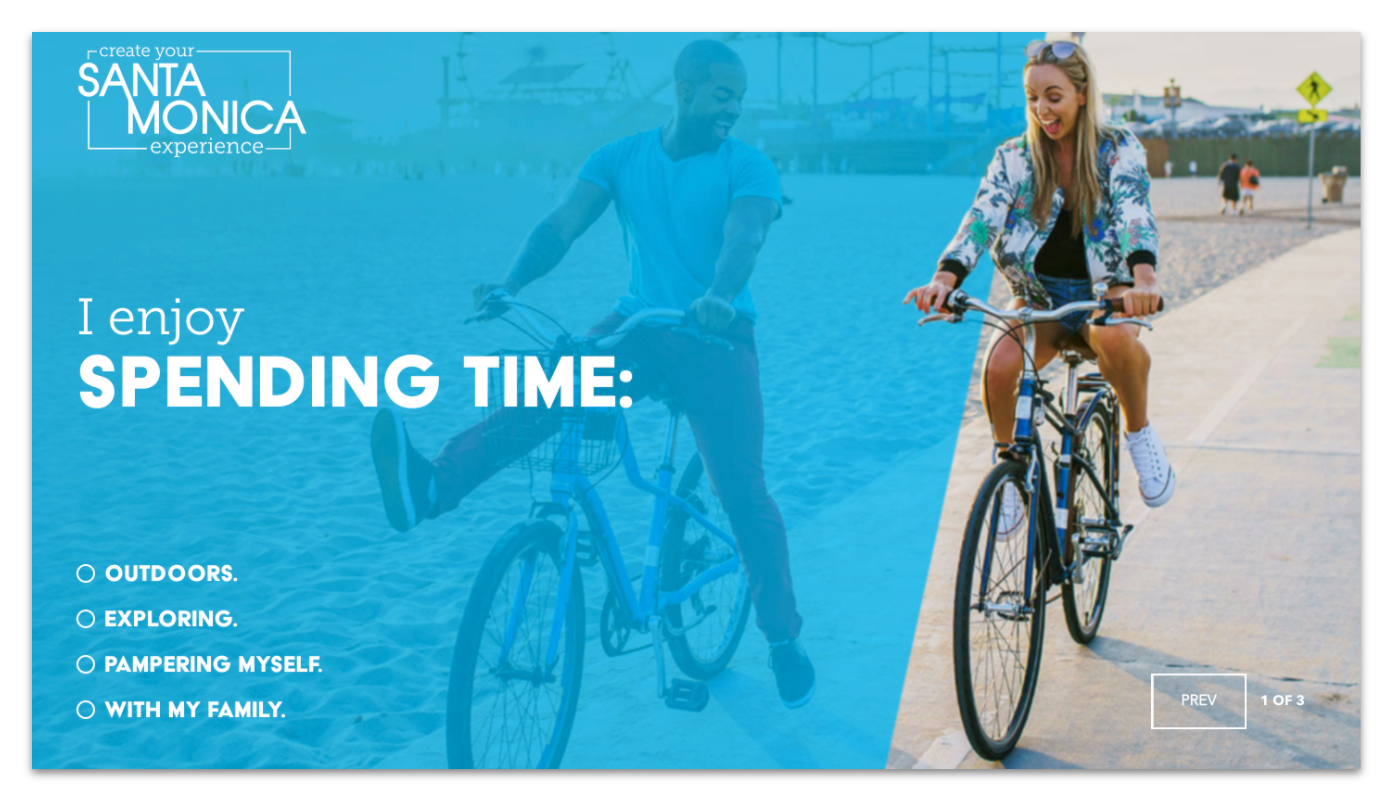 Key takeaways: Having a great single-source page of information can make it easier for people to find the information they're looking for. As DMOs continue to target local audiences, clearly showing safety procedures and the unique offerings of each neighborhood with UGC is essential.
Fort Worth CVB is highlighting less-known things to in the area
The team launched a Murals Page last week, showing off over 200 murals around the city, something Fort Worth isn't typically known for. The murals are broken down by district. When users click on a district, they can view all the murals shown through CrowdRiff single embeds.
They're focused on road trips and niche things people can do when driving through Fort Worth. The team also plans to write a blog post about the murals, and create other content assets that link back to the evergreen page.
Key takeaways: Think about how you can highlight less-known (and socially-distant approved!) reasons to visit your destination, like street art or unique outdoor spaces.
Explore Georgia is encouraging locals to explore their own backyards
The state DMO is advocating for locals to explore their own backyards with the campaign, "Escape isn't worlds away. It's in your backyard."
Messaging on the page encourages locals to explore new parts of the state, such as the Georgia Coast, the mountains, the 60+ state parks, and the small towns of Georgia. They use a rights-approved UGC image for the header image that they sourced through CrowdRiff.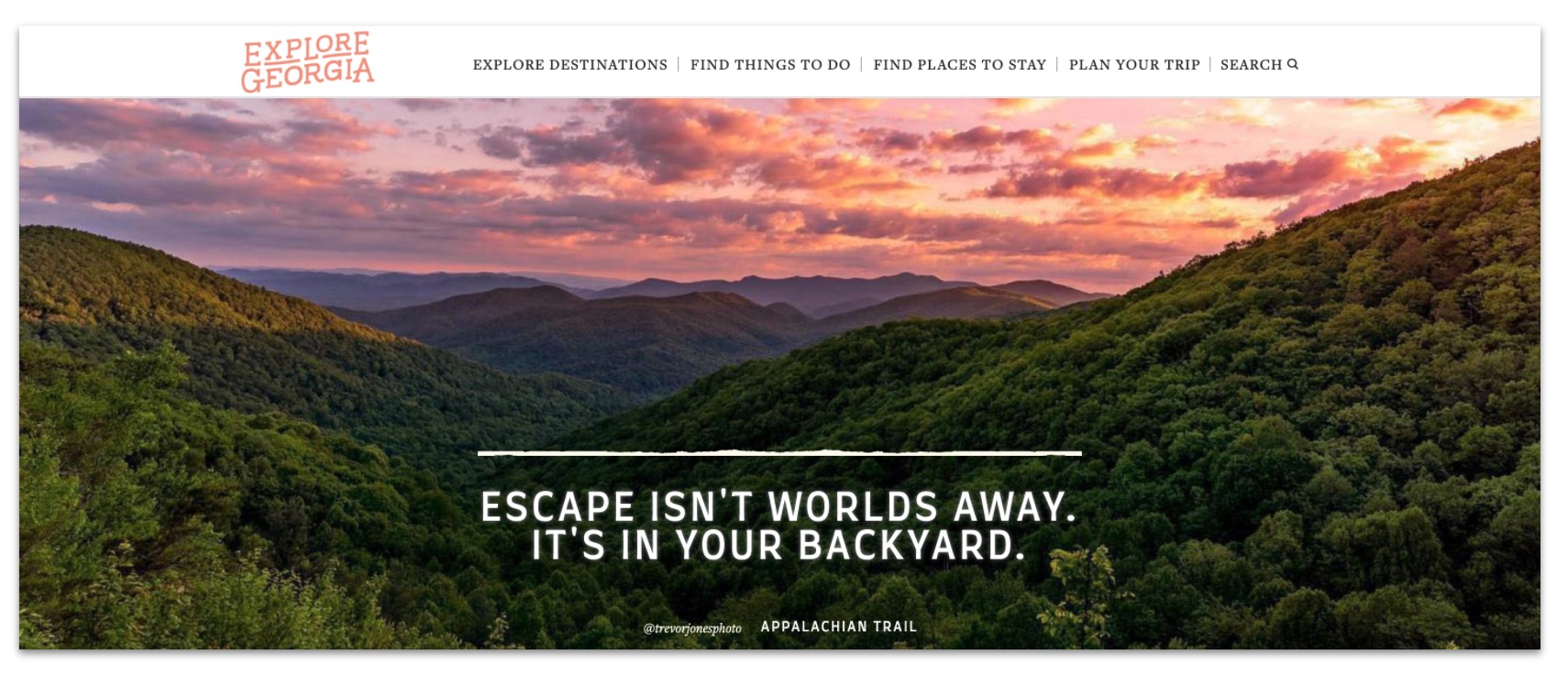 Key takeaway: As restrictions continue to shift, finding creative ways to promote experiences to locals is crucial right now. Use UGC to show areas locals might be familiar with in a new light, reinforce health and safety restrictions, or open their eyes to new places to discover.
Travel Wisconsin is promoting Black-owned businesses using UGC galleries
Wisconsin has thousands of Black-owned businesses. Travel Wisconsin made a guide to highlight all the food, drink, entertainment, and shopping options on a page with UGC galleries powered by CrowdRiff.
The guide includes photos of well-established and emerging Black-owned businesses from across the state and is divided by area. They include an editor's note urging people to contact each business for up-to-date details.
They're also running paid search campaigns targeting people within the state. The campaigns link out to a variety of articles with CrowdRiff galleries (they have 200+ across the site!).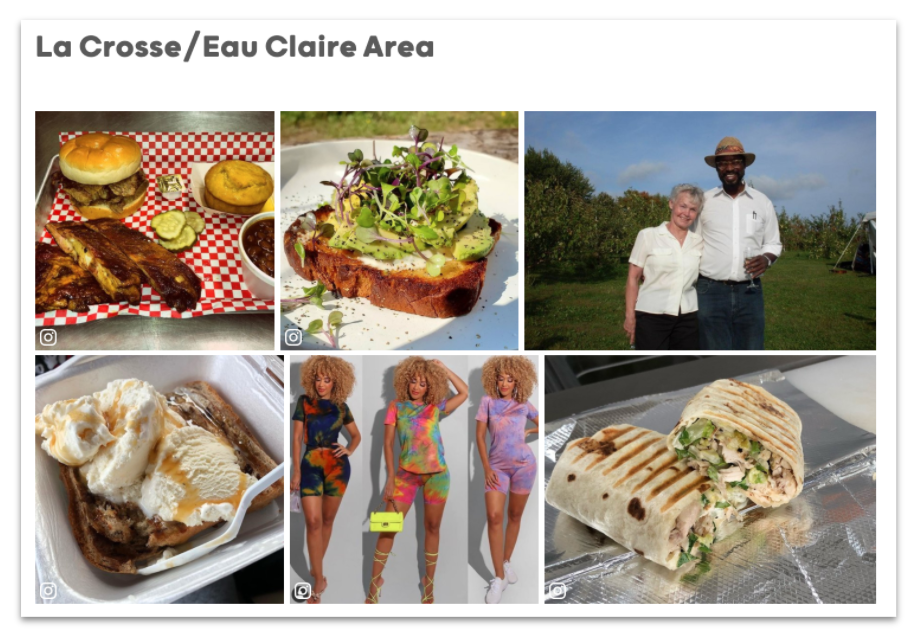 Key takeaway: If you don't already, create a page or guide highlighting all the Black-owned businesses in your area/state. Use UGC to show what products/services they offer, and what these businesses are doing to keep people safe right now.
Manistee County Visitors Bureau is appealing to locals with its fall color guide
The DMO recently published its second annual Fall Color Guide, helping show locals the beauty of Northern Michigan in the fall.
The guide is filled with stunning UGC images, including the cover. The landing page also covers things to do, featuring CrowdRiff-powered UGC galleries with calls to action (CTAs) to local tourism partners. They're using social ads to drive interest to the guide.
The team is hoping to do a similar project for its Winter Trail Guide.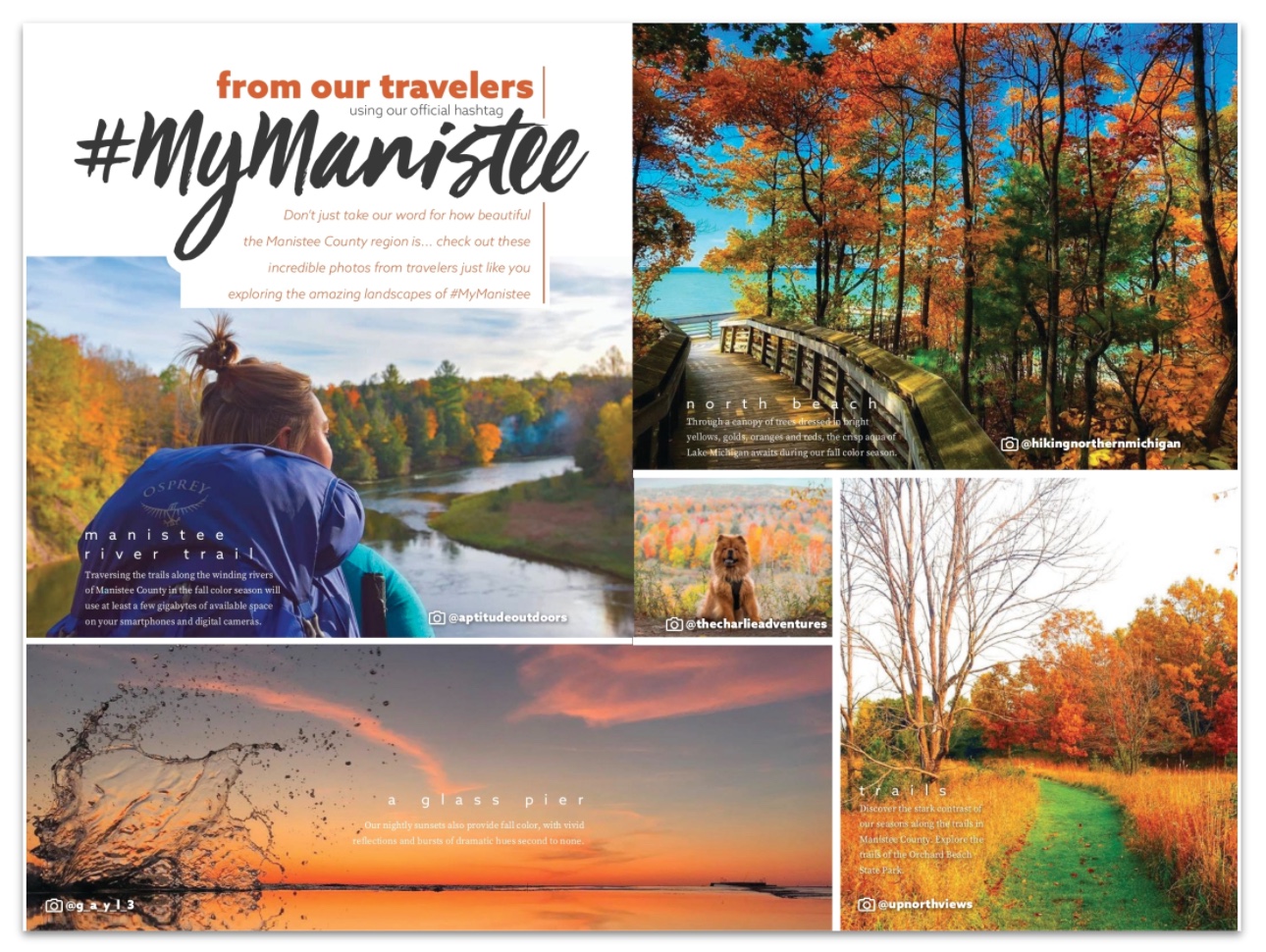 Key takeaway: With autumn just around the corner, focus on promoting outdoor activities to audiences that meet the travel restrictions outlined by your state and/or county.
Visit Greenville is running a virtual A-Z food tour
The webpage features a food-related local business for every letter of the alphabet.
Each letter includes an Instagram embed of the location featured on @VisitGreenvilleSC's Instagram page. The majority of the images on social were sourced and rights-approved through CrowdRiff. Many of the businesses highlighted also feature testimonials from people who have visited the restaurants, providing an extra layer of social proof.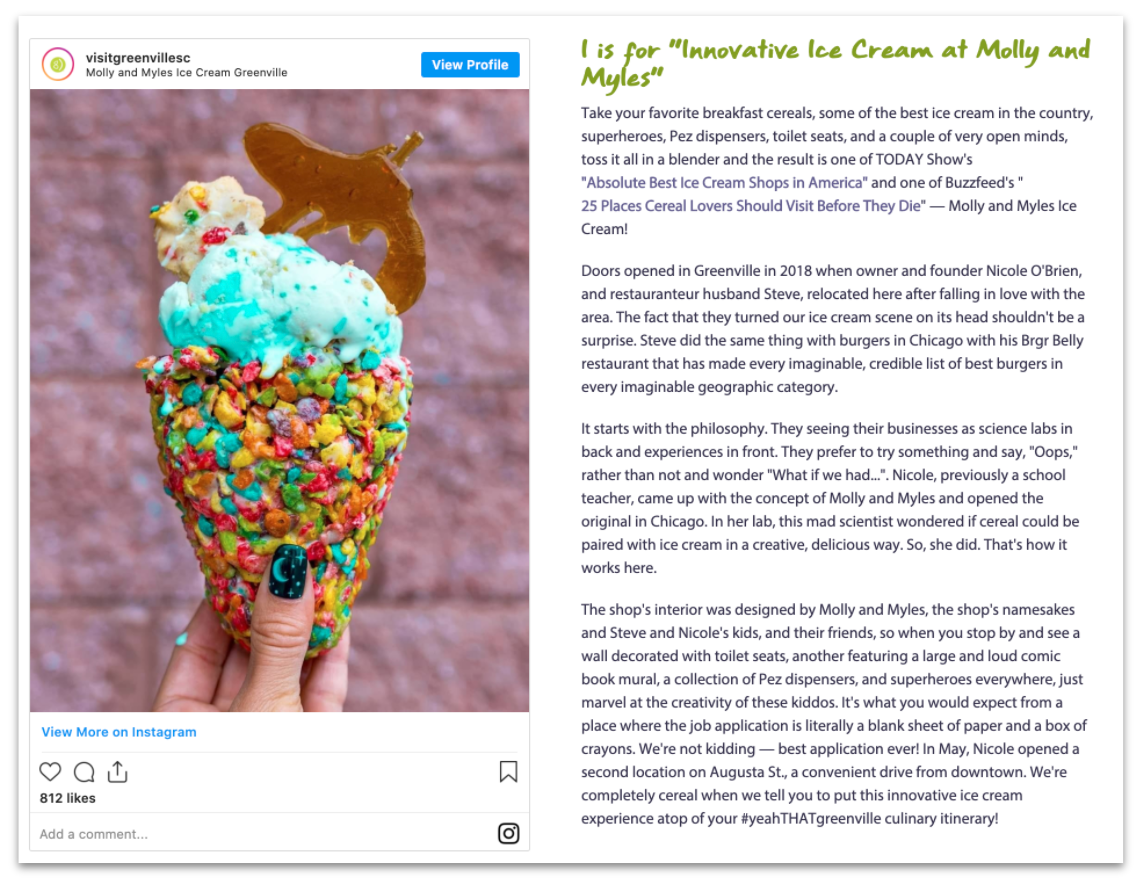 Key takeaway: Many teams are operating with reduced budgets. Campaigns like this, which repurpose UGC across multiple channels, are a win-win. You get to extend the reach of your rights-approved content, and your local partners get double the promotion (and you save valuable hours).
Engaging travelers
Examples of DMOs engaging audiences outside of their country or state.
Visit Turku's interactive map now includes local businesses
Visit Turku, the DMO for a city in Finland, has an interactive map on the website that plots points of interest and shows CrowdRiff-powered UGC for each point. They've recently made updates to the map (beyond just showing landmarks) so it's their main business directory.
The plots on the map all have an icon to list what type of business they are. Everything from spas, to bars to event venues are included. Users can toggle the icons on and off.
Each business has a product card with a short blurb about it, links to the website and social media accounts, location information/operating hours, and the most recent UGC people have posted about that business.
Finland is open to select European countries, so this guide helps travelers easily find what they're looking for.
Local businesses pay a nominal fee to be featured in these listings. Over 500 local businesses have opted in so far.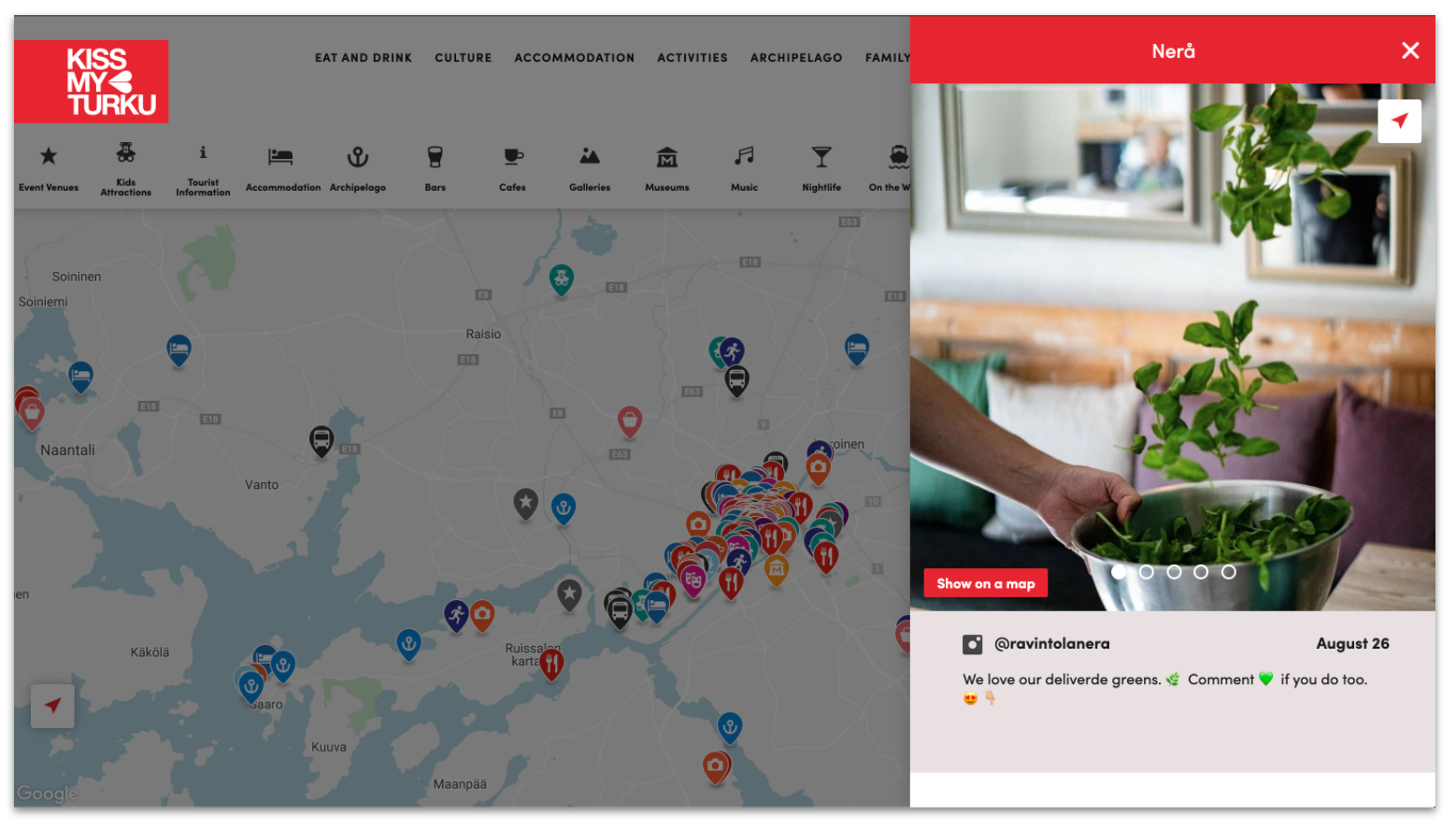 Key takeaways: Find new interactive ways to spotlight your partners. This could be something as simple as an Airtable highlighting who has open patios right now (for teams with fewer resources), or an interactive map leveraging the CrowdRiff API.
Arkansas Tourism is ready for travel
Arkansas Tourism is starting to promote their "Arkansas ready for travel" campaign. On the page, they make it clear that the state is open to travelers and ready to welcome them. However, they also provide information that masks are mandatory in public spaces. Additionally, they link to all the major cities' COVID-19 update pages.
On Instagram, they're also sharing links to information like their outdoor ethics via Stories to ensure people travel there responsibly.
Key takeaway: Even if you're open for travel, setting clear expectations is critical to keep everyone safe. Like Tourism Arkansas, clearly outline how each community and business is putting people's health and safety first, and remind travelers to do the same across your marketing channels.