Just as the contract on Experience Scottsdale's digital asset management (DAM) tool neared its expiration date, Director of Creative Services JoAnne Zeterberg happened to stumble across an alternative that immediately caught her attention.
At a conference last summer Zeterberg found herself at the CrowdRiff booth, learning about the visual marketing platform's DAM functionalities.
"When I came back to the office it turns out our online marketing manager was already aware of CrowdRiff, so there had been some internal conversations about it already that I just hadn't been part of," she said.
Choosing CrowdRiff's all-in-one solution over their traditional digital asset management system
While the destination marketing organization's existing DAM was able to house their digital assets Zeterberg says CrowdRiff stood out for its ability to incorporate user-generated content as well.
"To be able to reach out to social media users and pull in some of those assets to showcase on our website, and reach out to them directly for permission to use their photos and other materials, that was one of the main attractions to switching over to CrowdRiff," she said. "That was very enticing, being able to house everything in one place."
CrowdRiff advantages included a more robust search, better usability, and managing UGC and owned assets into one platform
Zeterberg explains that it's not simply about having to use one less application to manage her digital assets, though that does provide a level of convenience. She also appreciates the added functionality and usability that CrowdRiff offered.
"The CrowdRiff platform's search functionality is a lot more robust, and that makes it a lot easier for our users to get to the photos and the digital content that they want," she said.
"Being able to search multiple keywords, search within saved searches, those sorts of things make it so much easier for our clients to get to the assets they need to help us tell our story."
Having both user-generated and owned assets in one application also streamlines the process for organizing, maintaining and utilizing assets, said Zeterberg.
"If I have a graphic designer who is looking for an image for a story in our visitor guide, she can look both at the UGC and digital assets we own in one spot to see what's available, and if she needs to reach out to a user to ask permission or get in contact, it's just so handy to have it all together in one platform," she said.
Improved collaboration with journalists, meeting planners, tour operators and DMO staff
Zeterberg, who personally oversees all copywriting for Experience Scottsdale, explains that different members of the organization have found different advantages to CrowdRiff, since officially making the switch from their DAM this past March.
"My team and I use CrowdRiff for [managing the] photography for all of our visitor guides, our brochures, our collateral pieces, as well as our own website; it's the main repository for all the photos we use in our marketing campaigns," she said.
"On the marketing team we have a social media director who uses the UGC side of the platform more, so she's always looking out for great Instagram posts and social media content to drop into galleries on our website."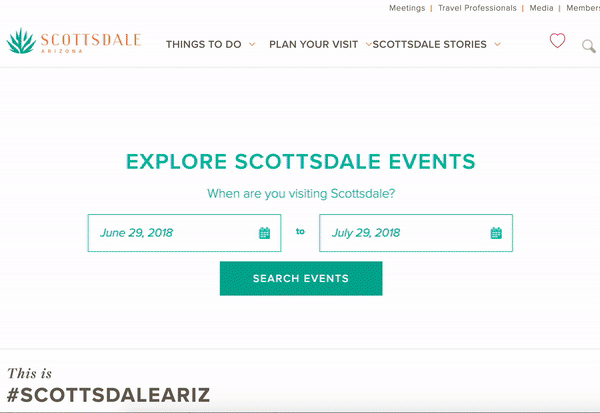 Zeterberg adds that having user-generated content featured prominently throughout Experience Scottsdale's website as well as its other digital and print marketing materials helps prospective visitors imagine themselves in the destination.
When it comes to sharing those assets externally, Zeterberg says the DMO is now able to more easily provide content to event and meeting organizers looking to showcase its resorts and conference centers, or journalists looking for content to include in a story. "Journalists, meeting planners, tour operators and the internal staff here at Experience Scottsdale are the four main groups using the owned asset side of the platform," she said.
Choosing a team that goes the extra mile
What Zeterberg appreciates most about her new visual marketing platform, however, isn't about the product itself, but the people.
"The team at CrowdRiff has been a true partner in this process since we started this transition. They are nimble, responsive — every time we've come to them with a question or a challenge, it's answered quickly," she said.
"A lot of our suggestions have been worked into the new product offerings, and we truly appreciate that flexibility and that partnership and the responsiveness that the team has offered."
As an example, Zeterberg says the Experience Scottsdale team was eager to utilize a feature that was in production, Media Hub (which is now live!), even though the feature had not yet been officially released then.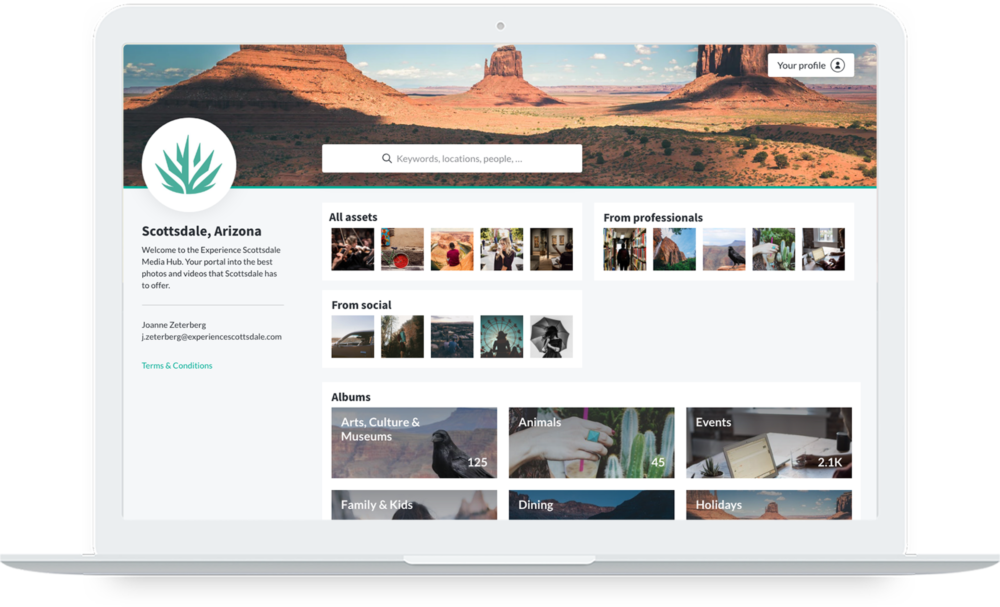 "It was in the works at the time that we were talking about switching our system over, but our need was immediate, we had to have a place for our clients and media to access our assets," she said. "CrowdRiff created an interim Media Hub just for us that allowed us to provide that access to clients and journalists, and that was fantastic."
It is this level of personal care and attention, coupled with the added functionality and ability to house both owned and user-generated assets under one platform that has Zeterberg excited about the future of working with CrowdRiff. "It's just been such a good experience," she said.