The explosion in discount airlines in Europe has made travel within the continent easier and cheaper than ever, at least to those cities with international airports.
While the tourism industry is booming, many European countries are working to spread the good fortune beyond its biggest cities.
For Holland, a country where one can drive from end to end in less than four hours, a huge marketing objective remains showcasing what the country has to offer beyond Amsterdam, its most populous city.
"I wouldn't say Amsterdam is overcrowded, but it is our [goal] that everyone in Holland, from the northern parts to the southwestern parts, can enjoy the wealth that tourism brings," explained Jasper Broekhuis, the Social Media Marketing Manager for the Netherlands Board of Tourism and Conventions (NBTC).
Showing Amsterdam's tourists what the rest of Holland has to offer
In order to spread that wealth beyond Amsterdam's borders, the destination marketing organization created the "HollandCity" initiative. The organization is subtly pushing the interconnectedness and accessibility of the small country.
"Positioning Holland as a city where travel distances are relatively small; this is playing a pivotal role in our marketing strategy," said Broekhuis. "We are doing this by using the known and introducing the new."
The key, explains Broekhuis, is identifying what brought the visitor to Holland in the first place, and demonstrating where they can explore that interest further, beyond the capital city.
"We're doing that in terms of storylines and districts," he said. "For example, in the Van Gogh storyline, the famous painter, his works can be seen in the Van Gogh museum in Amsterdam, but people don't realize they can also visit his works in other parts of the Netherlands, for instance in Zundert where he was born."
Other quintessentially Dutch storylines showcased on Holland.com include sections dedicated to its famous flower fields, windmills, water management systems, history and cuisine.
"Despite all the beauty that text can bring to our website, we still need visuals that will persuade someone to visit our destination," he said. "It brings our content to life, and we can [add visuals] simply by using CrowdRiff."
Integrating CrowdRiff galleries has helped connect relevant attractions — and increase website conversions
Visit Holland has an eye-popping 137 live galleries on their website! While many galleries use familiar scenes sourced from its most famous city to draw users into the storyline, they also combine user-generated content captured in other locations around the country relevant to that interest, explained Broekhuis.
Broekhuis adds that a major project in the works this coming year involves using CrowdRiff CTAs – a feature that overlays buttons on gallery images – to link the listing pages of related attractions through those visuals.
Integrating a CrowdRiff gallery into an article, according to Broekhuis, has generated positive results such as
tripling
the users' time on page,
quadrupling
click-through rates and generating
29% higher conversion rates
.
User-generated visuals breathe new life into Holland's marketing mix
Before 2015, Broekhuis says NBTC was mostly reliant on stock images, adding that they often felt stale and inauthentic.
"We used to have very outdated pictures, which were not accurate; that's how I got familiar with user-generated content," he said. "Now it's playing a big role in my social media strategy, and we'd like to integrate more user-generated content in everything we do when it comes to social media as well as Holland.com."
As the destination marketing organization shifted its focus toward user-generated content, however, it soon realized how difficult and complex it would be to search for images and manage rights requests manually.
CrowdRiff dramatically reduces the time needed to find and request rights to social media imagery
"We used to use user-generated content on Instagram by manually asking people permission to repost, and then we had to take a screenshot of that picture with our cell phones, resize it and repost it," said Broekhuis. "It was also not very convenient because whenever I was looking for a specific topic I was searching through hashtags and geolocations [on Instagram], which was difficult and time consuming."
Sourcing and managing his limited library of user-generated content used to occupy approximately half a week worth of Broekhuis' time each month, he said, until NBTC signed up with CrowdRiff.
"Now we can just click on [the image or video], and with one button we can ask for rights. And people are very honored that we're requesting their rights, which has been very interesting to see."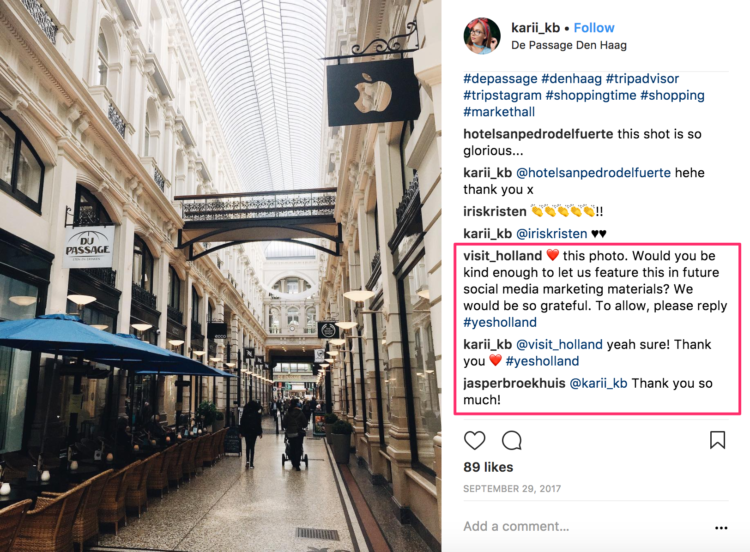 Based on their customized social trackers and specifications, CrowdRiff also only sources imagery from Holland into their library. Therefore, now when Broekhuis searches something like "tulips," he only finds tulips from Holland.
User-generated content helps Holland remain open and transparent
Broekhuis adds that the integration of more user-generated content hasn't only helped the destination marketing organization showcase more up-to-date images on its website and social media channels, but it's also helped paint a more accurate picture of Dutch culture.
"It's in line with our DNA, and we'd like to be perceived as an open and welcoming and transparent country," he said. "UGC makes it more accessible for people to engage with our content."
Broekhuis adds that NBTC is always looking for ways to show visitors what the country has to offer, both within and beyond Amsterdam, in a way that speaks to their unique interests. Through trial and error they have ultimately determined that the best way to show visitors what they're missing outside of Amsterdam is through the lens of a fellow traveler.
---
Recommended Reading
Want to incorporate UGC in more of your marketing? Here's some actionable inspiration for your visitor's guide.