There is nothing more annoying than getting a spammy comment on your Instagram post:
"Nice profile! Let's connect! Can I shoot you a quick email?"
"Check out our profile. We think you'll enjoy our deals!"
No, thank you.
Generic, salesy responses turn people away from your brand rather than engaging them to continue interacting with it. If you want to connect with your visitors and locals, you need to do it in a genuine fashion.
In the words of Visit Franklin's Josh Collins, "your goal as a marketer should be to treat people like human beings even when your interaction with them is online only".
So how do you do this when you have thousands of potential visitors and only so many hours in the day?
We thought of this problem and created CrowdRiff's Conversations feature for that very reason. DMOs can use CrowdRiff for more than just sourcing UGC photos. Our platform makes it easy to interact with the people who are visiting your destination in an authentic manner.
What's the benefit of this?
Develop destination advocates. Your visitors will feel recognized and appreciated. People love getting acknowledgment for their artistry, especially if it is coming from a brand. This will turn them into an advocate for your brand as they continue to interact with it.
Inspire potential visitors. Other people in your visitors' social network will see your responses and become interested in you. This is a great way to find and inspire new potential visitors.
Build a great reputation. Most importantly, people will notice that you really care about your destination's visitors, which helps you build a positive reputation. Become known as the brand who connects with visitors on a deeper level by interacting with their social content in a genuine fashion.
Here's how your DMO can use the CrowdRiff conversation feature to start developing authentic relationships with your visitors.
1 | Customize your responses and make your interactions with visitors more human.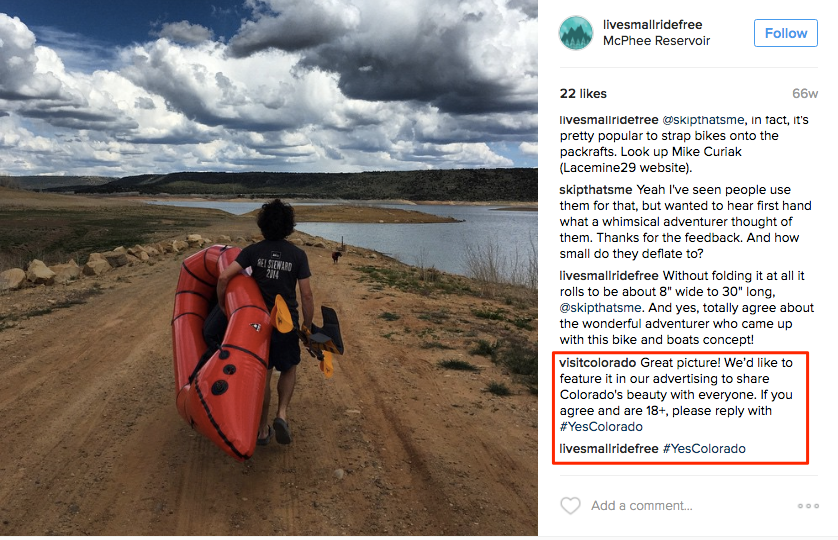 CrowdRiff gives you the ability to customize your responses so you can interact with a large number of people in the warm and friendly way you would if it was a one on one conversation.
We even give DMOs the ability to include emojis in responses, which adds to that realness.
Visitors don't want to talk to a brand if it acts like one, so it's important to keep your tone conversational and not include promotional content. The key is to write the responses as if you're posting them yourself from a personal account – keep it fun and complimentary.
2 | Make different conversation groups based on themes
With CrowdRiff, you can have different conversations with people about different types of awesome pictures you are seeing – beautiful scenery, fun adventures, mouthwatering food etc.
This way your comments will be catered to the photo subject to avoid seeming generic and spammy.
For example, here at CrowdRiff, we have a coffee conversation. When we see dozens of great coffee or cafe shots in our collection, we can send out funny, personalized comments about coffee, rather than just saying it's a great photo.
We also have a cute conversation group for pictures of cute animals, as well as holiday conversations for Christmas parades and celebrations… the list can go on and on.
Doing this allows us to build connections with multiple people at the same time with the click of a button.
@PureMichigan @DiscoverKzoo That dog! ? ?

— CrowdRiff (@CrowdRiff) July 28, 2016
3 | Pay Attention to Every Mention
Outside of your interactions made through the CrowdRiff platform, you need to keep an eye on your social accounts for action from visitors.
Don't ignore anyone! You wouldn't do it in person at your Visitor Center, so don't do it online.
Even if it's just with a like, acknowledge their effort to interact with you on social media. If your visitors know you are going to respond, they will be encouraged to continue interacting with you in the future.
Agree! RT @drumshaman: No words can express this beauty #Pagosa Springs #Colorado #cowx pic.twitter.com/Bf0Icqxwhr

— Visit Pagosa (@visitpagosa) July 31, 2016
Make sure you are listening to what people are telling you on social. If you keep seeing Tweets about people wishing you'd open more canoe rental stops along the canal, then listen! Inform your DMO team about the changes that people are looking for to best serve the visitors who keep your destination on the map.
Your visitors are your most valuable asset, so let them feel the love! Let them know that you recognize and appreciate their contribution to your destination's social presence.
There is so much value in talking with your visitors in a way that is customized to their content and experience in your destination; they will be pleasantly surprised at the lack of automation and the amount of life that your brand is exuding, making them more likely to continue to engage with your destination and introduce you to their social following.
For more information on how CrowdRiff's conversation feature can help you make meaningful conversations with your destination's visitors, get in touch. We would be happy to lend a hand in making your DMO's social voice full of life and welcomed by your visitors.