Small destination marketing organizations (DMOs) are small in stature but they often have an outsized impact on their communities. They're the challenger brands that are always willing to try something new, are on a first-name basis with many local small business owners, and know the ins and outs of the stories their destinations have to offer visitors.
We want to celebrate the small teams and all of the creative marketing that they're doing to punch above their weight and challenge their communities to dream bigger while keeping their small town charm intact.
In case you need help staying efficient during your busiest periods, we have four tips for how to plan ahead to make the most of your time and show your destination in it's best light.
Need better content?
Get in touch with with our team to learn how CrowdRiff UGC can help your small DMO.
Get in touch
1. Don't neglect local travel
Domestic and local travel will still be booming for many small destinations this year and that's also a great thing for local economies.
Douglas County Travel & Tourism was created in 2020 during the onset of the pandemic and represents a destination in the Atlanta metro area. Its 2022 budget was a little over $500,000 and was focused on attracting regional travelers from Atlanta and elsewhere in Georgia with plans to expand its marketing nationally. Douglas County happens to be home to Sweetwater Creek, the most visited state park in Georgia that draws a lot of visitors from Atlanta, along with many other beautiful parks and outdoor spaces.
The DMO has capitalized on its outdoorsy offerings to organize exploration challenges of Sweetwater and similar parks that give travelers the opportunity to win prizes from local attractions. Challenges like these also make for perfect user-generated content (UGC) to reuse throughout the season!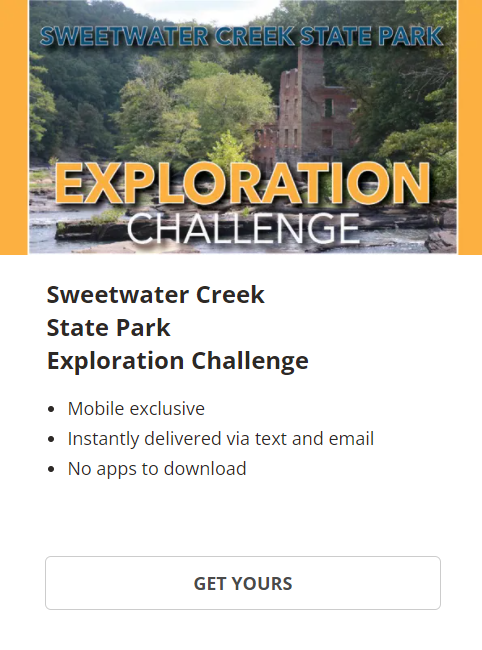 *A screenshot of the Sweetwater Creek State Park Exploration Challenge registration widget from Douglas County Travel & Tourism's website.
The Canadian Government also launched the Rediscover Main Streets Initiative aimed at reinvigorating tourism along Atlantic Canada's main streets, and part of the goal is to get local residents involved in the recovery. According to a statement, the initiative "will contribute up to $10 million to provide funds to non-profit organizations across Atlantic Canada, including business improvement associations, tourism associations, chambers of commerce, and destination marketing organizations to help them generate new ideas that inspire locals and tourists alike to rediscover all that their main streets, downtowns, and neighborhoods have to offer."
2. Partner with local businesses
Local businesses are important staples in any community, and small DMOs should be rolling out all the stops to make sure visitors know about them. Even with a small staff and budget, it just takes one social share from a traveler who cares about your mission to create a snowball effect of support.
We love this example from Explore Butte County where the DMO partnered with local clothing company Upper Park Clothing to launch the "Hike Butte and Give Back" campaign. The campaign raised money for Chico Velo Trailworks, a local organization that supports the creation and maintenance of sustainable trails in the region. 25% of profits from each sale will be donated to the organization and the DMO used its social channels to encourage visitors to support the cause.
3. Repurpose old content
Think of how you can repurpose old UGC and blog posts from your website and update them for the season. Much of your content is probably more evergreen than you realize!
A good example is a blog post on sunflower fields from Naturally McHenry County, a small DMO about 60 miles from Chicago. Instagram and other social platforms helped make sunflower farms a must-see each year and you can bet that this kind of content will generate interest year upon year. All your team has to do is edit opening information, any visitor updates, and populate your UGC Galleries with fresh images to let travelers know what to expect this year.
4. Stay agile
Small DMOs need to stay on their feet during busy seasons, making sure that they capture all of the activities that are happening in their area, but also having a positive impact on their local economies.
Some destinations like Visit Mobile are also taking a nimble approach to recruiting top talent for their local hospitality workforce ahead of the summer. Since the global travel industry continues to suffer from a labor shortage, the DMO recently partnered with the city and community organizations to launch the Work on Mobile website. The goal is to promote hospitality as a rewarding career path and help local businesses recover from the pandemic.
Regardless of how demand pans out, destinations like Mobile need to rebuild their hospitality workforces so that staff can start learning what makes a visit to Mobile unique.
Small but mighty
Smaller DMOs don't let the challenges they face stand in the way of the impact they deliver to their destinations. Small DMOs are forced to do a lot with a little and, as a result, they have to get creative with how to stretch a limited budget. The outcome, however, is creating memorable campaigns and experiences that show visitors why going off the beaten path is often the best route to take.
The power of UGC is priceless, as it helps these small teams capture places and moments that they would otherwise be unable to.
Want to learn more?
Get in touch with our team to learn how CrowdRiff UGC can help you reach your marketing goals.
Watch a demo