"Arts and Culture" is quite an umbrella term — covering everything from cuisine and music, to architecture and lifestyle.
And because it includes so many aspects of your destination that are often intangible, it can sometimes be difficult imagining creative ways to promote arts and culture, in a way that can inspire a traveler to visit.
That's why we've rounded up some of the creative ways 5 brands are doing just that, to hopefully inspire your future campaigns and content.
Here are 5 different ways brands promote arts and culture in their destinations.
STL.Live is a microsite where visitors can explore the cornerstones of the St. Louis scene: food, beer, music, and culture… but with a twist: through the voices of its locals.
Built using CrowdRiff's API, each page of the site has a vibrant, living mosaic of user-generated content, curated from social media. When you select one of the interests, you're brought to its page, where you can immerse yourself virtually in the local scene through all the photos people have taken here.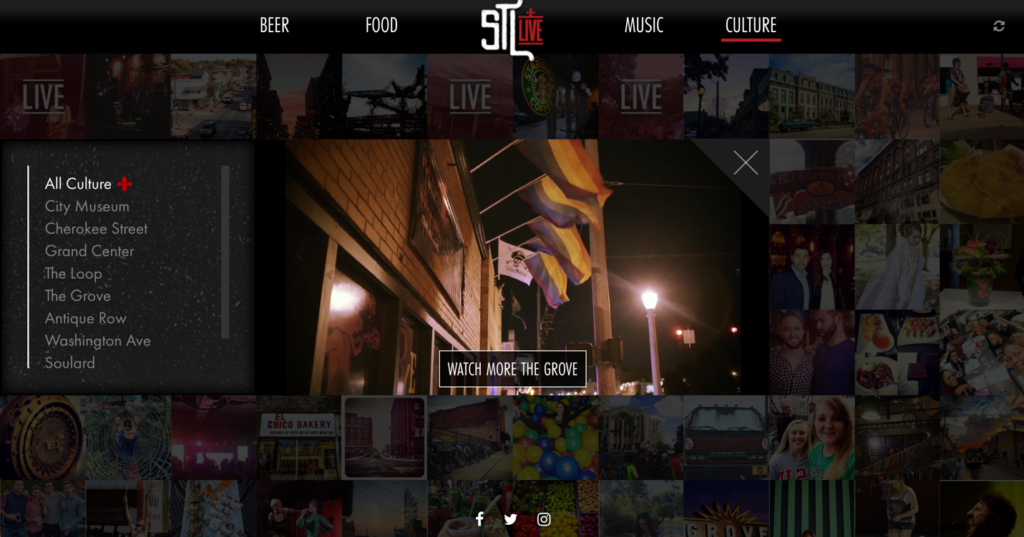 To layer another element, STL.Live has videos featuring local musicians and influencers, discussing what they love about their city.
It can be hard to convey something as abstract as "culture". However, Explore St. Louis has really hit the nail on the head with the 3000+ user-generated visuals they use to tell their story, so that it feels comprehensive, authentic, and immersive.
Read the story behind STL.Live here.
When people think Seattle, they typically think Starbucks, Space Needle, or Microsoft.
What people don't think about is that it's also the music city that gave birth to Nirvana, Jimi Hendrix and Macklemore and Ryan Lewis; it's a city with a robust and diverse food industry; and it's situated in America's second largest wine-producing state.
So to unveil the true culture of their city, Visit Seattle partnered with a variety of media partners (like VOX, NBC, and Sundance TV) to create video content and launch their online video channel, VISITSEATTLE.tv.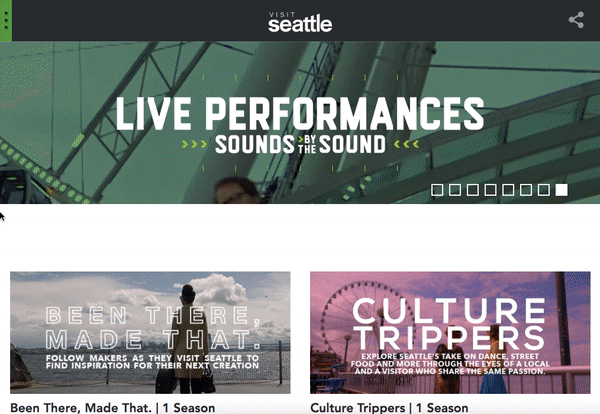 Through stories from locals in these videos, Visit Seattle is able to peel back the layers of what aspects of Seattle's culture make it unique. The series called +Play follows a group of children as they explore and guide viewers through Seattle museums. Another series, Sounds by the Sound, features local musicians performing in scenic locations around Seattle.
Their approach has been so successful, Visit Seattle TV reached over 40 million minutes of viewing time in under two years!
3 | SFMOMA: See them Both campaign
Though not technically a destination, the San Francisco Museum of Modern Art is targeting San Francisco travelers with its intriguing See Them Both campaign.
SFMOMA knows tourists come from all over to experience the City by the Bay. So to introduce San Francisco tourists to its modern arts scene, the See Them Both places photographs of real-life attractions next to their artistic representations, found in the SFMOMA collection.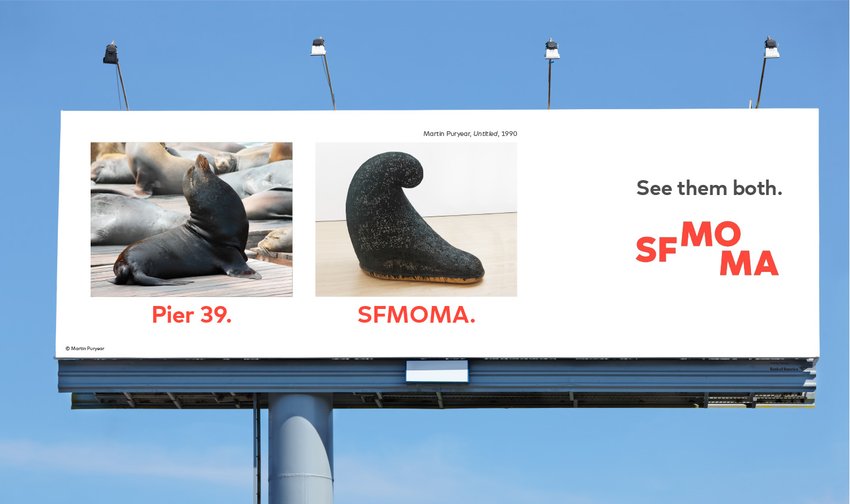 By comparing their art to familiar icons, SFMOMA is giving meaning to something that might've once felt abstract or irrelevant. These side-by-side comparisons will be promoted as ads on travel websites and social media, as well as on billboards in popular tourist spots around San Francisco.
So in addition to targeting travelers in the planning stage, SFMOMA targets the people who have already made there way there, but may not have been exposed to the arts scene in San Francisco.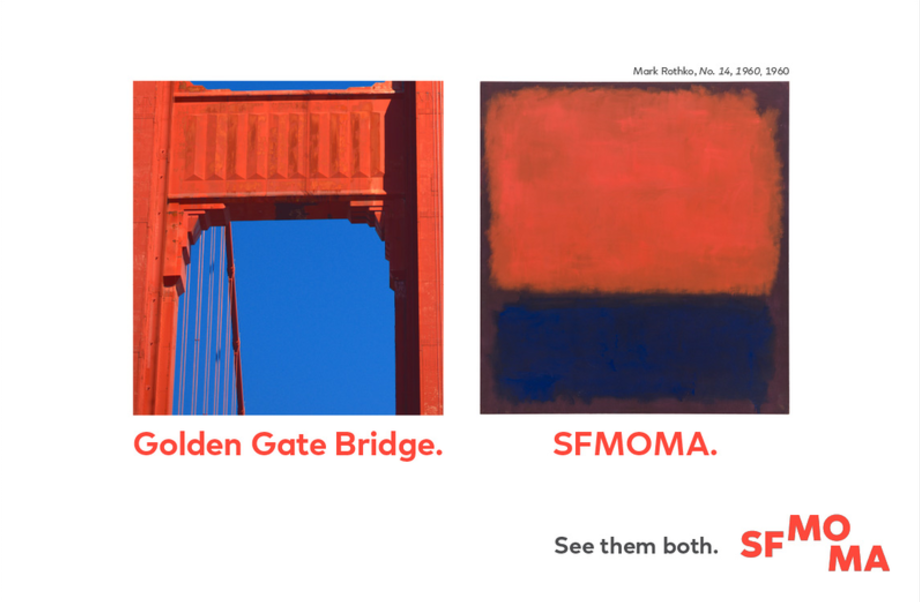 SFMOMA has really embraced the aspects that make San Francisco unique and tied it back to its art, in a way that is eye-catching, bold, and visually exciting.
4 | Love Beverly Hills: Curating authentic imagery from locals
To give visitors an authentic picture of their high-end destination, Love Beverly Hills incorporates galleries of high-quality UGC visuals from social media throughout their website.
These social images complement the existing visuals on the various key pages of their website — like Restaurants, Shopping, and Things to Do — to paint a bigger picture of the energy of Beverly Hills.
And what might be surprising for some is that these social images are truly very on-brand. Beverly Hills' reputation doesn't just come from its DMO — it comes from its locals. Love Beverly Hills doesn't have to tell people they're a destination of luxury because their locals are already telling that story, through the visuals they take and share.
This way, when travelers explore authentic social photos in the galleries Beverly Hills features (right next to their own branded photos), they get a diverse snapshot into the lifestyle and culture their locals define.
5 | Destination DC: Eat Where the Chefs Eat
Washington DC is famous for its monuments, museums, and politics — but they wanted a chance to show that there was more to their culture than that.
That's why to show off their rich dining scene, the Destination DC marketing team created the video series DC Chefs Dish. The team worked with the tight-knit culinary community to offer travelers the inside scoop on where to grab the tastiest bite in the city.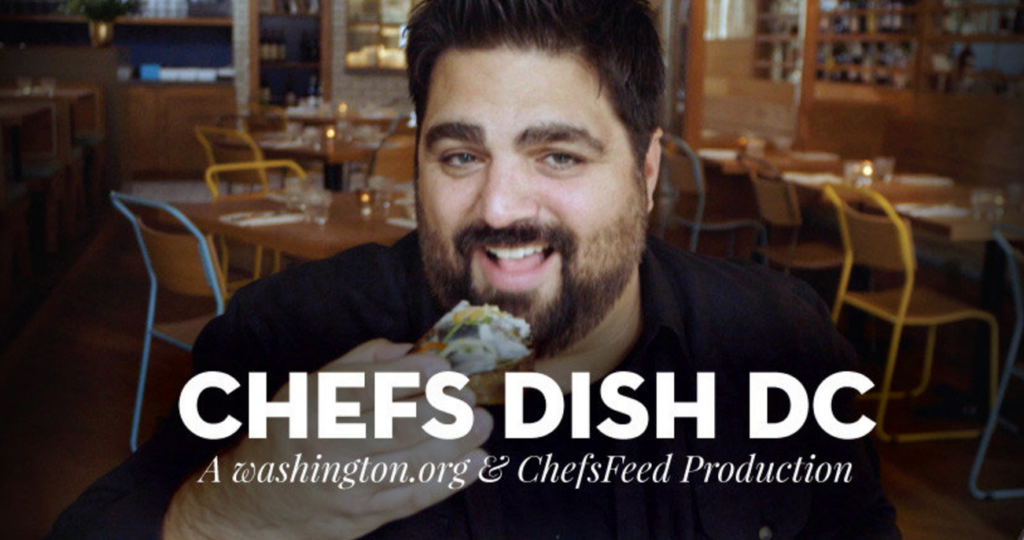 Each episode features a different local chef, who takes viewers on a tour of the culinary hotspots in their favorite neighborhoods. And by having different people host each video, they not only get a different personality for each, but are able to showcase the diversity of DC's culinary culture.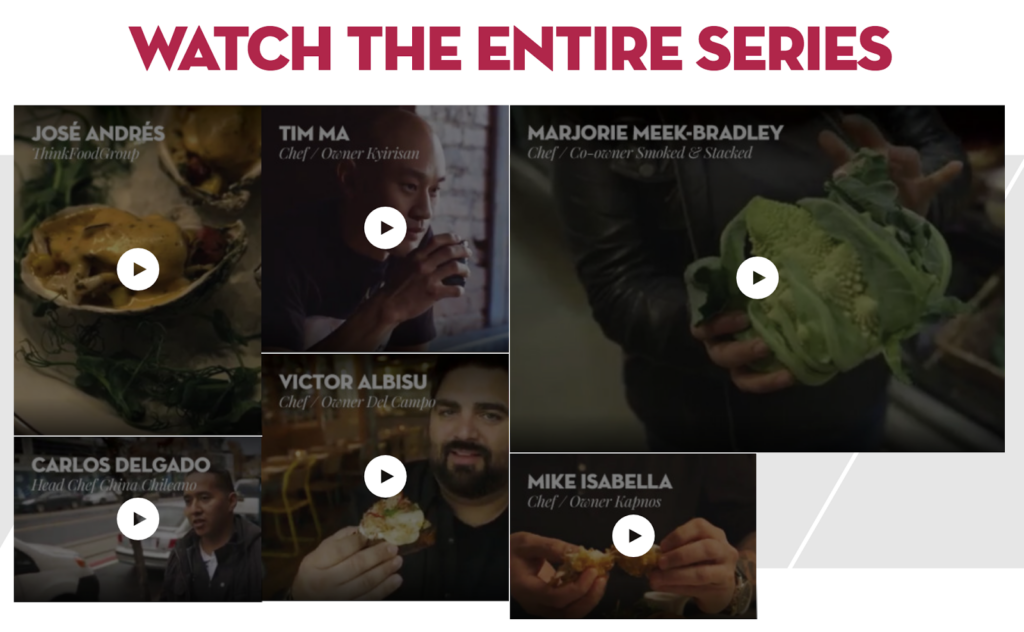 And as it turns out, everyone loves food videos. The D.C. marketing team was hoping for about 375,000 views and were understandably thrilled when they received well over 1.6 million (with an impressive 60% average completion rate!).
What You Can Apply to Your Tourism Marketing Strategy
Here are some key learnings from these 5 brands:
Bring together the voices of your local community.

People have wildly diverse experiences of your destination. Bring together those conversations (either social photos, or creating new video content) to paint a more comprehensive picture of what arts & culture looks like to different locals.

Take the backseat and let other people tell your story.

Just like Visit Seattle, it's ok if your brand doesn't take center stage — it's the people who define your destination's culture, so let them tell it like it is! Let authentic stories of your brand come from individuals, and connect with a traveler in a way a large organization might not be able to.

Create an irresistible a visual experience.

SFMOMA's clever use of visuals in See Them Both is striking and memorable, and STL.Live's visuals are so immersive that you cannot but help click into all the user-generated content they present. Take a leaf from their books and excite your audience with a visual experience they can't ignore.
Arts and culture in any destination is defined by its people. So loop them in and let them show potential visitors what you really have in store. Hopefully some of these examples and takeaways have sparked some ideas for your own tourism marketing!
---
Further reading: