The holidays are almost upon us, and destination marketers need to get creative to show all that their areas have to offer.
In the spirit of this, we've highlighted some of our favorite ways destinations are using user-generated content (UGC) to attract more visitors to their area. So, settle in and grab a cup of hot cocoa to get your own holiday content plans brewing!
1. Showcasing local events
The best thing about Christmas markets (aside from the mulled wine) is that no two are alike. This means you can create engaging content to help locals and travelers choose the right market, or several, that will appeal to them the most.
Visit Portugal recognized that, across the country, Christmas markets were celebrated in different ways depending on the local traditions of the region. To highlight this, they shared seven different Christmas markets over seven weeks on their Instagram Stories, each with a local feel. They even filmed the story of a British traveler who'd been to visit the markets in Monsaraz for the past five years, which they shared on their Instagram Stories.

To take the initiative one step further, Visit Portugal linked each market featured in their Instagram Story to a landing page that went into greater detail about the destination. This allowed them to share info like the best restaurants and hotels for the region, and also promote blogs on related regions to lead people to discover even more places of interest in Portugal.
To extend the lifetime of the content, Visit Portugal then shared the Story in their Instagram Highlights so travelers could plan out their dream vacation to Portugal throughout the year.
2. Holiday gift guides
Holiday gift guides are your festive secret weapon. You can build them in less than 20 mins, amplify products from local businesses, and give residents and visitors ideas for unique local gifts.
Destination BC's holiday gift guide made the entire province more accessible by curating their guide by neighborhood and community. They amplified the retailers and gifts in the guides by using UGC, sourced through CrowdRiff, and each page had calls-to-actions which drove traffic to local vendors. The result was a personalized, beautiful guide that made it easy for travelers to shop like a local in BC.
Hot tip: Some destinations curated their gift guides by family member and hobby to help visitors find personalized gifts for their loved ones.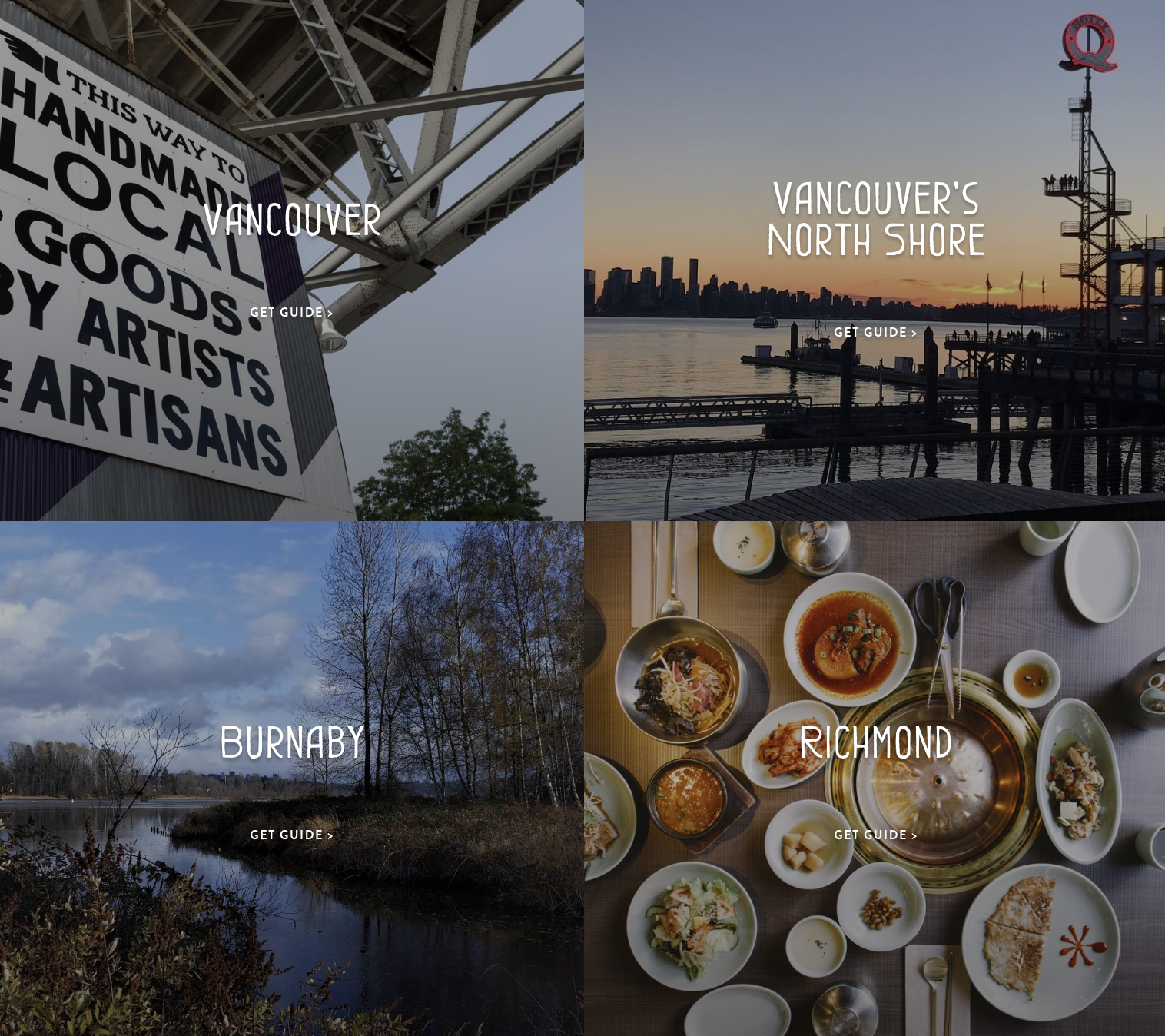 3. Merch campaigns
An alternative to creating your own gift guide is to let the locals do it for you!
Stevens Point area CVBS' Merch Madness campaign did exactly that. The team created a landing page with CrowdRiff Galleries where residents could vote for their favourite local store, and promoted the campaign using UGC assets on Facebook and Instagram.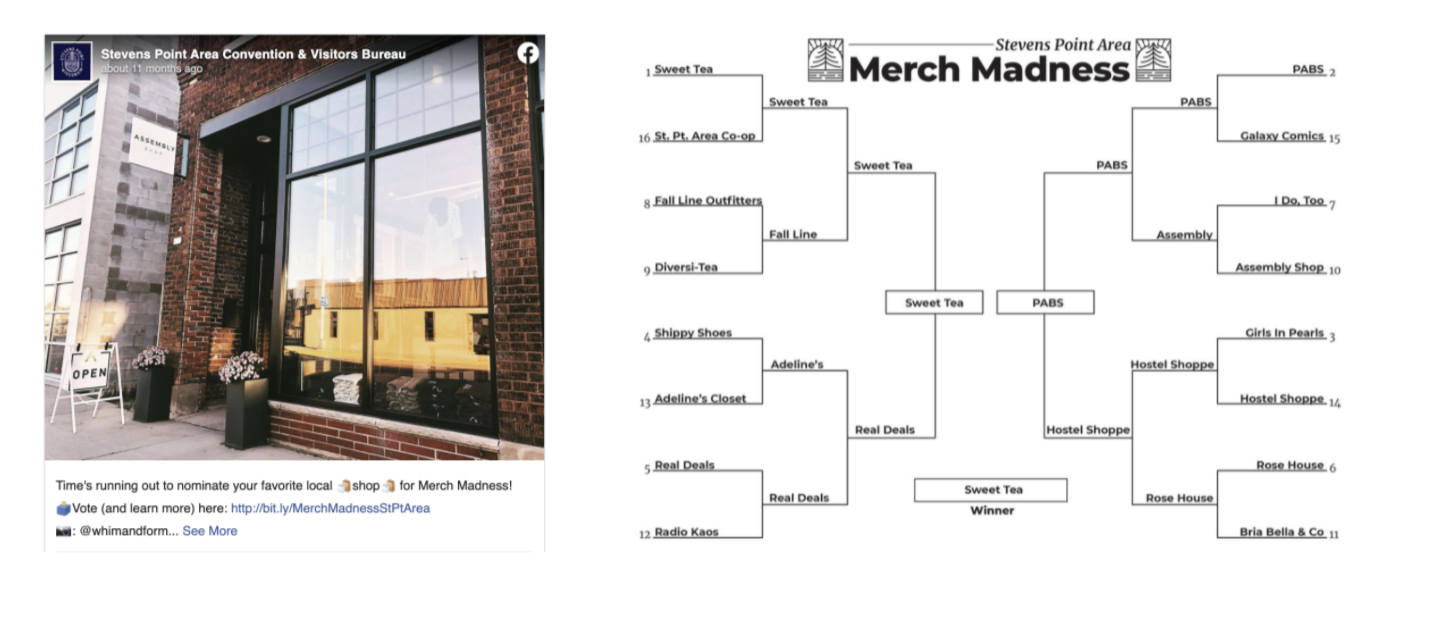 Once the results were in, they wrote a blog post announcing the winner and featured Galleries from all vendors mentioned in the campaign.
Not only did this initiative bring the community together, but it amplified local businesses and gave locals and visitors fun ideas for gifts.
4. Virtual experiences
Destination marketers have had to get creative when highlighting their area during the pandemic.
Last year, My Switzerland kept their destination top of mind by creating a virtual experience, capitalizing on the world's love of Instagram filters. The team gamified their filter by allowing individuals to become a cartoon skier on the Swiss Alps whilst dodging obstacles and going over jumps.
This unique initiative showed the true personality of My Switzerland and provided the team with engaging UGC content to share on their Instagram Stories. They also shared it to their Instagram Highlights to be enjoyed year-round.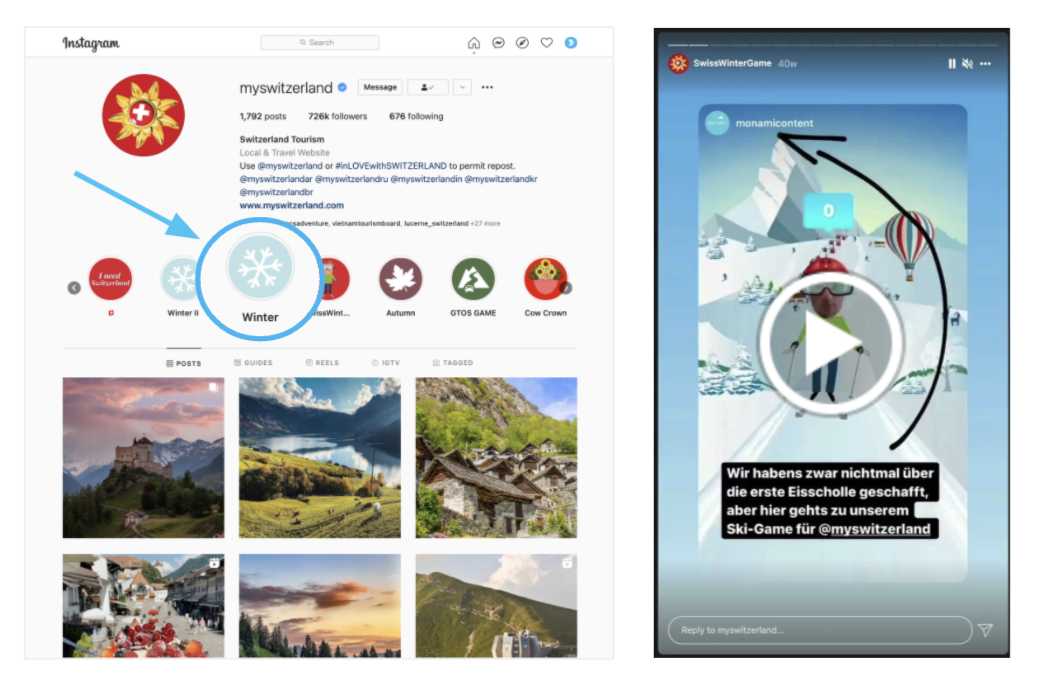 5. Repurposing content
Breaking up your content is a great way to create countless valuable assets that can be shared across your channels, fast.
Visit Zurich's Christmas light campaign started with a pillar blog post highlighting the best streets for lights across the city, with maps of each area. The team at Visit Zurich then repurposed this content by creating separate landing pages for each street, bringing the experience to life with photos shared by locals in Galleries (using UGC).
But they didn't stop there!
Visit Zurich then created an Instagram Guide that highlighted the festive streets and extended the content by utilizing all of Instagram's features (ie: Instagram Guide, Instagram Story, Instagram Highlight, Instagram Reels).
Initiatives such as this show the true value of the content you're creating and just how far it can be stretched!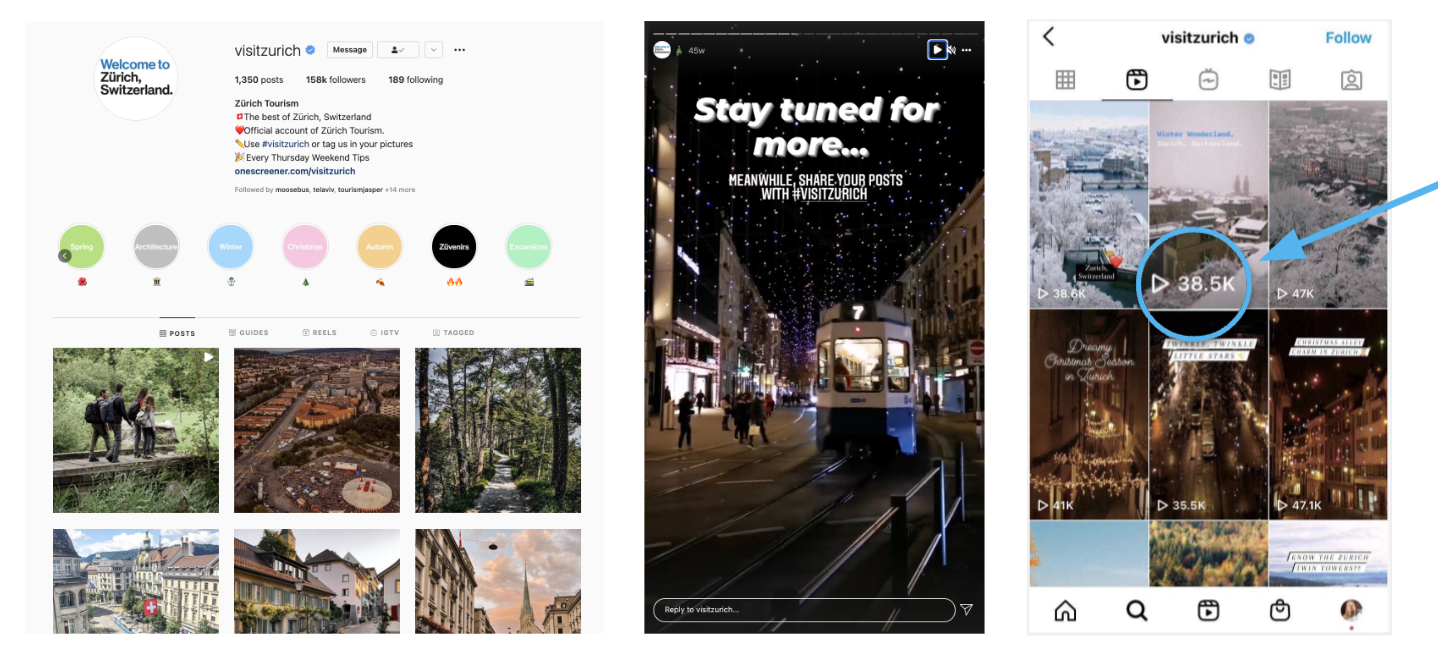 Final thoughts
While many destination marketing teams are low on staff or budget this year, these examples show that you don't need masses of time or money to wow your viewers. Work smart to showcase all that your location has to offer, and don't be afraid to lean on your partners and locals to source the content you need.
Want more tips? Check out our webinar for a step-by-step instruction on how to create an Instagram Guide in real time and repurpose it across Instagram!